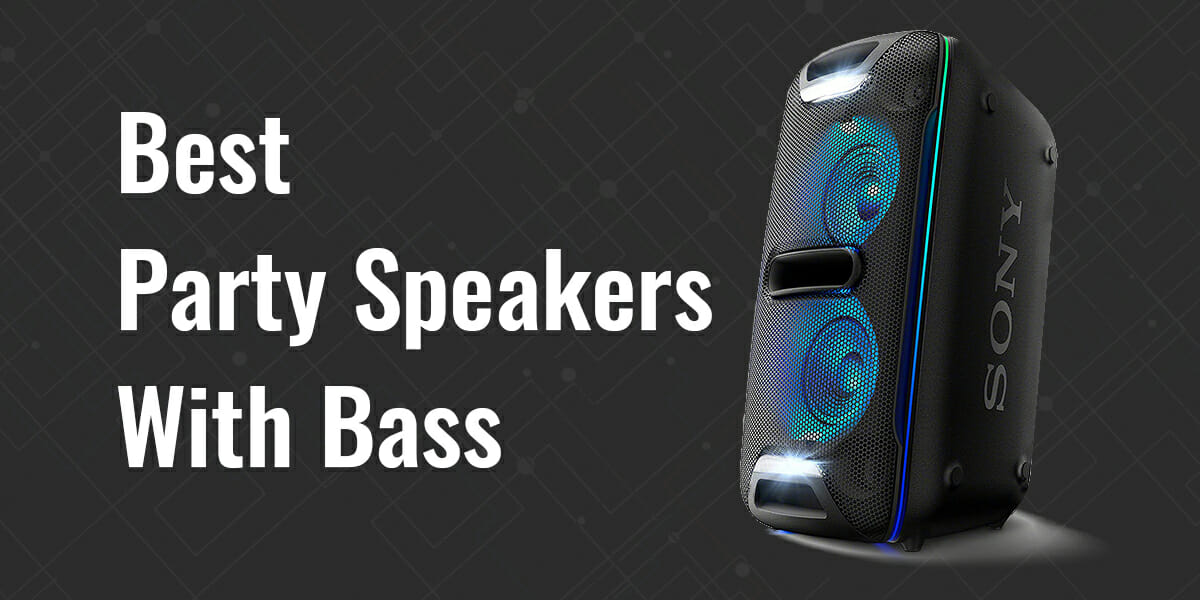 Bass plays a crucial role in the quality of audio output in any device and having a bass speaker is a privilege and a thrill. They set the foundation for musical harmonies and rhythm, so happily pay a decent amount for them.
Dance parties easily thrive on bass and if your friends are coming to your party pumped up, you should at least bring the bass to them. This doesn't mean you should just purchase any kind of speakers just because they have bass! Good bass and other quality features would be worth the hunt.
Check out these top-ranking party speakers with bass, definitely, for your parties. There should be one in here for you.
Table of Contents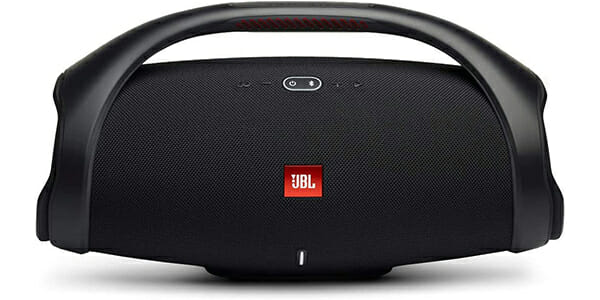 Let's begin with the JBL Boombox 2. We can agree that some products do not need to be proven. This monstrous bass-featuring Boombox totally proves itself.
It features a 3.5mm audio cable output, charging cable, and a 10,000mAh capacity battery. Just in case you need to pump up your party, the Boombox is ever ready to serve. Connect it to other JBL partyBoost compatible speakers and there you have it. Extra sound for the extra fun!
In all its crafting, this speaker calls attention to sleek style, modern features, great output, resistance and compatibility. It's in- built power bank turns the party up from dusk till dawn. This is your personal powered club!
Pros
Fast wireless connectivity via Bluetooth
IPX7 Waterproof design
Compatible design with powerful speakers
This Boombox has improved bass and loudness features that works with all environments and creates a perfectly balanced sound.
If you want a speaker set designed by brilliant developers with exceptional standards then Sony should be one of your top picks. And above all, Sony's XB72 high power audio model caters for your extra bass needs. Yes! That's because if it's important to you, it's important to them.
It combines its sound quality with an interactive and vibrant lightening design to make your party one to reminisce. As part of its features, it comes with a flux capacitor, hard surface exterior, dual handles and detailed control buttons.
Its function buttons allow you to connect your speakers using the Bluetooth, a tuner or an audio-in. You get the DJ option, illumination controls, motion controls and party lights control.
Pros
Dual set-up: set up your speaker vertically or horizontally to maximize space.
It can be daisy-chained with other compatible Sony speakers to increase sound range
Integrated microphone input
This speaker is not just powerful; its lights create the perfect party atmosphere.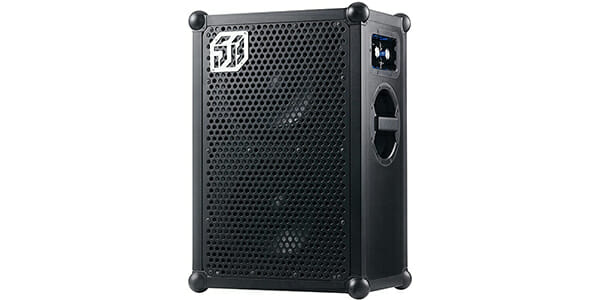 This highly requested Soundboks 2 allows you to take control of your powered parties. You might run out of everything but not sound. This wonder keeps your music playing up till 30 good hours.
It runs using a Bluetooth feature or a stereo jack. Again, its exterior is characterized by an aluminum frame, Baltic birch plywood and extruded solid-aluminum corners.
Did anyone say be careful with your drinks? This wireless Bluetooth speaker is totally drink proof. Well, just in case someone gets careless, you are covered.
Pros
Weather and shockproof feature
Particularized on button controls
Clean loud sound
Great sound and can be tuned to fit an outdoor and indoor style. But for outdoor events, it is tailor- perfect.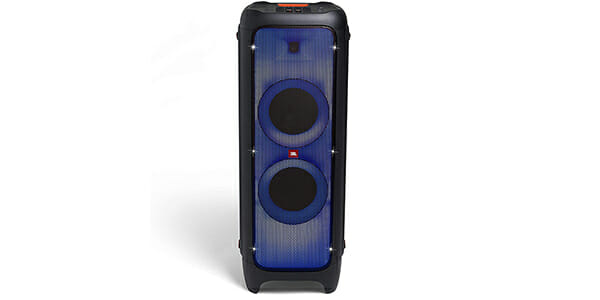 This luxurious party Box 1000 speaker is the real deal! Ideal for all your parties, it is equipped with a tasteful, timeless and modern design. From its micro circuitry, through to its exterior makeup, look out for total professionalism. You'll find nothing short of that.
Equipped with two 7'' mid- range drivers and a 12'' down firing subwoofer, the PartyBox gives you an authentic audio experience. Create a luring light show with a full panel LED light effect and do your thing with that DJ pad.
You should hear this one! You are totally allowed to play instruments and loop your sounds in the heat of the moment, put on your air gesture wristband and let the crowd go wilder than ever.
Pros
Integrated wheels and handles for easy transport
Microphone and instrument input
It's Multi connectivity feature allows you to sync two or more compatible speakers
USB Charging for powering external devices
This speaker is a truly versatile and powerful one with up to 1100w of sound output. It's definitely one for a lifetime of musical bliss.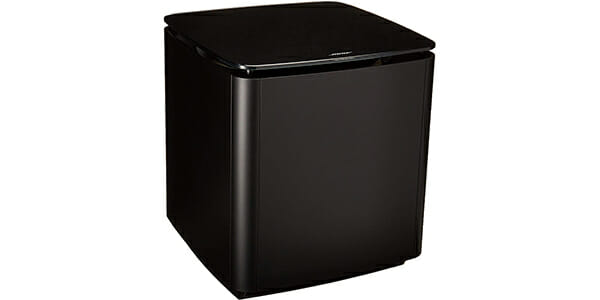 The Boss bass module 700 is a high definition speaker with a sophisticated finish. With its signature glass finish top and aluminum speaker fronts, the bass is simply ground-breaking.
It connects wirelessly for easy placement and works with the sound bar 700, 500 and 300. In its package, locate the optical cable, HDMI cable and the sound headphone to adjust and customize sound settings.
Its embedded keypad remote control with a soft matte finish would blow your mind. Hold on, it comes with Alexa built-in! Yes, the Bose bass module is a true boss.
Pros
Quality sound system
Rich dynamic bass
Stylish exterior
The Module 700 is professionally made and its exterior design is unmatched.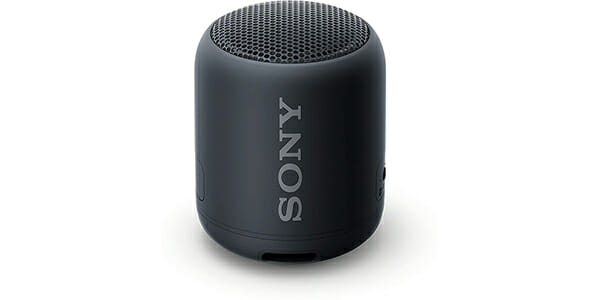 Cheers to the pretty little thing and the powerful mini amplifying device. If you are one for the little soirees then you are in luck! We introduce to you the ever- compact and single transducer Sony XRS-XB 12 version with extra bass.
It features an audio jack, a single downward firing passive radiator and has over 30- foot performance in terms of sound range.
It is dust proof, water proof, and has a battery life up to 16 hours playing at 50% volume. And yes, you are allowed to make mistakes. Dropped it in water? Take it right out and place it on that old bookshelf. Lasting goodness and great resistance.
Pros
No distortion of sound at high playing levels
Ultra-compact
High resistance to water and dust damages
It's a decent speaker for all your mini indoor parties, but with an in-built strap, if you want to take it on a hike, why not?
Frequently Asked Questions
How loud do speakers need to be for a party?
There are three pressing factors that determine how loud your party speakers should be. You need to have answers to these questions first: 
1. How many people would be attending the party? 
2. Are you hosting an indoor or outdoor party?
3. Where is the venue of your party?
Generally, outdoor parties require louder speakers. An indoor party could use a 40-400W speaker and an outdoor party could use an 80-600W speaker. Mind you, these figures vary depending on the number of guests you are expecting so you would need to employ all the factors that account to perfection for you. 
Also, if your party isn't in an isolated area, make sure to use just ample amounts of sound. You wouldn't want to disturb your neighbors.
Is 500 watts loud enough for a party?
500 watts speakers are loud enough for a party. For an outdoor party, it should be just right. For parties hosted indoors with a sizable amount of people, it would be too loud. But that would depend on your ideal sound level. But generally, we advise you go for something below 500W because they can have health implications specifically permanent hearing damages.
How loud is JBL Partybox 1000?
The JBL Partybox 1000 is extremely loud for its size. With two 7'' mid-range speakers , a 12'' down-firing subwoofer, and one polymer diaphragm compression driver, the JBL PartyBox 1000 delivers up to a maximum of 1100w of power. 
What is the loudest cheapest Bluetooth speaker?
How many watts is a good speaker?
Every speaker's watt size can be good. There is one for everyone. It depends on what they are going to be used for. So in this case, focus more on what you would use the speaker for, your listening habits (if it is for personal use) and what kind of music your speaker would be playing largely. For calm music like classical music, 50W is perfect. If you would like to output uncompressed sound, 200W should do the trick. Also, if you are serving a large group of people, below 100w might not be enough.
Does higher wattage mean better speakers?
No, it doesn't. More correctly, higher wattage would mean higher system power. But keep in mind that there are other factors that determine the quality of speakers. With all these factors missing, no matter how high wattage is, quality would still be missing. Though wattage is important, there are so many important things to consider. Here are a few of them. 
1. Right balance of treble and bass
2. Enclosure design
3. Portability
4. Quality of materials used
5. Resistance capacity
6. Versatility
Is a 40w speaker loud?
Yes and no would both be an accurate answer to this question. IF you are using a 40w speaker in a small and enclosed space for a limited number of people, then yes. 50W is loud enough. 
Outdoor events generally require a speaker with over 40w unless it is a very small gathering. If you have quite a number of guests, and you want your sound to reach everyone, then consider getting a speaker with over 40w.
How many watts is the loudest Bluetooth speaker?
Currently, the loudest Bluetooth speakers range between 12 to 4500W. These speakers are judged as loud based on sizes and should be selected to suit the purpose they would serve. If you are looking for a loud Bluetooth speaker for personal use, you definitely should not purchase a 4500Watts speaker because that would be inappropriately loud. Check out the Devialet Phantom Gold with 4500w, the New Soundboks with 216W and the Aiwa Exos-9 with 200W.
Which speaker has the best sound quality?
There are a variety of very well integrated speakers that produce top-notch sound. Your pick should embrace all the features that are important to you and should not constrain you financially. Check out the best 5, with variant sizes, from your favorite developers.
1. JBL Boombox 2
2. JBL xtreme 2
3. Sonos move
4. Bose soundlink Micro
5. Polk Audio Atrium 6 outdoor speakers
Which JBL speaker has the best bass?
The JBL speakers with bass features are extremely good. For the best JBL bass speakers you should take a look at the JBL Flip 5 or the JBL Boombox 2.Both speakers can handle tons of bass but do not have exactly the same features.
In terms of price, the Boombox 2 is pricier than the Flip 5 so go with the one that's best suited for you. Either way, your bass is assuredly good.
CONCLUSION
Party speakers with bass do not usually output dreamy and soft sounds. They are rather Punchy and percussive and that's exactly what you need to get the party going!