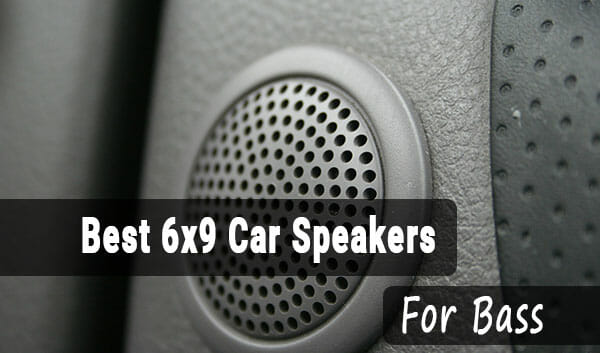 Imagine you're driving.
You're alone probably.
Or with someone.
You feel happy.
You feel amazing.
You feel alive.
You turn the music on.
The car speakers blare your favorite song: all flat, of very poor quality.
A great time can be ruined by a simple pair of speakers. And we definitely wouldn't want that, would we?
So, here's looking at the 9 of the best bass speakers you can get for your car in 2023, and make those great occasions epic!
Table of Contents
Our Top Picks
Here's looking at the best bass car speakers in each category: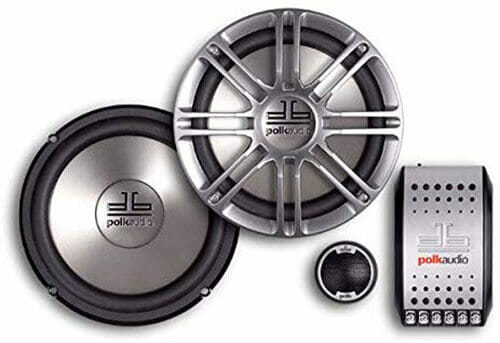 Specifications:
Nominal Impedance: 4 Ω
Overall Frequency Response: 35Hz-23kHz
Power Handling (peak): 300 Watts
Power Handling (continuous): 100 Watts
Weight: 5 pounds
Display Size: 2.31 inches
Efficiency: 92 dB
These pairs of speakers have an exquisite design, are made up of expensive materials and produce excellent sound quality!
The clear, detailed sound of Polk audio speakers are because of the liquid-cooled "silk/polymer composite dome tweeter", which comprises of neodymium magnet. Thanks to this, you also get soundstage optimisation which in simple terms, removes the distortions from the music.
Without any external amplifier, the speakers produce clear and strong bass tones, but to some extent, it lacks in mid bass.
It is very quick to install, thanks to the adaptor rings it comes with. It is marine certified in durability, which means that you can go to places with the harshest of environments and it will tolerate all that.
At higher volumes, some little distortion might creep in. It can handle a lot of heat, which means that you do not have to worry at all about heat dissipation.
This is one of the best speakers you can get for your car. Like, it has everything. Literally EVERYTHING: quality drivers (premium quality high and low frequency delivery), has a crossover network, a durable construction and is easily mountable!
Pros
The components come at low prices; hence affordable.
You get high quality, clear sounds with crisp highs and sharp mids.
Crossover network maintains the frequency's originality.
Plug and play installation, hence, can be set up very easily using the very simple to follow user manual.
Cons
You might need an amplifier (not necessary).
Slight distortion may creep in, at higher volumes.
They are, like, the one of the best sets you can get: you get great quality drivers, which means amazing sound quality, with a crossover network, which means only original sound, and it is quite durable! What more do you want??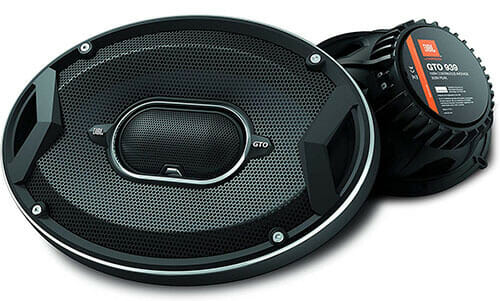 Specifications:
Connectivity Technology: Wired
Amplification Type: Passive
Recommended Amplifier Power: 5 W
Detachable Grills: Yes
Nominal Output Power: 100 W
Crossover Channel Quantity: 3 way
Maximum Output Power: 300 W
Sensitivity: 94 dB
Frequency Response: 46 – 21000 Hz
Coming at a decent price, these JBL speakers offer high quality sound, low impedance, with higher power handling which means smooth higher frequencies.
The sound produced is very balanced, thanks to the crossover components which are of very high quality. The sound is very accurate, owing to the non magnetic frame of the whole set.
These speakers are compatible with almost all vehicles, because of their two inch mounting depth.
It has JBL's characteristic "Plus One" woofer cone design, which expands the overall diaphragm area which then leads to the lower frequency sounds being of better quality.
It has "UniPivot™ design", which results in a more detailed, rich soundstage because this design results in the tweeter's sound being directed more pointedly towards your ears.
Pros
Very easy to set up.
High quality drivers, so, great music quality.
Affordable speakers.
No distortions: clear sound quality.
No need for an external amplifier.
Cons
Might be a bit difficult to fit in some models, because of their slightly bigger sizes.
These are the best coaxial speakers manufactured by JBL. With high quality crossover components, the "Plus One" woofer cone design, and the "UniPivot™ design", you're sure to get the best sound quality!! And's JBL, so, you know it's going to be worth your money.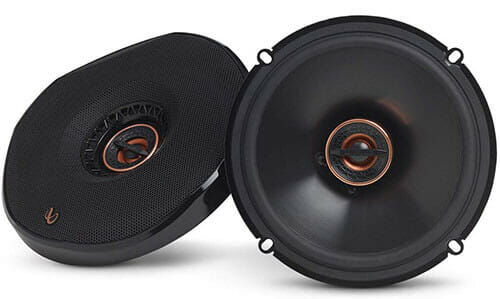 Specifications:
Power Handling: 60W RMS, 180W peak
Top-mount Depth: 2 1/16″inches
Sensitivity (@ 2.83 V): 93dB
Impedance: 3.0 Ω
Frequency Response: 53Hz – 21kHz
Peak Power Handling: 176-200 W
RMS Power Handling: 51-75 W
Cutout Diameter: 5 1/8″ inches
Crossover: Internal
A part of the very popular Reference series by Infinity, these speakers give crisp sound quality, with some excellent power handling.
The highs are smooth and crisp, the bass output is simply great, and the midrange is detailed and enhanced.
These have "polypropylene woofers" characteristic of Reference series, which are surrounded by hi-roll rubber. So this way, you get to hear quality sound, which has power.
The cone here is oversized, which means it gets to move more air, which in turn adds more "punch" to the music. Power it up with an amplifier, and you'll get an even more enhanced sound!
The tweeters here, are edge-driven, which means you get clear, smooth sounds with minimum distortions even at higher output levels.
Pros
Provides high sensitivity.
Great bass: produces powerful music with clear sound even at high volumes.
They perform like more expensive models, with amazing bass and sound quality, and hence are speakers which provide great value for money!
Specifications:
Top Mount Depth: 3″ inches
Impedance: 4 Ω
Gross Weight: 5.1 lbs
Sensitivity: 92 dB
Peak Input Power: 400 W
Cutout Diameter: 6 1/16 inch , 8¾ inch
Frequency Response: 30-22,000 Hz
Created especially for those who want powerful bass with high-quality treble, the KFC-6965S delivers excellent sound quality, without any need of an external amplifier. You get the best mid-ranges, and amazing frequency response.
The speakers have polypropylene woofer cones, which are surrounded by clothed covering, which are designed to project the sound perfectly and also render these speakers durability. The reason you can listen to music at very high volumes using these speakers. They are highly efficient too: you can play them for long hours!
Plus, they are very cheap compared to the other speakers, and hence, are super affordable, which means you get to have great sound quality without paying truckloads of money!
There might be some chances that it doesn't fit the space where the factory speakers were fit, and you might have to insert them somewhere else.
The installation process is easy enough. While you'll get great sound quality, if you really want to FEEL the bass, you might need additional woofers.
Pros
Lightweight, hence highly portable.
Easy to install.
Very affordable.
Can play up to very high volumes.
Cons
Might face some problems while fitting.
Might need additional woofers.
They are super cheap, and can play music with powerful bass, at very loud volumes! The mid ranges are excellent, as is the frequency response.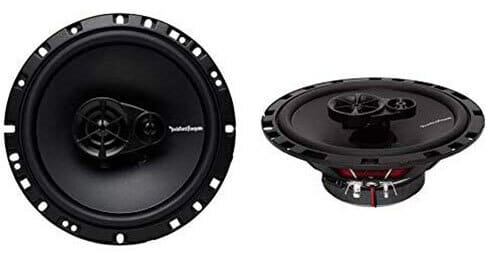 Specifications:
Weight: 4.6 lbs
Impedance: 4 Ω
Power Handling (RMS): 45 W RMS, 90 Watts Max
Midrange Mounting Depth: 2.15″ (54.5 mm)
Frequency Response (Hz): 52Hz – 20kHz
Crossover: Tweeter High-Pass (HP): 6dB
Grille/Trim Ring Included: Yes
Sensitivity (@ 1W/1M): 91 dB
Mounting Hardware: Yes
Tweeter Size: 0.5″ Inch (12 mm)
Midrange Size: 6.5″ Inch
Part of Rockford's Fosgate series, these speakers have very appealing and a gorgeous appearance! They are very affordable and have great sound quality.
The overall build is quite sturdy and it is very durable. The overall dimensions are quite compact and these can easily fit in smaller cases.
Thanks to the amazing crossovers, you can play sounds of any frequency without any audible distortion. The bass might not be extreme here, but the overall sound quality is great! The "piezo super tweeter" adds extra detail to the sound.
While you get crisp and great highs and mids, the voice might get distorted at higher volumes. And you might require a subwoofer to get a good amount of bass.
Like in every other Fosgate series model, these speakers have "silk dome tweeters", "polypropylene vacuum-formed woofer", and stamped "steel basket frame".
Pros
Amazing crossovers, which mean great sound, even at different frequencies.
Quite affordable.
Compact, and easy to install.
Attractive design.
Cons
Sound might be slightly distorted at very high volumes.
Might require a subwoofer for really great bass.
They are affordable, have great crossovers and an overall amazing sound quality, along with an attractive exterior design. All these features make it as popular as it is.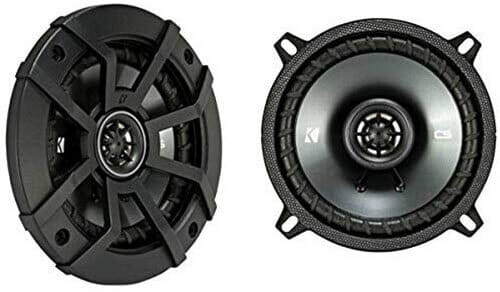 Specifications:
Sensitivity: 90 dB
Power Handling: 150 W RMS, 450 W peak
Cutout Diameter: 4 ½" inches
Frequency Response: 45Hz – 20kHz
Recommended Power Range: 10-75 W
Impedance: 4.0 Ω
Top-mount Depth: 1 ¾"inches
The Cs series by Kicker has released such speakers, which do not make a hole in your wallet, while also giving you the kind of sound you want!
This is a great advancement over the previous members, with the brilliant Extended Voice Coil aka EVC technology, plus mid-woofer cone which is made up of polypropylene.
The sound system is great, with a wide range of frequencies (from 45 Hz to 20,000 Hz) you can listen to! Add an amplifier, and the speakers really blossom.
The impedance here is 4 ohms, which basically means that the power is evenly distributed, no matter how loud the music is!
The overall look and design of these speakers is beautiful and they look quite aesthetic. The overall installation process is quite easy, and can be done without any additional help.
Pros
Great sound quality.
Easy installation.
Good frequency range.
EVC technology.
Cons
Treble might not be very high.
A great pair, at a great price! The sound quality is crisp, and clear. The range of frequency is quite wide, so you listen to great quality at every frequency.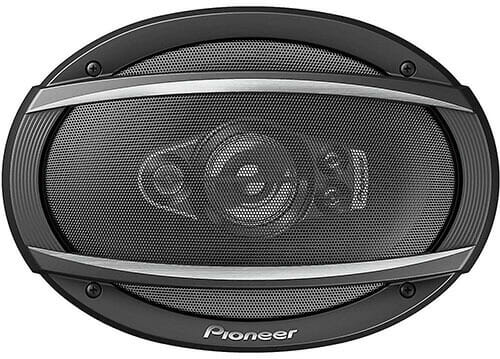 Specifications:
Cut-Out Dimensions: 8 ¾"x6″
Mounting Depth: 3 ⅜ "
Frequency Response: 28 Hz – 38 kHz
Max. Music Power (Nominal): 650W (100W)
Sensitivity (1W/1 m): 93 dB
Impedance: 4 Ω
Crossover Frequency: 2600 Hz
This is a member of the Pioneer A-series, one of the best and most popular car speaker series, which takes your overall listening experience to that next level.
Whether you are a car enthusiast or someone who drives regularly, or even someone who rides boats or organises events, these speakers will come handy!
These have the A-series exclusive rear chambers, and fibers designed purely from natural rocks. The fiber material used in the surface layer is very rigid and lends the speakers durability.
The design of these speakers is what gives these speakers a "mid-bass punch" and great details in the mid ranges. The cones stabilize the incoming sound waves, providing a great music experience!
It has a woofer cone which is supported by metal baskets, which dampen any vibrations or resonances. The crossover network is passive, and of very high quality.
The output sound is powerful, realistic, clear, and without any external subwoofer, you get a great low bass! The tweeter enclosure improves the overall staging and imaging of the vocals.
The sound is smooth, with every octave balanced, meaning no frequency is favoured over another and you get a detailed, clear voice.
Pros
Great power handling.
Clear and great quality sound.
High bass levels.
Cons
Not at par performance at high frequencies.
This whole series (Pioneer A-series) of car speakers are very popular, and not for no reason: they have great performance, brilliant power handling, high durability and overall good value for money.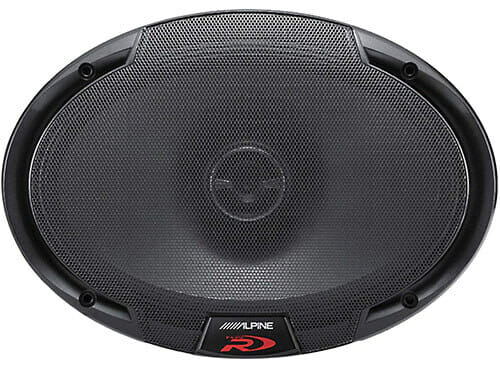 Specifications:
Drive Motor: High-performance, Linear
RMS: 100 W
Swivel Tweeter: Yes
Cone: Multi-layered Hybrid Fiber
Peak: 300 W
Tweeter: Ultra Smooth 1″ Silk Dome
Voice Coil: Large Square Wire Dual-Layered
They deliver a solid performance: the speakers are efficient, which means they can play for long durations. Also, the bass is great, better than most of the speakers in the market!
The sound is of great quality: full, rich, great bass. So, you get to listen to powerful music without any compromise with quality.
A lot of speakers can sound loud. But only a very few of them can handle an enormous amount of power and reproduce that sound with extreme clarity, the way these amazing speakers do. You get all the power handling without sacrificing even a bit of clarity.
They are built of glass-fibre reinforced polymer, which is a great improvement over the previous pressed steel ones. The crossover network is quite small here, infact 75% smaller than the previous versions.
The installation is made quite easy, thanks to their compact nature because of their small network, a very compact neodymium magnet, and a slim basket.
And to top that, they are quite affordable. So, you get to listen to great music without making a dent on your wallet.
Pros
Great bass response.
Quite affordable.
Easy installation.
Cons
Some distortion might creep in at higher frequencies, but can be fixed by elevating the crossovers.
This product is excellent, mainly if you are looking for a decent set of car speakers without spending a fortune. The sound quality is clear, crisp and great with great bass.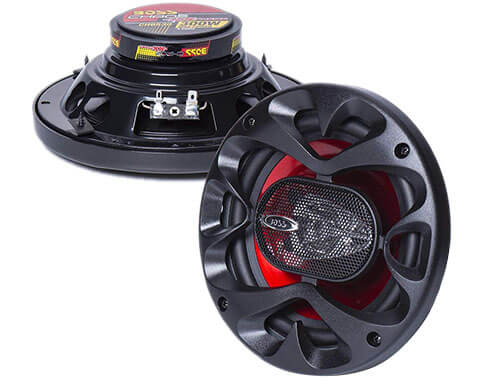 Specifications:
Power Handling (peak): 150 W x 2
Sensitivity: 90 dB @ 1 W/1 m
Dimensions: 6.6" x 6.6" x 2.4"
Voice Coil: 1" High Temperature
Impedance: 4 Ω
Mounting depth: 2.1"
Frequency Response: 100Hz – 18KHz
Midrange: 1" Polyimide Dome
Tweeter: .5" Piezo
Just one look and you'll know why they're called Chaos Exxtreme. The power handling capacity of these speakers is simply brilliant, and the Piezoelectric tweeters, which are more resistant to overloads and can be used without crossovers, render great sound quality to the output music!
The voice coils can withstand high temperatures but still keeps its strength and its fatigue properties intact! And because of that, the sound quality is great, in spite of its compact nature.
Their overall look and design is quite aesthetic, and the polyurethane cone lends it rubber-like flexible nature, while the coils are made of aluminium.
They are incredibly affordable, but… The sound quality could have been better, especially at high volumes and you just might require an amplifier.
Pros
Flexible, durable speakers.
Three separate beakers with different bass levels altogether give a wholesome experience.
Lightweight, small size.
Cons
Audio quality might not be at par.
Amplifiers might be required.
A great bass speaker, which combines sounds of three different speakers, each of different bass levels. The whole thing is quite endurable and built to last!
Top Brands: Car Speakers with Bass
The following are some companies which are the best at what they do, and are some of the most popular brands selling a range of audio products:
1. JBL
JBL, initially an American company which was founded in 1946, was bought by Harman International Industries, which was then acquired by Samsung, which is a Korean company. They produce great quality car speakers along with other audio products, which are quite reputed for their great value for money.
2. Kenwood
Kenwood Corporation is a Japanese company that designs, develops and markets a range of car audio, Hi-Fi home and personal audio, professional two-way radio communications equipment and amateur radio equipment.
3. Kicker
Manufacturing audio products since 1973, Kicker is known for its audio products which have great bass!
The company builds car audio, marine audio, and home audio products, from speakers, amplifiers, subwoofers, processors, accessories, grilles, subs and more.
Headquartered in Oklahoma, the company started off by building the original KICKER, the first speaker designed primarily for cars and trucks which was a full frequency range speaker.
4. Rockford Fosgate
A part of the Rockford Corps, the Rockford Fosgate, which works with the motto "Car Audio for Fanatics", manufactures subwoofers, amplifiers, car speakers, sound processors and more.
So if you're someone who loves traveling, boating, biking, driving, you'll love their products, which are known for their performance, power and the passion which goes behind it.
5. Polk Audio
Polk Audio is a manufacturer of audio products best known for their home and automobile speakers. The company also produces a wide range of other audio products such as amplifiers and FM tuners. The company is headquartered in San Diego, California and in 2006, was acquired by Directed Electronics.
6. Infinity Systems
Found in 1968, and becoming a part of Harman International Industries later, which in turn, later became a subsidiary of Samsung electronics, Infinity systems is known for their great quality, state-of-the-art speakers.
Headquartered in Connecticut, they manufacture audio products from car audio amplifiers to home theatre packages to powered subwoofers to home speakers, and more.
7. Pioneer
Pioneer Corporation, commonly referred to as Pioneer, is a Japanese multinational corporation based in Tokyo, Japan, that specializes in digital entertainment products. It sells a wide range of audio products from audio/video receivers, Blu-ray players to speakers, and mobile audio receivers.
FAQs About Car Speakers
What is the need of buying new speakers in the first place? Don't I have the factory speakers installed already?
While the pre-installed, factory speakers may work okay, they hardly produce the pleasing sound you expect to hear. Far from it, rather.
The moment you start using new and better speakers, you'll notice what you were missing in the first place. It's all about making each and every experience worth it. Something which remains in your memory forever.
And however far-fetched it may seem, a great speaker plays a very important role in that.
How hard is it to install new speakers?
It's actually very easy! A new pair of speakers are extremely easy to install. Besides, you get an user manual with the speakers, which assist you in setting up and completing the whole process easily and successfully.
Should I3. Will there be a requirement of external wiring for installing the new speakers? buy a pedal with more controls or fewer controls?
It depends.
If you plan to use your factory (pre-installed) stereo to power up the new speakers, you'll most probably not require new wires. You can simply use the factory wiring.
However, if you plan to install an amplifier, externally, then you'll require new wires for speakers.
Will my factory stereo be able to power up the new speakers?
In most cases, yes. The speakers will work just fine with the factory stereo. But you can get a much better sound quality with a few additions from your side.
What other products should I buy alongwith speakers to get a wholesome, immersive experience?
While the car speakers usually are sufficient for good quality music, these following products can take your experience at a whole new level:
Amplifiers: They simply amplify the audio signals i.e. boost a small musical signal into a more powerful electrical output to drive loudspeakers. The final result is great volume and lots of power available.
Equalizers: They provide you the capability to fine tune a system. It is almost impossible to get perfect sound reproduction by speakers. Using equalizers, you can boost as well as cut particular frequency ranges to meet your needs.
Crossovers: They are basically type of electronic filter circuits used in range of audio applications, so as to split up an audio signal into two or more frequency ranges, so that the signals can be sent to drivers designed for different frequency ranges. These are usually described as "two-way" or "three-way".
Subwoofers: They make the less audible sounds in a song or audio sample more clearer and more audible, so that every desired frequency is clearly heard.
Wiring accessories: For connecting the car stereo to external additions like amplifiers or equalizers, you may require wiring accessories for proper connections and desired outputs.
Which are better: full-range or component speakers?
Component speakers have tweeter separated from the woofer, so, these two can be installed in different places.
Full-range speakers will typically have all of the necessary components in one place, meaning easier installation. If you are looking for speakers which are affordable, definitely go with full-range ones.
But which one is better?
Definitely, the component speakers: better imaging, more detailed and dynamic sound.
Price not considering, which are the ideal features to have in car speakers?
Though it depends from car to car, and brand to brand, but some features which are desirable in a car speaker would be:
1. It is a 3-way speaker.
2. It is a component speaker.
3. It has a wide frequency range.
4. It has high sensitivity.
5. It has high power handling.
Conclusion
So, I hope, by now, you would have chosen a great pair of speakers for making your drives the best in the world.
So, the next time, you feel alive and awesome, let the amazing speakers make those moments etched in your memory forever!
Here's hoping that your great journeys turn EPIC…