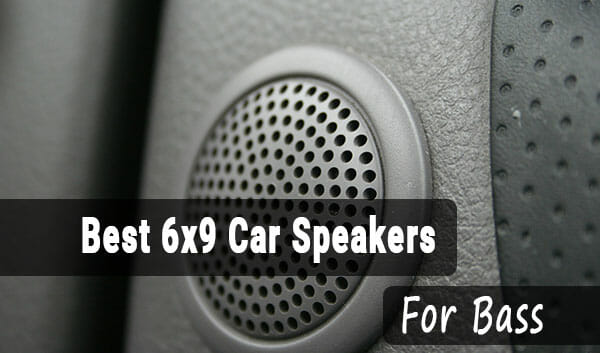 Imagine you're driving.
You're alone probably.
Or with someone.
You feel happy.
You feel amazing.
You feel alive.
You turn the music on.
The car speakers blare your favorite song: all flat, of very poor quality. 
A great time can be ruined by a simple pair of speakers. And we definitely wouldn't want that, would we?
So, here's looking at the 9 of the best bass speakers you can get for your car in 2021, and make those great occasions epic!
Our Top Picks
Here's looking at the best bass car speakers in each category:
---
---
---
---
---
---
---
---
---
Buying Guide: Car Speakers With Bass
There are quite some things to take into consideration, while purchasing a car speaker. The below section will help you understand the various technical terms associated with car speakers:
1. Types (1-way/2-way/3-way)
There are different types of car speakers based on the areas it covers.
1-way speakers consist of a single speaker. Compared to other speakers, some sound quality is lost here.
2- way speakers consist of two speakers. It has a tweeter for high frequencies and a woofer for middle frequencies.
3-way speakers are, you can say, the kings. There are further 4-way and 5-way too, but they are too expensive with no noticeable audio improvement.
2. Frequency Range
The sound quality of speakers should be constant at different frequencies, be it low or middle or high. It's just not enough to have a lot of bass.
A good quality bass speaker would generally mean that you get great quality sounds at all frequencies, not just lower or mid.
3. Impedance
It is basically the speaker's resistance.
You must match your speakers to your amplifier/receiver so that you aren't forcing the amp to work overtime, just to fill your room with sound.
4. Speaker sensitivity
This gives an idea about the volume the speaker would give off at a particular amount of power applied. The higher the sensitivity, the better the quality.
5. Power Handling (RMS & Peak Power)
Your speakers should be able to handle sufficient amounts of power for them to be of great quality! At least the speakers should be able to handle the amount of power the main speakers and the amplifier requires.
The more power it can handle, the better it is, for the overall quality.
6. Speaker Material
It's not required to be said, right? The better the materials used in construction, the better the speaker would be, more will be it's durability, and the better it would last.
7. Size
The size of the speakers decide whether they are fit for your car or not, in the first place. The size of the speakers, in general, range from 3.5 to 6×9 inches.
Top Brands: Car Speakers with Bass
The following are some companies which are the best at what they do, and are some of the most popular brands selling a range of audio products:
1. JBL
JBL, initially an American company which was founded in 1946, was bought by Harman International Industries, which was then acquired by Samsung, which is a Korean company. They produce great quality car speakers along with other audio products, which are quite reputed for their great value for money.
2. Kenwood
Kenwood Corporation is a Japanese company that designs, develops and markets a range of car audio, Hi-Fi home and personal audio, professional two-way radio communications equipment and amateur radio equipment.
3. Kicker
Manufacturing audio products since 1973, Kicker is known for its audio products which have great bass!
The company builds car audio, marine audio, and home audio products, from speakers, amplifiers, subwoofers, processors, accessories, grilles, subs and more.
Headquartered in Oklahoma, the company started off by building the original KICKER, the first speaker designed primarily for cars and trucks which was a full frequency range speaker.
4. Rockford Fosgate
A part of the Rockford Corps, the Rockford Fosgate, which works with the motto "Car Audio for Fanatics", manufactures subwoofers, amplifiers, car speakers, sound processors and more.
So if you're someone who loves traveling, boating, biking, driving, you'll love their products, which are known for their performance, power and the passion which goes behind it.
5. Polk Audio
Polk Audio is a manufacturer of audio products best known for their home and automobile speakers. The company also produces a wide range of other audio products such as amplifiers and FM tuners. The company is headquartered in San Diego, California and in 2006, was acquired by Directed Electronics.
6. Infinity Systems
Found in 1968, and becoming a part of Harman International Industries later, which in turn, later became a subsidiary of Samsung electronics, Infinity systems is known for their great quality, state-of-the-art speakers.
Headquartered in Connecticut, they manufacture audio products from car audio amplifiers to home theatre packages to powered subwoofers to home speakers, and more.
7. Pioneer
Pioneer Corporation, commonly referred to as Pioneer, is a Japanese multinational corporation based in Tokyo, Japan, that specializes in digital entertainment products. It sells a wide range of audio products from audio/video receivers, Blu-ray players to speakers, and mobile audio receivers.
FAQs About Car Speakers
1. What is the need of buying new speakers in the first place? Don't I have the factory speakers installed already?
While the pre-installed, factory speakers may work okay, they hardly produce the pleasing sound you expect to hear. Far from it, rather.
The moment you start using new and better speakers, you'll notice what you were missing in the first place. It's all about making each and every experience worth it. Something which remains in your memory forever.
And however far-fetched it may seem, a great speaker plays a very important role in that.
2. How hard is it to install new speakers?
It's actually very easy! A new pair of speakers are extremely easy to install. Besides, you get an user manual with the speakers, which assist you in setting up and completing the whole process easily and successfully.
3. Will there be a requirement of external wiring for installing the new speakers?
It depends.
If you plan to use your factory (pre-installed) stereo to power up the new speakers, you'll most probably not require new wires. You can simply use the factory wiring.
However, if you plan to install an amplifier, externally, then you'll require new wires for speakers.
4. Will my factory stereo be able to power up the new speakers?
In most cases, yes. The speakers will work just fine with the factory stereo. But you can get a much better sound quality with a few additions from your side.
5. What other products should I buy alongwith speakers to get a wholesome, immersive experience?
While the car speakers usually are sufficient for good quality music, these following products can take your experience at a whole new level:
Amplifiers: They simply amplify the audio signals i.e. boost a small musical signal into a more powerful electrical output to drive loudspeakers. The final result is great volume and lots of power available.
Equalizers: They provide you the capability to fine tune a system. It is almost impossible to get perfect sound reproduction by speakers. Using equalizers, you can boost as well as cut particular frequency ranges to meet your needs.
Crossovers: They are basically type of electronic filter circuits used in range of audio applications, so as to split up an audio signal into two or more frequency ranges, so that the signals can be sent to drivers designed for different frequency ranges. These are usually described as "two-way" or "three-way".
Subwoofers: They make the less audible sounds in a song or audio sample more clearer and more audible, so that every desired frequency is clearly heard.
Wiring accessories: For connecting the car stereo to external additions like amplifiers or equalizers, you may require wiring accessories for proper connections and desired outputs.
6. Which are better: full-range or component speakers?
Component speakers have tweeter separated from the woofer, so, these two can be installed in different places.
Full-range speakers will typically have all of the necessary components in one place, meaning easier installation. If you are looking for speakers which are affordable, definitely go with full-range ones.
But which one is better?
Definitely, the component speakers: better imaging, more detailed and dynamic sound.
7. Price not considering, which are the ideal features to have in car speakers?
Though it depends from car to car, and brand to brand, but some features which are desirable in a car speaker would be:
It is a 3-way speaker.
It is a component speaker.
It has a wide frequency range.
It has high sensitivity.
It has high power handling.
---
Conclusion
So, I hope, by now, you would have chosen a great pair of speakers for making your drives the best in the world.
So, the next time, you feel alive and awesome, let the amazing speakers make those moments etched in your memory forever!
Here's hoping that your great journeys turn EPIC…