Do you love to sing?
Maybe you're a professional singer, and want to hone your skills. Or maybe you love hanging out with friends, and belting the notes to that old throwback song. Or maybe you're more of a shower person, and just want to let loose once in a while.
Here's a compilation of the best karaoke speakers of 2023, reviewed and ranked to help you out.
Table of Contents
Top Karaoke Speakers of 2023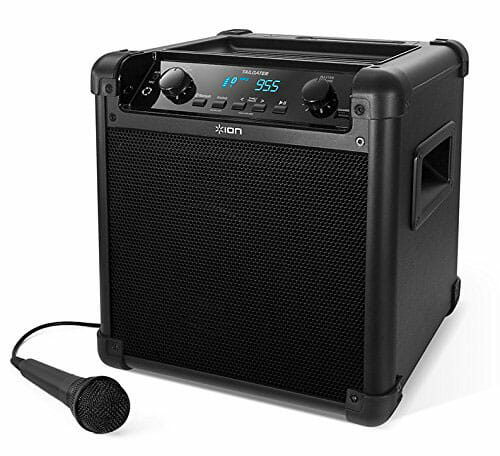 ION Audio is a master in the karaoke trade, and ION Audio Tailgater iPA77 is undoubtedly one of the best in the market currently.
The ION Audio Tailgater iPA77 has a 6.5-inch speaker. Its dynamic, powerful system has a 50-hour battery that is rechargeable, and the speakers deliver a beautiful experience with clear sound and proportionate frequency.
Pros
It has a rechargeable battery with a 50-hour battery life.
It has Bluetooth connectivity for both Android and iOS for expanded control.
Comes in-built with a USB Port and a power bank so you can recharge your devices like phone, iPad, tablet, laptop, etc.
Music can be put in through USB cable, auxiliary cable and SD card.
Comes equipped with a microphone and auxiliary cable.
Speaker covered with woofer and tweeter to cover frequency on a good spectrum.
Comes with an AM/FM Modulator.
Cons
The system is a bit heavy, and though the edges make lifting easier, it would be most useful with wheels.
It's extremely user friendly, and has expanded control features for both Android and iOS plus varied methods for song input. Plus, it has an extremely long battery life, and also has an in-built power bank.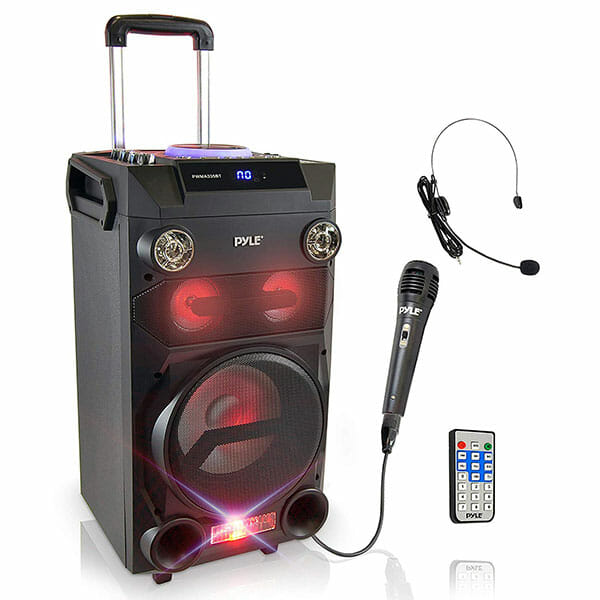 Pyle has been manufacturing home entertaining and PA systems for nearly half a century now. Pyle PWMA335BT is a bigger version of their 250-watt model, with a whooping power of 500 watts.
It is packed with an 8-inch sub-woofer and three tweeters, along with the older features of the 250-watt model, like the USB port, Bluetooth, etc.
It is an all-round entertainment system for friends and family.
Pros
A full range karaoke speaker with an 8-inch subwoofer and three tweeters for a well-sounded frequency spectrum experience.
Supports Bluetooth for both iOS and Android.
Has USB and SD inputs as well.
Comes equipped with a microphone.
Comes with wheels for portability.
Can record live music.
Comes with an FM/AM Modulator.
Cons
Has a battery life of only 2-4 hours when properly charged.
Has the ability to record live music, and it comes with wheels for portability which means that its bulky exterior is easier to transport.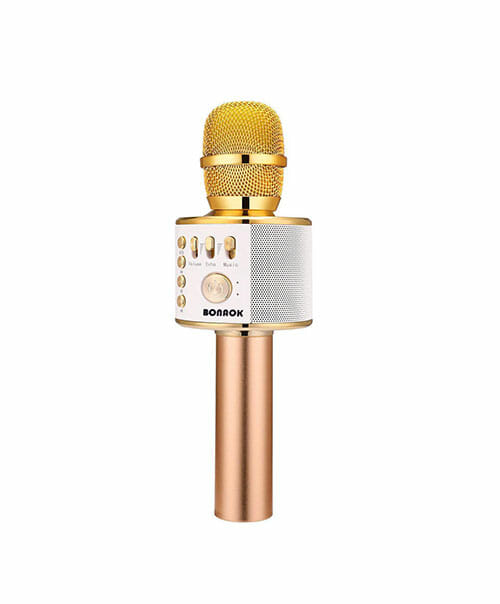 One of the most comfortable karaoke microphones, the BONAOK Wireless Bluetooth Karaoke Microphone system is an extremely sleek and stylish pick for an on-the-go karaoke lover.
With Bluetooth availability, it acts as a multi-purpose device, tripling as a speaker, a media player and a sound recorder, and works with most karaoke apps.
The player is easy to use with its multi-function buttons for changing tracks and volume.
Pros
Has a 2600mAh rechargeable battery.
High-quality Bluetooth module makes it easier to use the device as a speaker, media player, and a media recorder.
Compatible with most karaoke apps.
Bluetooth connectivity available for both iOS and Android.
Supports USB and SD inputs.
Multipurpose buttons make it easier to use.
Cons
Not as durable as bigger and more expensive karaoke systems.
For an affordable price, this karaoke system is a steal deal. If you want a fast-charging, sleek, and easy-to-use karaoke machine within a budget, this is a system for you.
Pyle is a master of karaoke systems, and the Pyle 2400-watt Bluetooth PA Loudspeaker Karaoke Entertainment System is no exception.
With its 2400-watt power and 12-inch speaker fitted with woofers, the karaoke entertainment system is sure to rock you to your core. The system comes equipped with Bluetooth, cable connectivity, a microphone, etc. all for you and your friends to enjoy an uninterrupted karaoke party.
Pros
Speaker comes with a 12-inch speaker fitted with woofers with 2400 Watts of power.
Blue connectivity is available in the model.
This model also reads USB and SD input.
Comes equipped with a microphone.
LED lights to get the party going.
Has attached wheels for portability.
Cons
Not the most budget friendly, and the speaker tower has to be attached to a power source.
With its 2400 Watts of power, the 12-inch speaker comes fitted with woofers, and provides powerful music, boosting the bass for a fun experience. Plus, the flashing lights that come with the system add a special fun to the package.
The Tzumi PopSolo microphone and karaoke system is a sleek model which is a perfect fit for karaoke lovers on the go.
The system comes fitted with a microphone and a smartphone holder to hold your phone and other similar devices.
Being handheld, this system can easily be used anywhere due to its portability and rechargeable batteries that keep it going for hours. The device is available in black and white.
Pros
Model comes equipped with Bluetooth connectivity for Android and iOS.
Comes with a contractible smartphone holder for holding your phones or similar devices.
1300 mAh rechargeable battery with a lightweight speaker.
Speakers for sound amplification.
Handheld, and therefore extremely portable and efficient.
Cons
Sound quality isn't comparable to its bigger, more expensive peers.
The Tzumi PopSolo is an extremely cheap alternative for a music lover just delving into the karaoke scene, and its rechargeable battery keeps it going for hours.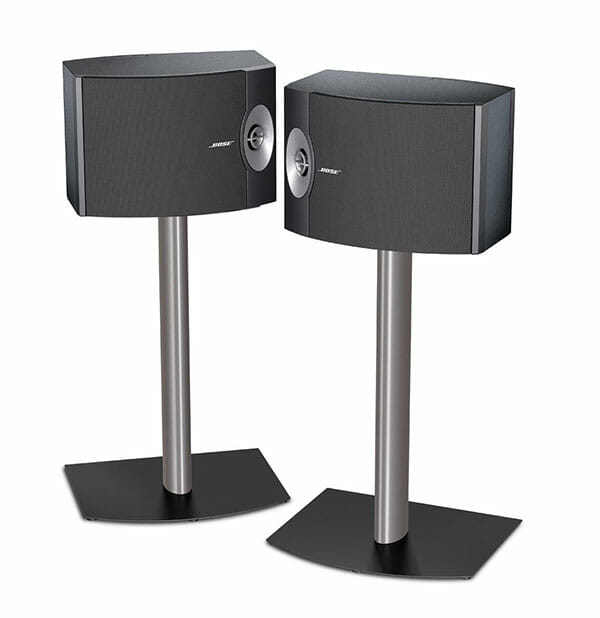 Bose is undoubtedly a genius in the speaker game, and the Bose 301-V Stereo Loudspeakers (pair) are a perfect match to liven up your party.
Its spatial dispersion construction allows proper distribution of sound with a bass speaker made for high impact.
The speaker can be attached to sources of 10 to 150 Watts, but also to receivers of 4 to 8 ohms. The model also comes with automatic protection that avoids the drivers from being over-driven and avoids interference.
The model is also extremely compact and doesn't take up a lot of space.
Pros
Despite compact size, the sound impact is loud and extensive.
Its spatial dispersion construction allows proper and wide distribution of sound, and smoother high frequency sounds.
Has a bass reflex design for high impact.
Works with sources of 10 to 150 watts with receivers from 4 to 8 ohms.
Speakers come equipped 8-inch woofers.
Comes with automatic protection that avoids the drivers from being overdriven and avoids interference.
Cons
Not as long lasting as other speaker systems.
We liked its small and compact which makes it easier to carry, and its bass reflex for high impact, along with construction for proper audio dispersion.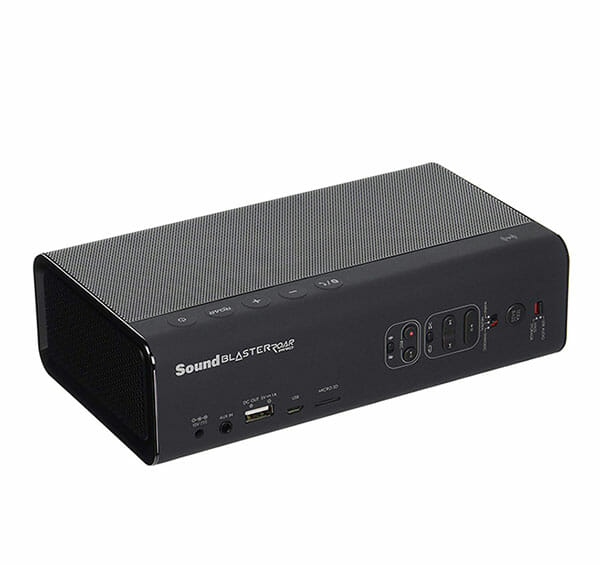 The Creative Sound Blaster Roar Pro Bluetooth Wireless Speaker uses high-quality audio codecs specialized in wireless connections, solving the issue of wireless audio sounding shoddy.
The model also comes with a rechargeable battery lasting up to 10 hours, and also acts as a power bank for your smartphone and other similar devices.
Pros
To compete with wired connection, it supports audio codecs like AAC, aptX and aptX low latency.
It has 3 built-in audio profiles for – energetic for upbeat songs and lively music, neutral for a good balance and warm for a soothing sound experience.
Comes with a rechargeable 10-hour battery.
Compact and portable.
Offers cable connectivity like USB.
Acts as a power bank for your devices.
Cons
Sound is simply uni-directional.
This karaoke system is equipped with a unique feature of three preset audio profiles, which makes it adaptable to various types of music and sounds.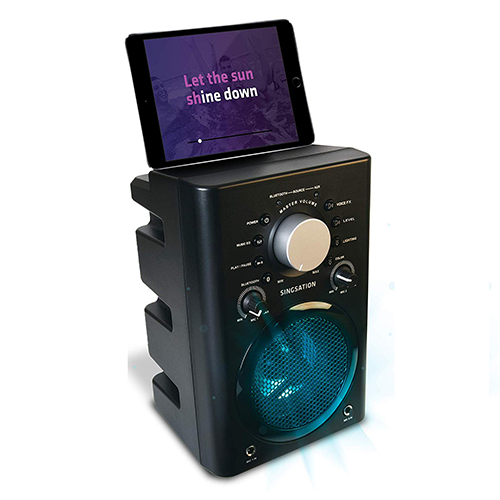 The Singsation Karaoke Machine comes equipped with a Bluetooth speaker that allows it to be easily connected to your smart devices.
It is compatible with all karaoke apps and comes equipped with fun voice effects- chipmunk, high pitch and low pitch. It also comes equipped with in-built lights, which makes it fun to party with friends and livens up your karaoke session.
Pros
Comes equipped with Bluetooth and connects to Android and iOS devices.
Compatible with all karaoke apps.
Connectivity available through Bluetooth as well as an Auxiliary cable.
It has three voice effects to transform your voice for a bit of fun.
Comes with a microphone.
Has an AC power adapter and cradle to hold your smartphone, tablet or other device.
Its multi colored light effects and its voice changing feature makes it a fun addition for parties.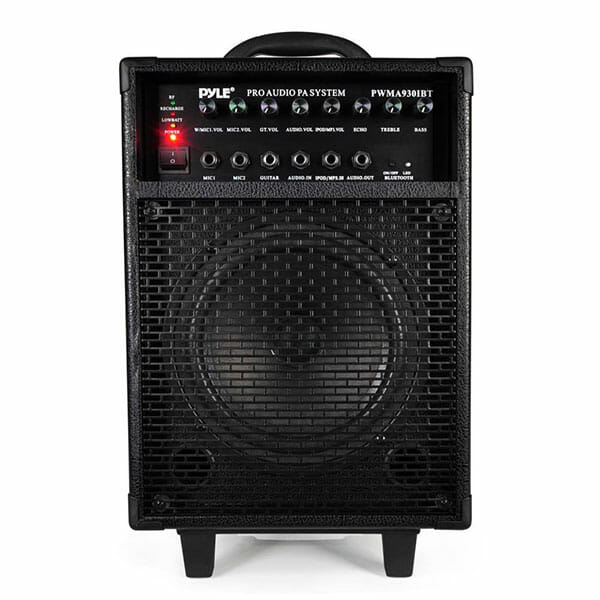 The Pyle PWMA930IBT is a karaoke model that has everything in it. Built with durability in mind, it is compact and portable.
The model connects to your smart devices through Bluetooth- both Android and iOS, and has built-in instrument input for maximizing your musical experience.
Pros
Power output of 600 Watt with a 6-inch woofer.
Compatible with all Bluetooth devices, both Android and iOS.
Comes with a microphone, auxiliary cable and an RCA cable.
Comes with a stand mount.
Equipped with a front control panel for adjusting the bass, treble, and echo levels and mic.
Rechargeable battery that lasts up to 3 hours.
Cons
You get quality sound volume only after maxing the speaker's volume and that of the phone you're using too.
This karaoke speaker has a front control panel for adjusting the bass, treble, echo, etc. and its compact body makes it portable and durable.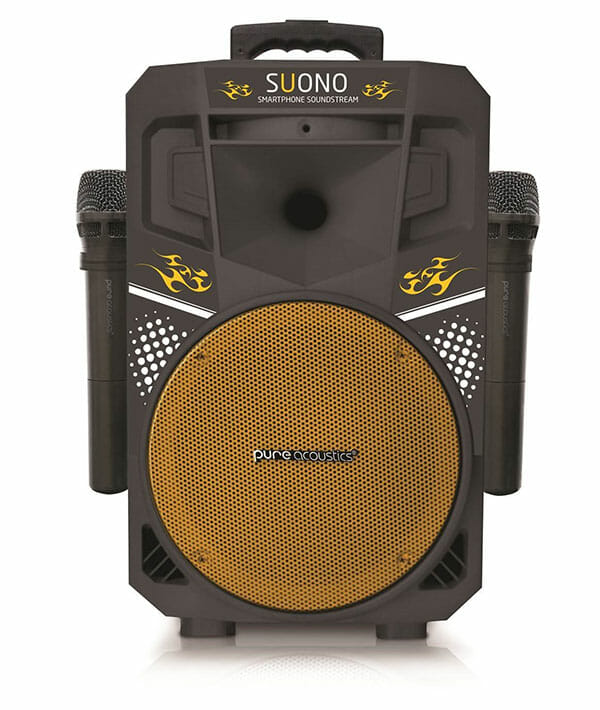 Pure Acoustics Wireless Portable Bluetooth PA Audio Speaker has Bluetooth connectivity along with AM/FM modulator and cable connectivity.
It also has a wired slot for microphone with the speaker. The LCD included displays the track information so that users are in full control.
Pros
Bluetooth connectivity available for both iOS and Android.
Portable and Durable.
LCD that shows the speaker's mode and information about the playing track.
USB and auxiliary input.
Microphone input.
AM/FM modulator.
Cons
Speaker can catch disturbances, affecting sound quality.
The LCD screen providing information about the speaker's mode and the playing track is an added unique feature that we found useful for karaoke events.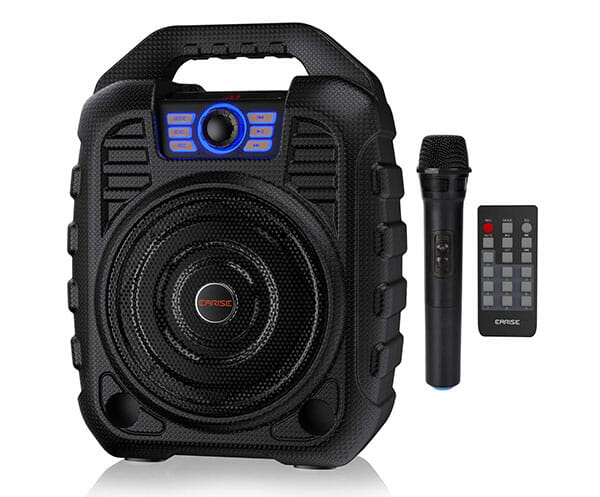 The Earise T26 is a compact and portable speaker. With an in-built Bluetooth system, it makes music streaming easy for karaoke. You can use an indoor or outdoor setting for this speaker.
The wireless microphone included amplifies your voice and can record it as well.
Also, you get a remote that can control (change the music track or adjust the volume) this karaoke speaker from a distance.
Pros
Bluetooth connectivity available for Android and iOS.
Comes with a cordless microphone and USB cable.
Compact and portable.
Has cable connectivity like a USB port.
Comes with a remote control.
Built-in rechargeable battery that goes for hours.
Cons
Doesn't come with the AA batteries required for the speaker system, and you have to purchase them separately.
The remote-control feature is extremely convenient and you can operate the system from a distance.
Best Karaoke Speaker Buying Guide
Best Karaoke Speaker Brands
These are some of the best karaoke speaker brands of 2020 in the market.
1. ION Audio
ION Audio has been making audio products like Bluetooth speakers, turntables, musical instruments, etc. since 2002.
Some of their best products include ION Audio Road Warrior, ION Audio Tailgater, and the ION Audio IPA91.
2. Pyle Audio
Pyle is an American brand making audio-based products and consumer electronics. They have been in business since the 1960s.
Some of its best products include Bluetooth Mini Blue Series Home Audio Amplifier and the Pyle PSBT65A.
3. Bose Corporation
Bose Corporation is a manufacturing company which predominantly sells audio equipment. It was established in 1964 by Amar Bose, and is best known for its home audio systems and speakers.
Some of its best products include Bose SoundTouch Series and Bose Home Speaker 500.
4. JBL
JBL is an American company that manufactures audio equipment, including loudspeakers and headphones. It was established in 1946.
Some of its best products include the 3-way loudspeaker system "Ti2000" and the JBL Flip 4 portable Bluetooth speaker.
5. Sony
Sony Corporation is a Japanese multinational conglomerate corporation and its diversified business includes consumer and professional electronics, gaming, entertainment and financial services. It was established in 1948.
Some of its best products include the Sony SRS-XB22 and the Sony XB72.
FAQs About Karaoke Speakers
What do I need to do to get the best sound from a karaoke system?
Most karaoke systems now include Bluetooth connectivity. As a result, all you need to do is connect the machine system to your iOS or Android devices. These machines also have cable connectivity like a USB port, an auxiliary cable or availability for an SD card input.
Some machines also have a DVD inputs. HDMI output that would be compatible with receivers and latest TVs. Most of these machines usually come with a microphone input as well, with a built-in echo effect.
What is a CDG, VCDs and DVDs?
CDGs have no video running in the background, and only has the lyrics of the song playing.
VCDs have a video running in the background along with the lyrics of the song playing.
DVDs too have a video running along with the lyrics of the song as well as the music, and will usually store more songs than a CDG or VCD.
What is an RCA cable?
This cable connects audio and video from your machine to your TV and amplifier, mixer, etc.
What are the different types of Karaoke machines?
There are different types of Karaoke machines like All-In-One System, MP3 System, Built-In Microphones, TV Monitor System.
How much does a karaoke machine cost?
Karaoke machines usually cost between $40-$300+. It depends on the type of system you want, and for what use- for children, professional singers, or amateur singers.
Do karaoke machines have warranty?
Karaoke machines can be extremely pricey, and due to their heavy and bulky weight, they can be prone to breakage.
If you are investing in an expensive karaoke machine, make sure to buy one with at least a year's warranty.
Where do I get music for my karaoke machine?
Since most karaoke machines these days come with Bluetooth, you can connect it to your smartphone and play music on your music streaming apps and other karaoke apps.
Conclusion
This was the complete buying guide for Karaoke Speaker Systems as of 2020.
There is an artist within all of us, just waiting to soar. So, what are you waiting for? Get buying!