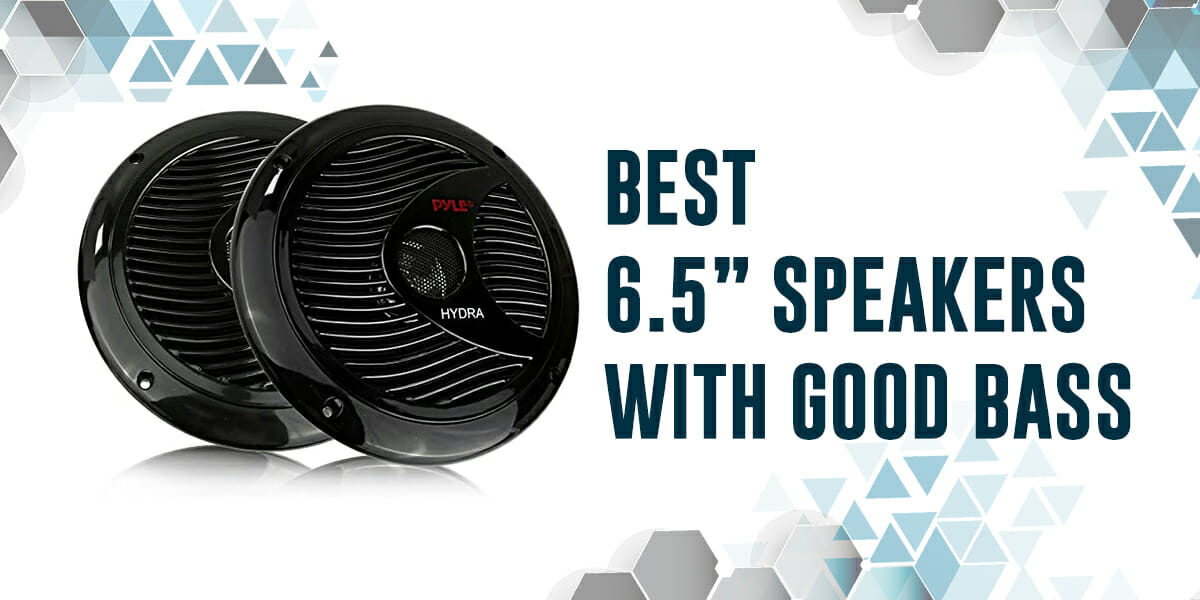 Imagine you have embarked on a long drive with your family or friends towards a hill station. Upon escaping the heat and harsh weather of the plains, you see yourself amidst dense fog and clouds as you swish by them.
The only thing you would need at that moment is good music without any background disturbances. Though most cars today do come with great sounding speakers, here are the best 6.5" speakers with good bass that you should definitely consider.
After all, it is not the horse-power that matters but the speaker power that creates memories. Some of these can prove to be great for homes as well.
Table of Contents
Our Top Picks
Best Speaker (overall): Pyle Hydra dual-marine speakers
This is because it won't get affected by water and boasts of a great sound quality. It can also be used on marine vehicles.
Best Speaker (Value for Money): Autotek ATS653
It gets most of the features the other speakers get at a really affordable price. The tweeters add to its mesmerising experience.
Best Speaker (Premium): JBL GTO609C
Fabulous attention to detail with bigger voice coils, easy to mount (i-mount) facility and reliability.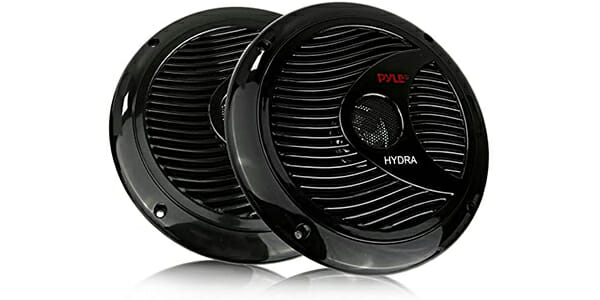 Who says you have to be wary of the weather conditions to protect your car speakers from getting damaged? The Pyle Hydra dual-marine speakers is the perfect solution as it won't get drenched in water and can withstand all weather conditions.
Its 150-watt sound capacity makes sure everyone gets to hear a melodious sound. Another advantage it has is that it can be fixed with all types of vehicles.
Pros
150-watt power
Poly-propelene cone and cloth coating
Aluminium voice coil making it easy to use on marine vehicles
Many colors
This speaker is made of water-resistant material and offers a great sound. A brand specializing in music supports its value. The speaker pair is available in cool colors and options ranging from 100 W, 120 W and 150 W are present. Its affordable pricing also gives it an edge over rivals.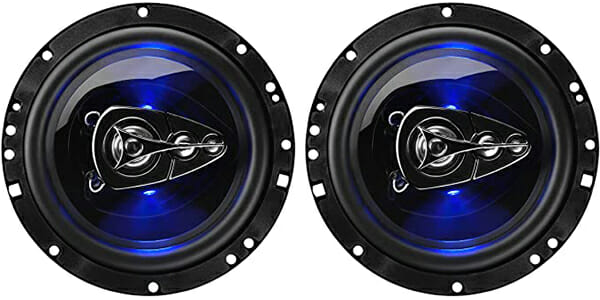 Are you looking for speakers which are powerful, have bright colors and can be adjusted according to your car's speaker mounting? Then this is the best option available at present.
Each of the two speakers produces a sound of 150W and the bright blue color gives a wonderful effect to the car or surroundings as well. Its multiple size configurations means that it fits any speaker socket.
Pros
Lighting effect
Voice coils that can stand high temperatures
Tweeter for better sound quality
Cons
Complicated installation process
The tweeters integrated in these speakers will offer a relishing performance. It can be adjusted according to requirements and due to the several sizes it is available in, it won't be difficult to find the right one.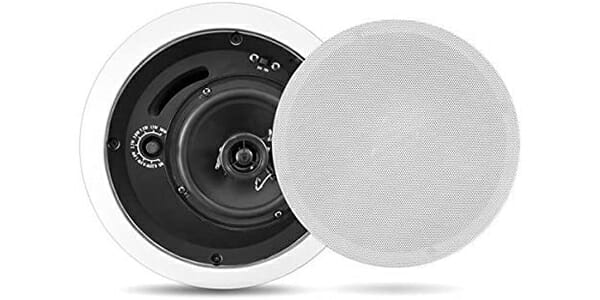 This solution from Pyle is the perfect one for you if you're looking for home speakers. Its ring can be customized to suit your room's hue and also comes with a 70W transformer to ooze out sound that the entire house can listen to and enjoy.
Its unique feature is that it features 250W speakers outclassing many. A woofer and tweeters also elevate the experience for you.
Pros
60 Hz to 20 KHz frequency
70W transformer
Woofer
Cons
Installation can't be done without professionals.
It has a lot going for itself such as the 70W transformer and the brilliant 250W speaker. To turn a home into a disco floor, a speaker must be as powerful and of a great quality as possible. The woofer and mylar dome tweeter come in handy when this is the need of the hour. Its 2-way installation makes it possible to integrate into any ceiling.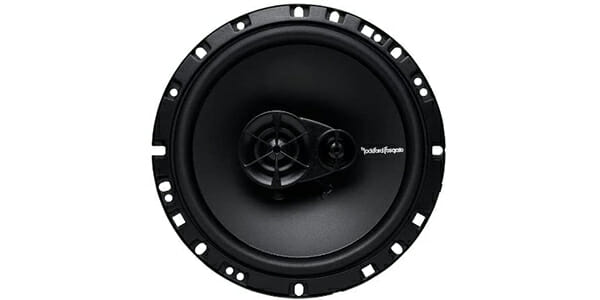 Rockford has had a great association with automobile brands such as Mitsubishi. Neat appearance, polypropylene cones and reliability are the USPs of this speaker.
Pros
Coaxial speaker- Space optimisation
1-year warranty
Rockford Fosgate quality
Rockford Fosgate speakers are known to be greatly dependable. The R165X3 Prime's coaxial arrangement means it can produce better sound while requiring less space. It also gets a polypropylene envelope for protection against wear and tear. The 1-year warranty it comes with offers peace of mind of its reliability.
It could be the most premium option in the market as it brings with it the brand value and reliability of JBL. The brand claims that the carbon covered cones are bigger than those of rivals to make greater sound. The voice coils have been extended in size for minimisation of loss by heat and hence, less wear and tear of the internal components. The 'i-mount' system allows mounting or placing the speakers on any surface with convenience.
Pros
Tweeters that allow you to change volume according to your needs.
Carbon covering on cones for protection against weather
'i-mount' function
Speakers can be connected with even the narrowest wire cables.
Cons
Expensive
Could have included features such as a display screen to show the song name.
There are few speakers as good as the ones offered by JBL. This speaker is a popular fit for cars and can be placed anywhere. The sound quality is expected to be best and the extended voice coils enable it to last longer.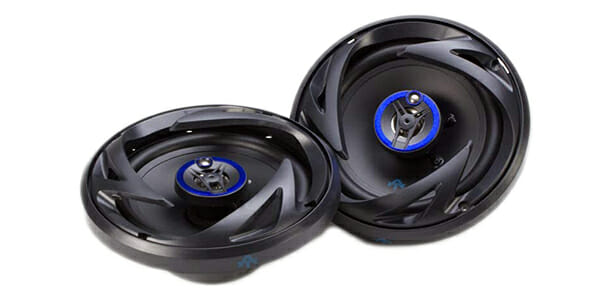 Wanting bang for your buck? Look no further than the Autotek ATS653 as this speaker pair is amongst the cheapest money can buy and gets you all the features such as tweeters, voice coils that cap temperature and cones that are built from a high-temperature adhesive to prevent heat dissipation. It gets a water-resistant cotton covering for prevention against rust.
Pros
Value for money
Water-resistant nature
High sound quality
Tweeters for better sound
It offers the perfect balance between value for money and features. The tweeters and heat-resisting voice coils come in handy when high-intensity sound is to be played for a longer duration. In addition to these, the moisture-preventing rubber swathe is also a reason to recommend.
Frequently Asked Questions
What are the best 6.5" door speakers?
Following are the best 6.5" door speakers:
1. OSD Audio AP650
2. Rockford Fosgate R165X3
3. Kicker 43DSC6504
4. JBL GTO629
5. Pioneer TSA1676R
What is the loudest 6.5 speaker?
There are several extremely loud speakers available in the market of which the loudest 6.5" speaker is the Infinity Kappa 60.11 CS bearing a maximum frequency range of a solid 35,000 Hz.
Do 6.5 speakers need an amp?
The need of an amplifier for 6.5" speakers depends on your requirement. The standard manufacturer recommended speakers would be just fine if loud music isn't particularly interesting to you or your requirement. However, these speakers can spew just 10-15 W of peak power. So if extremely loud music is what you require, an amp will be recommended as it has a high RMS (Root-mean square) rating which means the speaker can emit a lot more sound from the voice coil.
Do Kicker speakers have good bass?
There are several makes of different brands that can brag of good bass. Kicker speakers in general have received positive reviews about their bass capacity and people prefer these for their cars. Some good examples of speakers from Kicker brand are: 
1. Kicker 43DSC69304
2. Kicker DS18 PRO-X6.4BM 
Are component speakers good for bass?
Component speakers are good for bass if you want sound of high frequencies to enter your ear. Moreover, these are better than the coaxial ones as the components are spread separately. Because of this arrangement, these are really good for bass. However, they require a comparatively big power source to extract the best sound.
What are the best 6.5 speakers for bass?
These speakers fall in the roster of the best 6.5 speakers for bass:
1. Rockford Fosgate P1650
2. JBL GX600C 2-Way GX Series
3. Pioneer TS-A1680F 4-Way Coaxial Car Speakers
4. Pyle PLG6C Component Speaker
5. Alphasonik AS26 Coaxial Speakers
How do I increase the bass in my car?
Following are the steps to follow to increase the bass in your car:
1. Increase the volume of your speakers until you start hearing a distortion. Reduce it to the point till where you get to hear clean music. Do this twice to set the amp gain.
2. Turn your sub-amp's gain to the lowest level by rotating its knob anti-clockwise. Search for the 'low-pass filter' and switch it on. Alter the radio amplifier to mid, zero or flat.
3. Play music at 25-percent volume followed by increasing the gain of the subwoofer's amplifier till you hear vibrations from the speaker.
4. Give a little bass boost if that option is available. Examine if there is any distortion audible. If so, lower the sub-amp's gain. Start fiddling with all the filters to start hearing the sound of your exact preference.
5. As the car uses a radio, it is imperative to match the frequencies of the subwoofer and the receiver volume. Increase the subwoofer's gain gradually until the bass is heard of a higher frequency. 
Do midrange speakers have bass?
Midrange speakers are speakers of frequency range 250 to 2000 Hz. It is a loudspeaker which can produce greater bass.
Which is better: Midrange vs Midbass?
Midrange speakers are used where sound of higher frequencies is required. On the other hand, Midbass speakers produce sound of lower intensities. 
Midrange speakers are better as they are easily compatible with tweeters. Midbass speakers are not adaptable to tweeters. Hence, Midrange speakers suit all occasions and can outclass Midbass ones.
Do 6.5 speakers sound better than 6X9?
All the other conditions being constant, a 6X9 speaker will sound better than a 6.5. It is oval in shape and if its surface area is increased even slightly, its bass will be of a better quality. 
The most mundane daily commutes can also be made better by using good quality speakers in our car. The high frequency sound of a fantastic bass speaker is what calms us and relieves us of work and elevates our mood. This article helps you in choosing the best 6.5" speaker for any budget, brand preference or purpose. It also seeks to give some DIY tips whereby you can increase the bass and improve its potential.