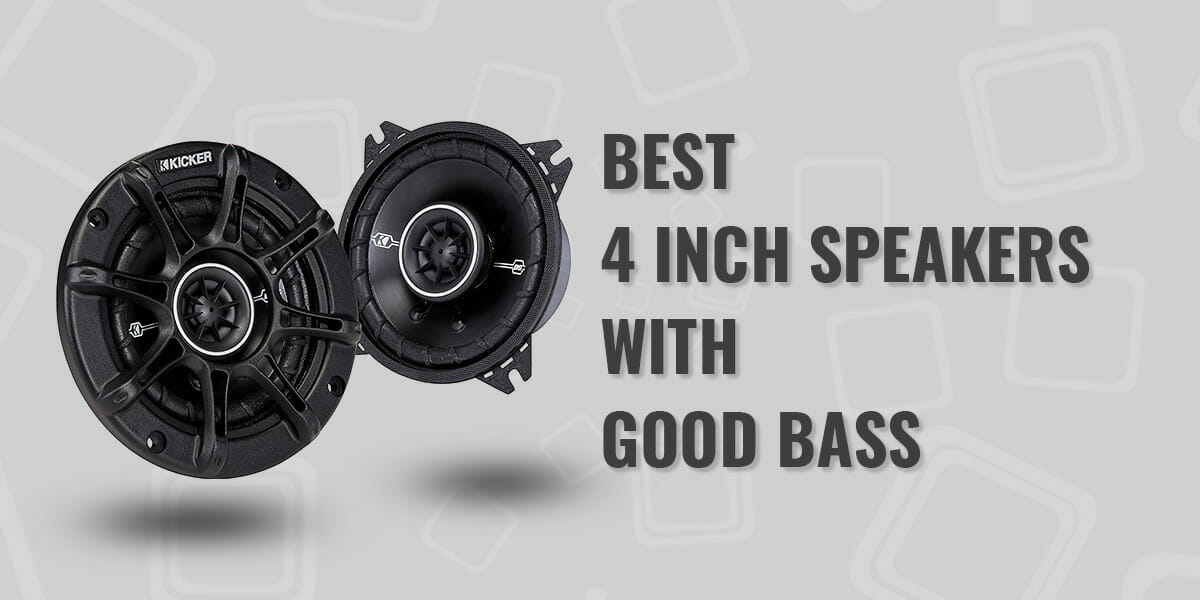 Are you looking for 4-inch speakers?
And have you been told that smaller speakers produce lesser bass?
Well, it is not true.
There are multiple 4-inch speakers that can produce an amazing bass and you will be able to enjoy even the lower frequency instruments used in the music with utmost clarity.
Here, we will provide you with the 6 Best 4 Inch Speakers With Good Bass.
Table of Contents
Coming from Polk audio which is one of the most trusted brands in terms of audio quality and product warranty, this one is the best option for your car.
At an affordable price, you get to enjoy your music in high quality without missing any details of it. The bass of the speaker is appreciated by most of its customers with a total frequency response of 85Hz-22kHz.
It has a very attractive silver body that suits the looks of your car. The durability of the structure is also great in terms of its stainless steel and its resistance to environmental factors.
The 4-inch structure fits them into your cars without any effort. The lightweight structure also adds to your musical quality.
Pros
High quality
Durable
Affordable
Cons
External amps don't work well
This is a durable product with good bass and is available at an affordable price.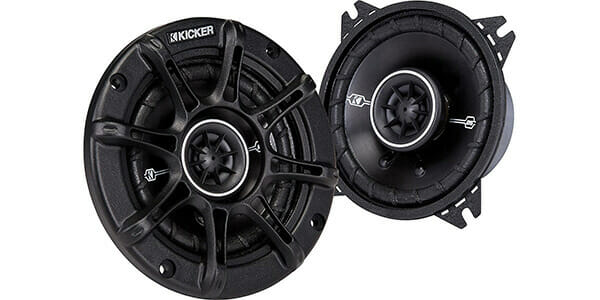 Kicker has been pioneering the car speaker industry for many years. The sound quality and the bass of the speakers make it a companion for many car riders around the world.
It has a total frequency response of 60Hz-20kHz which allows listening to depth music without any variations and doesn't compromise on the quality.
The sleek nature of the speakers makes them compatible with any vehicle.
Pros
Depth music
Sleek profile
Affordable
All the features you are looking for at an affordable price from the pioneer brand "Kicker".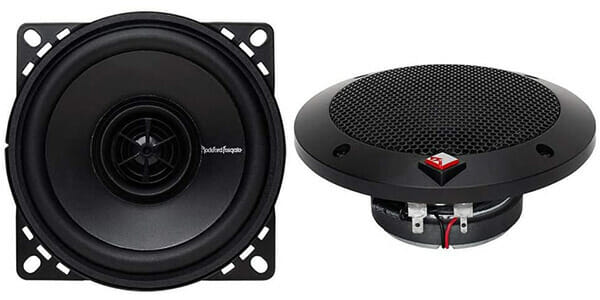 These speakers are for all those who are looking for very low priced car speakers. Although, the price doesn't compromise on the quality.
It has a frequency range of  100Hz-20kHz and produces clarity music. It also has a high power range that handles high power variations.
They are made out of rubber outer covering and ensure protection. They provide a 1-year warranty.
Pros
Low price
Good bass
Warranty
These are affordable, and you get pretty good functioning speakers with a warranty.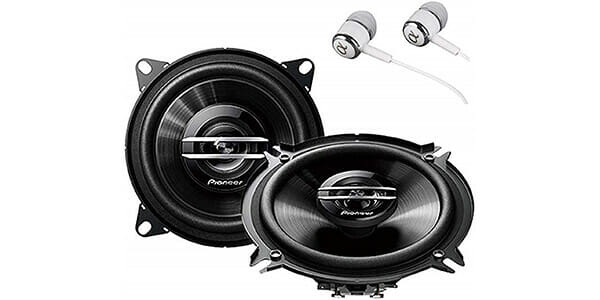 The Pioneer produces an amazing choice for music lovers. They have very well-structured speakers that produce quality bass music.
Its body is made of rubber which gives protection and produces uninterrupted bass music. It is also compatible with any kind of music.
These speakers include a progressive flex suspension system that prevents it from producing knocking sounds at high volume. The profile of the speakers lets you use them in a highly protective manner.
The bass coming through them is deep and clear because of its steadily built woofer. It has a frequency range of 35Hz-25kHz.
Pros
Great bass
High-quality structure
Dampening capacity
Cons
Susceptible to dust because of the grille less structure
It is the best bass speakers you can get for your car.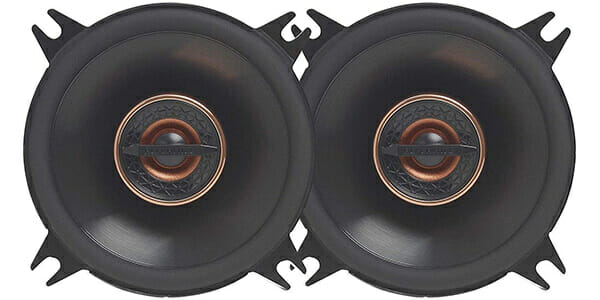 Infinity reference speakers are highly recommended for their sound clarity. The quality of the music comes from the design of the speakers. They are also made from high-quality materials that lead to high durability.
It is available with a level control switch that lets you adjust the sharpness of the sound to suit your listening taste. These speakers also are compatible with different systems and are available in different sizes. The frequency response of these speakers is 75Hz-21kHz.
Pros
Clear sound
Good bass
Durable
Sensitive
Cons
Less powerful
Little pricey
These speakers produce crystal clear sound. During your long drives, in order to avoid the noise from the road, it is important to have clear music running in your background.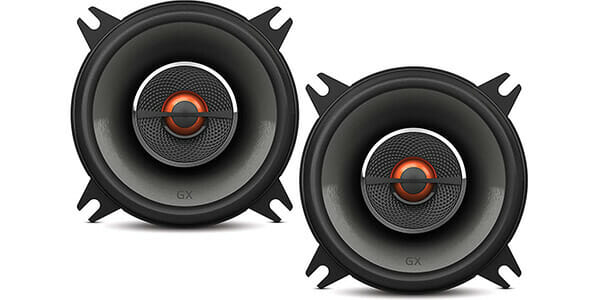 JBL is an unavoidable brand in terms of speakers. They offer different varieties of speakers. This particular product also keeps up the brand quality.
These speakers have high sensitivity and the frequency range is between 75Hz-21kHz. Hence provides a clear and rich sound quality.
These speakers keep up the crux of the music, played through them. Every bit of the music, for example, the instruments used in them is heard with utmost clarity. These speakers even play your personal recordings with extra effects.
Pros
Branded
High quality
Sound clarity
These speakers are one of the best versions of JBL speakers and they come in a smaller size with larger speaker effects.
Frequently Asked Questions
What are the best 4-inch car speakers?
The criteria to look upon while choosing a 4-inch car speaker for your car are, the quality of the speakers, the quality of the sound, durability, and compatibility.
Here are some of the best 4inch car speakers available:
1. Polk Audio DB401
2. Pioneer TS-G1020S
3. Kicker 41DSC44
4. Infinity REF4002CFX
5. Rockford Fostage Punch P142
What door speakers have the best bass?
Door speakers are usually used in car music systems. There are a lot of door speakers that come with good bass quality. This helps in enjoying the music in more clarity. Some of them are:
1. Focal EC 165K
2. Alpine SPR- 60 Type R
3. Rockford Fosgate R165X3
4. Polk Audio DB6501
5. Pioneer TS – A699OF
Do 2-way speakers have bass?
Usually, 2-way speakers come with a large speaker or a woofer and a small speaker or a tweeter. Both of them together produce amazing frequency and hence the bass. There is a crossover build in between both these speakers to avoid the clash of unwanted frequencies from both of the speakers. This feature produces clear and bass music.
Are 4×10 speakers any good?
4×10 speakers are used in cars. They do not produce high bass but most high-end models can produce a decent amount of bass. They are also very small and you can mount them in your car speaker holes easily.
What are the best mids highs, speakers?
There are speakers that specialize in different ranges. In this case, the woofers handle the lower range, mid-range speakers handle the middle range and the tweeters handle the highest range.
There are many speakers that are made with good mid-range speakers to handle the middle range of the music well. The spectrum they will be focusing on will be between 500Hz-4kHz. Some of the best mid-range speakers are:
1. DS18 PRO-ZT8
2. DS18 PRO-X8.4BM
3. DS18 PRO-EXL108
4. DS18 PRO-EXL84
5. DS18 PRO-X64.BMPK
There are speakers that focus more on the higher range of the music which is between 2kHz-20kHz. These speakers would have a better tweeter. Some of the best high range speakers are:
1. KEF LS50 META
2. Pro- Ject
3. Wharfedale Evo 4.4
4. B&W 705 S2
5. Amphion Argon 3S
Who makes the best sounding car speakers?
There are many producers of good sounding car speakers. However, here are some of the best sounding car speaker producers which have earned the trust of their customers for a long period of time.
1. JL Audio
2. Pyle
3. JBL
4. BOSS Audio
5. Rockford Fosgate
All of the above-mentioned speakers are top sellers in terms of their bass and quality. The list of 6 Best 4 Inch Speakers With Good Bass will help you choose one according to your needs.