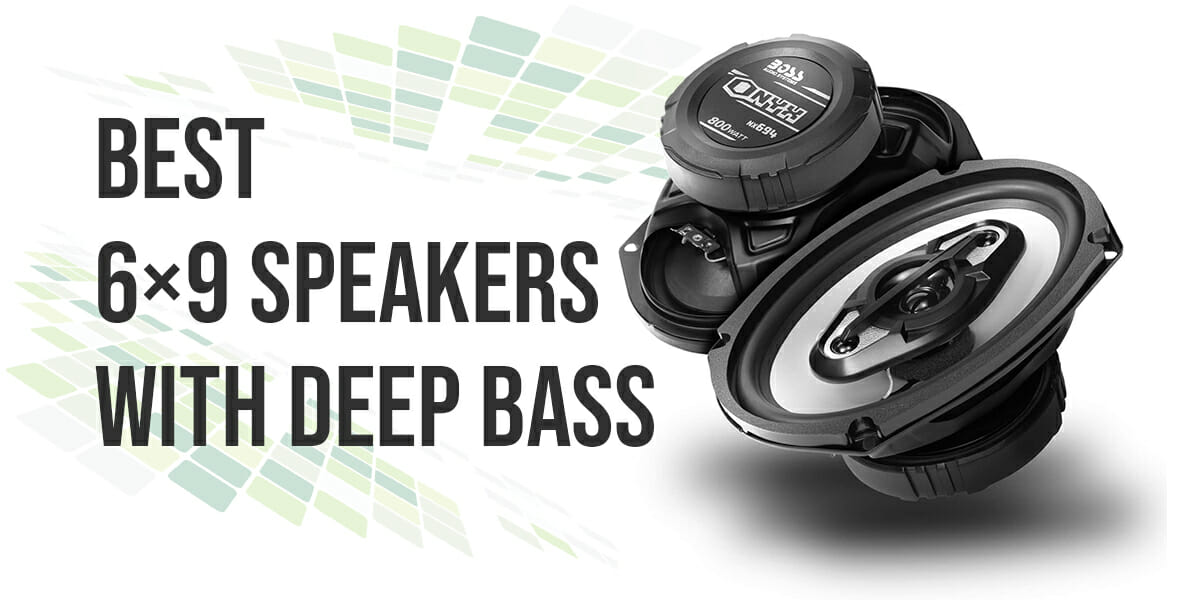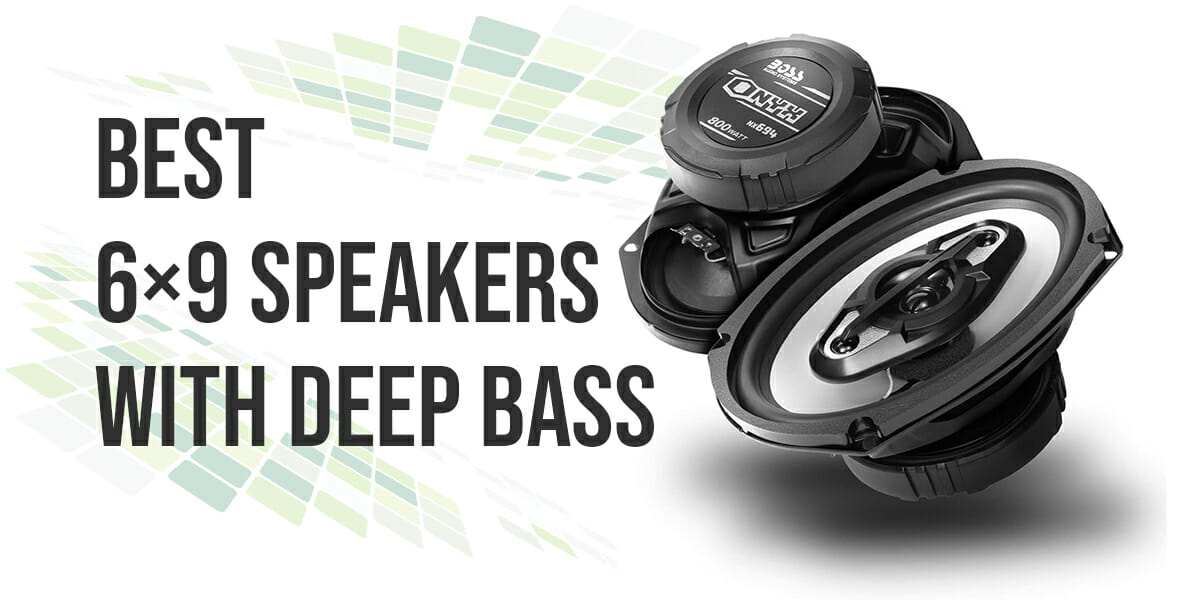 Whether you want to upgrade your car stereo system or take up a new audio project, 6×9 speakers are the way to go. They have a sufficiently large surface area due to their oval shape. This helps in providing a deep and enriching bass sound.
They don't take up a lot of space and can easily fit in your car's dashboard. They also have a simple and hassle free installation process. Given below are a few examples of the best 6×9 speakers with deep bass.
Table of Contents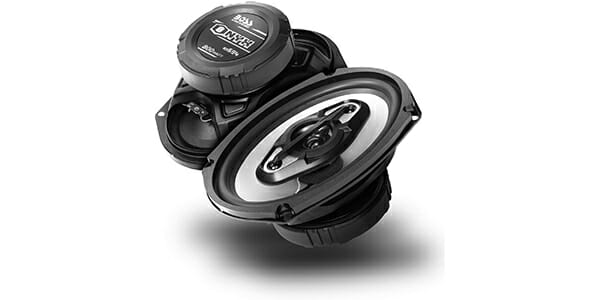 The BOSS Audio Systems N×694 Car Speakers provide luxurious and high quality audio at an affordable price. They are 4 way, full range speakers equipped with a long lasting and durable polypropylene cone. Plastic cones are known for their lower distortion properties and hence an ideal material for the speaker cone.
This speaker also comes with a surrounding rubber layer designed to combat stress induced wear and tear. They have a fairly good frequency range of 45 Hz to 20 KHz. Their sleek and compact design permits an easy and hassle free installation process.
Pros
Affordable
Good quality bass
Classic and appealing design
Able to withstand heavy duty sound
Cons
Requires an amp for clean sound
They provide studio quality bass levels at an affordable price. They come with several protective and safeguarding properties which help the speaker to last longer.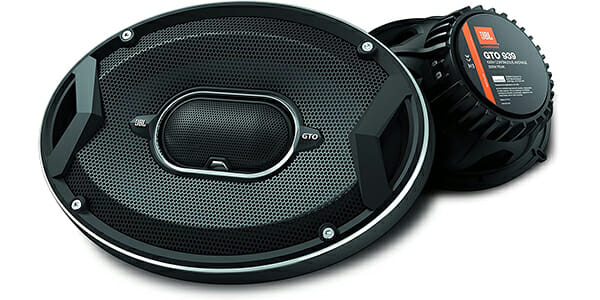 The JBL GT0939 Premium 6×9 inch Speakers are versatile, well built and promise punchy and deep bass levels. These come in a set of two and have a power range of 25 to 270 watts. These speakers are built to last – they are equipped with various features designed to ensure maximum adaptability and utilisation of power. Their Plus one carbon injected cone ensures smooth delivery of those notes which are only possible with big speaker sizes.
Common energy wastage in the form of heat is greatly minimised due to well engineered voice coils and non resonant plastic components. They do a great job of delivering clear and crisp vocals.
Pros
Available in a variety of sizes
Punchy bass levels
Does not require an amp
Crisp and clear audio quality
Cons
Quite expensive
Few issues with installation
These speakers are a byproduct of the best engineering technologies contributing to its amazing built and ability to deliver professional quality sound.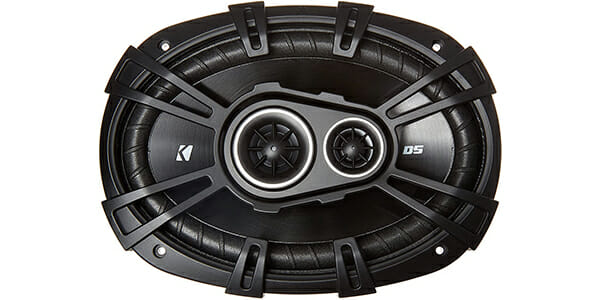 The 2 New Kicker 43DSC69304 D – Series 6×9 Speakers are one of the best coaxial speakers in the market. These are designed to fit any vehicle door without the need of extra procedures or steps. The speaker cones are made out of polypropylene which allows for flexible and great grounding speakers.
Two of their best features are the DS Motor and the zero protrusion dome tweeter. These ensure smooth delivery of punchy and deep bass notes irrespective of physical barriers like nets or grills. Protection is enhanced due to the presence of a UV treated acoustic foam. This helps control reverberation and also helps in removing unwanted noise.
Pros
Volume with low distortion
Slim design
Easy to install
Cons
Needs amplifier for clearer bass
These speakers come in a variety of models to ensure the right fit for your vehicle. Has a great design with enhanced protective features.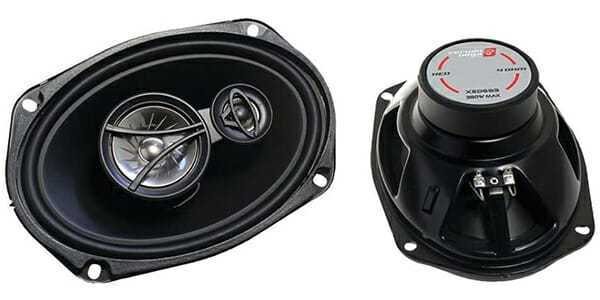 The CERWIN VEGA XED693 6×9 inches Speakers are a 3 way coaxial speaker set. They operate within a frequency range of 50 Hz to 18KHz and have a sensitivity measurement of 94 decibels. They are jampacked with amazing features like a curvilinear polypropylene cone and a butyl rubber surround. Butyl rubber is resistant to aging and also has vibration damping.
These speakers deliver when it comes to deep and solid sounding bass. They are the perfect example that you can get professional and good quality audio at a very affordable price.
Pros
Very affordable
Solid bass
Easy to install
Simple design
Cons
May not last very long
Needs subwoofer for deeper bass
They are very budget friendly speakers. They are also equipped with tons of cool features.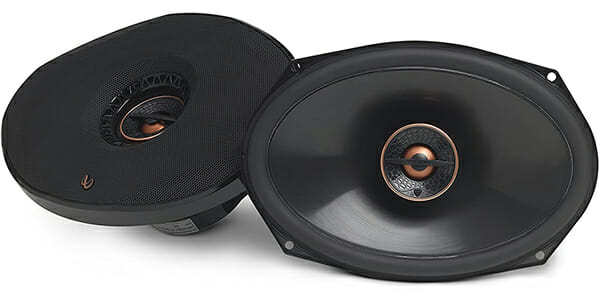 The Infinity reference 96321x 6×9 Car Audio Speakers are the perfect replacement for old factory speakers. These coaxial speakers are known for their excellent bass with zero distortion. The sub woofers have more surface area compared to sub woofers of other brands. This contributes to their optimized levels of deep bass. You do not need a super expensive or powerful system to feel the bass coming through.
These speakers are available in most of the standard car sizes so you can easily find one that fits your car. They have a sensitivity measurement of about 94 decibels which is pretty good for the price.
Pros
Sleek and elegant design
Deep and punchy bass
Easy to install
Available in a lot of sizes
These speakers are perfect for deep and punchy bass levels. Bass lovers cannot go wrong with these speakers.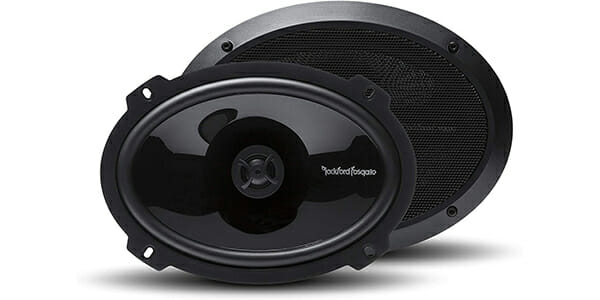 The Rockford Fosgate P1692 punch 2 – Way Speakers are one of the best when it comes to build and performance. Construction wise they have an edge over other speakers with their FlexFit basket design. This eliminates unnecessary complications during installation and makes it easy to manage and adjust.
These speakers operate within a frequency range of 60Hz to 22KHz and have a sensitivity measurement of about 91 decibels. These speakers are quite sensitive and they perform well with stock output. They are also equipped with cool features like a VAST surround which helps in pumping out deeper bass through increased radiating cone area.
Pros
Amazing construction
Protective features
Flexible design
Solid bass
Cons
Expensive
Might need an amp
These speakers excel when it comes to construction quality. The bass is top notch and they are worth every dollar.
Frequently Asked Questions
How do I get more bass out of my 6×9 speakers?
There are two ways you can get more bass,
1. Enclosure box – Getting an enclosure box for your speakers will not only make the bass sound deeper but also louder.
2. External amplifier – An amplifier increases the signal which in turn leads to more powerful bass.
What is the loudest 6×9 speaker?
JBL GT093 speakers are one of the loudest 6×9 speakers available in the   market. This is credited to their Plus one technology which creates increased speaker cone area. This is responsible for their loud and ultra clear sound. Rockford Fosgate R169X3 Prime is another good option.
Are 6.5 or 6×9 speakers better?
A 6×9 speaker has more cone area and it could produce louder sound due to greater lower end frequency. However,  6×9 speakers can be difficult to install especially if you want to install separate components like amplifier. From this viewpoint 6.5 speakers are easier to install.
Can you put 6×9 speakers in a car door?
Yes you can. Usually rear car doors have about 2.5 to 3.5 inches in depth. The front door panels usually have built in mounting for the speakers behind the panels. With simple tools you can easily trim the space to ensure that your speakers fit.
Can I put 6×9 speakers in a 6×8?
Yes, it is possible with a little bit of effort and time.
1. Remove and disconnect the 6×8 speaker.
2. Place the 6×9 speaker with the magnet facing upwards.
3. Make an outline of the inner basket.
4. Using a cutter trim the edges of the outline or markings.
5. Attach the speaker terminals to the 6×9 speakers and create holes for screws.
Do 6×9 speakers have good bass?
Most of the well built 6×9 speakers produce bass of good quality without an amp. If you want deeper and louder bass, connecting an external amplifier would greatly help. They definitely do not produce as much bass as the expensive and big speaker sizes but they do well for the price.
How do you make a 6×9 speaker box?
1. Using a circular saw cut two rectangular panels of wood 0.75 inches thick and of dimensions 12×8. Cut two more panels of dimensions 12×6. These are the panels of your speaker box.
2. Make end panels of 2×6 inches and 0.75 inches thick.
3. Assemble all the panels except the front to form a hollow square. Connect the pieces with 1 – 1.5 inch screws.
4. Cut out an opening on the front panel for your speaker. 
5. Now attach the front panel.
6. Solder the ends of a long speaker wire to the terminals.
7. Make a small hole on the bottom of the back panel to feed the speaker wire through it.
8. Attach the back panel.
How big does a 6×9 speaker box need to be?
These are the typical speaker box measurements.
1. Enclosure sub size – 6×9 inches.
2. Height of enclosure – 8.25 inches.
3. Width – 12 inches.
4. Bottom depth – 7 inches.
5. Top depth – 5 inches.
6. Mounting depth – Goes up to 5.75 inches.
What is the best subwoofer for deep bass?
Given below are some of the best subwoofers for deep bass,
1. Orion HCCA12 12 inch Subwoofer
2. Rockford Fosgate P300 – 12 inch Subwoofer
3. JL Audio 10TW3 – D4 10 inch Shallow Mount Subwoofer
4. Rockwille RW10CA Low profile 10 inch Subwoofer
What are 6×9 speakers used for?
6×9 speakers are good replacements for old and poor quality factory speakers. Although woofers and subwoofers are ranked higher in bass products, 6×9 speakers are a good and affordable option. Purchasing good quality and well built 6×9 speakers can upgrade your sound system to make it sound better and with more bass.
Conclusion
Out of all the 6×9 speakers available in the market we have compiled a list of the best ones available in the market. If you are looking to upgrade your sound system these are the perfect speakers for you.