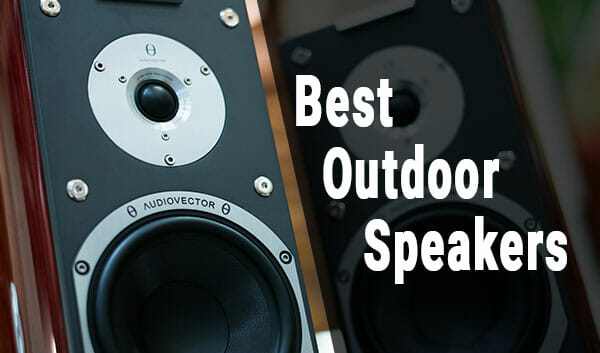 While any basic speakers can cover indoor parties, outdoor parties and gatherings are not complete without a proper set of speakers. The large area, climatic conditions, external sounds and several other factors demand power-packed speakers to get the party going.
But choosing the right speakers can be exhausting with a lot of choices at hand. Not anymore. This list of 9 best outdoor speakers gives you details about each one and why you should consider getting it in 2021.

Top Outdoor Speaker Reviews of 2021
---
---
---
---
---
---
---
---
---
Buying Guide: Outdoor Speakers
Before you skip this section wondering if a buying guide is necessary for something as simple as a speaker, let us make it clear that it is not so simple.
You gotta spend a lot of bucks and it is more of an investment. Who would want temporary speakers that make them spend money periodically to get a new set of speakers?
And neither are we purchasing them for a single use. For a single use, renting would suffice.
Moreover, as we are trying to pick an outdoor speaker, we do not want to take the pain of changing the speakers every now and then. (Considering all the wiring and ladder climbing to be done.)
Updating once in years is okay but changing often is not.
We are looking for something you can have in the lawn permanently or something you can count on, for every party.
Getting the right product is essential and knowing how to get it equally is.
You can check out the guide below and ease up your decision-making.
What do you use your outdoor speakers for?
What are your listening habits?
What is your taste in music like? Do you want more powerful punches? Or soothing melodies?
If you are into bass, getting speakers with subwoofers is perfect. They give that deep bass without distortion.
But, you cannot give priority to bass alone. Though you like bass, we should think about the guests and other members too. So, we look for the perfect balance between bass and treble.
Check your space. Is it large or small or with many disturbing noises or a quiet place?
For a small space, small sized speakers work fine. But the sound from small sized speakers gets lost in the huge area if it's a big lawn. You may need to pick 2 or 3 pairs depending on the area.
Where do you want to fix your speakers? Is portability one of your priorities?
Let's look into fixed speakers, first.
Fixed Speakers
Put the bass giving speaker far from the wall/boundary to avoid reflected bouncy sound. (Bass tends to sound more when reflected than treble).
If you have to do the installation by yourself without a help, get the speakers that are easy to install and can be installed single handedly.
Speakers that compliment the surroundings should be chosen. Speakers that seem to be awkwardly protruding are the worst choice you can ever make. Make sure the color and build of the speakers blend in with everything around (depending on if it is a green lawn or blue pool or nude shaded patio).
Calculate the needed wiring and check the electric compatibility of your spot. There are certain plugs that work and do not work with each kind of speaker.
If you already own an amplifier, you just need the speakers that are compatible with it. Else, you can pick speakers you like and go searching for an amplifier that is compatible with them.
Speakers with utterly low effective resistance may overheat the amplifier which eventually leads to its failure. Power handling of the speakers is directly proportional to the power of the amplifier as well as the sound.
Remember that the amplifier and the speaker should match each other in terms of power.
Now let's look into portable outdoor speakers.
Portable Outdoor Speakers
You need them if you want to carry your speakers for trips where mini speakers won't be enough.
For portability, you should consider their weight and resistance to rough treatment (in case you accidentally drop them down).
Portable outdoor speakers better be full-range speakers with 360 degree coverage.
Outdoor speakers in general have to be resistant towards the climatic changes as they will not dismounted once installed. Check for the kind of rating they have.
If you don't know what different IP ratings stand for, you can look them up on the internet and compare to know which suits you the best.
There are many hanging speakers available if mounting is not your kind of installation.
If you want speakers for a large area with tables, say a fancy dinner with many guests, you can buy a few aesthetic speakers as extras to put on the tables. Speakers can be great decors too, if you know how to style your venue. The old mundane box like speakers are now overtaken by classy looking speakers which come in several colors, shapes and sizes.
Speakers with enclosing cases or less grills collect less dust on/in their bodies, requiring no exclusive cleaning.
Few renowned brands in outdoor speakers are Polk, Klipsch and Kicker.
For portability, Kicker products are better and Polk and Klipsch are ideal for permanent installation.
Yamaha products are regular mid-range products if you don't want to go for high end speakers.
FAQs About Outdoor Speakers
IP stands for Ingress Protection which is an international measure for the effectiveness of a product against foreign bodies.
Following IP, two digits are given (like IP66, IP25 and so on). The first digit indicates protection against intrusion and the second digit indicates protection against moisture.
If the digit is replaced by X (like IP5X or IPX0), it indicates no particular protection. If the first digit is X, it means there is no intrusion protection and X as a second digit indicates no protection against moisture.
With IP rating denoted in the product's description, you can check what your speaker is capable of withstanding.
2. Which are better speakers? Hardwired or wireless?
This varies according to your preferences.
If you want your speakers to start blasting as soon as you turn them on, hardwiring is ideal. One time hard work of getting the wiring done and that is it.
Using them wireless means you need to connect them either through Bluetooth or through WiFi. The playability depends on your network range. If your network is poor, speakers' output will go futile even if they are high end.
3. Do the speakers come with an amplifier?
Not all.
While few speakers have the option to add an amplifier along with the package, it cannot be assured with all models.
If you already have an amplifier that is compatible with the speakers you are going to get, there is no need to buy a new amplifier.
Refer to the buying guide to see what factors you should consider regarding the amplifier.
4. How long do speakers run, once installed?
A fine pair of speakers lasts for even ten years. Their life span depends on their durability and your usage of them. There are outdoor speakers that lasted for as long as 15 years. Yes, fifteen!
But average quality speakers do not last really long, though.
Any good speaker should last for at least 5 to 6 years.
5. What is a reasonable price range for a speaker?
There is no guarantee that pitching in a lot of bucks gives a fine speaker.
Sometimes, you may get satisfied with a low priced speaker's features more than with a costly speaker's features.
Price is not proportional to quality.
However, investing a decent sum of money is usual for a fine set if your goal is to install the speakers permanently.
---
We hope the needed features of a speaker and what you should keep in mind are well-known to you now.
Though we listed you the top 9 outdoor speakers, with the buying guide, you can compare and check out the other range of speakers out there.
Let your outdoors get popping with music.