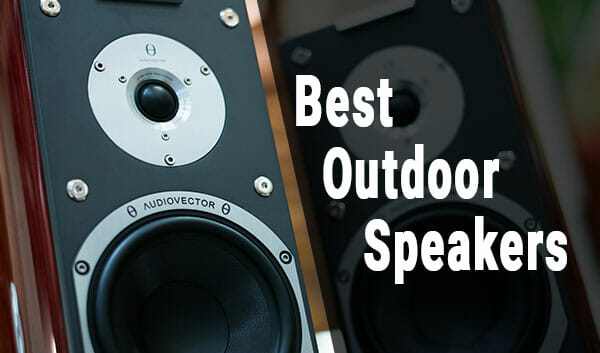 While any basic speakers can cover indoor parties, outdoor parties and gatherings are not complete without a proper set of speakers. The large area, climatic conditions, external sounds and several other factors demand power-packed speakers to get the party going.
But choosing the right speakers can be exhausting with a lot of choices at hand. Not anymore. This list of 9 best outdoor speakers gives you details about each one and why you should consider getting it in 2023.
Table of Contents
Top Outdoor Speaker Reviews of 2023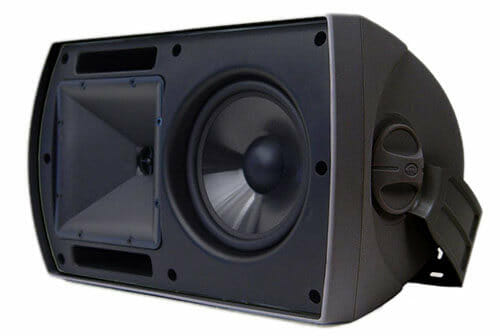 Made with lightweight ABS and rust proof aluminium, Klipsch AW-650 is a great speaker for your backyard.
The body comes with a C-style mounting bracket and is made of stainless steel.
Each speaker weighs around 4 kgs and does not seem to be oddly large when installed. The set up is easy and does not take time.
The sound quality is stunning. Bass is cool even when played in level one. Mid-highs are crystal clear. If you are familiar with instruments, you will be able to clearly hear guitars and synths.
If you are familiar with Kilpsch's quality in indoor speakers production, you can expect nothing less from their outdoor speakers too.
There is no unnecessary noise. You will find the output on par with indoor speakers playing loudly in utter silence.
They are designed in an enclosed fashion and you can be sure of no heavy dust residing on them even if you don't take cleaning job seriously.
They are highly resistant to the UV-rays from sunlight and to dust.
Mark that they get better with time. The first time, you may find the sound shrinked but it will loosen up soon until it becomes smooth and nice. There is no deterioration from there.
Pros
Mids and highs are clear.
Bass works the best even at the lowest level.
Smoother output.
Cons
Takes a little while to free up.
The durability, fine finishing and the perfect bass, mid and high make this speaker a good pick.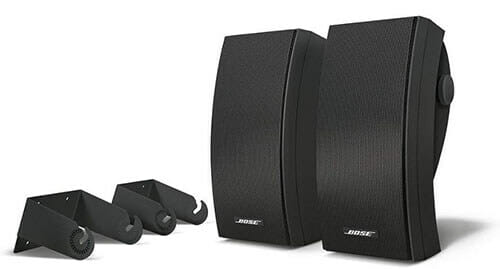 These come with optional mounting brackets or you can carry them around with you to various venues as they're not heavy.
Mounting them is advised as the speakers need wiring to be done. Installation is easy though.
The speakers can be controlled through WiFi and Bluetooth as well.
Their size is neither too large nor too small but the output is relatively rich and huge.
The price tag might seem a little over the top but for an extra speaker, it's worth spending.
The durability is very impressive. Volume range provided is more than enough, in fact, too high.
There is no distortion even in the highest level of volume as the design of the speaker cabinet produces low frequencies. The bass is good but mids and highs are better.
Precisely positioned drivers, a part of Articulated Area speaker design, provide consistent sound to the outdoors.
Both the speakers and the mounting brackets are weather-resistant. Cabinet is made of glass-filled PP which adds up to its durability.
Pros
Durability.
Light weight.
Mids and highs.
Great extra speaker.
Cons
Bass is not up to mark.
Not an ideal complete speaker.
As an extra speaker, Bose 251 Environmental withstands most of the harsh climatic conditions and gives good tone range consistently.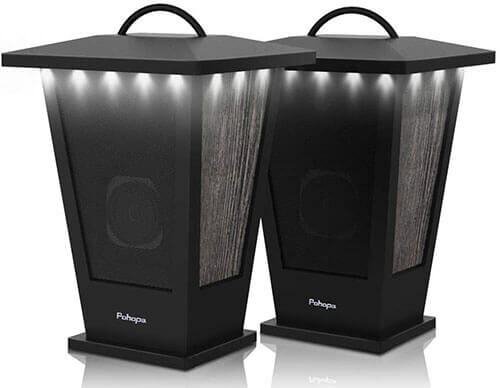 Dual pairing wireless speakers that are actually wireless because of the TWS function.
These are ideal for both outdoors and indoors. Since, outdoor is our context now, let's dig into it.
The speakers are easy to carry and you can either hang them or place them on the table top.
High glossy piano black gives that cool retro look and the detailed build of the speakers' body is nice.
Both the speakers get connected automatically within 10 seconds without additional set up. As simple as it sounds.
Bluetooth works up to a distance of 30 feet. Distance between the two speakers can be up to 60 feet.
The speaker has LED lights around, on the top, making them aesthetic for party nights. You get a speaker plus a decor.
Noise is minimal. Highs and acoustic sounds are nice and crisp with no distortion.
4400 mah battery offers you a long battery life for a great music time without bothering about any wiring.
You can charge them through any USB cable.
Though the speakers seem delicate, they are waterproof (IPX5 Weather resistant) and surprisingly strong.
Pros
Stylish design.
Light weight.
Weather resistant.
For a fancy dinner or a vibrant party, these good looking speakers add color and sound.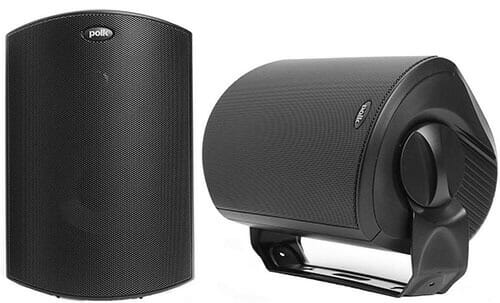 Your outdoor music game is just levelled up with Polk Audio Atrium 6.
Made of aluminum, stainless steel and brass, there is no threat of rust.
One-click speed-lock mounting bracket provides anti-slip one handed installation. Install them and adjust them either horizontally or vertically or at any desired angle.
The speakers are heavy but the above mentioned installation makes it easy-peasy. Not suitable for banana plugs, though.
Remember that they do not support Bluetooth and only work the hardwired path.
Bass is powerful and makes it way through the disturbing background noises. Thanks to PowerPort bass venting, which is patented by Polk.
Broad coverage baffle design widens the sound dispersion making it ideal for large backyards or halls.
Highs and lows are crisp and clear. Stereo separation is great.
The durability is impressive making their permanent installation worthy.
After experiencing their sound quality, you cannot wait to suggest them to others, like how we couldn't wait to put this in the list.
Pros
One hand installation.
Speakers can be turned to any desired angle.
PowerPort bass venting.
Cons
Not compatible with banana plugs.
These high end speakers' features are more than we pay for and are ideal for larger venues.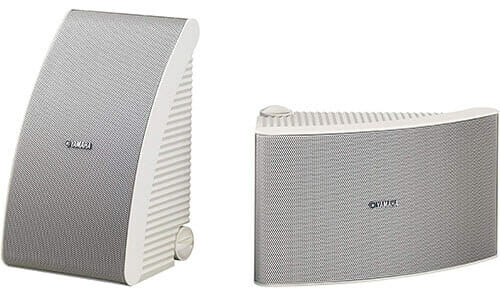 A pair of small sized speakers which you can either mount or place on a table or on a shelf.
Rubber feet lets you place them anywhere without mounting and also make sure they don't trip.
The mounting brackets let you turn the speakers at any angle you would prefer. The design of the speaker boxes is different from the routine shape and is attractive.
The speakers blend right into the surroundings without seeming extra. Yeah, because of their small body.
It is safe to say that the design and sound are in good shape.
Its all-weather construction makes sure it is water-resistant, UV-resistant and temperature-resistant.
The woofer has a highly-responsive cone and fluid-cooled soft dome tweeter whose exclusive purpose is resistance to water.
Speaker terminals are waterproof and of screw type.
Sound quality becomes better with increased volume and so does the bass. The output is decent for the price tag.
They cannot work wireless through Bluetooth or through USB. So, hardwiring is a must.
The speakers can be used as outdoor speakers and also as indoor surround speakers for home theater.
Pros
Sleek design.
Affordable price tag.
Weather-resistant.
These speakers from Yamaha are inexpensive and of decent quality if you are looking for a small sized yet a durable speaker.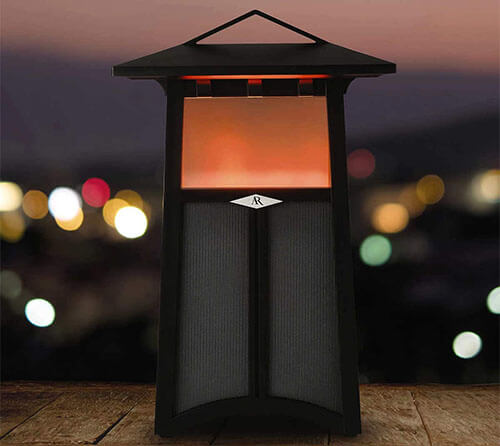 Another aesthetic speaker in the line, but this time we keep the budget in our mind.
Acoustic Research Santa Cruz is a wireless speaker with Bluetooth audio streaming. You can control it from your phone or iPad. Through Bluetooth, it can be connected to Alexa.
The set up is easy and takes less time.
Though the price is relatively low, it doesn't look cheap at all. Makes an excellent decor light and speaker for your party and gives a classy vintage touch.
You can get 2 to 4 speakers if you need to tune in to music in a large area. But synchronization of any two speakers is not satisfactory. Not a big complaint considering their grace and beauty with an affordable price tag.
Its IP55 rated weather resistance makes it a great fit for outdoor use.
If you're all about that bass, this speaker's bass is not really impressive. But it is decent for a normal speaker.
Melodies' sound quality is good and you can get this speaker as an addition for your night.
Its strong rechargeable battery lasts for around 18 hours.
Pros
Great design.
Wireless.
Affordable price tag.
Cons
Better as an additional speaker.
As a budget friendly, good looking, decor speaker, Santa Cruz is a great choice for your use in parties or to gift to your dear ones.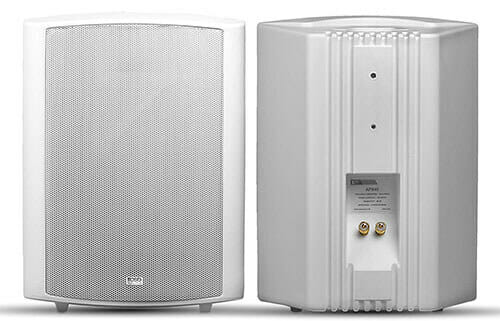 As a patio speaker with versatile features, OSD AP840 makes a perfect speaker for your music.
It comes with a unique mounting bracket that lets you install the speaker either horizontally or vertically, as it claims. But horizontal installation is not feasible for the speaker to stay in place. Vertical installation is fine.
It features gold-plated spring compression binding posts.
The rust-resistant grille and weather-resistant design makes it withstand harsh temperatures and conditions. No roof over the speaker? No worries.
The speaker has a built-in sound port which gives a super good bass and extra bass. Mids and highs are good, as well.
It serves both as an indoor speaker and an outdoor speaker. You may pick the location of your choice.
There's nothing much to mark as a con except that banana plugs cannot be used.
The price range can be described as economic and the product can be described as value for money.
Pros
Deep bass.
Value for money.
Resistant and durable.
Cons
Horizontal installation is not practical.
Not compatible with banana plugs.
OSD AP840 is a good to see and a good to hear speaker in the right price range with the right options built in it.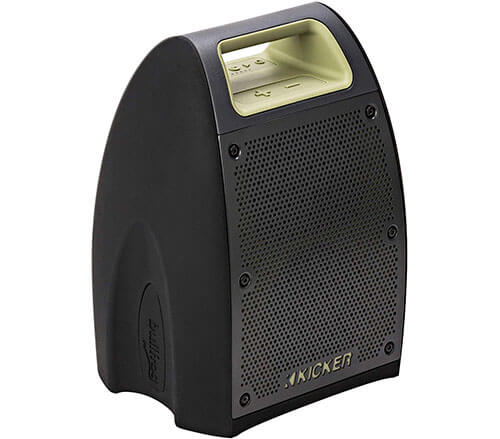 Let's begin by labelling this as one of the powerful speakers out there.
Looking like a little grater with a handle and being lite in weight, it lets you carry it with you for your hiking trips or camping nights or anywhere you want to spread some love of music.
The speaker is IP66 rated dustproof and waterproof. A true tough guy!
With one speaker unit, you get a speaker on the front and another on the back explaining why it is called a full range speaker that spreads to 360 degrees around it.
The passive bass radiator gives a deeper bass and the powerful 20 watt built-in amplifier gives the perfect punch.
Built-in Bluetooth lets you connect the speaker to your phone or tablet and to stream music from the devices directly. No need to consider getting suitable cables. It's all wireless.
The speaker comes with a FM tuner and an external FM antenna and it is as easy as pie to tune into your favorite radio stations.
The battery lasts for as long as 20 hours and can be charged through any USB cable. Additionally, if your phone ever runs low on battery while camping, charge it from this speaker. Eliminates the need to carry a power bank to your campsite.
Two BullFrog BF400 speakers can be connected wireless seamlessly for double the fun.
Pros
Portable.
Long battery life.
Wireless.
Reverse charging.
Cons
Sound quality is decent but not high end.
Kicker BullFrog BF400 is an ideal speaker when portability and good battery life are your priorities.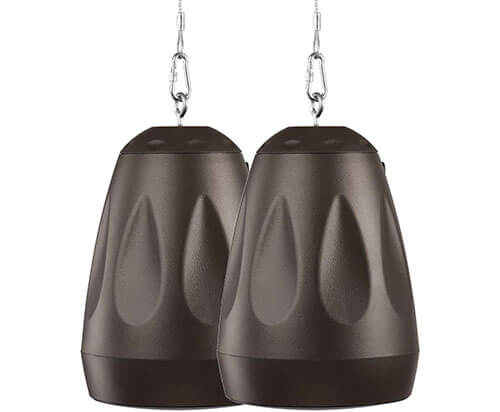 If your pool or lawn has a little roof on one side, then you are looking at the right product to buy.
These speakers are designed to support hanging and are pendant shaped. In classy black, they get along with your plush surroundings.
Sure, speakers that are to be mounted are cool but what if you want speakers installed in a large area with a higher irregular roof and in areas where mounting doesn't seem a good choice? Yes, that's what you need these speakers for.
They come with optional mounting hardware too. Therefore, you can use them in two ways.
They can serve both as indoor and outdoor speakers.
With IP66 rated weather-resistance, you do not have to worry about their durability. Hang them in place and let them do the blast of sound.
They are not wireless, though. They must be hardwired.
With its built-in step down transformer, you can use them either in 70 or 100 volts.
Sound quality is great with 120 degrees coverage.
Pros
Cool design.
Built-in step down transformer.
Great sound quality.
Durable.
Cons
Only 120 degree coverage.
These hanging speakers double as roof decors and are a great pick when mounting is not liked.
FAQs About Outdoor Speakers
What is IP rating?
IP stands for Ingress Protection which is an international measure for the effectiveness of a product against foreign bodies.
Following IP, two digits are given (like IP66, IP25 and so on). The first digit indicates protection against intrusion and the second digit indicates protection against moisture.
If the digit is replaced by X (like IP5X or IPX0), it indicates no particular protection. If the first digit is X, it means there is no intrusion protection and X as a second digit indicates no protection against moisture.
With IP rating denoted in the product's description, you can check what your speaker is capable of withstanding.
Which are better speakers? Hardwired or wireless?
This varies according to your preferences.
If you want your speakers to start blasting as soon as you turn them on, hardwiring is ideal. One time hard work of getting the wiring done and that is it.
Using them wireless means you need to connect them either through Bluetooth or through WiFi. The playability depends on your network range. If your network is poor, speakers' output will go futile even if they are high end.
Do the speakers come with an amplifier?
Not all.
While few speakers have the option to add an amplifier along with the package, it cannot be assured with all models.
If you already have an amplifier that is compatible with the speakers you are going to get, there is no need to buy a new amplifier.
Refer to the buying guide to see what factors you should consider regarding the amplifier.
How long do speakers run, once installed?
A fine pair of speakers lasts for even ten years. Their life span depends on their durability and your usage of them. There are outdoor speakers that lasted for as long as 15 years. Yes, fifteen!
But average quality speakers do not last really long, though.
Any good speaker should last for at least 5 to 6 years.
What is a reasonable price range for a speaker?
There is no guarantee that pitching in a lot of bucks gives a fine speaker.
Sometimes, you may get satisfied with a low priced speaker's features more than with a costly speaker's features.
Price is not proportional to quality.
However, investing a decent sum of money is usual for a fine set if your goal is to install the speakers permanently.
We hope the needed features of a speaker and what you should keep in mind are well-known to you now.
Though we listed you the top 9 outdoor speakers, with the buying guide, you can compare and check out the other range of speakers out there.
Let your outdoors get popping with music.