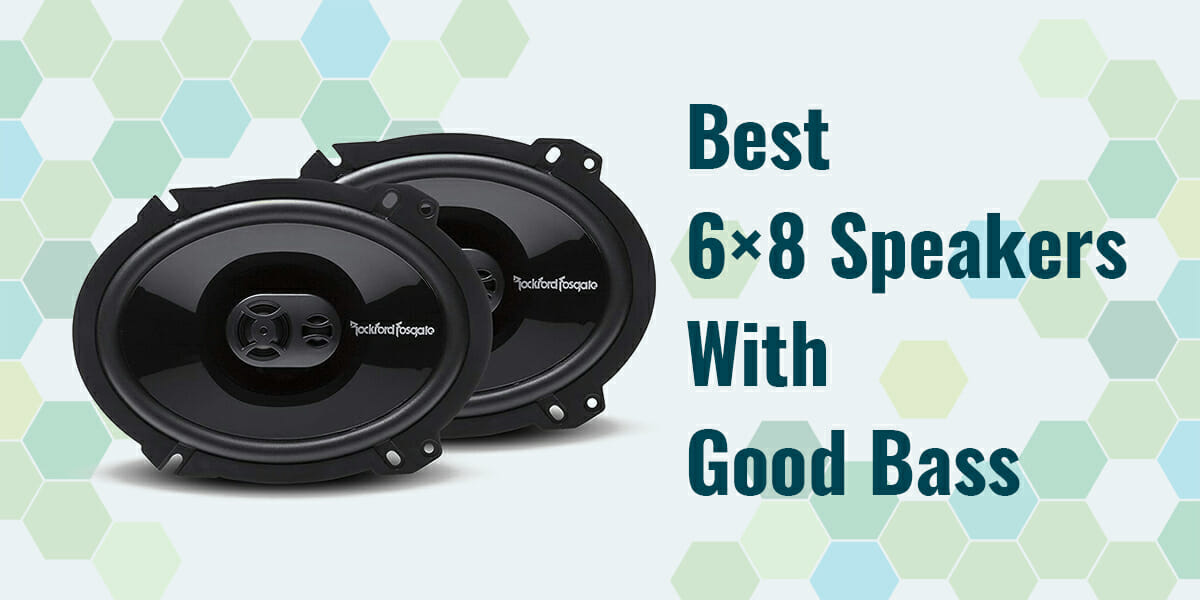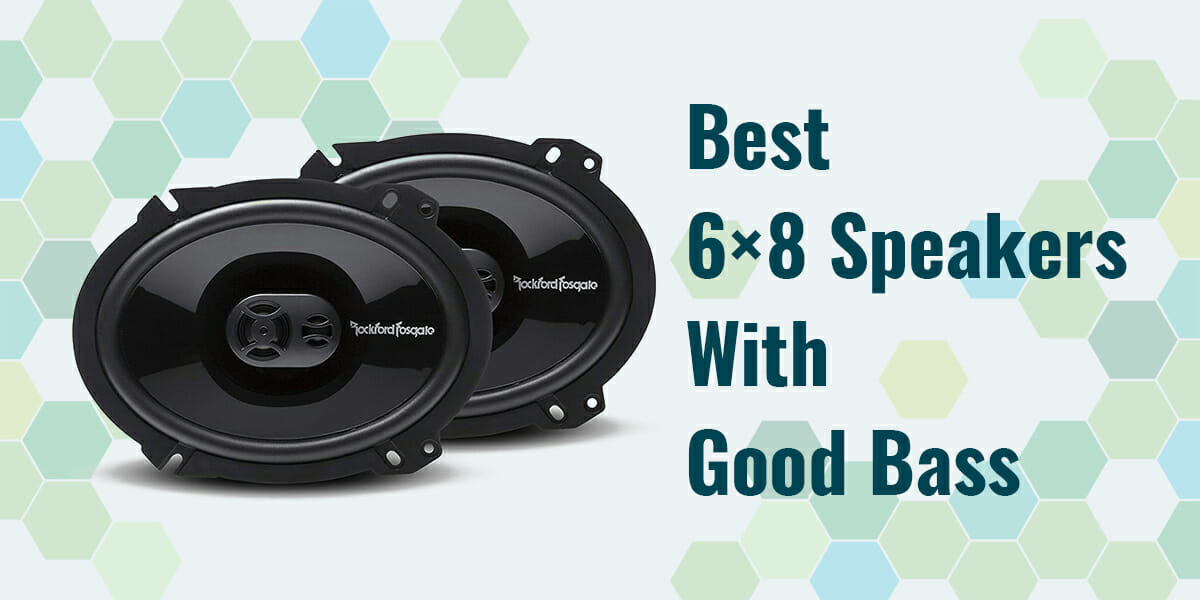 Most factory installed speakers that come with every car don't produce a good sound and lack bass production. So, the majority of audiophiles go for the standard 6×8 speakers with good bass for improving their car stereo's sound quality. These speakers are one of the common sizes which don't require any additional space and fit your vehicle's in-built area.
These come with additional tweeters and crossovers which produce more precise, clearer and clean sound. Most of these features a high frequency response and adequate mid-range staging. They're also built with highly durable material and many additional features for improved sound quality. If you're looking to upgrade your factory built-in speakers, these might be your best choice to consider.
Check out the best 6×8 speakers with good bass below:
Table of Contents
Our Top Picks
Best Under Budget 6×8 Speakers: Rockford Fosgate Punch P1683
They have an in-built super tweeter and dome tweeter which improves sound quality within your budget. 
Best Innovative 6×8 Speakers: Skar Audio TX68
They are built with a premium ferrite magnet and 1.25" copper voice coil which is long-lasting, and also have TPE surround for each speaker. 
Best 6×8 Speakers For Higher Power Durability: CERWIN VEGA V468
They have 400 watts peak power with 75 watt RMS which can help crank up the volume without any distortion.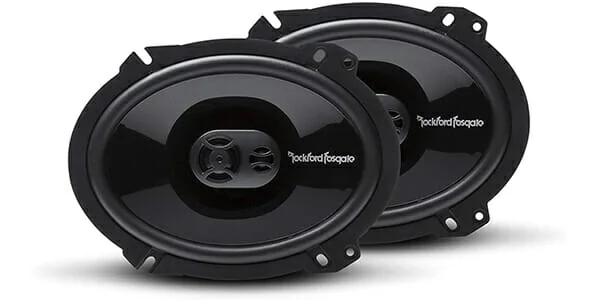 The Rockford Fosgate Punch P683 is the best budget friendly speaker with 3-way full-range built design. It features a ½" super tweeter and ¾" PEI dome tweeter with built-in crossover and injection-moulded mineral filled polypropylene woofer cone for greater highs and powerful bass. They provide 130W peak power handling with 65W RMS which gives the desired performance. The 3-way design is highly durable which gives full-frequency coverage without any additional component and VAST technology provides greater cone area.
Pros
130W Peak Power Response 
3-Way Design 
Mounting Hardware And OEM Adaptor Plate (better fit) 
PEI Dome Tweeter 
Affordable
It has a 3-way design built which produces more clear, precise and high sound with powerful bass. It has additional VAST technology for greater cone area and better fit.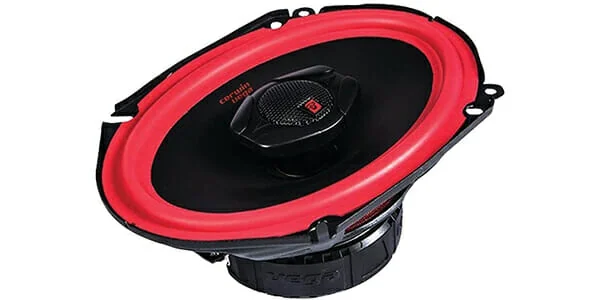 The CERWIN VEGA V468 is made with low-resonant deep drawn basket and curvilinear cone design which provides an ultimate bass quality. Its cone design is superior for mid-bass response and improves off-axis performance for distortion-free live music sound feel. The woofer cone is also made with long-lasting mica filled poly material. It also features 1" aluminium dome tweeter which is also highly durable. The Vega's signature red surround design is definitely a stylish addition to your car stereo.
Pros
55Hz Frequency Response 
Curvilinear Mica Filled Poly Cone 
Signature Red Finish 
1" Dome Tweeter 
400W Peak Power With 75W RMS
Cons
Higher Mounting Depth (2.85") Might Require A Spacer
It has been built with distortion-minimizing cone design with low frequency which is great for heavy bass music. It's also made with highly durable material and stylish red design.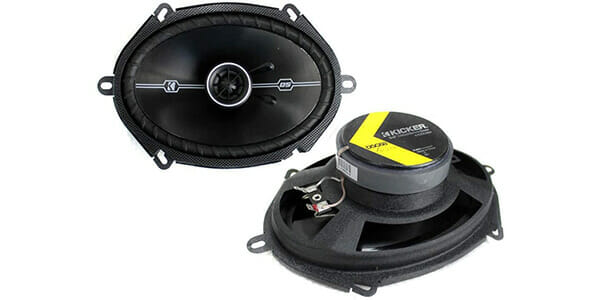 The Kicker 41DSC684 D-Series speakers are built with a highly sensitive motor structure which ensures you hear clearer frequency ranges. This D-series speaker comes with 200 watts peak power with 50 watts RMS and 4 ohm impedance rating for better sound performance. These speakers have a highly durable structure with acoustic foam surrounds for consistent finish. They're equipped with 1" PEI dome tweeter made from polyethylene-naphthalate for better frequency response and clean sound.
Pros
High Sensitive Motor Structure 
Domed Tweeters 
Easy To Install 
Clearer Sound Quality 
Durable Foam Surround
These are built from highly durable material and equipped with dome tweeter for better sound and bass response. They have high sensitive motor structure which helps in adequate frequency response for precise sound.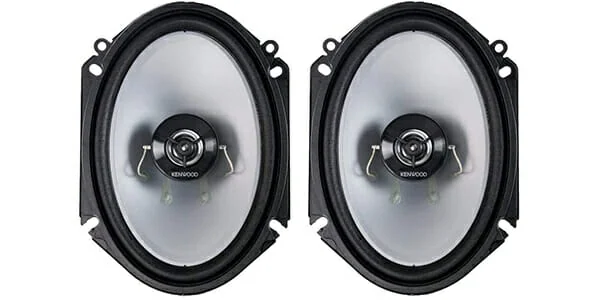 The Kenwood KFC-C6866S is one of the best speakers that brings out the mids and highs very clearly. They have a coaxial design which makes it easy to install. These are equipped with polypropylene cones which enrich sound with solid mid-bass and dynamic midrange. It has a 1"PEI Balanced dome tweeter for higher bass frequency. They have a 63Hz frequency response with sound field enhancer and enlarged magnetic circuit for improved sound quality. These are highly durable with rubber surround and water-resistant paper woofer cones.
Pros
400 Watt Peak Power  
1" PEI Balanced Dome Tweeter 
Woofer With Paper Cone Construction 
Sound Field Enhancer 
Built-in Crossover 
Affordable
Cons
5/16" Mounting Height Which Will Require Wider Space
They have a built-in PEI dome tweeter with crossover for higher frequency response and greater bass. They're also under budget and have high power durability.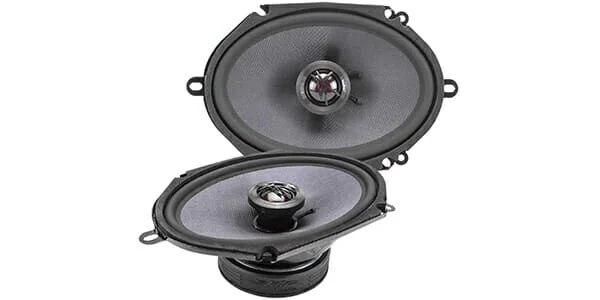 The Skar Audio TX68 is an Elite TX Series coaxial speaker with 200 Watts peak power and 100 Watts RMS power. It features 1" silk dome tweeter and 4 ohm impedance for accurate mid-range and higher sound performance.  The frequency response ranges from 60Hz – 20,000 Hz with an 89dB sensitivity for smooth transition. It is also made from a highly durable TPE surround and powerful ferrite magnet with 1.25" copper voice coil for higher staging. It is one of the best speakers for higher, clearer and powerful bass production.
Pros
200 Watts Peak Power With 100 Watts RMS
1" Silk Dome Tweeter 
High Frequency Response 
Durable Material And Surround 
Glass Fibre Cone
Cons
No Plugs And Play Harnesses
They are featured with 1.25" high temperature copper voice coil and built from premium ferrite magnet for longer durability. The design is engineered for high bass and sound performance.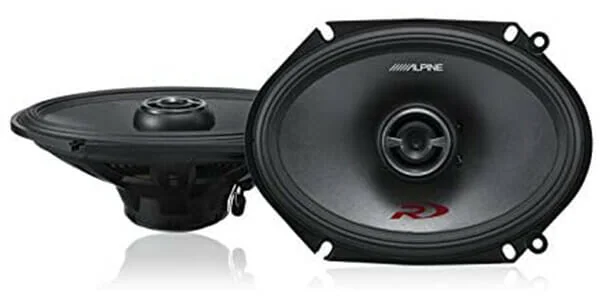 The Alpine SPR-68 is among the best 6×8 speakers with great bass response and high frequency. If you want to experience distortion free and clear sound, this 200W RMS Type-R series coaxial speakers can work best. They're installed with a multi-layer hybrid fibre cone woofer which delivers one of the strongest bass and sound quality. It also features 1" silk dome tweeter with a ring-dome design which gives smoother highs and can be easily turned for getting easily accessible perfect sound.
Pros
High Power Handling 
HAMR Santropene Rubber (consistent cone movement)
63 Hz Frequency Response 
2.6" Mounting Depth 
4 Ohm Impedance Rating
They are highly durable and can stock up to a peak power of 600W. You can easily crank up the speaker's volume without losing out on sound details and performance.
Frequently Asked Questions
What is the best 6×8 speaker for bass?
Some of the best 6×8 speakers with bass include:
1. Alpine SPR-68
2. Rockford Fosgate P1683 
3. Pyle PL683BL 6X 
4. Pioneer TS-G6845R G-Series 
5. Kicker DS68 
6. Infinity KAPPA 682. 11CF. 
7. Pioneer TS-A6880F
Who makes the best 6×8 car speakers?
The price spectrum of drum thrones is quite diverse and spread out, with most of the items being at the extreme ends of it. This means either you gThe best overall 6×8 car speakers are:
1. Rockford R168X2 Prime 
2. Pyle PL683BL 
3. Skar Audio TX68 
4. Pioneer TS-A6880F A-Series 
5. Infinity REF8622CFX 
6. CERWIN VEGA V468 
7. JBL GX862 GX Series
Are 6.5 speakers better than 6×8?
Usually, 6×8 speakers have a bigger surface area on the conus so it can produce more bass when compared to 6.5 speakers. But since they are oval instead of round, the conus becomes a little less rigid and leads to colouration and distortion to the sound. 
However, with 6.5 speakers you can choose many similar variants with additional features. Like a 2 way or a 3 way component set, which makes them more preferable. All these additional features can improve the sound a lot when compared to 6×8 speakers. 6.5 speakers are typically the best choice for users who want to upgrade their factory speaker system with ones that can play high and low frequencies with equal prowess. They present a clearer, precise and punchier sound than any other option. 
Can 6×9 speakers fit 6×8?
6×8 is the most common size on vehicles since it's cheaper to produce than the more advanced 6×9. This can become a problem for people who want to upgrade their factory system with 6×9 speakers. The only logical way to make them fit is by cutting the extra metal off of your speaker space. There's nothing like a space adaptor which can slot your 6×9 speakers in place of a 6×8. You'll need a dremel to make the hole bigger for 6×9 speakers to fit. 
How do I know if my speakers have good bass?
You can easily check for the depth and fullness of the bass. Speakers with good bass response carry more weight, power and impact of real live music. And even though the bass should be powerful and strong, it should still sound clear and articulate and not "thuddy" or "booming", or simply like one note is repeating itself. One thing you can test is if you're able to follow the bass line irrespective of other vocals and instruments taking over, if you can follow the bass notes clearly then that's a good sign. You should listen for clarity and distinct notes, rather than a simple thumping or dull thud. 
What speakers have the best bass?
Speakers with woofers, tweeters, crossovers, high-power handling and sensitivity are the ones with the best bass. Some of the door speakers which produce the best bass include: 
1. Focal EC165K Car Speakers
2. Alpine SPR-60 Type R Speakers 
3. Rockford Fosgate R165X3 Speakers 
4. Polk Audio DB6501 Speakers 
5. Pioneer TS-A6990F Speakers 
6. Kicker DSC650 Speakers 
7. JBL GT7-6C Speakers 
How do I increase the bass on my speakers?
Some tips to increase the bass on your car speakers:
Check the bass and treble tone controls: If you experience that your bass has decreased, you should get your car radio manual and check if some of the settings have been changed. If you feel the treble has been turned up and the bass has been turned now, adjust them according to your need. Another thing is to adjust the fade to favour the rear speakers since they have bigger cones. 
Install a powered subwoofer if you're on a budget. 
Or, you can try a subwoofer with an amplifier for better results. 
Choose the amplifier with RMS which exceeds the ratings of the subwoofer. 
What's the difference between 2 way and 3 way speakers?
A 2 way speaker has two speakers built-in with two types of drivers in it, which are called the woofer and tweeter. The woofer is a speaker that is built exclusively for low-frequency sounds. And the tweeter is designed for producing high-frequency sounds. 
On the other hand, a 3 way speaker generates sound from three individual speaker devices called the woofer, midrange and tweeter. Each of these speakers have their own mid-range of sound frequencies and deliver their individual separate frequencies. These include High, Mid-range and Low. With their ability of optimization to run in a certain range, these speakers can produce fuller, clearer and precise sound that their counterpart.  
What is a 4 way speaker?
4 way speakers or quad-axial car speakers are very much like 3 way speakers. They just contain an additional super-tweeter, so in total it has two tweeters, a mid-range cone and a bass component. This extra tweeter provides the speaker with the ability to hit more ranges of sound. Hence, improving the overall sound quality with wider and clearer range which you won't get with a 2 or 3 way speaker.  
Conclusion
There are a lot of 6×8 speakers with good bass available in the market, but we have provided you with top-rated products. These all are perfect to replace your factory installed speakers for better and improved sound quality. 
They are designed with durable material and additional features for more clearer, precise and powerful bass and sound performance. Again, these all are super easy to install and user-friendly within low budget.