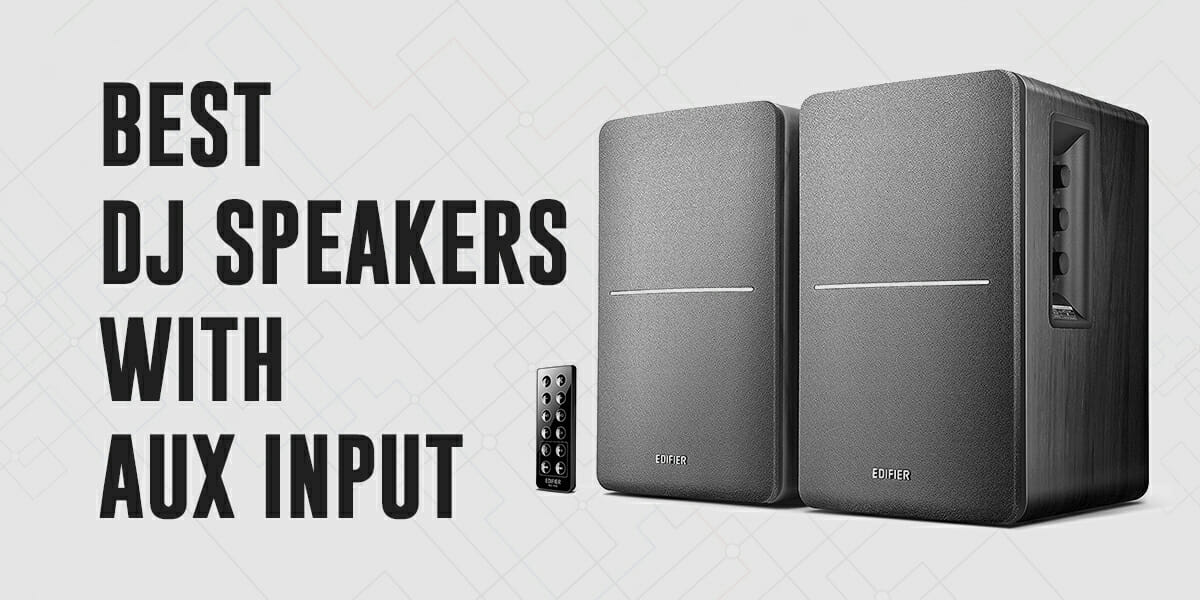 Are you a professional DJ?
Or simply enjoy listening to music at high volumes?
Well, we have some amazing DJ speakers which allow you to have all the fun in the world. 😉
Speakers are a necessary component for any DJ event and DJ Speakers with AUX input makes them easier to connect with any device.
If you don't have a Bluetooth device, you can simply plug-in the AUX cable and enjoy high powered volume experience.
These are best speakers for any party, event or for professional DJing in clubs.
Check out the best DJ Speakers with AUX input below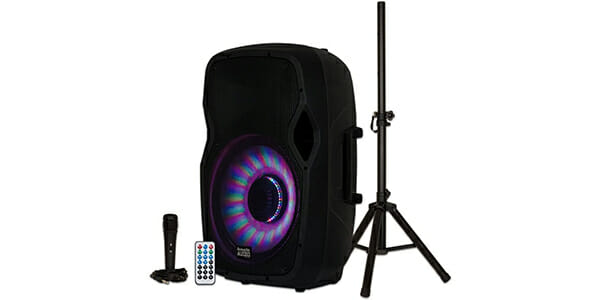 The Acoustic Audio By Goldwood Bluetooth LED Light Display Speaker Set is a 15-inch 1000 watts powered Bluetooth speaker that is best for your music streaming.
It features a multi-coloured LED woofer flashing light system, along with built-in FM tuner, USB or SD player, RCA, Mic, 3.5mm AUX input among others. It also provides highest quality streaming with Deluxe 15" woofer and 2" tweeter and only requires a standard Bluetooth audio streaming device.
Pros
1000 Watts Power System 
High Quality Streaming 
LED Display 
5 Band Slide Graphic Equalizer
It comes with all equipment needed for any professional event and provides a high quality 1000 watts powered system. It also has an LED multi-coloured display which makes it more dazzling.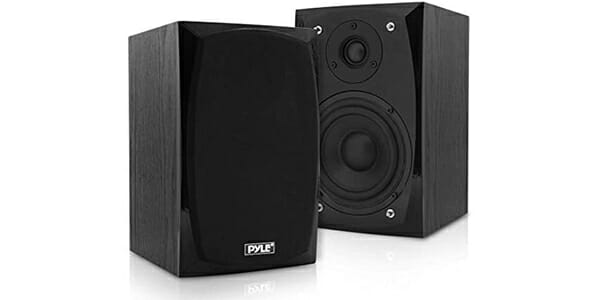 The HiFi Desktop Bookshelf Speakers are a pair of 5.25 inches high quality speakers with 300 watt powered output system and 150 watt RMS. These speakers are equipped with 5.25" monitor speaker drivers and 1" aluminium dome tweeters for better sound experience.
They are compatible to any device with its AUX, RCA and USB ports and ideal for any indoor or outdoor DJ event. The rear panel control centre and built-in digital audio amplifier lets you easily adjust the bass and treble.
Pros
300 Watt Power 
Rear Panel Control 
Hi-Fi Sound Quality 
Affordable
Cons
Not Recommended For PA System
These come with a decent power system and pro-quality amplifier. It also features rear panel control and can be easily connected to any available device.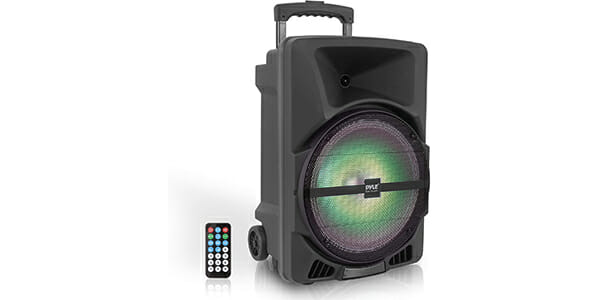 The Pyle PPHP1244B Wireless Portable PA Speaker is an 800 watt powered with full range audio loudspeaker which lets you enjoy your tracks loud and clear. It is featured with a 12 inch Subwoofer and 1 inch Tweeter, has a mic and digital display.
For complimenting any party, this speaker has in-built LED flashing lights. It is also equipped with 4 inputs – a USB Flash drive, SD Card Reader, AUX and Microphone input.
Pros
Highly Powered System 
Subwoofer And Tweeter 
4 inputs 
LED Flashing Lights
It has a lot of features and provides an in-built rechargeable battery. It also comes with LED party lights and an 800 watt powered sound system.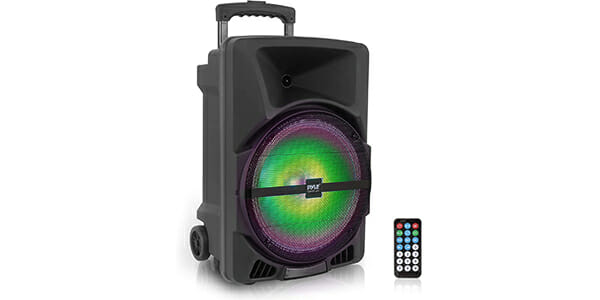 The Pyle PPHP1544B is a 12 inch speaker equipped with 800 watt power output system. It provides premium sound quality with 12" Subwoofer and 1" tweeter.
It also features 4 inputs and an easy Bluetooth connection facility. It also comes with LED Flashing party lights which makes any event more happening and fun.
Pros
High Power Output 
4 Inputs 
Subwoofer And Tweeter 
LED Flashing Lights
It provides amazing sound performance with 800 watt power output and 12 inches subwoofer with tweeter. It also comes with LED party lights which is a plus.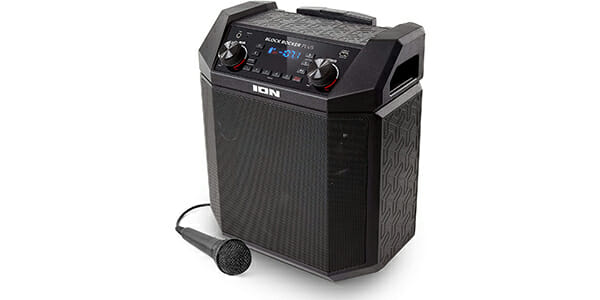 The ION Audio Block Rocker Plus Portable Speaker is a powerful and ultra-portable high quality speaker which gives superior sound anywhere. It comes in 3 variants of 50W, 50W With Echo Dot Cradle and 100W peak powered amplifier system.
It also features microphone and cable, AM/FM radio, Wheels and Telescopic Handles and USB Charging for devices. The long battery life of 50 hours and 8" woofer is premium for nonstop fun.
Pros
Dynamic And Powerful Woofer Sound
USB Port 
Rechargeable Long Battery Life
Ultra-portable 
It provides high battery life for longer fun and comes with all necessary connections. It has a premium sound quality woofer and microphone for convenience.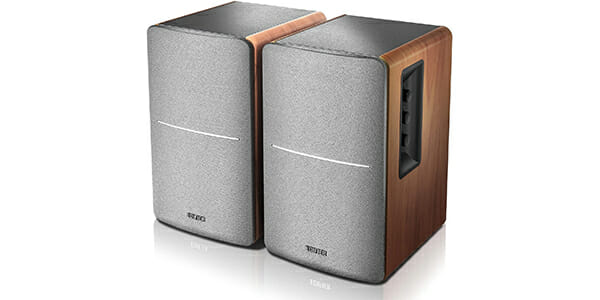 The Edifier R1280DB Powered Bluetooth Bookshelf Speakers is equipped to provide studio sound quality with 4 inch bass and 13 mm silk dome tweeter. It provides HD audio compatible for contemporary needs with high power output.
It also features RCA or AUX connections and has proper remote controllers to adjust volume frequencies. It has side panel controls for adjusting the EQ to your liking easily.
Pros
High Bass And Tweeter Driver 
2 RCA/AUX Input 
Side Panel Controls 
Easy Bluetooth Connection
It has a wireless remote control for easy switching. It can be easily connected to any Bluetooth or wired device with available inputs.
Frequently Asked Questions
Conclusion
There are a lot of DJ Speakers with AUX input available in the market, but we've listed the top-rated items for you. These provide high sound quality with highly powered output and added woofer and tweeter system. They also come with several inputs for you to easily connect any devices. Some of these are also equipped with LED flashing lights for more fun party experience.