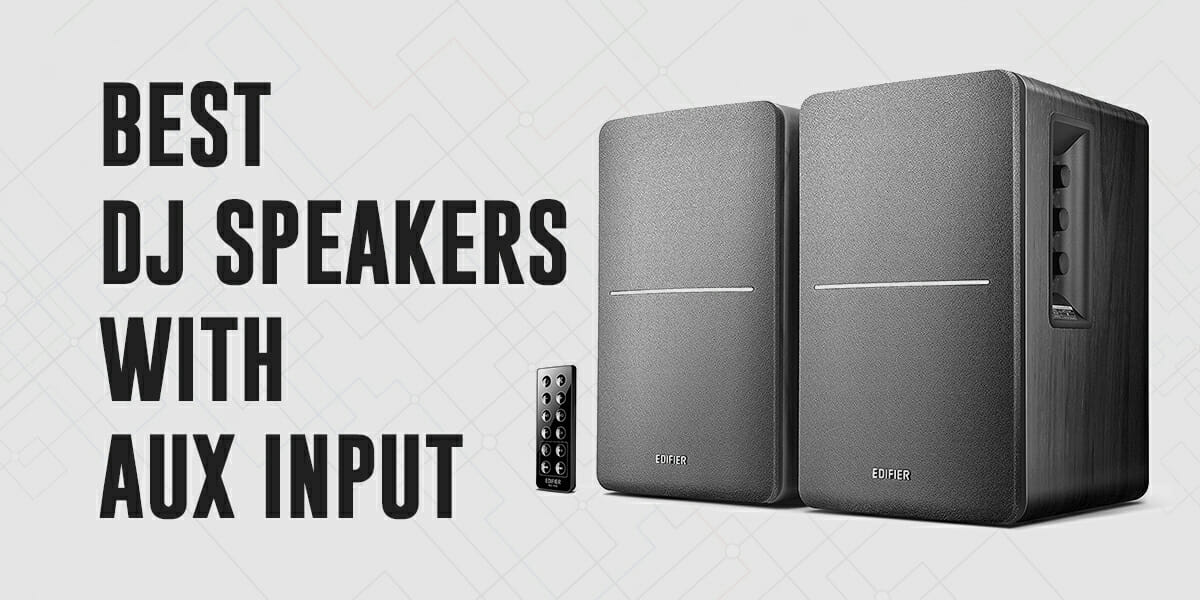 Are you a professional DJ?
Or simply enjoy listening to music at high volumes?
Well, we have some amazing DJ speakers which allow you to have all the fun in the world. 😉
Speakers are a necessary component for any DJ event and DJ Speakers with AUX input makes them easier to connect with any device.
If you don't have a Bluetooth device, you can simply plug-in the AUX cable and enjoy high powered volume experience.
These are best speakers for any party, event or for professional DJing in clubs.
Check out the best DJ Speakers with AUX input below
Table of Contents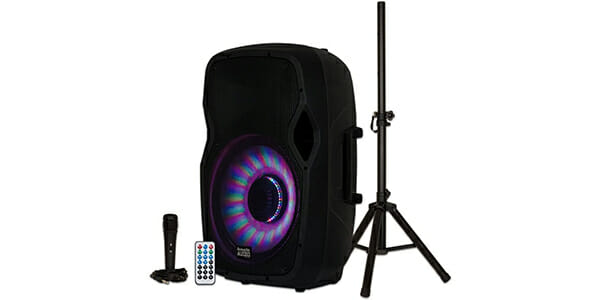 The Acoustic Audio By Goldwood Bluetooth LED Light Display Speaker Set is a 15-inch 1000 watts powered Bluetooth speaker that is best for your music streaming.
It features a multi-coloured LED woofer flashing light system, along with built-in FM tuner, USB or SD player, RCA, Mic, 3.5mm AUX input among others. It also provides highest quality streaming with Deluxe 15" woofer and 2" tweeter and only requires a standard Bluetooth audio streaming device.
Pros
1000 Watts Power System
High Quality Streaming
LED Display
5 Band Slide Graphic Equalizer
It comes with all equipment needed for any professional event and provides a high quality 1000 watts powered system. It also has an LED multi-coloured display which makes it more dazzling.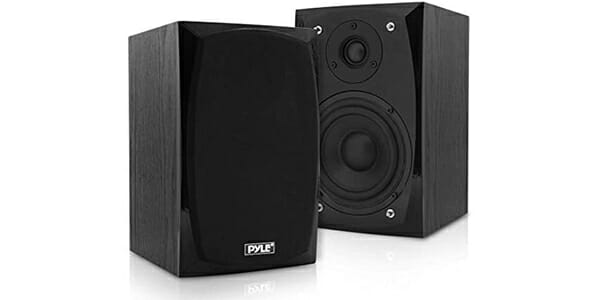 The HiFi Desktop Bookshelf Speakers are a pair of 5.25 inches high quality speakers with 300 watt powered output system and 150 watt RMS. These speakers are equipped with 5.25" monitor speaker drivers and 1" aluminium dome tweeters for better sound experience.
They are compatible to any device with its AUX, RCA and USB ports and ideal for any indoor or outdoor DJ event. The rear panel control centre and built-in digital audio amplifier lets you easily adjust the bass and treble.
Pros
300 Watt Power
Rear Panel Control
Hi-Fi Sound Quality
Affordable
Cons
Not Recommended For PA System
These come with a decent power system and pro-quality amplifier. It also features rear panel control and can be easily connected to any available device.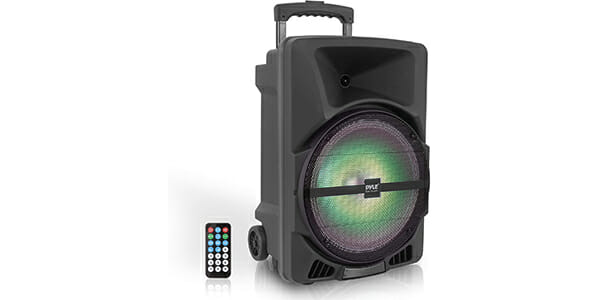 The Pyle PPHP1244B Wireless Portable PA Speaker is an 800 watt powered with full range audio loudspeaker which lets you enjoy your tracks loud and clear. It is featured with a 12 inch Subwoofer and 1 inch Tweeter, has a mic and digital display.
For complimenting any party, this speaker has in-built LED flashing lights. It is also equipped with 4 inputs – a USB Flash drive, SD Card Reader, AUX and Microphone input.
Pros
Highly Powered System
Subwoofer And Tweeter
4 inputs
LED Flashing Lights
It has a lot of features and provides an in-built rechargeable battery. It also comes with LED party lights and an 800 watt powered sound system.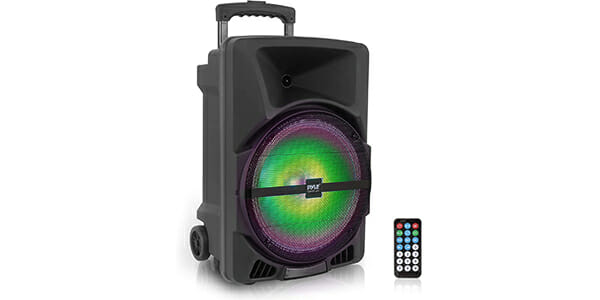 The Pyle PPHP1544B is a 12 inch speaker equipped with 800 watt power output system. It provides premium sound quality with 12" Subwoofer and 1" tweeter.
It also features 4 inputs and an easy Bluetooth connection facility. It also comes with LED Flashing party lights which makes any event more happening and fun.
Pros
High Power Output
4 Inputs
Subwoofer And Tweeter
LED Flashing Lights
It provides amazing sound performance with 800 watt power output and 12 inches subwoofer with tweeter. It also comes with LED party lights which is a plus.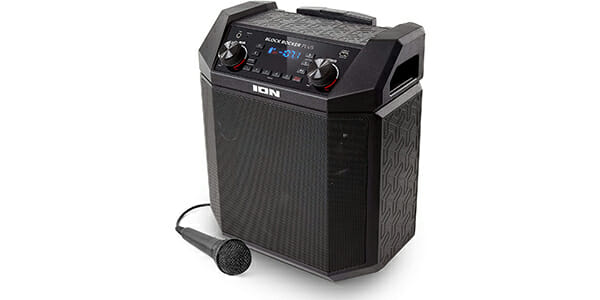 The ION Audio Block Rocker Plus Portable Speaker is a powerful and ultra-portable high quality speaker which gives superior sound anywhere. It comes in 3 variants of 50W, 50W With Echo Dot Cradle and 100W peak powered amplifier system.
It also features microphone and cable, AM/FM radio, Wheels and Telescopic Handles and USB Charging for devices. The long battery life of 50 hours and 8" woofer is premium for nonstop fun.
Pros
Dynamic And Powerful Woofer Sound
USB Port
Rechargeable Long Battery Life
Ultra-portable
It provides high battery life for longer fun and comes with all necessary connections. It has a premium sound quality woofer and microphone for convenience.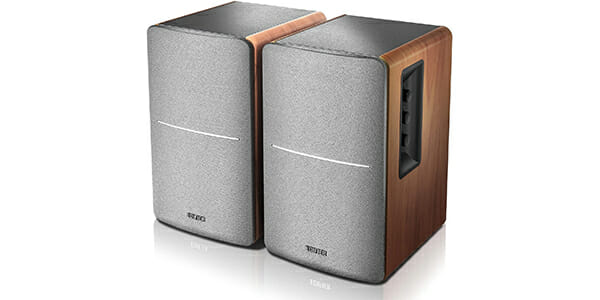 The Edifier R1280DB Powered Bluetooth Bookshelf Speakers is equipped to provide studio sound quality with 4 inch bass and 13 mm silk dome tweeter. It provides HD audio compatible for contemporary needs with high power output.
It also features RCA or AUX connections and has proper remote controllers to adjust volume frequencies. It has side panel controls for adjusting the EQ to your liking easily.
Pros
High Bass And Tweeter Driver
2 RCA/AUX Input
Side Panel Controls
Easy Bluetooth Connection
It has a wireless remote control for easy switching. It can be easily connected to any Bluetooth or wired device with available inputs.
Frequently Asked Questions
What is the best speaker for Djing?
Below is a list of a few Top Powered Speakers for DJing.
1. Behringer EUROLIVE B112D Active PA Speaker System 
2. QSC K12.2 Active Loudspeaker 
3. Electro-Voice ZLX15P Loudspeaker 
4. Yamaha DXR 10 Powered Speaker Cabinet 
5. Mackie Thump 12A Powered Loudspeaker 
6. Pair Rockville RPG15 1Active DJ PA Speaker 
7. JBL EON612 Multipurpose Self-Powered Sound Reinforcement 
How do I connect virtual DJ to Bluetooth speaker?
You can connect virtual DJ to a Bluetooth speaker through these steps. 
1. Turn on the Bluetooth on the Laptop/Computer
2. Add your Bluetooth speaker 
3. Press the sync button on your Bluetooth speaker and connect and link the two 
4. Open the virtual DJ and go to sound settings 
5. Select the speaker only option and select the sound card, then connect it to your Bluetooth speaker
How do I get Serato to play through my speakers?
You can connect your serato DJ to play through your speakers by following method: 
1. Connect your Controller to your device 
2. Go to setting in Serato DJ and then the Audio tab
3. Now under Audio Output, you'll see an option called 'Use Laptop Speakers' 
4. Turn it on and test it. This setting will ensure that your Serato plays through every speaker connected to your device's audio setting.
Are clubs mono or stereo?
All clubs are different in size and people capacity intake. So there's no simple answer to that question since they are not equal. Based on that, some clubs only have the bass in Mono.
In some others, only the dancefloor is stereo and other speakers in the main area are mono. Other clubs might be all stereo. The club chooses whatever system works better in that specific room.
How many watts do I need for a party speaker?
If you're considering throwing an indoor house party then you can consider a minimum of five watts per person. So, if you're inviting 20 people you should aim for at least 100 watts party speakers.
If you're organizing an open outdoor gig, you should probably double the watts with 10 watts per person. So, if you're looking for loud party speakers, you can go up to 1000 watts powered speakers for medium to large outdoor parties.
How do you set up speakers for a party?
You can set up speakers for a party easily through this method. 
1. Get your speaker's stand and loosen the knob on it to widen the legs of the stand to your desired level. 
2. Bring up the telescope part of the stand and keep it to your desired height level, use the metal rod to put it through the hole to tighten it. 
3. Now grab your speakers from their handles and you'll find a hole under the speakers. Now you need to put these speakers on the stand through this hole. 
4. Now plug in your IEC or kettle cord into the power. 
5. Now you need to plug your iPod or phone's cable into the back of the speakers (this cable has one large Green wired plug to attach in the Green hole in your speakers and the other side small one to fit into the headphones jack of your iPod). 
6. Now bring your volume knob on the speaker to 12 o'clock and plug in your iPhone, iPod or any other device. 
7. Now turn on the power switch on your speaker and press play on any song from your device and adjust the volume to desired level.  
8. You can also link several speakers for a big party and connect them together using XLR cable (3 pin cable). 
How do you connect two DJ speakers together?
You can connect two powered DJ speakers together easily through this method.
1. You need to connect a mini-plug with your device's headset jack and attach it to the Mp3 input of one speaker.
2. Now at the back of both your speakers, there will be 2 INPUT and 1 OUTPUT. All you need to do is run a single 3. Output out of Speaker 1 (where Mp3 input is plugged in) and join the cable to one of the Inputs on the second speakers. 
4. Now crank your main level all the way up on both speakers, crank up the line level on the 2nd speaker and adjust the volume to your desired level on your Mp3 input speaker. 
5. You also need to make sure any other EQ or DSP settings are identical. Your sub levels and high boost also need to be the same on both speakers. 
What is the most important skill for a DJ?
The most important skills for a DJ would be to learn Phrasing. Phrasing is usually defined as an "alignment of phrases of two tracks in a mix". This means that you're able to connect the alignment of two tracks together without breaking the structure or feel of the new track. 
How do DJs get their songs?
DJs get their songs through various platforms. 
1. Music Pools: It is a method through which record labels provide music to DJs who have subscriptions with them. These record labels distribute all new music for DJs to play in clubs and parties, and promote their songs. 
2. Record Pools: This is the same as Music Pools, but DJs here now also have access to all new as well as old tracks of the record label. 
3. Podcasts: Many DJs highlight their favourite tracks in several music platforms and mix them up to create a unique song. 
4. Drum Beats Samples: There are several beats and samples available online, many DJs use these and mix them up with their self-created tracks. 
Can you DJ with just headphones?
Yes, DJing and mixing with just headphones is a handy and important skill for a DJ to have. Some DJs learn this by choice or some are forced to mix this way at some point. DJs usually learn this on the outset since they have to turn the volume down when they're practicing. You can master this art of DJing by practicing at home and using the cue mix knob for monitoring your tracks. 
Conclusion
There are a lot of DJ Speakers with AUX input available in the market, but we've listed the top-rated items for you. These provide high sound quality with highly powered output and added woofer and tweeter system. They also come with several inputs for you to easily connect any devices. Some of these are also equipped with LED flashing lights for more fun party experience.