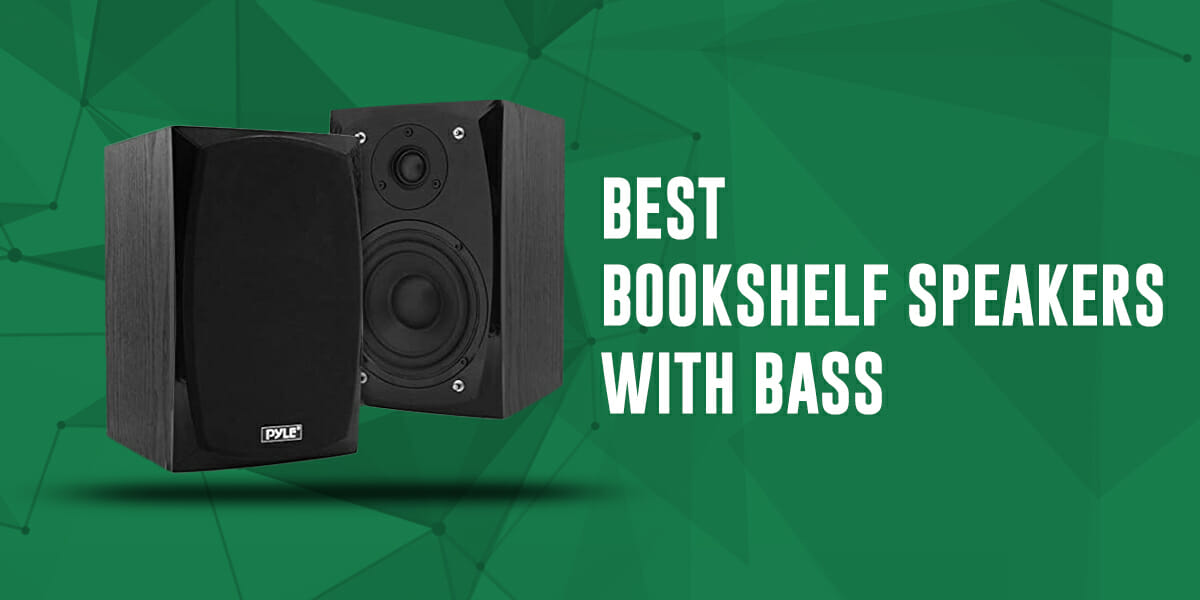 Bookshelf speakers are trending now, due to their sleek design and high-quality sound performance. In general, bookshelf speakers produce an enormous soundstage imaging which fills any ample space with excellent powerful audio.
Bookshelf speakers with bass provide you with an additional high-quality sound experience for your music and movies. These come with added tweeters and woofers which enhance the low and high frequencies for producing incredible rich and deep bass. And if you're using these bookshelf speakers for your home-theatre, getting a powerful and oomph sounding bass is very essential.
The bookshelf speakers with bass is the best option to get for your stereo and living room spaces since they're specially designed for excellent sound for small to medium sized spaces. They're best to ensure a powerful sound with minimal breakup and low distortion even at high volume.
Check out the best bookshelf speakers with bass below:
Table of Contents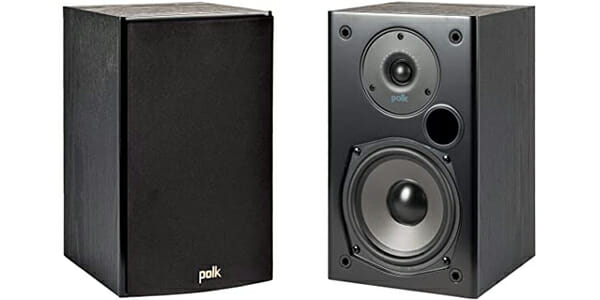 The Polk Audio T15 is a superior and impressive sound producing home theatre speaker. It features 5.25" Dynamic Balance Driver and 0.75" Silk Dome Tweeters which are designed to produce a natural and well-balanced sound. These speakers produce a massive bass response and detailed clear audios even at low frequencies. These T-series speakers are the best within its price range with versatile and incredible sound, and concert-quality music experience. The furniture-grade MDF cabinet construction also ensures distortion and resonance free audio output and wide-dispersion sound.
Pros
0.75" silk dome tweeter
5.25" composite driver
Front firing bass port
Dynamic Balance technology
8 ohms Impedance
100 Watts peak power handling
Cons
Might not be ideal as standalone bookshelf speakers
They produce a full-range super-clear sound with an impressive bass response. These are specially designed for compatibility with your home theatre and are easy to set up with many setup arrangements.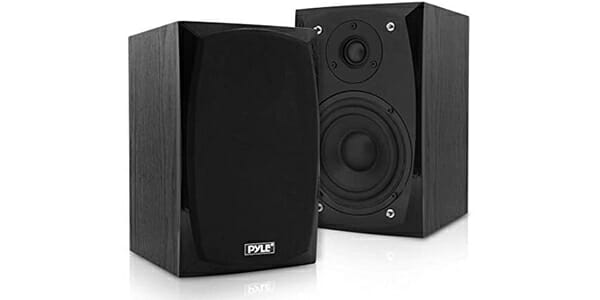 The Pyle PBKSP22 HiFi is a full-range high-powered bookshelf speaker with maximum 300 Watts peak power and 150 watts RMS. These also feature a 5.25" monitor driver, 1" aluminium dome tweeter, 4-8 ohm impedance and 50Hz-20 kHz frequency response which provide stereo sound reproduction. These speakers are also compatible with Bluetooth for wireless audio streaming and are also equipped with AUX, RCA inputs and USB flash drive reader for more connections. It offers a sound with full presence and depth and is especially designed for enhanced bass with a flared bass reflex port.
Pros
300W peak power & 100W RMS
5.25" monitor driver
1" aluminium dome tweeter
4-8ohm impedance
Wireless and 3 other inputs
Enhanced bass
These provide a high power handling response and full-range frequency response with additional tweeter and monitor driver. They're especially designed to provide powerful bass and also have control knobs at the back of the speaker for volume and bass adjustment.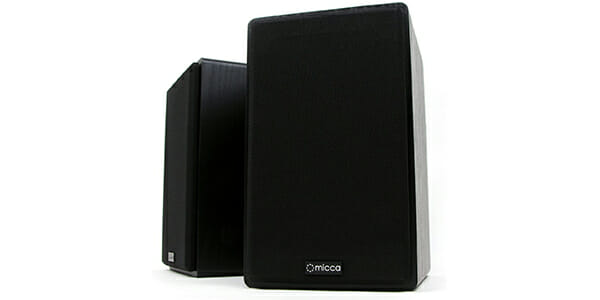 The Micca MB42 provides an amazing listening experience within limited space and budget. The compact sleek design is perfect for disappearing with any room décor. It is equipped with a high performance 0.75" silk dome tweeter and 4" balanced woven carbon fiber woofer with rubber surround for smooth treble, natural imaging and deep and rich bass response. All drivers are housed in a ported enclosure that delivers extended bass output with minimal distortion. It has a well-balanced signature sound and vocal clarity which can enhance your music experience.
Pros
4" Carbon fiber woofer
0.75" silk dome tweeter
Rear ported vinyl enclosure
Filtering capacitor on tweeter
Wire connectivity options
Cons
Need an additional amplifier or receiver
It is equipped with every essential feature required for producing an incredible bass response with its high performance sound output. Every driver is enclosed within the rear port for extended bass output without any distortion.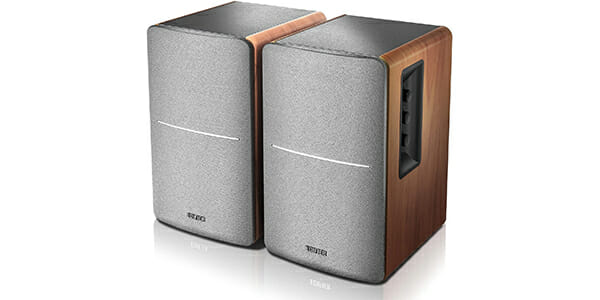 The Edifier R1280DB is a 4" near field speaker with 45W RMS range. It is compatible with Bluetooth for truly wireless audio experience and easy connectivity without wired hassle. It also features a side panel for controlling EQ levels and bass and treble control on the sides of the main speaker. It is equipped with 4" Bass driver and 13mm silk dome treble for naturally fine-tuned studio sound performance. The classic look featuring modern technology for enhanced sound experience is a definite perk of these speakers.
Pros
Side Panel controls
Bluetooth connectivity
4" bass driver
13mm silk dome treble
45W RMS range
Sleek design and modern technology
Cons
Slightly low power output
These are equipped with 4" bass drivers and 13mm silk dome tweeter for enhanced bass and incredible sound quality. It also has an amazingly beautiful sleek design which can complement any room décor and the compact size makes it an idle space saving speaker.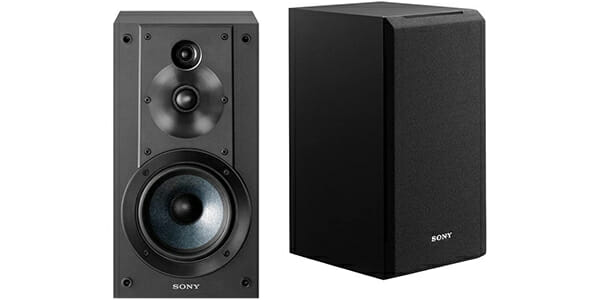 The Sony SSCS5 is a 3-way speaker equipped with 3 drivers consisting of a 5 ¼" foamed mica cellular reinforced tweeter, bass reflex system and 1" polyester main tweeter. The ¾" super tweeter is made for immersive sound staging and producing good sound reproduction up to 50kHz. It delivers an unprecedented and real audio experience with its features which promises the accurate feel of energy and passion of the audio. The added MRC woofer provides the most dynamic and powerful bass response and produces high-quality sound.
Pros
3-Way speakers
Enhanced clarity
100W power output
High-resolution audio
Precision tweeter and enhanced super tweeter
5.12 woofer
These come with a wooden finish and compact bookshelf design with high quality structure and premium components. The 5.12 woofer is best for boosting low and high frequencies and the additional super tweeter enhances the bass response.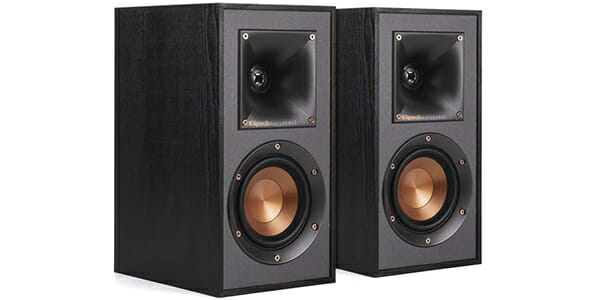 The Klipsch R-41M is a compact 4" speaker which offers versatility and sleek design without sacrificing on sound quality and gives an elegant audio solution. The tractrix horn technology ensures high frequency energy and response for better clarity, dynamic and detailed sounds. It features 1" aluminium LTS tweeter and 4" spun-copper IMG woofers for enhancing the low and high frequency response range with lowest distortion. The enhanced bass reflex comes from the real-firing port which fills any room with high-sound and dynamic music performance.
Pros
Compact sleek design
Tractrix horn technology
LTS (linear travel suspension) aluminium tweeter
4" spun copper IMG woofers
High bass quality
8ohm impedance
The sleek design and compact size which doesn't hinder the sound-quality is a perk for any audiophile. The added woofers and tweeter ensures full-range frequency response with enhanced bass and minimal sound breakup distortion.
Frequently Asked Questions
Do bookshelf speakers have good bass?
Yes, most basic bookshelf speakers have two woofers which generate bass and tweeters that produce high-frequency sounds. But buying a full-range bookshelf speakers with a third mid-range driver can do the trick and provide much better bass and sound. And a decent bookshelf speaker can provide powerful and deep bass even without a subwoofer. You need to look for bookshelf speakers which have lower hertz and higher watts of peak power. These ensure better output and heavier bass in your speakers. 
How do I get more bass from bookshelf speakers?
You can get more bass from a bookshelf speakers through the following methods: 
1. Adjusting the EQ, frequency and sound of your speakers and getting speakers with good amplifier and frequency response (at least 100W) 
2. You can add a bigger powered subwoofer (15" diameter) which can produce more bass 
3. More simply, you can go to the supermarket and buy some cotton or pillow and stuff it into your speakers, this can help you get more clearer bass response 
What are the best sounding bookshelf speakers?
Some of the best sounding bookshelf speakers include: 
1. JBL L100 Classic 
2. Fluance Ai40 
3. Klipsch RP 600M 
4. ELAC Debut 2.0 B6.2 
5. Q Acoustics Concept 300
6. Vanatoo Transparent Zero 
7. Wharfedale Denton 85th Anniversary Edition 
8. Kali LP-6
Do bookshelf speakers sound better on stands?
Yes, bookshelf speakers sound better on stands and a speaker's placement is very crucial for excellent sound performance. And putting your speakers on a stand also gives you more freedom to position them away from walls, floors and bookshelves. You can easily adjust their position to ear level which makes their tweeter's high frequencies more clearly audible and enhances the sound output. And since they're specially designed to maximize sound in small to medium-sized spaces, resting them on a stand can definitely fill your room with more oomph and punchy sound. 
How can I make my speakers louder without an amp?
For higher bass and better sound quality, you need to have good amplification on your speakers. But, you can still make your speakers sound louder without an amp by methods like damping or adding additional components like a subwoofer, tweeters and capacitors to boost your stereo sound. 
Why are bookshelf speakers so expensive?
The price of any decent bookshelf speaker depends on the components and equipment that are used in its making. These are made with high-end design and elegant finish which can complement any décor. They also feature good quality material with durability and weight, and price also depends on the branding of the product. All these elements combine to make a high-quality and superior sound performance bookshelf speakers, and they're definitely worth the price. 
Are bookshelf speakers good for music?
Most bookshelf speakers are made with keeping in mind the larger sound system, since they're widely used in a home theatre system. They're designed to provide mid-range and bi-directional sound, so they're perfect for stereo and provide excellent sound performance. But they might not be as good for providing a complete listening experience required for music. 
What Hi Fi Best Budget bookshelf speakers?
Some of the best budget Hi-fi bookshelf speakers include: 
1. Elac Debut B5.2 
2. Dali Spektor 2 
3. Bowers & Wilkins 607 Anniversary Edition 
4. Fyne Audio F302 
5. Q Acoustics 3030i 
6. Dali Oberon 1 
7. Wharfedale Diamond 12.1 
8. Triangle Borea BR03 
What are the best bookshelf speakers for $100?
Below is a list of the best bookshelf speakers for $100: 
1. Q Acoustics 3020i 
2. Klipsch R-41M 
3. Polk Audio T15 
4. Edifier R1280DB 
5. Sony SSCS5 
6. Micca MB42 
7. Edifier P12
8. Yamaha NS-6490 
Are floor speakers better than bookshelf?
Bookshelf speakers are typically designed with 2-way speakers, only few have 3-way speakers with added super tweeter for mid-range. While on the other hand, floor speakers often have multi-driver design which features a dedicated bass driver, midrange and tweeter. Bookshelf speakers have compact size and can be mounted or placed on a stand with adjusted height. But floor speakers don't need a stand since they're built with large in-built standing. So, the larger size also ensures more bass output and louder sound than their counterpart bookshelf speakers. The choice depends on your sound and spacing needs, but going for a top-quality floor speaker seems a better option. 
Conclusion
There are a lot of Bookshelf Speakers with Bass available in the market, but we have listed the top-rated products for you. Most of these are typically under budget without compromising on the sound-quality and audio performance.
These speakers feature additional components like tweeters, woofers and bass drivers for producing powerfully rich and deep bass. They're best suited for any stereo sound or your living room home-theatre with amazing sound performance.