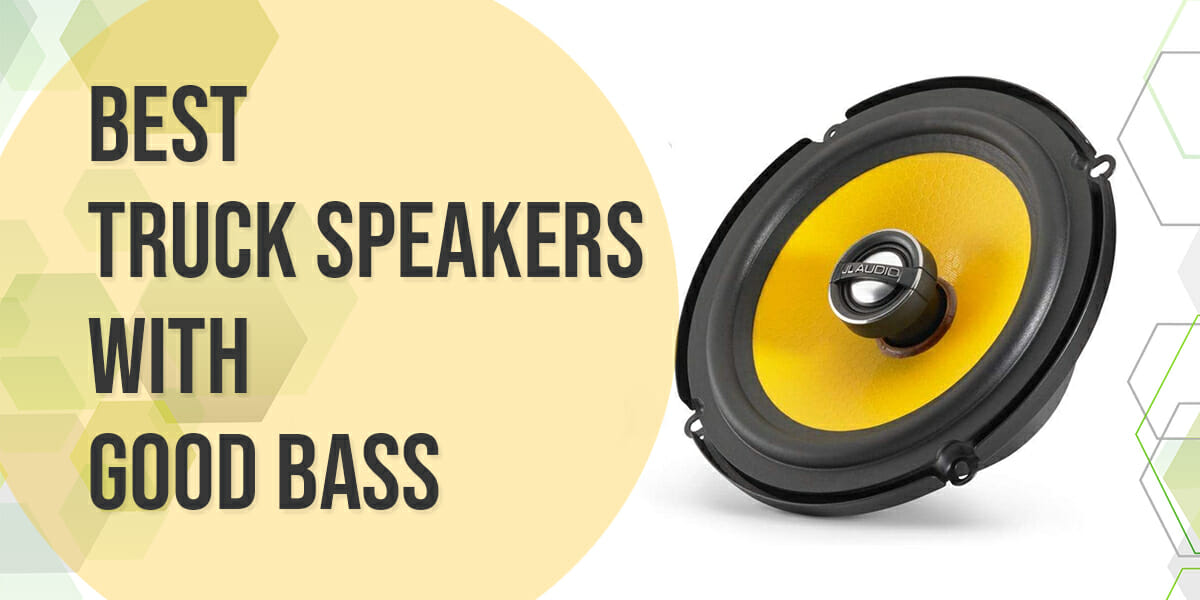 It's never a lousy idea to change your lousy truck speakers. Unpleasant buzzing and distorted sound? Infinite Impedance? Lack of bass? You really do not need any of those!
Truck speakers with good bass create the foundation for harmonies, enhance your sound and complete your music. Coming across an array may be overwhelming and we do not want you to invest in anything below consumer standards. Here is a straightforward guide to help you out.
Table of Contents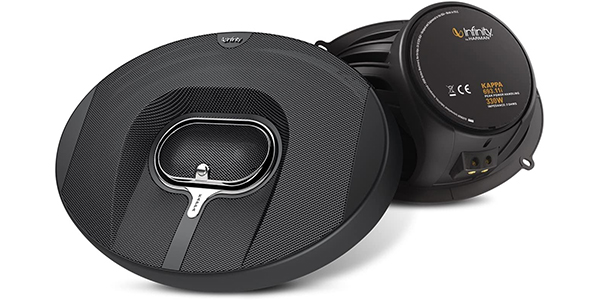 Infinity's new version kappa series 693.11i speakers are super sensitive and literally outline all the details of your tracks. You could say it's crisp and clear. We would say it's impressive!
If you are a bass lover, this infinity kappa brings you the right technology. A glass fiber woofer that's devoted to giving you a punchy bass sound even when the power is sparked up.
This two-ohm speaker features two grilles and grille rings, self-tapping screws, two bottom mount adapter rings, two foam gaskets and eight speed clips. And oh, we definitely have to talk about its 1'' soft dome tweeters that give you natural sounding high frequencies. This kappa Coaxial Speaker is truly one for the road.
Pros
Has a peak power of 330 Watts.
Clear mid and high frequencies, excellent bass and zero distortion.
Full and balanced sound.
This infinity kappa model is ideal for factory and aftermarket sound systems.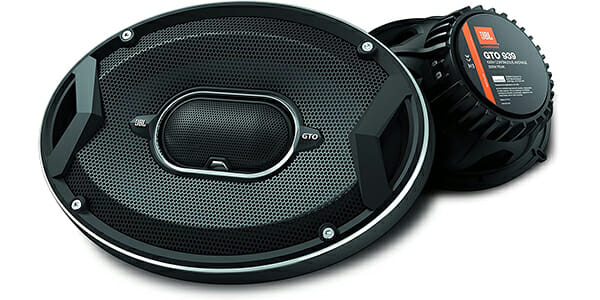 This beautifully crafted chrome incorporates great power-handling specifications in its design and can handle a robust 300 watts peak power. It is characterized by its 4-ohm technology, patented plus-one woofer cone technology and vented magnet assemblies that help cool the voice coils.
It has a chrome button that makes your tweeters produce louder sound. With carbon composite non-magnetic frames, your speakers absolutely resist warping when mounted on uneven surfaces.
Unbox this total bomb, get your pair of speakers, a pair of speaker grilles, a user manual for your troubles and get this thing exploding.
Pros
It delivers full-range frequency response
Eliminates power compression to avoid sound distortion
Plastic frame does not resonate: helps produce accurate sound.
Its great power handling ability gives your speakers a prolonged life span thus durability is assured.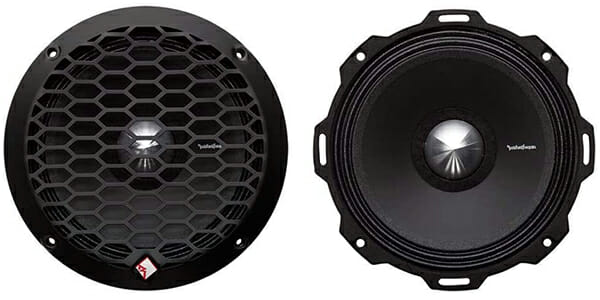 For this pick, you would love to hear the overview on its integration and design structure. With a corrugated cloth surround, stamp cast aluminum frame and fiber reinforced paper cone with treated 'w' style surround, this punch pro is incredibly loud.
The package includes a 16 American Wire gauge speaker wire and a premium sound deadening material kit as accessories.
This 4-ohm mid-range loudspeaker was specifically engineered to thrive in high sound pressure level (SPL) conditions and with its fatigue and tear resistance features, you do not want to look further.
Pros
Mounting hardware and grilles included
High sensitivity speaker
High temperature aluminum voice coil
These speakers are the best for the music lovers who would want to turn their volumes all the way up.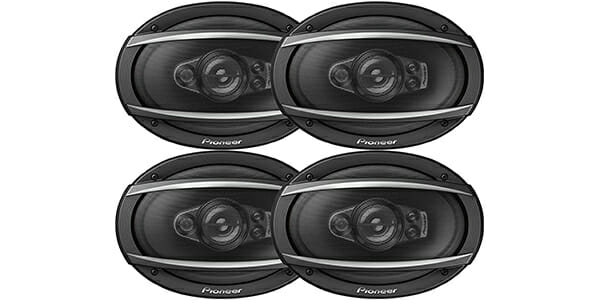 Truly making a practical representation of Pioneer's Open and smooth™ sound concept, this coaxial speaker system outputs smooth seamless sound and high impact bass.
Now what makes up the content of the box? You'll find two-5-way speakers, two multi-application mounting brackets, two streamlined grilles, eight 1-1/8'' screws, eight 3/8'' screws and two 12'' lengths of speaker wires in the package.
Its 6×9 multi-fit installation adapters expand flexibility and improve acoustic performance and its PET hard dome tweeter produces great sound in the upper music range. With a factory packaged warranty manual and on-box specs and template, you are definitely missing out on nothing.
Pros
Peak power of 600w
Low frequency responsiveness
Good weather resistance
This Pioneer model is versatile and with its streamline grilles, custom installation is made easy.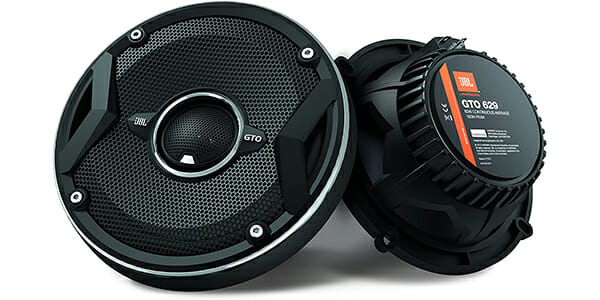 If you really want to have a phenomenal musical experience even when on the road, let your car speakers have a JBL signature. They will thank you!
This compact JBL gto629 model features a patented plus-one woofer cone technology to produce all the important musical notes you want to hear. It also has a patented Uni-pivot tweeter and high-quality crossover components.
Matching up with many GTO Series amplifier combinations, it can keep up with systems that feature one or more subwoofers. JBL welcomes you to a world of bigger, better bass.
Pros
Increased Durability
Wide range frequency response: beyond 20kHz
No distortion of sound
High performance speakers that perform way beyond most factory installed speakers of the same class.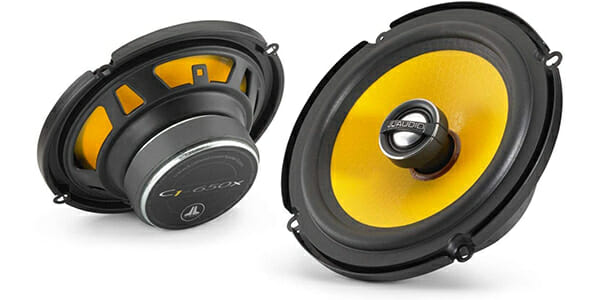 The JL Audio C1-650X is a real deal. Not just because the developers say it is. But this thing lives up to your expectations! Starring an edge-driven aluminum dome tweeter with good inherent off-axis response and high-frequency extensions, it also employs a 2nd order high-pass filter to improve power handling and smooth delivery.
It also features a mineral-filled polypropylene cone with a rubber surround on the front, a steel 6.50-inch frame and DMA optimized motor system at the core, and a flat Conex spider with tinsel lead at the top of its voice coil.
Its multiple adaptor rings facilitate easy fitting and drop in-installations for vehicles with 6-inch, 6.5-inch, and 6.75-inch speaker openings. That's definitely on the bright side.
Pros
Great audio performance: deep mid-bass / crisp high notes
Incorporated with fatigue and buzzing features
Precise voice coil motion control
The C1-650x is a professionally made model that is moderately priced for its performance and is beyond convenient.
Frequently Asked Questions
What are the best speakers for a truck?
Well, instead of looking for the best truck speakers, it would be advisable to look for the best quality and modestly priced speakers that would fit into the factory speaker openings of your truck.
But if customization is your ultimate style and you do not plan on considering price variations, then here are some very good suggestions for you. Check out the
1. Infinity Kappa 693.11i 3 Coaxial Speakers
2. JL Audio C1-650X 6-1/2'' Coaxial Car Audio Speakers
3. JBL GT0939 PREMIUM 6x 9'' Coaxial Audio Speakers
Which is better? JBL or kicker speakers?
Both JBL and Kicker speakers are both reliable brands that produce high-end speakers. Convincing you that either one of them is better would be quite deceiving.
Though both JBL and Kicker speakers share similarities in specifications and configurations, there are differences as well. For example, in terms of bass quality, the JBL is in the lead but when it comes to having a wide frequency band, the kicker should win.
However, it would be easier to compare models from these developers and make a choice based on the factors that are important to you. But if you are planning to upgrade your speaker system, both speaker brands are standard brands and good worth for your money.
How can I make my door speakers sound better?
In recent times, upgrades have become quite expensive. Today we would like to share with you 4 cheap DIYs and system checks you can try out to improve the sound produced by your car speakers. You could:
Use a speaker gasketing tape to create a protective layer.
1. Check polarity
2. Build in tuning-controls.
3. Eliminate rattles.
If you have no idea on how to get these done, click here to watch this reference video. Try them out and your speakers should sound livelier than usual!
Is JBL or Bose better?
What features and upgrades would you want to see? What price is modest enough for a good speaker? Would you choose good bass over everything? And would you want to own an audiophile speaker?
Yes, so many questions need to be answered. This is because 'appreciation of quality' is very subjective so we cannot lure you into believing that Bose is better than  JBL or otherwise. However, JBL speakers are generally proven to have better sound quality and great bass as compared to the Bose Speakers which are mostly mid-range speakers but would beat the JBL with better treble.
A particular JBL model might be better than a particular Bose model, overall and vice versa. To get more accurate answers, compare two models from both brands you are comfortable with and make a pick.
Which sound system is better than Bose?
Boss is a standard audio brand but musical enhancement has brought a couple of brands on a par with Bose. For example, the Sony and JBL brands are great competition for Bose developers. There is no saying which is better.
Making choices based on priorities is always the best way of finding the custom-made brand and sound system for you. Consider sound quality, durability, design, on-budget sound systems and every feature you've ranked as most important.
But if you want to explore choices outside of Bose, be rest assured that the JBL and Sony and even the Klipsch models are high-grade models you would love.
Which company music system is best for home?
Home is always that haven and you would definitely want the best music system to spice it up. Finding a good one on the market might be stressful so we've put up a compilation of 5 top- notch companies that give you the best below.
Companies that Produce the Best Home Music Systems
1. Sonos Electronics
2. JBL Electronics
3. Bose Corporation
4. Klipsch Audio Technologies
5. Samsung Group
Conclusion
Bass is powerful, but good bass is extremely powerful and makes rhythm beautiful. Good truck speakers automatically upgrade your truck and add a little bit of gracefulness to all your long and short trips. If you are planning on pimping your ride, the time is now. You've got this!