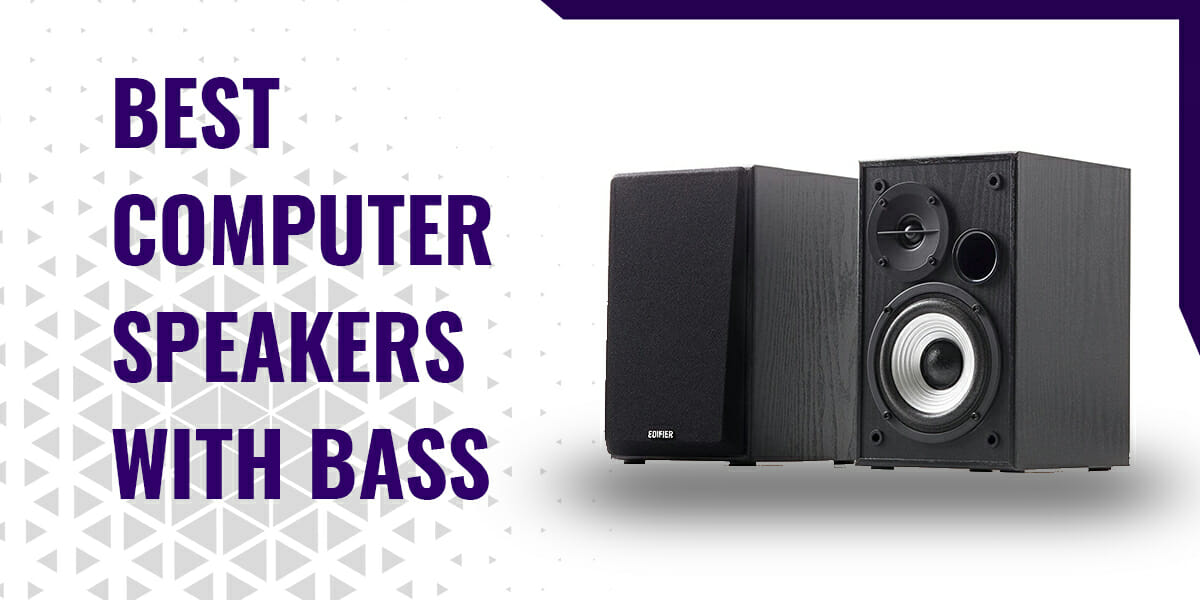 Most of us spend a great amount of time in front of our computers listening to music, watching videos or playing games, etc. However, the majority of computers lack a high-quality audio output. So we tend to rely on buying extra speakers for our computers, but sometimes they also lack clarity.
That's where computer speakers with good bass come in. These computer speakers with bass are highly durable and provide excellent audio quality. The rich and heavy bass fills any room with crystal clear sound without any distortion. They are best for indoor and outdoor use with enjoyable stereo sound experience and adjustable bass and treble controls.
Check out the best Computer Speakers with Bass below.
Table of Contents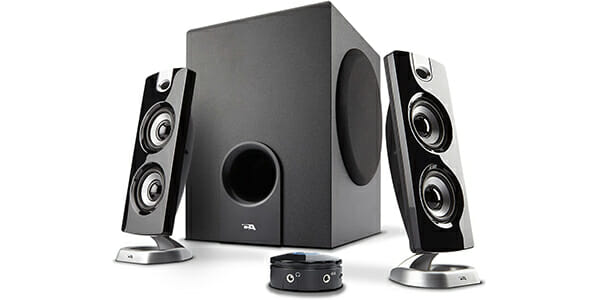 The Cyber Acoustics speakers come with a 5.25" subwoofer for rich audio and deepest bass experience. It is driven by dual 2" high-efficiency per satellite and 62 watts peak power with 30 watts RMS for crisp highs that fills any room without any distortion in sound. It has a sleek and elegant design with piano black finish on the satellites which will complement any room décor. It comes with desktop control pods for adjusting the volume, bass and tune the richness of the sound makes them more convenient and easy to use.
Pros
High Frequency Response
High Peak Power and RMS
5.25" Subwoofer
3.5mm AUX Input
Contemporary Design
Desktop Control Pod
It delivers clear and excellent sound quality at a reasonable price. The added desktop control pod for efficient management and the fabulous look is definitely a plus point.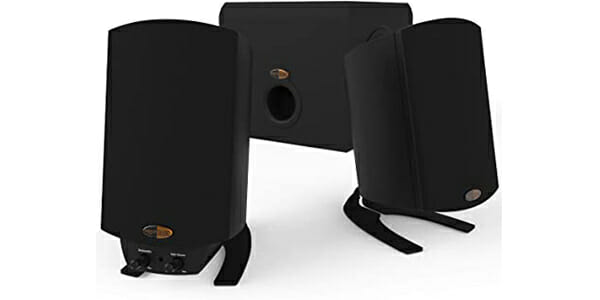 The Klipsch ProMedia 2.1 is a perfect match for any desktop. It has received THX certification that ensures great sound performance which can put any home theatre to shame. It is equipped with two 35-watt satellite speakers built with MicroTractrix horn for maximum clarity and stereo sound quality. And the 130 watt 6.5" subwoofer is promised to deliver top-notch floor thumping bass experience with low-end 31 Hz frequency. It comes with an explosive 200 watts digital hybrid amplifier peak power that can fill any room with incredible sound.
Pros
260 Watts High Peak Power
THX Certified Legendary Sound Experience
MicroTractrix Horn Technology
Control Pod
Built-in Jack
It is THX certified and produces amazing sound quality. The speakers also have mini-legs which directs the sound to you in a stylish way. The sound quality, build and design is excellent and powerful.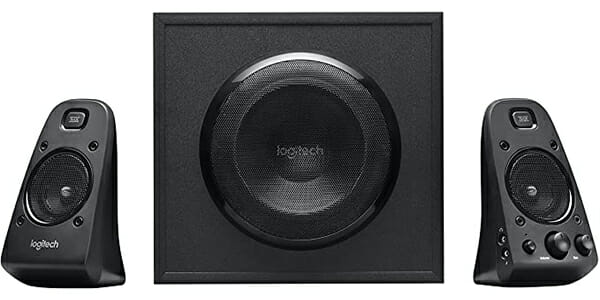 The Logitech Z623 2.1 is a THX certified system. It brings any music, movies and games to life with impressive stereo sound quality from two 35 watts satellite speakers. The 400 Watts Peak power and 200 watts RMS power delivers amped, big, clear and bold audio which fills any big room. It is equipped with several inputs including 3.5 mm and RCA inputs which lets you connect up to 3 devices simultaneously. Control panel and knobs on the right satellite speaker come handy in controlling the bass, volume and power at your fingertips.
Pros
Easily Accessible Controls
High Sound Quality With 400 Watts Power
Versatile Setup
THX Certified Sound
3 Inputs
It is a powerful sound producing speaker equipped with 400 watts peak power and subwoofer which delivers high-quality sound. It has 3 inputs and control knobs for easy access.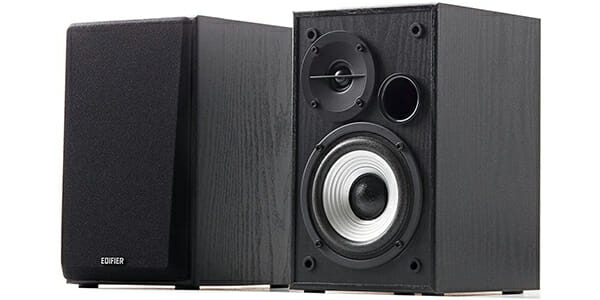 The Edifier R980T is an efficient and compact bookshelf speaker for desktop. It is designed for enhanced bass with flared bass reflex port that delivers sound full of presence and depth. The port is encased in a fibreboard wooden enclosure which is suitable for home or office setting. The two speakers produce 12 Watts of RMS each and contain a 4" Bass driver and 13mm tweeter for enhanced, clear and enjoyable sound. It comes with a master volume and bass control knob located at the back of the speakers and also provides 1 AUX and 2 RCA inputs.
Pros
Enhanced Bass
Compact Wooden Accent
AUX And RCA Inputs
Control Knobs
Efficient Sound Quality
Affordable
It is a perfect well-rounded wooden speaker for all needs and compliment any room décor. It comes with a 4" bass driver and tweeter for enhanced sound experience.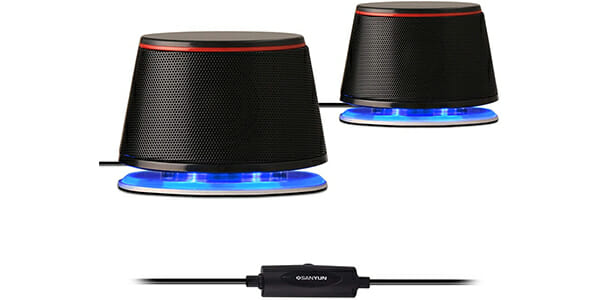 The Sanyun SW102 are highly durable, steady and compact speakers with powerful audio output. The maximum power output of 5 watts for each speaker and outstanding bass quality makes them highly desirable within an affordable price. It has a built-in bottom bass radiators and diaphragm, low cavity and low frequency aid design provides stronger bass and sound performance. These 2.0 channel computer speakers provide the best 360 degree stereo sound effect.
Pros
Simple Aesthetical Structure
High Sound Quality
Stereo Sound Effect
Independent Wire Control Design
3.5mm AUX Input
Affordable
They come in a compact size and provide high sound quality at a reasonable price. They have a built-in bass radiator with blue lights at the bottom which gives an elegant look.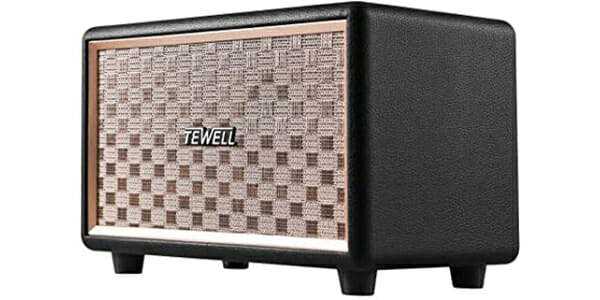 The TEWELL Bookshelf Speakers are the perfect fit for anyone looking for a retro speaker with wooden finish that matches any room. The bass reflex system delivers a clean, forceful and tight bass that ensures high auditory experience. It is equipped with 24 watt audio output for strong sound and has a golden toggle switch and knob for extra control over volume. It provides an option for strong Bluetooth connection and a 3.55mm jack input to connect any device with ease.
Pros
Vintage And Retro Look
Powerful Sound
Bluetooth And AUX Input
Knob For Volume Control
Deep Bass
Affordable
Cons
Not Suitable For Big Rooms
It has a retro look with modern twist and provides reasonably good sound quality at an affordable price. It comes with a gold toggle switch and knob to control the volume with ease and in vintage style.
Frequently Asked Questions
What are the best computer speakers with subwoofers?
Below is a list of best computer speakers with subwoofer: 
1. Cyber Acoustics CA-3602FFP 2.1 Speaker 
2. Logitech Z623 Home 2.1 Speaker 
3. Klipsch ProMedia 2.1 THX Certified Speaker 
4. Creative Pebble Plus 2.1 Speaker 
5. Edifier S350DB Bookshelf Speaker 
6. Cyber Acoustics CA-SP34BT Bluetooth Speakers 
How do I get more bass on my computer speakers?
You can adjust bass on your computer using these windows settings:
1. Click on the Windows icon. Search "Sound" and open the sound window. 
2. Now Double-click on the Speakers icon. 
3.Then click on the "Enhancements" tab at the top of Speakers properties window. 
4. Now click on "Bass Boost" and save your settings. 
5. If your computer doesn't have this setting, find "Equalizer" in the speaker's properties. 
6. Check the equalizer box and adjust bass settings. 
Can I use bookshelf speakers with a computer?
Yes, active bookshelf speakers can be directly connected to your computer since they have built-in amps. But if you have 'passive' bookshelf speakers, you'll need an amplifier or receiver to connect the speakers with the computer. 
What are the best cheap computer speakers?
The best budget computer speakers are:
1. Creative Pebble Modern 2.0 USB Desktop Speakers 
2. AmazonBasics USB-Powered Computer Speakers 
3. Edifier R19U 2.0 USB Computer Speakers
4. Sound BlasterX Kratos S3 
5. Logitech Z150 Stereo Speakers 
6. Logitech Z207 2.0 Stereo Computer Speakers 
How do I connect speakers to my computer without an amp?
You can connect passive speakers without an amplifier through this method:
1. First, make sure you have a bigger size speaker, the sound quality is directly proportional to the size of the speaker. 
2. Then, make sure you use a speaker with an impedance rating of 8 ohm to 16 ohm. 
3. Position all equipment- speaker, computer and jack. Place your speakers beside your computer. 
4. Ensure the computer is turned off to prevent damage in cases of compatibility issues.  
5. Now plug the speakers into the power socket, you can use a power/AC adaptor if necessary. 
6. Find the 3.5mm RCA headphone jack at the back of your computer, it has a headphone or 'audio out' symbol. 
7. Plug the jack into the audio source but don't push too hard, it can damage your computer's motherboard. 
8. Now turn on your computer and adjust the volume. 
9. Set the new device in your computer and test if it works. Adjust the volume from your computer's sound settings. 
What is a good wattage for computer speakers?
This depends on how much your volume is cranked up. For most people, 50 watts speakers is more than enough. If you don't need loud sound and use the speakers for personal use, your amp will not put out more than 10 to 20 watts. So, a standard wattage for computer speakers should be between 30 to 50 watts. Watts are cheap nowadays, high sound quality is more expensive. 
What are the loudest computer speakers?
Some of the loudest computer speakers are: 
1. Creative Pebble 2.0 USB powered Desktop speakers 
2. Bose Companion 2 Series III Multimedia Speakers
3. Logitech  Z623 400 Watt 2.1 Home Speakers 
4. Klipsch ProMedia 2.1 THX Certified Computer Speakers 
5. Reccazr SP2040 2.0 CH PC Speakers 
6. DOSS SoundBox XL 32W Bluetooth Home Speakers 
Conclusion
There are a lot of Computer Speakers with Bass available in the market, but we have provided a list of top-rated products for you. These come with high, clear and bold sound for better listening and gaming experience.
They are also highly durable and come with convenient and easily accessible control knobs and panels. Most of these items have a gleaming and shiny finish for a highly sleek and polished finish which compliments any room or office. Again, these also come in affordable prices which makes them highly captivating.