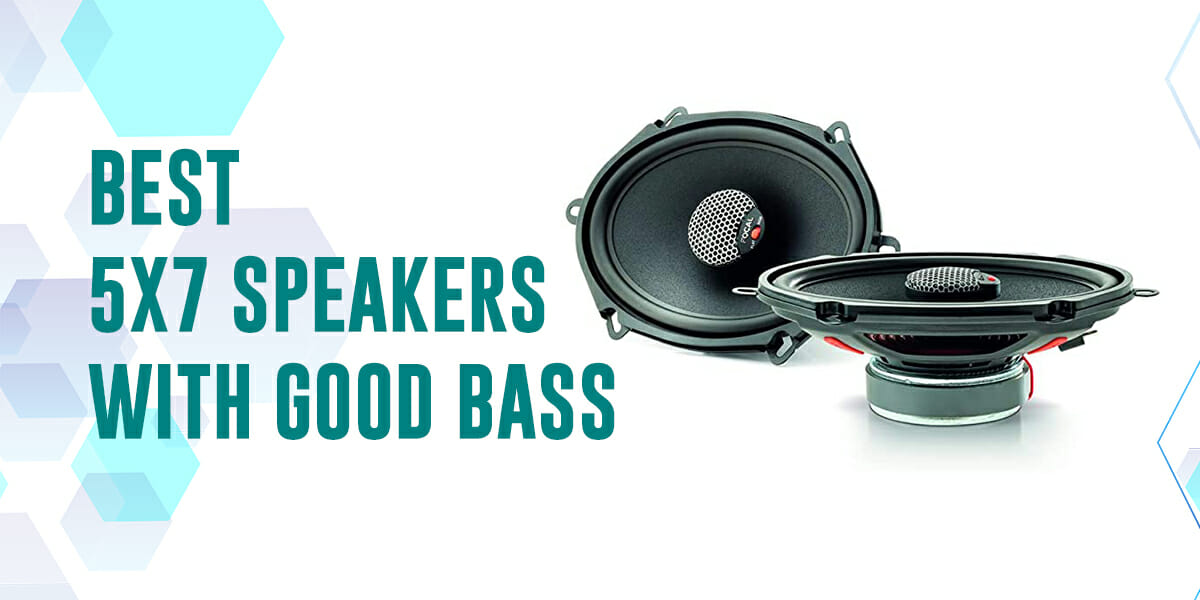 By now, you most probably are aware of the fact that most factory car speakers are not quite good handlers of power. That's why they give you low quality sound, unfortunately. Maybe a few would be able to stand the test of time.
But since you are reading this right now, then something has definitely gone wrong. There is no use getting another set of inferior aftermarket speakers to replace damaged or inferior ones and that's why we are here with a narrow guide.
Quickly take a glance at the best 6 you'll find on the market currently. Great power handling aftermarket speakers, deeper bass and ultra-clean sound. Oops, no more spoilers! Let's save you the time and get right into it.
Table of Contents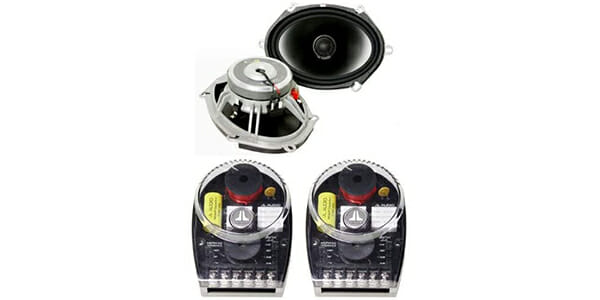 Ever seen a portrait of sonic clarity? JL's audio gives you the best of a balanced smooth sound from highs to thumping bass and talking about giving you the best of everything in-between, it's just a piece of cake.
Unboxing, you find 2-two-way speakers, crossovers, crimp-on female quick slides, crimp-on spade connectors, self-tapping screws, speed clips, and butyl adhesive putty. You bet it's a whole package! And no, they didn't forget to add your user manual and cut-out template.
With transparent high-end silk dome tweeters, 130mm woofers with die-cast alloy, butyl rubber surround, mylar® capacitors and segmented air-core inductors, you are just about to purchase a total bomb.
Pros
Comes in pairs
Handles up to 255 watts of peak power
2-way external crossover network with 4-position tweeter level and 3-position midrange control.
These C5 coaxial Speakers have small sized tweeters thus, they fit behind factory speaker grilles easily.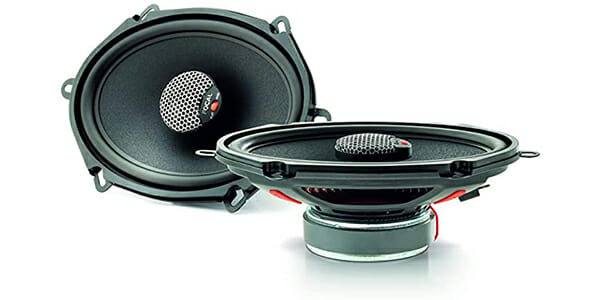 The Focal ICU 570 is totally masked with immersive sound. Designed to bring the best audio quality possible, Focal truly prides in delivering.
These 2-way speakers feature a polyglass woofer with butyl rubber surround, a built-in crossover, an inverted dome tweeter with an acoustic horn design and handle up to 140w of peak power.
Talking accessories, these speakers come with 2 mounting gaskets, 8 speed clips, 8 1'' screws and a focal window sticker just because your car could have a little sparkle to it. Promising durability and a high-quality design along with its advanced features, this is a power force!
Pros
Highly sensitive
Compact for easy fitting
No-fuss treble adjustment
These speakers do not only upgrade your sound quality. They have an elegant exterior design.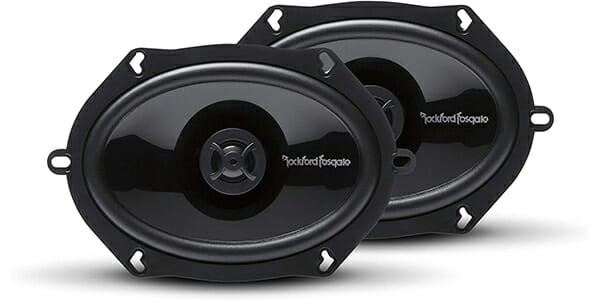 Allow us to reintroduce to you the speakers that work two of your senses like a pro! Rockford gives you the luxury of listening to powerful music and feeling it too.
These full range speakers feature impeccable sound quality and are rated at 60 watts RMS. They come with adapter plates, integrated high-pass crossovers and a mounting plate.
Its Flex Fit™ basket ensures that your speakers are compatible with most oddly shaped factory speaker fittings or locations and with a mineral-filled polypropylene woofer and a PEI dome tweeter, music just got funkier. You definitely do not have to give effortlessly good sound up for anything. Nothing at all. You would be totally out of this world!
Pros
Easy Installation
Great sound with no distortion at maximum playing levels
Budget Friendly
This is a good choice for on-budget purposes without having to compromise quality.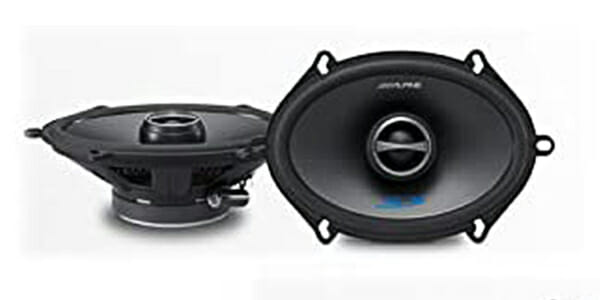 Looking for great sounding speakers with good volume to kick out the trashy ones? This coaxial model from Alpine would do the job. They could even be your muse.
Housed in an optimized air-flow design, they come in handy with bottom mount brackets, self-tapping screws and screws, clips, plastic spacers and 12'' length of speaker wire.
With a whooping 460w power, a mineral-fortified polypropylene woofer cone with rubber surround and a 1'' silk dome tweeter, you get great power working with great sound emission.
Pros
Dynamic Highs and good bass
Shallow-mount design
Great power efficiency
They are great factory replacements since they sound way better than stock speakers.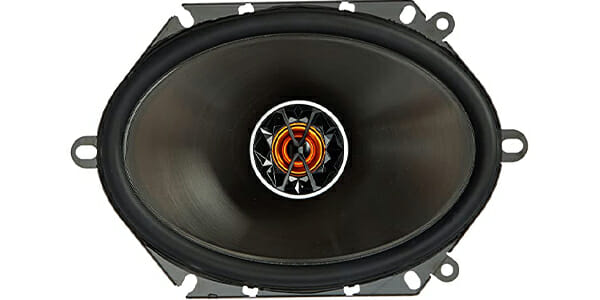 Musical evolution, bigger and better bass, amazing crisp highs and pimped rides. It's time to say goodbye to low quality speakers. JBL's club 8620 2-way coaxial speaker delivers clean, non-resonant sound.
It is characterized by an acoustically dumped, UV resistant polypropylene cone, and PEI balanced dome tweeters to give you the musical experience you crave.
JBL club speakers have a high-sensitivity design to produce plenty of sound. Well, even if they are driven by medium grade powered factory stereos, they still give you plentiful sound!
Pros
Low Impedance design
Compact design
Audiophile quality
JBL club speakers play smooth and are crafted from high quality materials.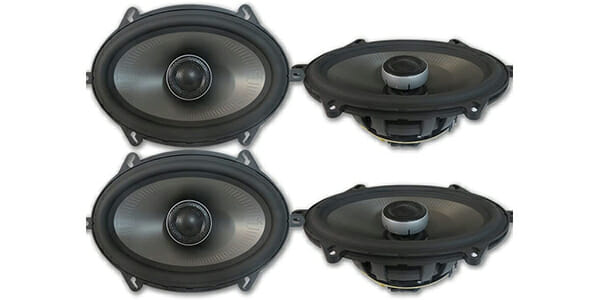 The Polk audio is reliable and sharp when it comes to anything sound. How about having an exciting jam on the way to work on a boring Monday morning? You could make it happen.
This high-grade 2-way speakers contain a titanium-coated polymer woofer cone and handles up to 100 Watts RMS and 300 Watts at its peak.
Certified for marine use, these speakers have waterproof surrounds, weep holes for proper drainage and are non-corrosive. We know you like the sound of that and that's total kindness from the developers of this Polk model: true game steppers.
Pros
Work well under harsh environmental conditions
Clear full-range sound
Compact and lightweight design
These speakers are truly professional and have unique features.
Frequently Asked Questions
What's the best 5×7 car speaker?
In quest of finding the best, you might come across a lot of 5×7 speakers with differentiating features. Here are our top 8 picks and few of the best ones you'll ever see. In case you have doubts, read their product reviews. They are quite impressive speakers, you'll find out.
8 Best 5X7 Car Speakers
1. Focal ICU 570 Universal Integration Series Car Speakers
2. Polk Audio MM 5X7 2-Way Car Audio
3. JL Audio C5-570x C1 Series Coaxial Speakers
4. Rockford Fosgate P1572 Punch 5×7 2-way Full Range Speaker
5. JBL Club 8620 2-Way coaxial speaker system
6. Alpine SPS 517 Coaxial 2-way Speaker Set Bundle
7. Boss Audio Systems-CH5730 3-Way Full Range Speakers
8. Rockford Fosgate HD14CVO-STAGE 2 Speakers (with Amplifiers)
Are 5×7 and 6×8 speakers the same?
Yes, 5×7 and 6×8 speakers are basically the same. The only difference should be that they have different pole mounting locations. You might also notice that 5×7 speakers have extra mounting holes on the sides.
In case your speakers are labelled 5×7/6×8, they are still 6×8 speakers. It just means they have extra mounting holes to accommodate 5×7 applications with little or no modifications at all. However, when choosing speaker replacements, we recommend that you verify what speaker type your car manufacturer specifies.
Will 6.5 speakers fit in 5×7?
Yes and No. Without modifications,6.5'' speakers are too wide so they wouldn't fit in 5×7 holes. But with modifications it would fit. The easiest way to get this installation done is by purchasing and using custom adapter plates to install your speakers.
But if you are one to worry about ending up purchasing cheap plastic that would cause a rattling sound in your doors, purchase a wooden adapter instead or custom-make one yourself. Try a DIY procedure. If you have no idea on how this is done, here is a redirect. It's time consuming but if you are up for it, why not?
Will 5×7 speakers fit 6×8 holes?
Since 5×7 speakers and 6×8 speakers are basically the same thing, they should fit perfectly in a 6×8 hole without any modifications. The mounting holes between a 5×7 and a 6×8 are the same. Even if there would be any gaps, they would be very minimal and would fit without a problem.
What is the best brand of car speakers for bass?
There are quite a number of brands that have been able to design top-grade car speakers with ground breaking bass and other premium features for end-consumers. Since opinions and choices are allowed to vary, our top 5 picks would be:
1. Rockford Fosgate
2. JBL by HARMAN
3. Pioneer
4. Polk Audio
5. JL Audio
How can I get bass without a woofer?
A good set of component speakers with a good amp driving them should be able to produce quite an ample load of bass. What we cannot say for sure is if it would be enough for you. If you want more precise and powerful bass, then you definitely cannot do without a woofer.
What is the difference between 2-way,3-way and 4-way speakers?
At a glance, their names should give you a little hint. But to give you a clearer understanding, you should know what tweeters, woofers and mid-range drivers are. These distinct frequency bands make the difference.
Tweeters: They produce higher frequency sounds.
Woofers: They are specially designed to produce low frequency sounds (bass).
Midrange Drivers: They are responsible for producing mid-range sounds.
Now that you know this, we can draw out the differences.
A 2-way speaker has a tweeter and a woofer in its speaker cabinet. 
A 3-way speaker also has a tweeter and a woofer just like a 2-way speaker has, but it has an extra driver which is the Midrange driver.
A 4-way speaker is no different from a 3-way speaker, it has an additional tweeter to produce more high-end sound and gives you a great sound range.
Conclusion
Listen up. These speakers do not come with speaker grilles. Rather they are sold as separate units. But the factory grilles work with most applications so there is no pulling back! Go get them, you'll be thrilled.