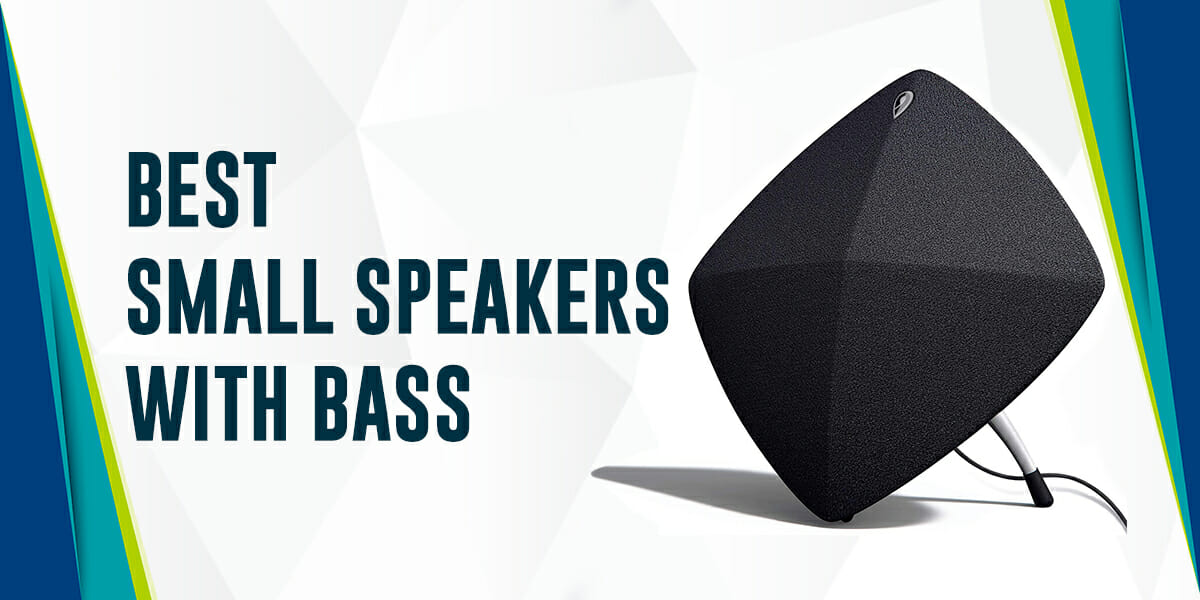 Deft at it or a rookie, we all need musical instruments that fit the bill right. Do you frequently tend to organize parties and musical nights or are simply looking for a pint-sized speaker in the market?
It is very crucial for you to purchase the right kind of speakers with the best music quality for the people to encore, 'It was absolutely worth it!' Many also want a relatively smaller size to fit in everywhere.
Here are best small speakers with bass to simplify your task of narrowing down on the perfect one for you:
Table of Contents
Our Top Picks
Best speaker (Overall): JBL Boombox
JBL Boombox is the best amongst all because of its terrific bass value. It is durable and its waterproof material is a boon.
Best speaker (Value for Money): Doss Soundbox
Its haptic feedback might delight users. It is small in size and is the right fit for indoor parties.
Best speaker (for gatherings): TAMPROAD Speaker
As it bears a really high bass number, it is ideal for gatherings. It can also be used as a Karaoke instrument if mics are attached to it.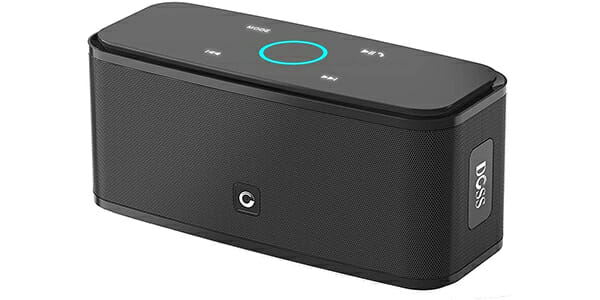 This is one of the most value for money options in the market currently. The Doss Soundbox features capacitive touch to control the audio functions. It is also acclaimed with a long battery life of upto 20-hours. With its high bass and bluetooth connectivity, it has all that you will ever require.
Pros
Extremely affordable
Haptic touch response
Long-battery life.
Variety of color options available.
Price is a big factor when deciding on a speaker. The Soundbox ensures it won't burn a hole in your pocket. Apart from this, its shape making it portable enough and high-quality sound are other perks to its list of credentials.
Ear-deafening sound, a high brand value, no worries with regard to rough use and battery which can last a day without any issues, if these are in your list of considerations, then look no further than the JBL Boombox. It makes good use of 4 active transducers and 2 JBL bass radiators for the hardest-hitting sound.
Pros
Waterproof-no worries when playing poolside loud music.
Durable
Finest sound
Cons
Too pricey
Inclusion of a screen would have been better.
This speaker with a high bass rating is for the ones having high brand consciousness and want the loudest sound to be enjoyed by all. Its waterproof material and unique colors as options are other aspects claiming its worth.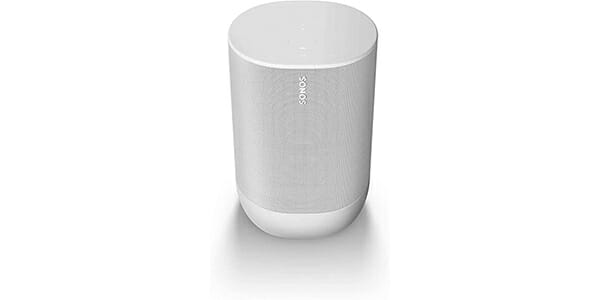 "Alexa! Play disco songs!" Yes, the Sonos Move is a speaker which offers Alexa compatibility which means you don't have to use any buttons or even think of a good song. Just communicate your command with Alexa and you're sorted. It is ideal for indoor and outdoor events. You just have to pair it with either the Sonos app, bluetooth or AirPlay 2 system. It also gets WiFi connectivity unlike others to eliminate the need for cables. Another innovative feature is its Trueplay tuning which continuously adapts to the environment and plays sound of right volume for you.
Pros
Pairing with Alexa
Weather resistant
Can also check news, set alarms through Alexa
Trueplay feature
Cons
On the expensive side
Some may find it too complicated to use
It is for the functionality and ease of use that we are tempted to choose it despite its hefty price. Alexa is the trend these days and that alone makes it a tempting choice. Even if you aren't able to handle it with care, all the components are enclosed in a shock-proof hard-wearing case.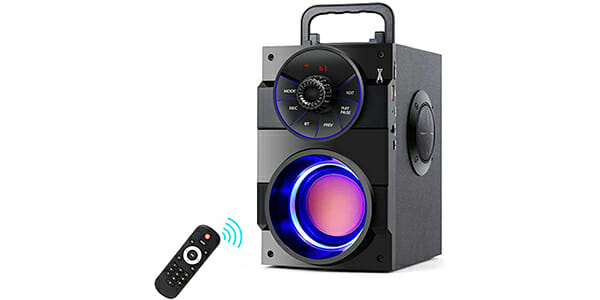 This speaker is perfectly suitable for indoor parties as it packs in a subwoofer and can double up as a radio to enjoy serene music after a tiring day at office. Besides this, it is extremely economical to own and you can take control via a remote control to trawl through menus. It also has an in-built mobile holder providing a lot of convenience. You can also connect it to your computer system, MP3 source and even TV to play your favorite song. It also gets a slew of lights to make for a lively backdrop.
Pros
Subwoofer to enhance the sound.
Can be connected to your TV set.
33-feet range
Lights to create a great environment.
This speaker can be used for disco parties and karaoke at home. It also offers a lot of convenience as it could be among the few which allow connecting MP3s and TV sets. The remote control, low price and the option of FM are other things that make us choose it.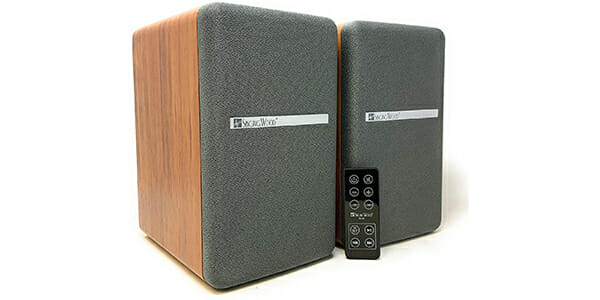 The SINGING WOOD speaker brings to you style along with purpose. It shows its opulence with its quirky 'Beech Wood' color for a nice fusion with your house's background. Its 66Hz audio is also great for a family gathering and allows for altering the bass and treble settings according to your preference through a remote control.
Pros
Swanky appearance thanks to its color.
Decently loud audio.
Remote control.
24-month warranty.
Cons
Bass could have been more powerful.
Its 0.75" silk-dome tweeter can come in handy when loud but pleasing to the ears music is the requirement of the hour. Its wooden swathe leads to a great look and the 24-month warranty brings peace of mind.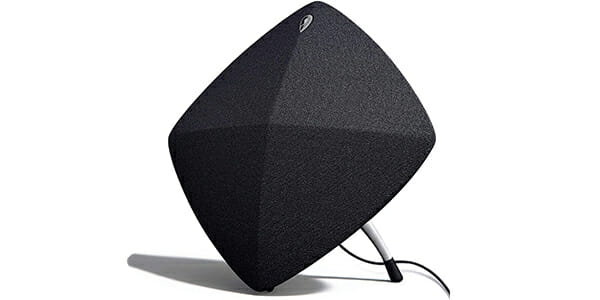 It is the most different type of speaker with a unique umbrella shape and connectivity with a TV. It also gets a 3" subwoofer for better sound. Another USP is that it can be connected with 2 bluetooth speakers.
Pros
Can be connected (The TV should have a 3.5mm AUX output).
Subwoofer
Rhombus shape
Cons
Not as powerful as rivals
It will take some time getting used to
One of the reasons to recommend it is because of its shape which will make it stand out from the crowd. AUX cable and 2-bluetooth enabled speakers provide great connectivity and sound wherever required.
Frequently Asked Questions
Can small speakers sound as good as large?
Yes, small speakers can sound as good as large. It majorly depends on the capacity of woofer and the bass value. Better the woofer, better the sound. Small ones have an advantage in size and cost save for a high-end one where large ones outdo small ones in terms of performance.
Why can't small speakers produce bass?
With a larger speaker, the surface area is more and more air is pushed around to create sound. Small speakers emit lower proportions of sound intensity compared to larger ones. Hence, we perceive less sound.
How do small speakers work?
Smaller speakers move easily and rapidly without requiring too much power, making them great for high frequencies. On the other hand, Larger ones have a greater surface area and can stir more air to produce sounds of lower frequencies.
How can I make my bass speakers smaller?
Small speakers are generally less capable of producing bass frequencies than larger speakers, though several techniques allow small speakers to produce notable bass. Enclosure design, speaker throw, passive radiators and digital signal processing may improve bass response in small speaker designs.
How do I fix the bass on my speakers?
Many sound cards allow you to adjust the bass setting too though you may also be able to adjust this setting on the speakers. Here are the steps for the same:
1. Right click on the "Volume Control" icon in the system tray and click "Playback Devices."
2. Right-click on the "Speakers" icon in the list of playback devices. Click "Properties." If your computer has multiple sound devices, you may see other similar icons. Right-click on the one that your computer is currently using. This will be labeled as the "Default Device."
3. Look through each tabbed section of the "Speakers Properties" page for a setting that allows you to adjust the bass. Many sound cards provide settings to change the "Bass Boost" and "Bass Balance." These settings can often be found under the "Enhancements" tab.
4. Open the control panel for your sound card if you don't find the bass setting in the Windows Volume Control utility. The control panel for your sound card is usually accessible through an icon in the system tray as well. For example, if your computer has a Realtek integrated sound card, which is quite common, right-click on the "Realtek HD Control Panel" icon in the system tray and then click "Sound Manager." You will be able to adjust bass settings on the "Audio Effects" page.
Does higher wattage mean better sound?
Yes, higher wattage means better sound in layman terms. Many musician's consider only the amplifier's power or wattage rating. However, while wattage is an important consideration, the efficiency of the speakers that are connected to the amplifier are also an important factor to keep in mind.
How do speakers judge sound quality? 
Every speaker produces certain frequencies that are louder or softer than others. Assuming that your ultimate goal is accurate audio reproduction, the less variation in loudness between frequencies or the flatter the frequency curve, the better is the speaker quality.
Conclusion
There are so many varieties from different brands of different audio capacities for speakers that it is difficult to choose the perfect one for you. However, this list of 6 Best Small Speakers with bass seeks to eliminate any confusion that you might have before choosing the one that's a deal-maker. Keep in mind the purpose and space when looking for a speaker.