Many of us eagerly wait the entire week to visit a Disco bar and have some frolic from the loud and energetic DJ music after the work grind we go through.
It is the best way to recharge ourselves and uplift our spirits. If you have ever wanted to host a disco party or are wondering which DJ Speaker to purchase from so many makes and models, here are 6 best DJ speakers with stands.
Table of Contents
Our Top Picks
Best speaker (overall): Akustik 15" 1600W Speaker
It offers the comfort of LCD screen with EQ customisable sound and LED lights letting out stellar party mood.
Best value for money speaker: Rockville RPG2X10 PA
You get two speakers for a great bargain making it wonderful for business purposes.
Best speaker for smaller gatherings: Alphasonik 8" Powered 800W Pro DJ Amplified speaker
This is because it offers karaoke experience, long-lasting battery and power of sound just ideal for a family at home.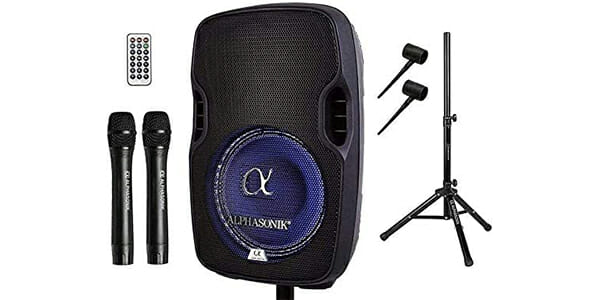 It does it all- plays loud music through the 800W speaker, gets LED strobe lights that change color with song modulations and as a package, also gets you 2 mics and a remote control. This Alphasonik DJ speaker provides a lot of convenience with wheels to roll and bluetooth connectivity.
Pros
Quick charging and long-lasting battery.
MP3s can be played by plugging in an SD card or pen drive.
Attractive appearance.
Can browse through menus via an in-built screen.
Offers karaoke experience.
Echo effect for artificial effects.
Cons
Rivals offer more powerful speakers.
There is no dearth of functions with this robust speaker which makes your task of playing and singing songs a lot easier. It can also be used for karaoke which makes it a great option to consider.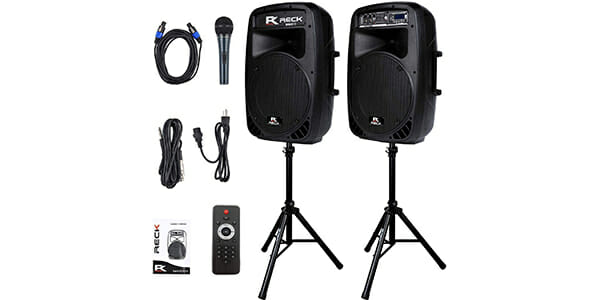 This speaker from Proreck is one of the finest options in the market if high-intensity sound is your requirement. With its 1000W speakers, it will make sure that everyone hears you. It also has features such as 12" woofer, digital LCD screen and USB ports.
Pros
Bluetooth connectivity.
Brilliant sound quality.
2-way sound emission.
Height adjustable stand.
Cons
Relatively expensive with accessories.
It offers a speaker power output which will be a good fit for both indoor and outdoor parties. Its height adjustable stand comes in handy at all places. The neon lighting effect on the speakers will create a wonderful environment for DJ parties along with the 12" woofer.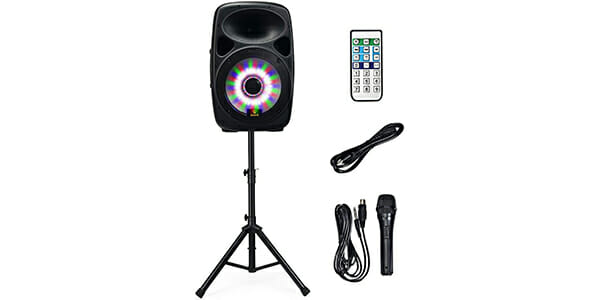 The Akustik 1600W Speaker could be the ideal one if you happen to address large gatherings frequently as it comes with tweeters to amplify sound that nobody misses. It can also be a helpful tool to make announcements.
You can also make use of the Equaliser (EQ) to adjust sound that best suits the song. It has handles placed at the sides and wheels for effortless carrying.
Pros
LED lights.
EQ customisable sound.
Easy handling.
LCD screen.
Cons
Sound might feel too loud for small places and packed gatherings.
It is the perfect choice for beginners and professionals alike thanks to its sound characteristics. It is on par with rivals on pricing. The EQ function let's you choose the modulation you require for the lyrics. The tweeters will enhance the experience further which makes it a great contention.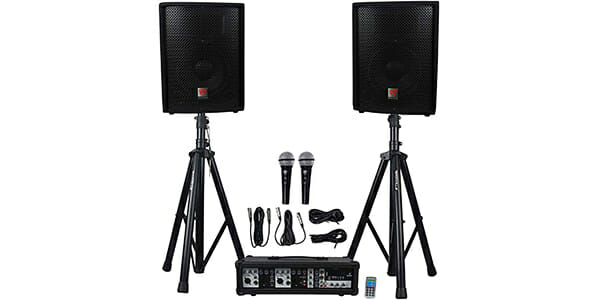 Who doesn't want value for money? Keep this as one of the choices if you require more than one speaker or require it for your company dealing in event management.
It offers a set of two speakers so that you can place them at convenient places for sound to divulge in all directions. It also offers 2 microphones for singing in pairs. It is lightweight and also offers a proper treble and bass box.
Pros
Economical.
Bass and Treble settings.
Dual mics.
Cons
No screen on offer.
No lights that would've given an attractive look.
This DJ system is the most value for money as it offers two speakers for the price of one. It offers the convenience of singing in pairs which is highly preferred these days.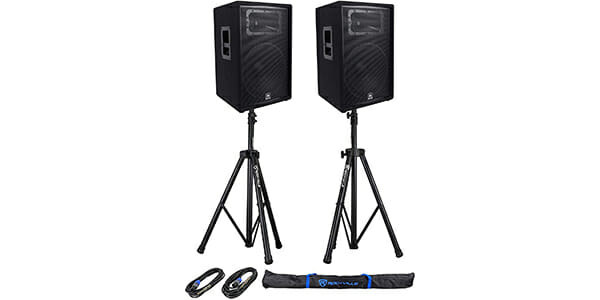 If you seek really high quality materials and aren't having any budget constraints, here is the one for you! The JBL Pro JRX215 speaker gets non-resonant, all-steel handles for zero vibrations through your handles and rust-free look for a long time.
The feature worth-mentioning is the sound power output upto 2000W making it unmatched in terms of performance.
Pros
Brand value.
Quality of materials.
Sound intensity.
Cons
Bland appearance.
No screen at this price point.
It is a fantastic choice if you're having no budget restraints and are obsessed with high-grade packaging. It is also amongst the finest in terms of sound quality with 2000W of peak power.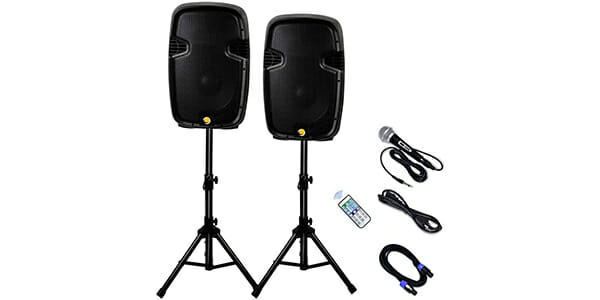 This speaker solves all your storage needs with its foldable stand option letting you easily shove it in cabinets when not required. It is identically priced to other rivals and gets features such as a banging 2000W speaker with 12" woofer, 1" tweeter for better auditory enjoyment.
Bluetooth, AUX, USB are there to let you connect it with any device but this can also be mated to your guitar for absolute singing experience. Its portable design makes it ideal for marriages, parties and all types of indoor and outdoor gatherings.
Pros
Speakers available in 10" and 12" sizes.
Pairing with guitar is possible.
Easy to carry and transport.
Most speakers allow you to connect with devices through bluetooth, AUX, USB but this speaker is one of those which lets you connect with a guitar providing great music of the song along with your voice. Its light weight makes it fairly easy to bring to parties.
Frequently Asked Questions
Are Speaker Stands necessary?
While it is crucial to have a great sound system, it is equally vital to have a great stand as it will allow you to position the speaker anywhere and can transmit sound to greater distances without damaging the ear.
Do speakers sound better on stands?
Our ears perceive that speakers sound better on stands as the tweeters are naturally positioned in such a manner that we hear the most pure and loud sound that is surely to create an impact. Also, sound will be able to travel more freely when placed on stands.
Can you put floor standing speakers on stands?
It boils down to the characteristics of the speaker. If elevating it a few inches by putting it on a stand improves the sound quality, it can be done. However, it has been observed that sound often changes to a din upon doing so. Hence, it is best left on the ground.
Is a 1000W speaker loud?
A 1000W speaker is ideal for small parties or singing at homes or closed environments. It isn't loud to the extent that it would feel jarring. The sound of a 1000W speaker also depends on its sensitivity which means the ability of a speaker to convert power to sound in dB. It could be that a 1000W speaker might not be as loud as a 500W speaker.
Do more watts mean more bass?
No, more watts do not mean more bass. Watts is the capacity of the subwoofer to emit sound. A higher wattage demonstrates a more powerful subwoofer. However, it doesn't mean that a 100W speaker will have to be played 5-times louder to meet the sound frequencies of a 500W speaker.
Is more watts better for speakers?
The general trend is that more watts mean more sound making the speakers better. However, it also depends on the speaker's efficiency that is being used and the environment these are placed in.
What every DJ needs?
Following constitutes the list of all that a DJ requires:
1. Input devices to insert a CD.
2. Mixer to blend audio.
3. Headphones.
4. Sound system (very important for loud and unfiltered sound).
5. Controller (can be used in place of turntables and mixers. Only a laptop is required then).
Are festival speakers Mono?
Festival speakers are mono to let the sound spew from a single source in such a way that both your ears hear the same type of sound. That said, it can be tuned according to the requirement. 
What are the top 10 speaker brands?
The top 10 speaker brands are:
1. Bose
2. JBL
3. Klipsch
4. KEF
5. Definitive Technology
6. Bowers and Wilkins
7. Focal
8. Quested
9. Dynaudio
10. QSC
Is JBL better than Bose?
It boils down to what brand you adore. While both are on par, JBL has bass coming from the sides and Bose from the front. The bass is warmer on the JBL but the vocals are cleaner on the Bose. It can also be said that Bose sounds better balanced for female lyrics and costs a minuscule amount more than the JBL.
What is the best PA system for the money?
Roland Cube Street EX
Bose L1 Compact System
Mackie FreePlay Live PA Speaker
Yamaha Stagepas 400BT PA Speaker
JBL Pro EON ONE Concept
Conclusion
Having speakers of fantastic audio quality is an essential prerequisite for every function. It creates a scintillating environment and can make for a memorable night. The melody of songs should feel like music to your ears. This list gives out some of the finest DJ speakers with stands for you to have an unforgettable experience each time you organize a DJ party.