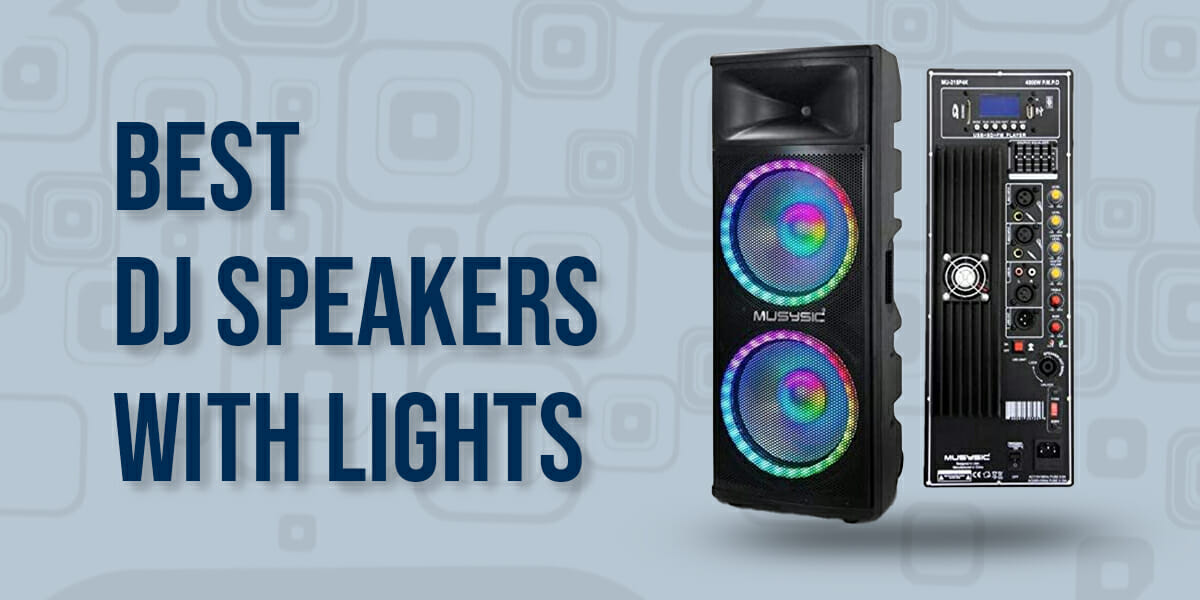 What good is a party without a DJ speaker? Or without lights?
Buying a DJ speaker for your house parties or events is a task which takes a lot of research owing to the cumbersome physics and details of sound production. And when you add an additional requirement of the speaker coming with party or disco lights embedded, a lot of brainstorming is added to the process.
Do not fret. Here we bring for you the six best budget-friendly options in the market with multiple functionality and exciting features to go perfectly along with your party vibes.
Table of Contents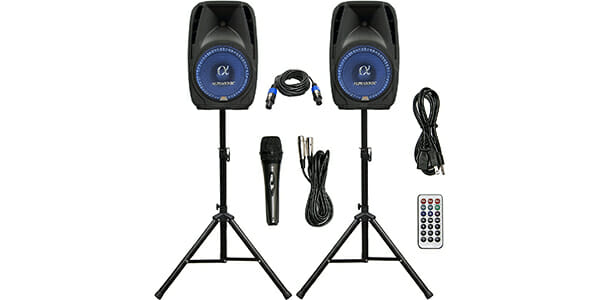 This all in one complete DJ party speaker system is the best deal you could grab in a price below $400. The speaker comes with an active and a passive speaker with rugged AlphaTough tripods stands for harsh mobile environments, a bluetooth connection to connect with your iPad, iPhone or Android device, a high-quality microphone and an STC-cable, a wireless remote control, and USB, AUX, FM, XLR and RCA inputs.
The LED strobe lights glow in sync with the beats and give live concert vibes. The loudness on this one is fantastic with dual acoustic ports for optimal bass output. Turn up the volume without any fear of the speakers shutting down, the 2-channel built-in amplifier controls the amount of output and you have abundant power. Just connect your wired microphone and get ready for a karaoke competition.
Pros
Amazing sound-quality with aerodynamic ports and bass optimization
Perfectly fit for outdoor events
Bluetooth-enabled
Comes with an STC-cable to prevent accidental unplugging from power source
Cons
Too powerful sound for a home-alone movie session, the speakers are not battery powered, no standard 1/4" speaker plug.
The speaker comes as a complete ready to use package. Good sound quality, lights, remote control, stands, microphone and cables, seriously, what more do you need?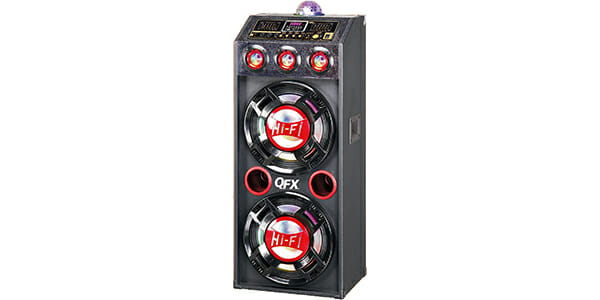 If decent quality DJ speakers that don't let down while it comes to sound with RGB and disco dome lights is what you are looking for, then this might be it. This professional cabinet speaker comes with NFC Bluetooth functionality, playback supported by USB or SD, remote control, FM tuning and a built-in amplifier.
With dual 1/4 inch microphone and guitar inputs, you can set out to host a guitar session or a karaoke party at your home. The sound is promising with customizable 5-band graphic equalizer, dual woofers and three tweeters. Priced at about $450, this is a premium quality speaker loaded with features which makes it a good choice for a house party.
Pros
Loud sound with clear thumping bass (perfect for house requirements and even events)
RGB lights synced to the beat with no additional adjustment
Comes with NFC Bluetooth pairing to connect with iPhone or Android devices
Graphic equalizer and built-in amplifier to control sound output
Cons
Not rechargeable (has to be plugged in), no microphone included, no stand/ tripod provided.
Very powerful speaker, loaded with features. The lights are great and the bass is really good. Cannot beat it for the price.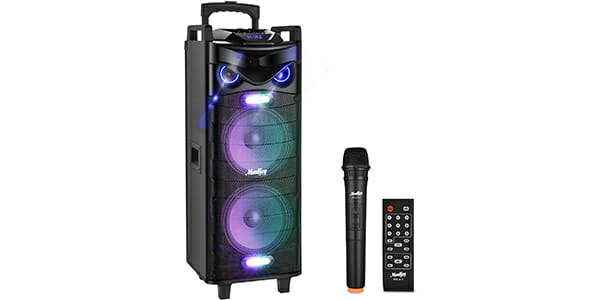 Another popular pick just above $200 is this Moukey PA System loaded with multi-functionality which comes with a VHF wireless microphone and remote control.
If a budget buy is what you're interested in, just consider that this speaker has multiple connectivity with AUX and USB inputs other than bluetooth connectivity to connect to your phone or tablet, delightful lights for a party experience, good battery capacity, and a simple console to adjust sound effects, mic effects, mode switching and other operations, all at such a reasonable price!
You are getting a high power, rich sound experience with 1040W dynamic power amplifier and the Double 10-inch woofer. The best thing we like about this speaker is that it is light and portable, fit for outdoor events.
Pros
Good sound-quality with a power amplifier
Lightweight, compact, easy to set up, rechargeable (perfect for outdoor events)
Easy pairing wireless connectivity
Reasonable battery power
Microphone and remote control
Cons
The microphone doesn't come with AA-batteries, built-quality not that great owing to the compactness.
Excellent for outdoor singing, karaoke competitions, guides tours. The console is simple and convenient to use. A budget buy.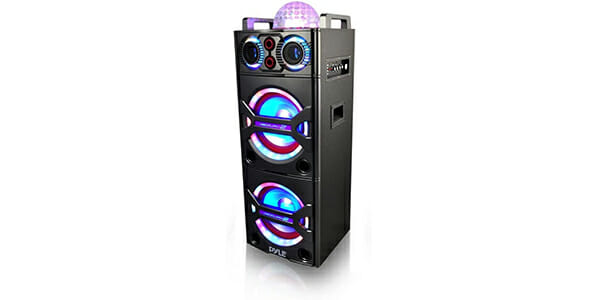 Another great budget-friendly DJ speaker with lights just below $250. This speaker comes with dual 10" subwoofers and dual 3" tweeters offering great bass optimization and stereo sound reproduction. The flashing multi-color disco LED lights are just perfect for night gatherings and patio parties.
The speaker has bluetooth connectivity and is also equipped with a USB/SD card reader, FM Radio with Auto Station Scan, 1/4" Microphone, RCA (L/R) and AUX inputs. A wireless microphone is included in the package along with audio connection cables. The most useful feature is the detachable rolling wheels to carry the speaker conveniently wherever you go.
Pros
High power active speakers with full range sound stereo and loud bass
Bluetooth connectivity
FM autoscan feature
Portable with detachable rolling wheels
Multicolored LED flashing lights
Can be converted into a karaoke system
Cons
Wireless microphone quality may not be upto mark, no built-in amplification (may be compensated by other features and excused for the price), compressed audio files may not sound so good.
Perfect functionality if looking for a single speaker for in house use, convenient carrying, more than 50′ bluetooth range, a budget buy.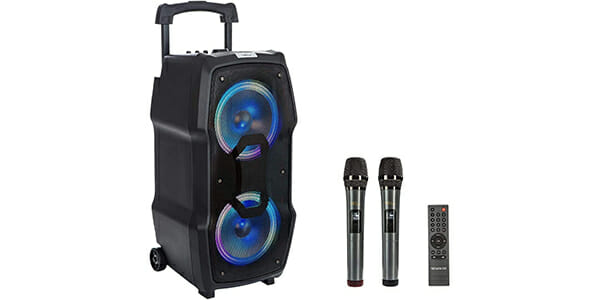 This multi-functional speaker just above $200 can work as a PA System, a karaoke machine, a music player and a guitar amplifier. It comes with not just one but 2 wireless UHF microphones and a remote, and the flashy LED lights can change colors as per the beats of the music. The speaker offers seamless bluetooth connectivity with all your devices upto a range of 32 ft.
Dual 8" woofers and a single tweeter offer HD stereo sound with a more balanced bass output which doesn't distort even at loud volumes making it perfect for outdoor events. A powerful rechargeable battery provides 6-10 hours of playback. The speaker even comes with a 1 Year Warranty period on Amazon and further assistance after the warranty period expires.
Pros
Multi-functionality with bluetooth connectivity
Full range stereo sound
Rechargeable battery with long life
2 wireless microphones provided
Portable with wheel design
Budget-friendly
One year warranty on Amazon.
Cons
Single tweeter provided, comes with just one additional instrument jack.
Great lights synced to the best of music, full range stereo sound which doesn't distort at high volumes as well. After sale warranty and services are additional perks.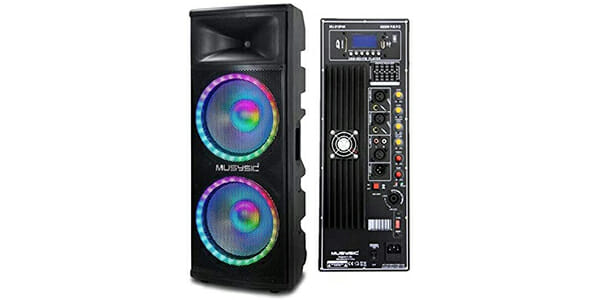 Last but not the least, this professional speaker with front LED lights in wheel design is priced at about $350. Talking about sound, the speaker is a wireless bi-amplified PA System with Dual 2×15" woofer and 1.35" fabric compression drive and passive speaker output, so the sound is certainly loud.
It has two microphone inputs, bluetooth connectivity and USB/SD card slots for direct playback. FM Radio function is also provided.
Pros
Built-in amplifier with fabric compression drive for sound with clear bass
Front (switch ON/OFF) LED lights
Bluetooth connectivity
Mic and other inputs
Adequate for in-house events
Cons
No AUX inputs, not a karaoke machine, wheels could be better, pricey for the features offered.
The sound quality is quite clear on this one. Comes with a fabric compression drive. If you're not feeling those lights, you can just switch them off. Now isn't that a great option?
Frequently Asked Questions
What is the best portable party speaker?
Ans. If you are looking for a portable outdoor speaker without compromising on the sound quality, then the QFX SBX-412207BTRD Bluetooth Speaker with Built-in Amplifier in our list is the best choice for you. With amazing sound quality the speaker weighs 47.4 pounds which is reasonable because it comes feature packed with a built-in amplifier.
What is the best speaker brand for DJ?
Ans. There are various good DJ speaker brands in the market. However, for professionals it is important that their gear delivers excellent performance. It is difficult to choose one when comparing features but generally Electro-Voice, Yamaha, JBL, Bose and QSC are considered some of the best DJ brands out there.
Can you DJ with One speaker?
Ans. Yes. Opinions might vary, but you can have a perfectly nice house party with just one good DJ speaker. PA speakers are perfect for people looking to buy just one speaker having multiple functionality and they even serve as karaoke machines. One thing to keep in mind is that if you're buying a single speaker it must have stereo inputs and turn on the Mono feature if provided to extract the best performance out of it.
Can you DJ with a Bluetooth speaker?
Ans. Absolutely. All the new options in the market are now equipped with bluetooth connectivity and they offer good range as well. Bluetooth pairing makes it easier to connect with your iPhone/iPad or Android devices. Just make sure that the speaker you are buying doesn't have issues while pairing if you don't want your parties ruined.
Can you use DJ decks without speakers?
Ans. Technically, yes. If your neighbors are annoyed by all that partying then you definitely can just connect your controller with headphones and you're all set to DJ without any speakers. The deck/controller should be used to blend signals using the cue mix knob. The knob mixes the master signal with the cue of selected signals and it's even easier if the deck has a split cue option. Very handy if you don't wanna bother your roommates.
Can you DJ with Bluetooth headphones?
Ans. Yes, but it's not recommended. DJing for long hours, you can run out of battery on which your bluetooth headphones work. But the main concern is the latency which ruins the beatmatching while you DJ using wireless headphones. Therefore, they are not suitable. Many DJ mixers and controllers don't have bluetooth transmission because of the latency (~150ms).
How many watts should DJ speakers be?
Ans. Depends on the amplification, the number of people and also what kind of speakers one is using (active or passive). As a thumb rule it is considered that there must be at least 10 watts per person during an outdoor rave party. Good speakers come with 1000, 2000 to 4000 wattage. It depends on the type of gig you are planning and the sound requirements.
What size DJ speakers do I need?
Ans. The minimum offered for a DJ speaker generally is 8". That will be sufficient if the venue is smaller although the bass won't be that heavy. If you are going with 10" or 12" the bass will be much improved and balanced. Depends on one's personal requirements.
How do I choose a DJ speaker?
Ans. Keeping in mind your budget, decide what you want in a DJ speaker. What events do you want to use it in and what functionalities are you looking for. Then look at the options and decide the power and wattage, amplifiers and equalizer and the built-quality. You can always refer to buying guides.
Is QSC better than JBL?
Ans. Both brands are reliable in terms of performance. However, it is generally considered that QSC is the brand to beat when it comes to quality. QSC reviews are overwhelmingly outstanding. JBL portable speakers are commonly used whereas professionals prefer QSC.
Conclusion
The world of sound and especially DJ gear is confusing to people looking out to explore. One thing to be kept in mind is that no matter how diverse the functionality offered is on DJ speakers, if they don't provide excellent sound quality, they defeat their own purpose. There are a lot of promising options out there to meet one's personal and professional requirements.