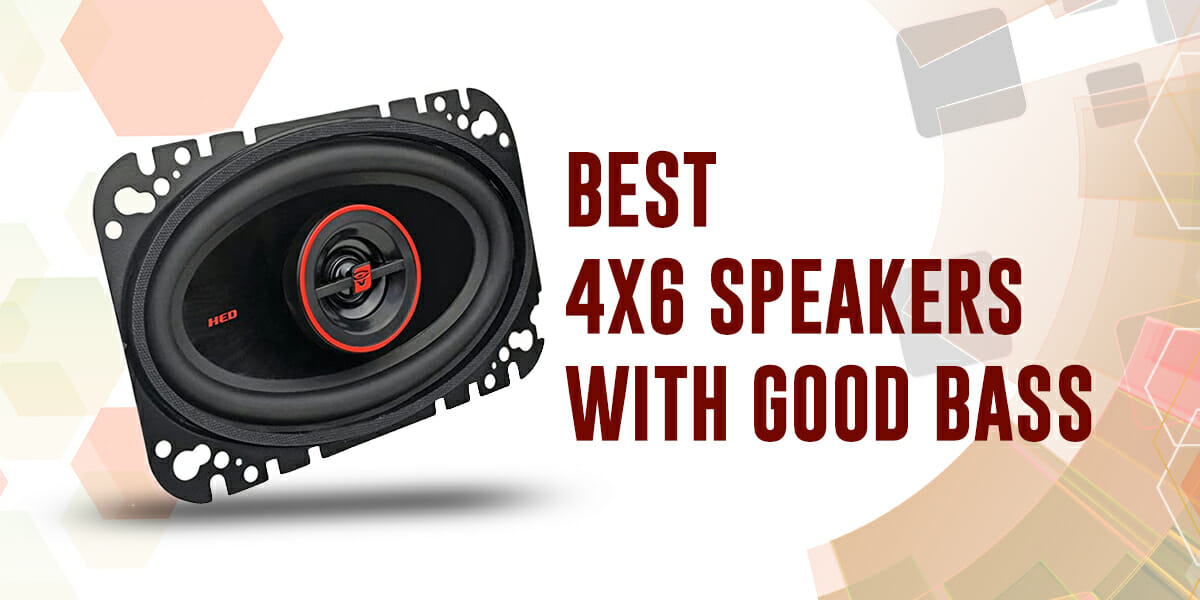 Car enthusiasts love modifying their cars with as many aftermarket things as possible. They make sure that really loud speakers are a part of that list.
For many, nothing is more special than the throaty sound of the exhaust on the outside and clear and ear-deafening sound on the inside. It is surely to stir a great mood while you cruise at high speeds enjoying the wind.
If you are this kind of a person or are looking for extraordinarily loud speakers as perfect match for your car, then here are the best 4"X6" speakers with a good bass.
Table of Contents
Our Top Picks
Best Value for money speaker: Pyle PL463BL
Its tempting price along with 240W sound and 0.75" tweeters and a size that can compensate for any thickness of wires makes it a deserving buy.
Best Premium Speaker: Boss CH4630
It is the most powerful speaker among the ones mentioned here. The 500W sound can create a surreal experience. Its rubber covering for the outer surface also works very well.
Best Overall Speaker: Polk Audio DB462
It can be regarded as the best option as it has the advantage of being used on all types of vehicles including marine. The speaker pair is IP55-rated and the coaxial arrangement ensures melodious sound.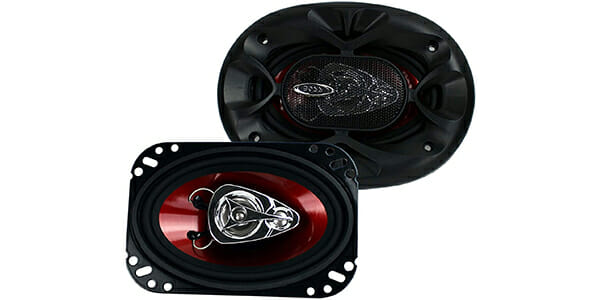 Sample 500W of sound from the speakers of Boss CH4630. To enhance safety, it also gets red poly-injection cones and Butyl rubber cloth covering to prevent wear and tear. It also gets an attractive design to match with the interior of your car.
Pros
500W sound
Value for money
Rubber coating
The reason why we chose it is its sound capacity of 500W. It is not prone to wear and tear and the materials used give it longevity. It has been priced lower than a few of its rivals so you get bang for your buck.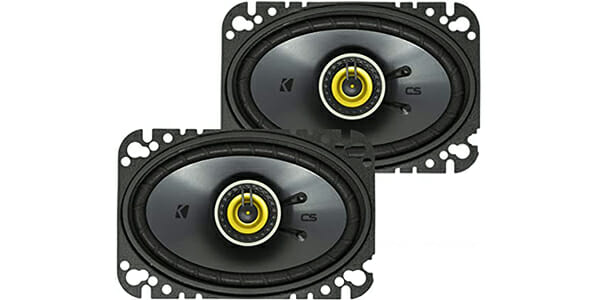 It comes with the assurance of a great brand and several features to lure buyers such as EVC (Extended Voice Coil) technology and Neodymium tweeters to produce greater frequencies of sound to filter in all directions. A unique feature is the UV-treated polyester to prevent excessive heat and getting affected with sunlight.
Pros
EVC Technology
0.5" tweeters
Polyester material working to increase its life.
Brand value
Yellow and black color combination available.
Cons
150W sound way lesser than competition.
Kicker is a brand specializing in manufacturing car speakers. Its reliability works in its favor and the brilliant EVC technology that the CS Series is known for contributes to producing good sound quality despite the 150W speaker sounding less powerful at first. The color combination is also great which can mix perfectly with your car.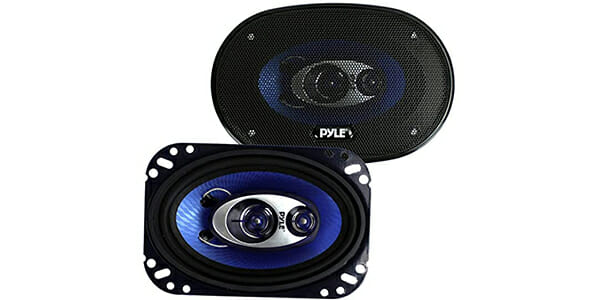 Perfect gadget on a small budget, the Pyle PL463BL is for those looking to spend a trifle but seek a decent quality of sound and well-decorated outer layer. Its features include 0.75" Piezo tweeters and voice coils that have been designed to withstand high temperatures. The 3-way speaker also flanks a butyl rubber surround to reduce friction and heat. This is particularly important in hot weather conditions.
Pros
4 Ohm audio compatible with wires of all sizes.
Neodymium film for pure sound and less dispersion by heat.
240W speaker capacity
Excellent value
Cons
Speakers could have been more powerful.
Need to check whether it will fit in your car's slot.
Its price is the most tempting factor working in its favor. Along with this, the Piezo tweeters and rubber surround to prevent abrasion are perks that make us recommend it.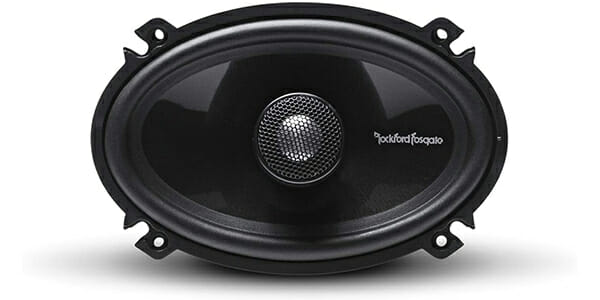 This 2-way speaker befits your requirements if you're looking at a premium brand and high-quality materials with a year's warranty. It has been blessed with cached wires and mounting to prevent short-circuit. This warranty is emphasized with carbon-fibre envelope and polypropylene covering with rubber surround for ultimate protection.
Pros
Good of prestige
Tautly packaged with the best materials
1-year warranty
Cons
Low power output of 90W for a high-end speaker
Not a standard size
It is the fantastic packaging that makes it a wonderful recommendation. Though it isn't as powerful as its competitors, the tweeters can make the experience a lot more rewarding.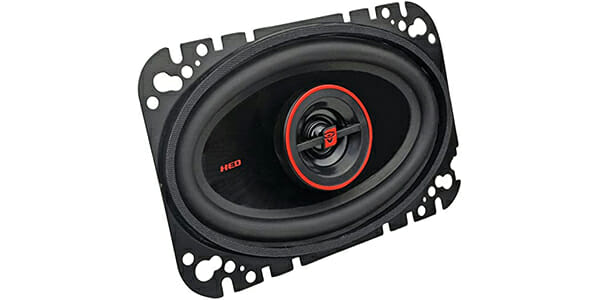 Enjoy the melody of 275W of this Speaker from CERWIN-VEGA. Its coaxial arrangement means that sound can diffuse in all directions for everyone to hear it properly. It is also attractive to look at with its black and red combination.
Pros
Value proposition
Rich sound
Good color combination
A major reason to recommend it is its sound quality which is enhanced further by the coaxial arrangement. Its lower price and great looks are other factors to choose it.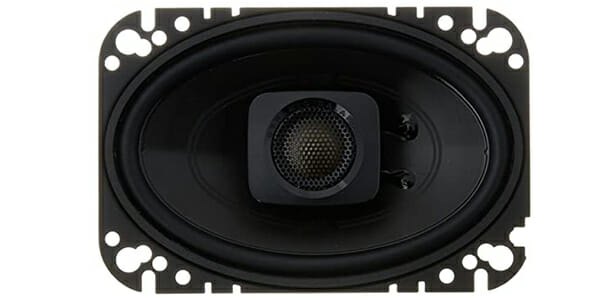 This speaker could be the steal deal for you as it brings with it, high-intensity sound and IP55-rated waterproof material that can also bear UV radiation. Most speakers can only be mated to cars. This one however, is compatible with boats and All-terrain vehicles (ATVs) as well which means you can make good use of it while you go dune bashing in the desert using your quad bike or ford your way through snow.
Pros
IP55-rated speaker
Polypropylene layer to prevent rust
Marine certification
Coaxial arrangement
Its waterproof material and the capability to be used in all types of vehicles including marine is the biggest bonus to its side. It offers an adequately loud speaker output and the polypropylene cover will give it a long life so that you won't have to make frequent changer or replacements in your car.
Frequently Asked Questions
What are the best 4X6 speakers?
It is a tough decision narrowing down on the one that's right for you. However, these are the best 4X6 speakers in general:
1. Pioneer TS-A4676R
2. Pyle PL463BL
3. JBL Club 6420
4. Infinity REF-6422cfx
5. Rockford Fosgate Punch P1462
Are 5.25 speakers better than 4X6?
You can choose either of them and perceive a similar quality of sound. 5.25 speakers aren't any better than the 4X6. However, it is only when you purchase 6.5" ones that you will feel a great difference against the lower power output of the 4X6.
Will a 5X7 speaker fit in a 4X6?
5X7 speakers can adjust in a 4X6 mount if there is some space left when the 4X6 speakers are mounted. 5X7 can also produce sound akin to 4X6. You can also fit a speaker of proportions 6X9 slightly which means 5X7 shouldn't be an issue. 
What car has the best bass?
Different cars have different bass ratings. It is generally assumed that luxury cars bearing speakers from brands such as Lexicon, JBL, Harman, Bowers and Wilkins and Infinity are the best as they offer an enriching sound quality that's music to the ears. However, here are some cars (luxury and executive) that have made it to the list of the cars with the best bass:
1. Chrysler 300-Beats Audio
2. Lexus LS460-Mark Levinson Audio
3. Mitsubishi Lancer Evo (discontinued model)- Rockford Fosgate 
4. Mini Cooper S- Harmon Kardon audio
5. Jaguar models- Bowers and Wilkins audio
How do I choose car speakers?
Here's how you can choose the best speaker for your car:
1. Your purpose– In case you wish to buy speakers only to listen to music and radio during commuting from home to office and back, a low 90W speaker would be just fine. However, in case you seek unfiltered sound from the speakers, you can upgrade to 6.5" from the standard ones in your car.
2. Car's speaker mounting– This decision also boils down to how much space is available behind the speaker's cone. It should be noted that speakers above a specific dimension might not be able to integrate with your car. For example, a car with a 4X6 speaker can use 5X7 but 6X9 would be difficult.
3. Car's maximum speaker capacity– As speakers require a lot of power and are prone to heating, you should also check the maximum power in terms of watts would be fine for your car.
4. Warranty– Those speakers should be chosen which offer at least a year's warranty. While speakers from premium brands might be expensive, many still go for those as they are understood to be dependable and last longer over the standard ones in the market.
5. Time period of usage– If you're going to require speakers for longer durations on a regular basis, it would be recommended to go for those that are available with heat and water-resistant material and also get a polypropylene and rubber coating on the surface to prevent loss of energy by heat. 
6. Compatibility with MP3 and radio– Try switching the radio on after your newly bought speakers have been fitted in the car. Make sure there are no disturbances or vibrations coming from the radio. 
Should bass be higher than treble?
Bass and treble settings are the most important ones to let our ears perceive the best sound quality. It is believed that altering of bass and treble is a relative thing and will differ for each person as their hearing capacity varies. The best way to find the ideal combination for you is to keep experimenting by changing the bass and treble levels simultaneously. When you feel you're getting the best quality sound, you can set the levels at that point. 
Buying good speakers among the different segments of 4X6, 5X7, 6X9, 6.5" etc. is really important as you will be using the set for a sufficiently long period of time and would want music to your ears every time you head out on a drive. While luxury cars come pre-fitted with good quality audio, the low-end ones are subject to changes as the standard ones don't do justice to our ears. This article lists out the best options to consider while spending your hard-earned money and hopes to clear all your confusion regarding the same.