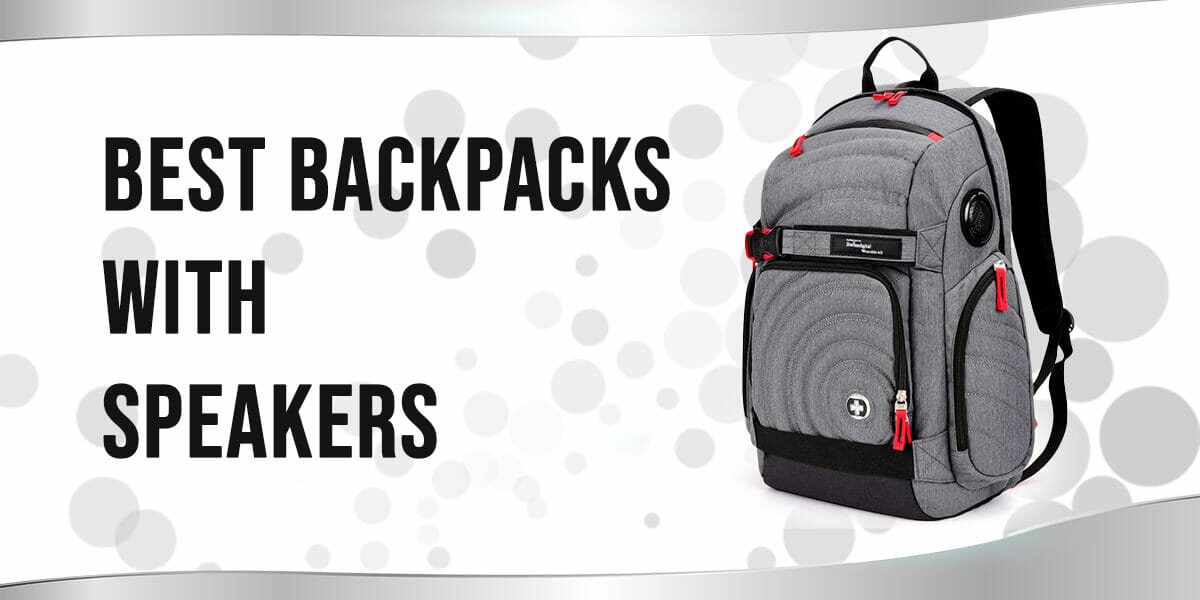 Having speakers built into your bag is an innovative way to improve your bag. You can not only use your bag for storing books but also for listening to music
Many of the speakers are Bluetooth enabled so you can listen to music wirelessly from your phone or any other device. Given below are the best backpacks with speakers.
Table of Contents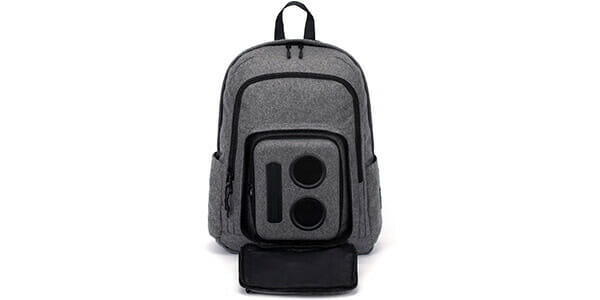 The Super Real Business Bluetooth Speaker Bag is a functional and comfortable bag equipped with 15 watt speakers and a subwoofer. It is a very lightweight bag with broad and comfortable straps. There are plenty of storage compartments inside including a compartment for your laptop. The speakers are removable so the bag can be cleaned easily. You can use this bag for recreational purposes or for travelling.
The speakers are compatible with all Bluetooth enabled devices. This speaker can also connect through an auxiliary adapter in case your device does not support Bluetooth. The battery is rechargeable and you can charge the speakers with the help of the micro USB cable. You get a built in power bank along with a 3.5 mm audio jack.
Pros
Removable speakers
Built in power bank
Plenty of storage
Lightweight
Comfortable
This is a very practical and convenient Bluetooth bag which has plenty of storage for books.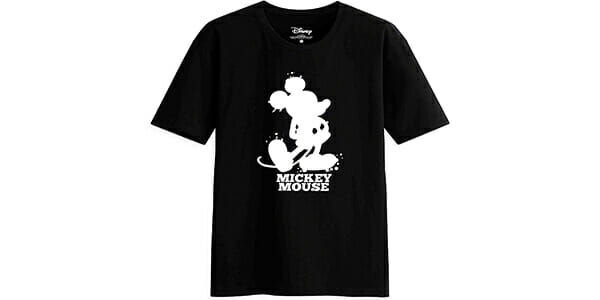 The Lost Queen Kitty Speaker Backpack is a very cool and funky backpack which is suitable for people who like themed bags with fantasy prints. It is the perfect size for any occasion and easily fits all the school textbooks and other books. The straps are well padded and comfortable and the zippers zip and unzip with ease.
The inbuilt speakers work really well and have a decent sound output. You can connect them to your phone through an auxiliary cord and adjust the volume from the phone. The bag has many side pockets which are big and spacious. You also get an attached pencil case which is shaped in the form of a fish. This can also be given as a gift to other people.
Pros
Affordable
Cool design
Sufficient storage space
Comfortable
Lightweight and durable
Cons
Speakers can be crackly
No Bluetooth
This is a budget friendly bag and is perfect for school going people.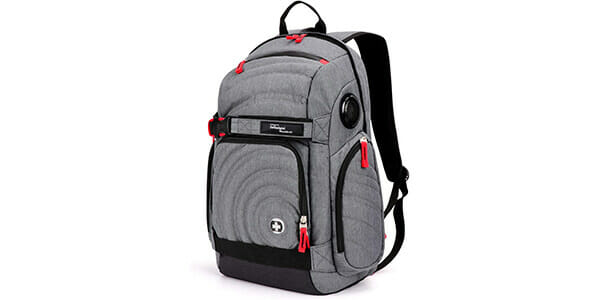 The Swiss Digital Xavie Heather Grey Bluetooth Backpack is a multipurpose bag which can be used for many different purposes. You can use this as a school bag to carry your books, as a gaming bag for your gaming accessories or for other purposes like travelling. It is very spacious and has side pockets of different sizes which can be utilized for storing items both big and small.
You get a padded laptop compartment for your laptop. This bag has inbuilt Bluetooth speakers on the side. The Bluetooth pairing takes place seamlessly and you can listen to music through your phone. You can even charge your device with the help of the USB charging port in the bag. This bag is also a neutral grey colour which makes it compliment almost everything.
Pros
Durable
Plenty of storage compartments
Laptop compartment
Comfortable
Easy Bluetooth pairing
Cons
Straps could be more comfortable
This bag can be utilized for multiple purposes and occasions.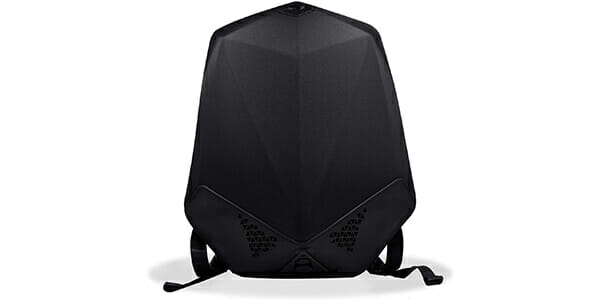 The Clearon Electric Bluetooth Backpack Speaker is a very unique backpack with a modern and futuristic design. It is different from normal soft backpacks because of its hard shell. This also prevents it from getting deformed and is thus ideal for intense activities where you do not want to damage the stored components. It is also water resistant which makes it ideal for water activities.
The Bluetooth speakers are located at the bottom of the bag. You can activate the speakers with the help of a rotator knob. This knob is also used to increase and decrease the volume of the speakers. You also have an option to adjust the bass level. This bag comes with a power bank which is removable and portable.
Pros
Water resistant
Hard outer shell
Good storage capacity
Portable charger
Easy controls
Cons
Speaker quality could be better
Expensive
If you want a high impact backpack with Bluetooth speakers, this is the one for you.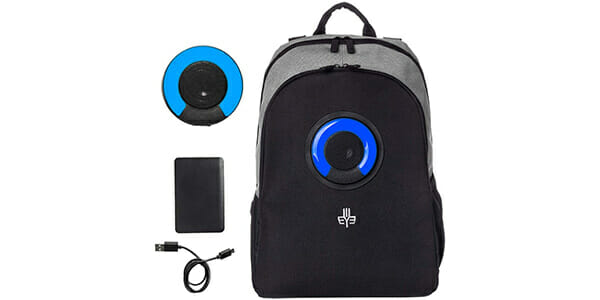 The WOWMAZING Backpack With Detachable Bluetooth Speaker is an affordable bag which is very comfortable. It comes in 4 colours – blue, green, red and grey. It is lightweight and not hard on your shoulders. The straps are padded and adjustable for maximum comfort. The backpack has a very minimalistic design with well organized storage compartments including a laptop compartment.
The Bluetooth speaker is easily detachable and attachable. It is portable and compact with a decent sound output. You can easily stream music through your phone or any other device wirelessly. You also get a portable power bank along with this bag. Overall it is a durable bag which is manufactured from good quality materials.
Pros
Affordable
Durable
Compact
Portable speaker
Good Bluetooth connection
This bag has sufficient storage space and is well padded and comfortable.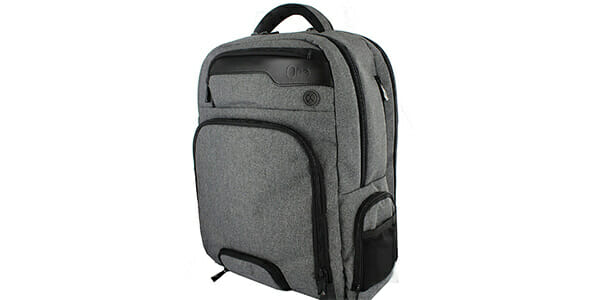 The Jambag Powerbag Backpack By Que is a good quality bag which serves multiple purposes. The outer fabric is tough and the bag has a simple and neat design. There are plenty of storage compartments for pens and books along with hidden storage areas. You also get two side pockets for water bottles including a hidden mesh pocket. The bag has plenty of padding for safely storing your electronic gadgets.
The Bluetooth speakers are located in two side pockets to minimise damage. They connect very fast and have a surprisingly loud sound output. You also get two USB charging ports along with a power bank. There is a control panel in the bottom pocket for volume control and previous/next track operation. The straps have a protective mesh covering along with an adjustable securing strap.
Pros
Plenty of storage
2 USB ports
Loud sound output
Fast Bluetooth connection
Comfortable and durable
This bag has good quality speakers and is perfectly safe for all your books and gadgets.
Frequently Asked Questions
Are speaker backpacks good for camping?
Yes, speaker backpacks are great for camping. The addition of speakers to your bag will allow you to listen to your favourite tunes and make your camping experience more enjoyable. Make sure you go for speaker bags which have USB charging ports or an inbuilt power bank with which you can conveniently charge your devices.
How do I recharge my batteries if they die on the road?
There are not many options left if your batteries die on the road. The best thing you can do is to make sure you take enough precautions so you will be prepared when your battery dies. Power banks make a great travel necessity as they can charge all your devices in case their battery runs out. A power bank can hold its charge for 4 to 6 months.
What is the most comfortable backpack?
Give below are some of the most comfortable backpacks,
1. Amber Business Laptop Backpack
2. Uoobag KT – 01 Slim Business Backpack
3. Brenthaven Collins Ergonomic Backpack
4. Kenneth Cole Reaction Sophie
5. Carhatt Legacy Standard Work Backpack
6. Osprey Stratos 24 Hiking Pack
7. Sweaty Betty All Sport Backpack
8. Zella Baseline Backpack
Which portable speaker has the best sound quality?
Given below are some of the best portable speakers,
1. JBL Frip 5 – JBL is known for their portable speakers which have incredible sound output and great bass levels.
2. Sonos Move – This speaker is compatible with Alexa and Google Assistant. They have an amazing frequency response.
3. Tribit Stormbox Micro – This speaker has a compact design and better sound quality than a lot of bigger and expensive speakers.
4. UE Wonderboom 2 – This speaker has a good battery life and crisp and clear sound.
What should I look for when buying a portable speaker?
Here are some factors you should keep in mind while buying a portable speaker,
1. Battery life – Make sure the speaker has a good battery life
2. Size – Make sure the speaker is a compact size and you can easily fit it in your bag.
3. Input – Buy speakers which have aux inputs
4. Bluetooth – Make sure the speakers have a good wireless Bluetooth range
5. Sound quality – Make sure to buy speakers from reputed brands known for their good sound quality.
What should you carry in your daily backpack?
Here are some essential items you should have in your backpack,
1. Laptop for work
2. Pens
3. Books
4. Headphones for music
5. Tissues
6. Water
7. Phone and charger
Some other optional items you can carry include flashlights, umbrellas, sunglasses, combs, batteries, medicines, ID's and caps.
Conclusion
Book bags with speakers can be a great way to make your workplace or travelling experience enjoyable. We have compiled a list of the best book bags with speakers.