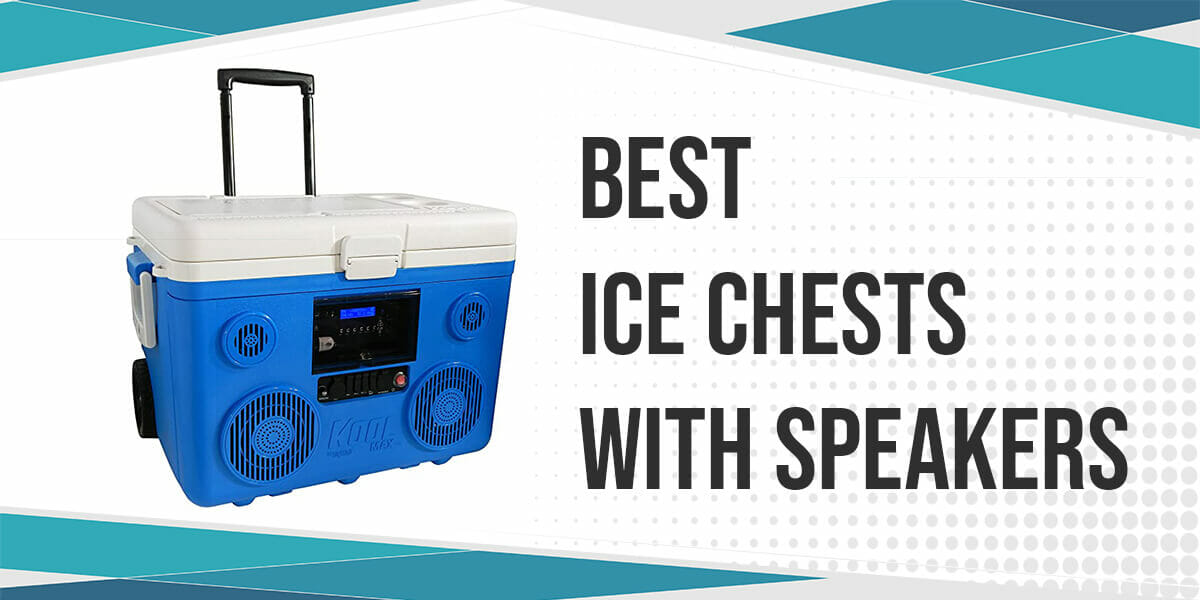 Ice chests with speakers are one of the latest additions to the list of super cool inventions. Lately they have been creating a buzz among people.
It combines a standard cooler or ice chest and a stereo in one. Now you can not only store your cold drinks and beverages but you can also listen to your favourite tunes at the same time. Given below are the 6 best ice chests with speakers.
Table of Contents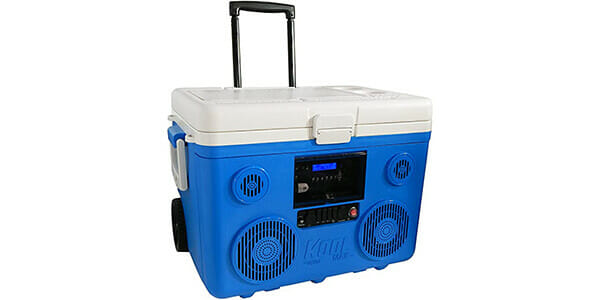 The TUNES2GO CA – EO650 KoolMax Bluetooth Speaker combines a 40 quart ice chest with an amazing speaker system. This is available in 3 colours – blue, grey and orange. It weighs about 31 pounds but it is quite manageable because it comes with inbuilt wheels for easy mobility. This cooler keeps your ice frozen for about 3 days. It is also equipped with an inbuilt can opener.
It has plenty of storage and the inner chambers are weather resistant for extra durability and protection. This ice chest is manufactured by a company that has expertise in sound systems. The sound system consists of two main speakers and two tweeters. It has several options like SD card, FM Radio, Bluetooth audio and microphone jack.
Pros
16 hour battery charging
Inbuilt wheels
High quality speakers
Weather resistant
Inbuilt LED light
It is one of the most innovative ice chests with tons of cool features. Audio quality and quality of construction are top notch.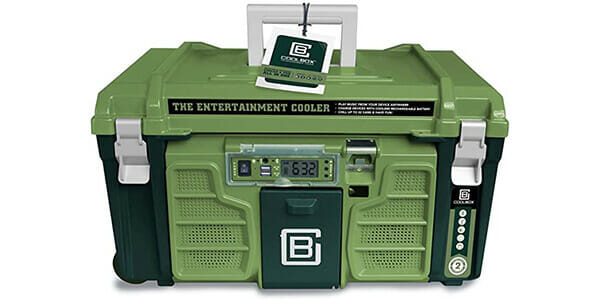 The Coolbox Entertainment Cooler lives up to its name. It is a cooler, ice chest and entertainment centre all in one. It is well built and constructed with heavy duty components ranging from the handles to the inbuilt wheels. The heaviness poses no issue because it has wheels and a telecaster handle which stretches out long enough for it to act like a suitcase.
It comes in two colours – blue and green. One of its cool features is a waterproof compartment where you can store phones up to 6 inches long. The inbuilt marine grade Bluetooth speakers are of good quality and work really well. It is equipped with a power bank where you can charge your phone. It also has a 4 hour battery life.
Pros
Heavy duty construction
Good speakers
Good sound output
Stores ice for a sufficient amount of time
This cooler really lives up to its name. It entertains and cools at the same time.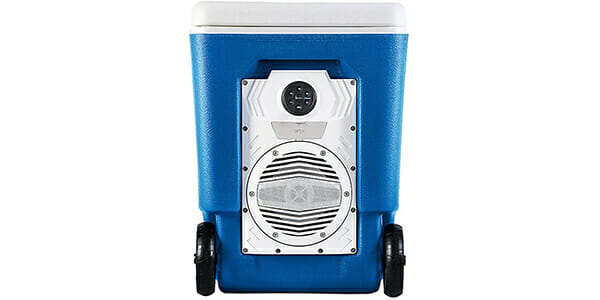 The RECOIL CA – 3 Echo Pro Bluetooth Audio Cooler combines a traditional ice chest with marine grade speakers. If you look at it from one side you will think that it is a regular ice chest. It can hold ice and keep your drinks cold for a sufficient length of time. It has inbuilt heavy duty wheels for easy transport. It also has a water and weather resistant coating to protect against splashes and deterioration.
The speaker system has an inbuilt speaker which has a high sound output with plenty of bass and crisp audio. It is equipped with two USB charging ports with an inbuilt power bank. You can listen to the music of your choice through wireless Bluetooth linking. Overall it is the perfect partner for a picnic or any outdoor family gathering.
Pros
Heavy duty
Weather resistant
Good sound output
Good capacity
Waterproof
Cons
Could have a better design
This cooler is a more entertaining version of the traditional ice chest. It can help spruce up your outdoor gatherings.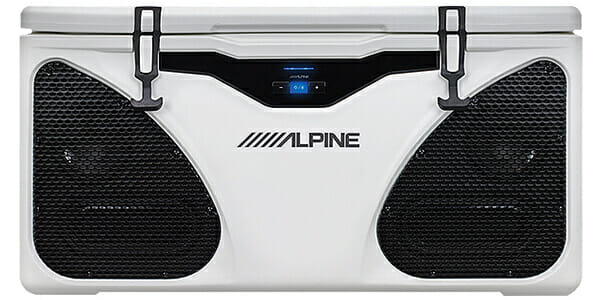 The ALPINE ICE IN – COOLER ENTERTAINMENT SYSTEM is a modern take on the traditional ice chest. This is very apparent from its sleek, elegant and compact design which appeals to most people. Alpine partnered with Grizzly coolers to give you an innovating cooling and entertaining experience packed into one. Since the companies involved in this partnership are sound and cooler experts one can expect nothing short of the best quality.
It has a sufficient capacity of 56 quarts to hold ice. The inbuilt speakers are of amazing quality. The audio is crisp and clear with no distortion. In contrast to other ice chests the Alpine cooler does not have an internal battery. It uses external power sources like a vehicle or a separate external battery.
Pros
Amazing sound quality
Modern and elegant design
Good functionality
Easy to navigate controls
Cons
Very expensive
No internal battery
The Alpine Cooler does not fail when it comes to quality sound output and cooling. Alpine and Grizzly really came through with this In – Cooler entertainment system.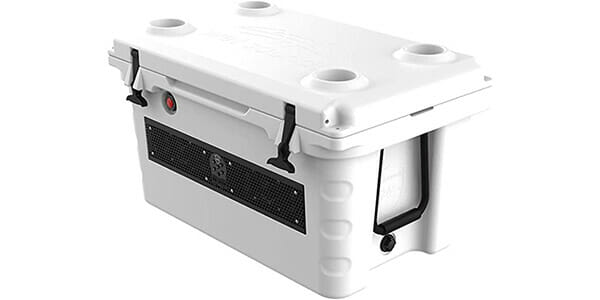 The Wet Sounds Stealth SH IVR55 High Output Audio Cooler is one of the most functional coolers with speakers out there. It keeps your ice frozen for a good amount of time and can accommodate about 30 – 35 drinks easily. It weighs about 40 lbs and has an 8 hour playtime capability. The cooler comes with a cable which is used to charge the battery. As a result it is cordless and wireless.
This cooler has a pressure relief valve which ensures smooth opening and closing of the lid. The sound bar has many functions like volume control, Bluetooth enabling and a next track backtrack feature. You can charge this cooler from a wall or a vehicle's lighter switch. One of the coolest features is the presence of a 4 cup holder on the top of the lid.
Pros
Functional
Good audio quality
Working drain plug
Wireless connection
Sufficient accommodation capacity
Cons
Not very easy to transport
This cooler is perfect for tailgating events and outdoor picnics. It keeps your drinks cold for days and has a lot of cool functions.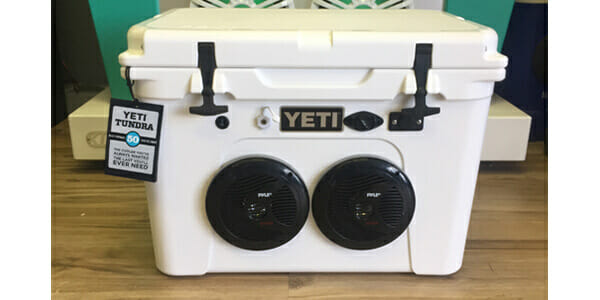 The YETI Cooler Ice Chest Stereo is a popular ice chest with embedded speakers. It is available in 5 colours – white, tan, navy blue, coral and seafoam green. It is also available in various sizes – the smallest being 20 quarts and the largest being 105 quarts. The construction is classic and old school with a modern touch. It can accommodate about 30 to 40 drinks and keeps the ice intact for an appropriate length of time.
It is equipped with a Sony marine stereo which features Bluetooth, FM, USB and AUX – IN. It also comes with a 4 to 6 hour battery which is open for upgrading. It has a waterproof cover for protection which makes it suitable for outdoor activities.
Pros
Heavy duty construction
Sufficient accommodation
Waterproof covering
Good sound output
Cons
Not very portable
Expensive
This YETI ice chest system meets all your cooling and entertainment requirements without compromising either one. This makes it a very good investment.
Frequently Asked Questions
How do you pair a coolest cooler speaker?
These are the following steps you should follow to pair a coolest cooler speaker,
1. You must make sure that the cooler speaker is fully charged. Otherwise connect it to a power source.
2. Until the LED light flashes press and hold the power button. The colours of the light will be red and blue.
3. Connect your device to the speaker through Bluetooth.
4. Go to the Bluetooth settings and select the coolest speaker from the scanned devices. Once you successfully connect your device to the speaker the LED light will flash blue.
What is the next best cooler to YETI?
There are many other coolers you can buy as alternatives to the YETI cooler. YETI coolers can be expensive for a lot of people. Given below is a list of some affordable coolers you can purchase which are on PAR with the YETI,
1. Cabela's Polar Cap Equalizer Cooler 25 Quart
2. Engel Cooler High Performance
3. REI Co – op Cool Haul 42 Soft Cooler
4. Arctic Zone Titan Deep Freeze Premium Ice Chest
5. Coleman 120 quart Cooler
6. Orca 20 Quart Ice Retention Hard Cooler
Do any YETI coolers have wheels?
Yes, there are YETI coolers which have inbuilt wheels. YETI has introduced their new Tundra Haul coolers which feature a heavy duty handle for easy access and inbuilt heavy duty wheels for easy mobility. In case you are unable to afford the YETI cooler with wheels there are always options to add wheels to an existing YETI cooler.
Conclusion
Music can always make outdoor events, picnics and family gatherings fun. The addition of speakers to ice chests is a good idea since they are often used in such outdoor gatherings. We have made a list of the 6 best ice chests with speakers to make your search for them easier.