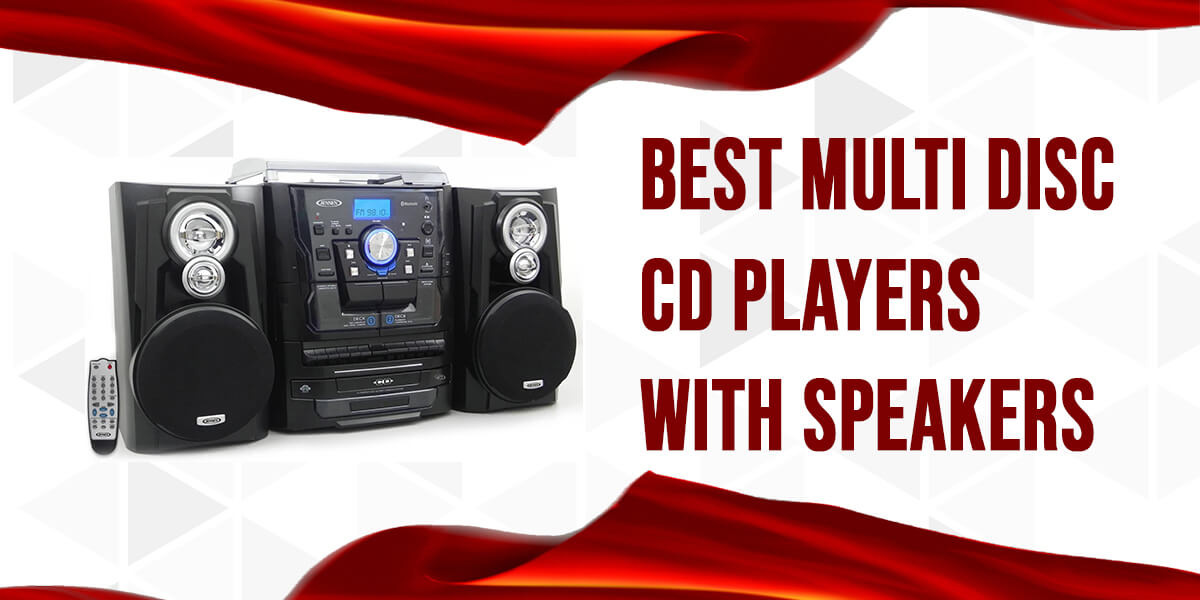 The biggest advantage of multi disc CD players is that you can play multiple CD's at once without having to constantly replace your CD. These players are great for people with large CD collections.
Speakers accompanying CD players help in reproducing the CD sound in the most accurate manner. Given below are the best multi disc CD players with speakers.
Table of Contents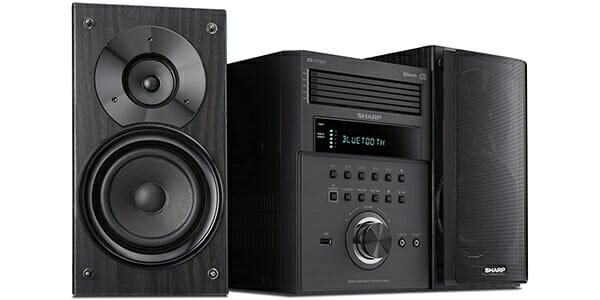 The Sharp XL – BH250 5 – Disc Micro Shelf Executive Speaker System is a reliable and functional stereo system for your home or workplace. It has a neat and compact design and does not take up a lot of space. It has a multi disc player and you can load up to 5 CD's at once. You can also switch between the CD's with the help of a remote.
The system is super easy to set up and comes with radio antenna and speaker wires. The speaker wires are long so you can place the speakers in any desired position. The speakers have a good sound output with decent bass levels. You can program the CD player to skip tracks and even play random tracks on a single CD.
Pros
Affordable
Good sound output
Easy setup
Can accommodate 5 CD's
Compact design
Cons
Remote is difficult to figure out
This is a great stereo system for medium sized rooms where you don't want to play extremely loud music.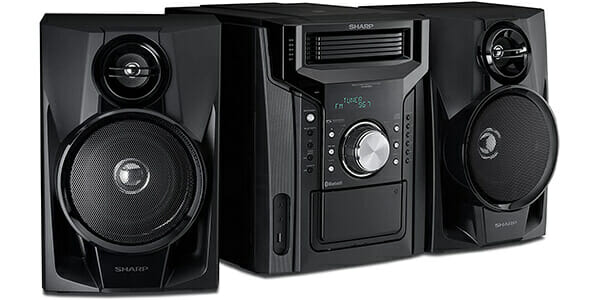 The Sharp CD – BH950 5 Disc Mini Shelf Speaker System is a solid and well built stereo system notable for its old school look. This kind of multi disc system is perfect for people who prefer listening to music the old fashioned way – through cassettes and CD's. You can get this system with or without a subwoofer. The bookshelf speakers have impressive sound quality for the price.
There are manual bass and treble adjustment settings. The system has 5 CD shelves which operate very smoothly. It is compatible with both Apple and Android devices along with other Bluetooth enabled devices. You have options to play MP3 music files and listen to music through your headphones. You can even connect a turntable to the main unit.
Pros
Good sound output
Many audio source options
Functional remote
Cassette player
Adjustable sound settings
This is a very reasonably priced multi disc system suitable for people with cassette and CD collections.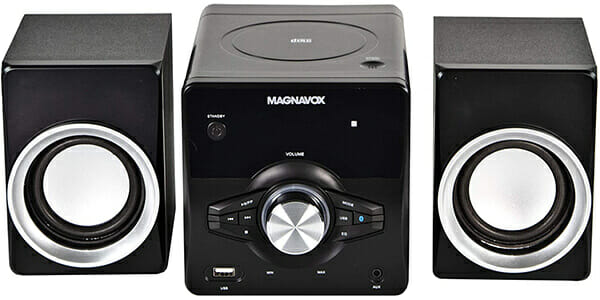 The MAGNAVOX MM442 3 – Piece Top Loading CD Shelf System is a compact stereo system perfect for people who prefer mini entertainment systems to large and bulky ones. The bookshelf speakers are wired to the main unit with dedicated connectors. They have sufficient loudness for their size. You can load up to 3 CD's at once in the CD shelf system.
This system has a very straightforward setup procedure. It has a good Bluetooth range along with a great FM reception. You can make good use of the USB port and AUX input to connect other devices of your choice. The built-in equalizer really enhances the sound output.
Pros
Affordable
Compact size
Good Bluetooth range
Good FM reception
Easy setup
If you want a solid and budget friendly multi disc system for your home, this is the one for you.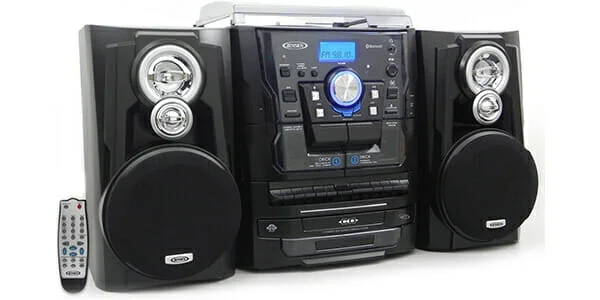 The Jensen JMC1250 Bluetooth 3 – Speed Stereo Turntable and 3 CD Changer is an all in one stereo system and has every music system you can possible think of. It has dual cassette decks, a multi disc CD player and even a turntable for your vinyl records. The turntable plays records at 3 speeds – 33, 45 and 79 RMS. The system is very easy to operate with user friendly buttons along with a functional remote.
You get a button for bass enhancement along with equalizer tonal controls for jazz, pop, rock and other genres. You also get a clock display along with an option to set timers and alarms. The bookshelf speakers have a sufficiently loud sound output with decent bass levels. Overall it is a well constructed unit with many useful features and capabilities.
Pros
Dual cassette deck
3 speed turntable
Good equalizer controls
Bass enhancement option
Easy to operate
Cons
Sound quality could be better
This feature rich multi disc system meets all your musical needs.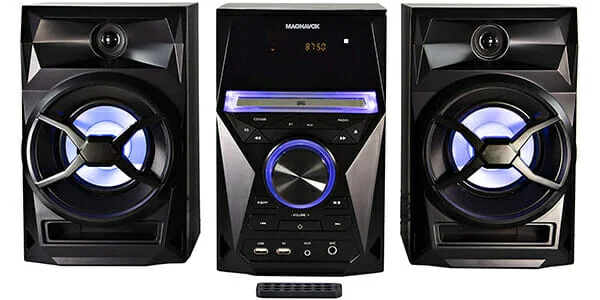 The MAGNAVOX MM41 3 Piece CD Shelf System is a well constructed and good quality stereo system which has a very functional multi disc player. It comes with two computer speakers which generate very clean and clear sound. The unit has a very sleek and modern look with a neat and organized layout. It also has a compact size so you can easily fit it anywhere.
The unit has bright, blue LED lights which add to its appeal. The display is clear and legible and shows you the artist name or the FM station you are using. The AM/FM radio has good reception and comes with many preset options. The Bluetooth pairing takes place very easily and you can also connect your headphones to this unit.
Pros
Affordable
Good AM/FM reception
Easy Bluetooth pairing
Easy setup
Neat layout
Cons
Small remote
Sound is not very loud
This is a very budget friendly music system which has a good range of features.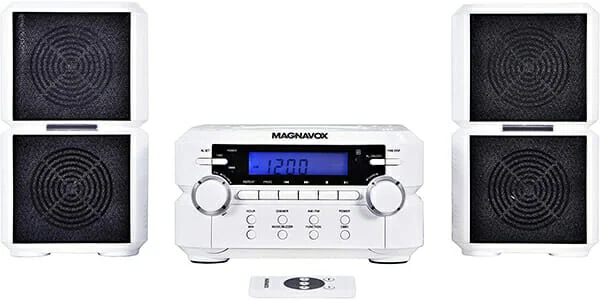 The MAGNAVOX MM435 – WH 3 Piece Compact CD Shelf System is a budget friendly 3 piece CD shelf system for your musical needs. You can place it on the TV stand or on any other shelf because it does not take up too much room. It comes in both black and white versions which you can choose according to your preference.
You can program your favourite FM stations with the help of the FM tuner. You can load up to 3 CD's in the CD player and the sound reproduction of the CD is really good. The unit has a good volume capability with a good range of adjustability. The sound is also distortion free.
Pros
Affordable
Good FM reception
Easy setup
Good volume
Compact
Cons
Less controls
Less sound options
You don't need to be very tech-savvy to operate this stereo system.
Frequently Asked Questions
Do CD players sound better than DVD players?
Just because a player can read both CD's and DVD's does not mean it will have better sound reproduction or quality. The quality of the sound depends on the circuit design and the quality of the individual components. CD players and DVD players do have some differences between them. For example, DVD players do not have a very good DAC (digital-to-analog convertor) while CD players tend to have better DAC.
What is the best portable CD player to buy?
Given below are some of the best portable CD players you can buy,
1. Tenswall Portable CD Player
2. Naviskauto Portable CD Player
3. Toshiba TY – CRU20 CD player/Radio
4. GPX PC332B Personal CD Player
5. HOTT Personal Compact Walkman With Electronic Skip Protection
6. Sony Bluetooth Boombox Bundle
7. Sony DEJ017CK Walkman Portable CD Player
Can you listen to a portable CD player without headphones?
It depends on whether the portable CD player has built-in speakers. If the player has built-in speakers, you do not need headphones. If it does not have built-in speakers, you will need to connect your headphones to the headphone jack to listen to music. You can even connect the player to some good quality speakers. However many good quality and portable CD players do not have inbuilt speakers.
How long do CD players last?
An average CD player typically lasts 5 to 10 years. It also depends on whether your CD player is cheap or expensive. Expensive CD players last longer than cheap CD players. This is because they use better quality components like better rubber drive belts, motors, capacitors and spindles. The life of your CD player also depends on how well you take care of it.
Can I play CD on a DVD player?
Majority of the DVD players will play CD's under normal conditions. If your DVD player won't play CD's it is usually because it is a non standard version. It can also be due to the fact that your CD is a non standard audio CD. DVD players tend to be more sensitive than CD players so any scratch or damage to the CD will prevent playing. 
Conclusion
Multi disc CD players can be a great addition to your home stereo system. We have made a list of the best multi disc CD players with speakers to give you the best available options in the market.