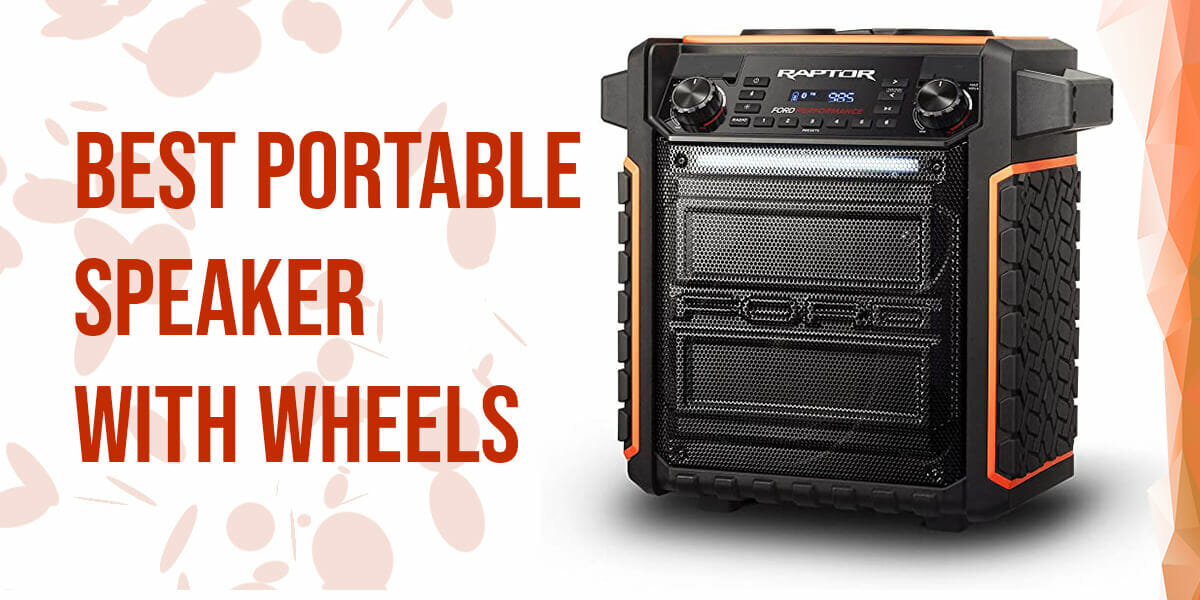 Portability plays a huge role when it comes to speaker functionality. Imagine you have an amazing sounding speaker but you can't carry it to your camping side, pool parties or just anywhere you might actually need the speaker for the perfect ambience.
The most important features to look for in portable speakers are their build quality so they don't get damaged while being transported, how lightweight they are, where they have conveniently placed handles and wheels and what kind of outer body protection they have, and their connectivity.
Here are some portable speaker options with wheels so you can take the party anywhere with you.
Table of Contents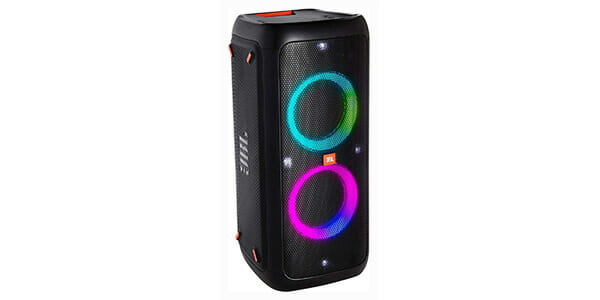 This 240 watts powerful speaker offers a long lasting battery of upto 18 hours. The portable body comes with ipx4 protection making it splash proof and suitable for rain or shine to take the party everywhere along with you. You get JBL's amazing sound quality without question with the beautiful party lights dancing synced to the beats of the music. Moreover, you can switch the lights, control tracks and karaoke features simply using the party box app from your phone. What more do you need?
Pros
IPX4 protection waterproof perfect for poolside parties
Control tracks etc. from the app
Party lights enhancing night conditions
Long lasting battery
Cons
Treble might lack in air, app is not always responsive
Boost the sound too much on this one and the neighbors are sure to complain. The JBL Partybox 310 is a brilliant speaker for your indoor and outdoor needs and the handle and wheels make it extremely portable. Basically you're getting the signature JBL sound which is what you pay for.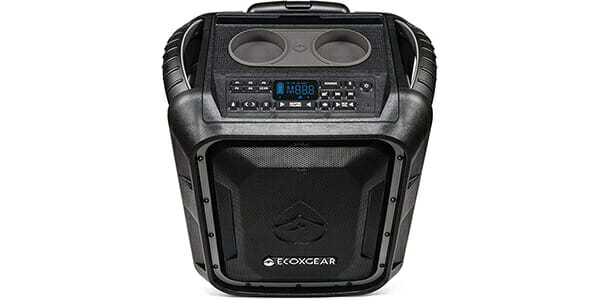 Probably the most rugged built speaker on our list, the ECOXGEAR comes with ip67 international protection standards masking it fully waterproof and dustproof. You could just make it float in your pool, how cool is that! The Bluetooth 4.1 ensures good connectivity upto 100 feet away and you get a battery life of upto 10 hours to get the party going. You get a 2 band bass and treble equalizer and five factory preset settings and a DSP audio chip for high quality sound performance.
Pros
Shock resistant and submersible
Removable storage compartment
Dynamic power amplifier of 100 watts
External microphone for karaoke and PA functions
Standard AC wall for continuous playback
Cons
Not optimized for guitar play
Might experience a buzzing noise sometimes
So you might think twice before completely throwing this speaker into a pool, but all your apprehensions aside, this is a great portable speaker on wheels for all your party needs with a rugged built and good bluetooth connectivity. Don't think twice if you plan on buying this one.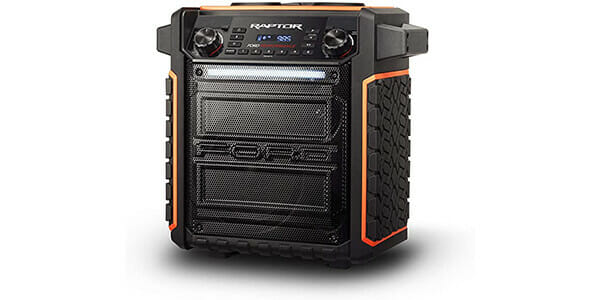 ION speakers are a regular name when it comes to high performing tailgate speakers. The ION Audio Raptor comes with a water resistant ipx4 body so you won't have to work about leaving it in the rain. The rubber tread body gives it a premium feel with durability. 100 watts of power deliver a deep dynamic sound owing to the robust woofer and wide dispersion tweeters. The rechargeable battery offers upto 75 hours of amazing sound. You get onboard FM/radio with display and seamless connectivity with bluetooth devices.
Pros
Great battery life
Premium rubber body with ipx4 protection
Easy portability with telescopic handle and wheels
Jack and aux inputs
Cons
Distortion on high volumes, no adjustable equalizer
FM might not be responsive sometimes
The ION Audio Raptor is immensely portable and the speaker has a great overall look and finish. You can easily regulate the bass and treble from your phone because they're not provided in the speaker, on doing so however, these speakers will sound just as great as any good sounding tailgate.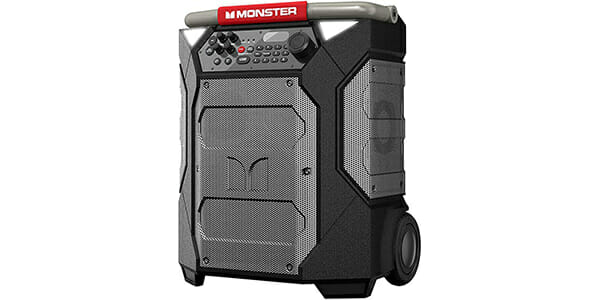 This speaker actually gives you a monster feeling as the name suggests with its stylish design and water resistant body with ipx4 protection. The speaker boasts of a 100 hours of playback supported by the 200 watts power. The coolest feature here is that you could wirelessly charge the speaker using the built-in Qi charger. Talking about the sound, you get a 270 degrees balanced audio perfect for indoors/outdoors gigs. Simply pair the speakers with TWS and there, you're all set to rock any party.
Pros
Seamless bluetooth pairing
Bass, treble, LED and volume controls through Monster Zone Control App
270° balanced audio for an unmatched experience
Rugged design with wheels
Cons
Lowering the volume through the speaker might be touch
Needless to say, this speaker is no joke. The sound on this one is really unparalleled and in case you can't go with the wireless charging there is an USB adapter for normal charging as well. There is little to no distortion even at higher volumes which is really great. The product also comes with a one year warranty.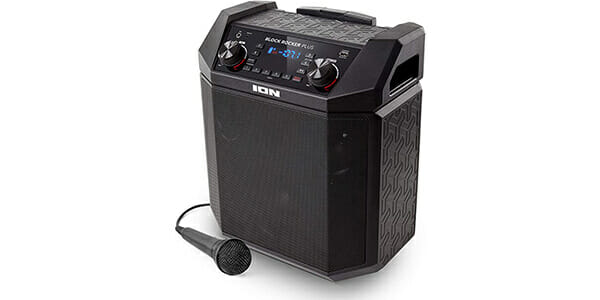 This dynamically powerful speaker offers upto 50 hours of playtime owing to a 100 watt peak power amplifier. The design is amazing with a telescoping handle and wheels for ultra portability and ruggedness. You get all bluetooth track controls and pause/play on the speaker itself. A Bass Boost gives you that thumping bass even at low ends. The entire package even comes with an additional microphone alone with an aux cable in case you cannot make use of the bluetooth feature.
Pros
Dynamic lifelike sound and bass boost
Dedicated track controls, FM/radio buttons
Telescoping handles placed at convenient spot
Microphone is provided
Cons
FM reception is not so good
Heavy to lift
This one right here will hardly disappoint. The sound is truly great with no distortions whatsoever and clear thumping bass no matter how loud you tune the volume. The design is extremely portable and you could control bluetooth playback both through the speaker itself or through your phone, its totally upto you.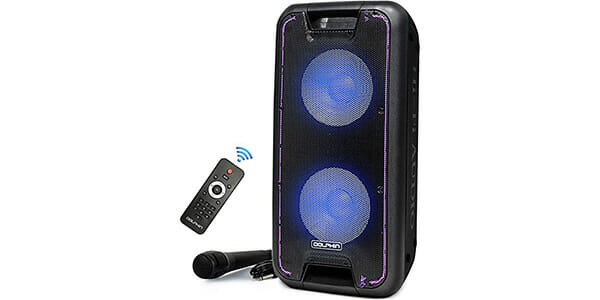 Last but not the least we have this speaker with bluetooth, FM/radio, aux, mp3 modules all provided. You get seven color LED lights for those perfect party vibes and an LED display as well. The 5 band master equalizer gives you control to the presets and the 3 tweeters and two 10-inch woofers support the sound comparable to any trusted audio company. This speaker has dedicated bass, treble and guitar controls and karaoke function. The battery lasts about 7 hours when played with full volume. The trolley handle and wheels ensure portability.
Pros
Multicolor flashing lights
Multiple inputs (mic, aux, FM, radio, USB)
Loud and punchy bass
Karaoke, guitar, microphone functions included
Cons
Short battery life
Not water-resistant
This is a pocket-friendly portable speaker option mostly suitable of your in-house requirements although it might even surprise you outdoors. If you're looking for dedicated EQ controls and a decent sounding speaker which is less pricey this speaker could surely go along with your needs.
Frequently Asked Questions
What is the loudest portable Bluetooth speaker?
The New SOUNDBOKS comes off as the loudest portable bluetooth speaker (126 dB) with its Bluetooth 5.0 connectivity and 40 hour battery capacity.
Can I use a portable bluetooth speaker in my car?
Yes. There are dedicated phone bluetooth speakers which can be used for your car allowing hands free calling along with music. Holding a phone while calling is already a dangerous thing to do. However, there will be some charging issues and heating issues because your car is basically a closed space, but portable speakers do make it possible.
Do Bluetooth speakers have a headphone jack?
Bluetooth speakers come with an aux input so that you can play even without bluetooth connectivity. It wouldn't however, make sense for bluetooth speakers to be connected with a headphone jack. Some models could be played by connecting headphones.
Can you talk through a Bluetooth speaker?
Yes. If they are designed to be used as microphones then you could definitely talk through them. However, if you are trying to talk through any random speaker, it might not work because for talking you will need an in-built mic in the bluetooth speaker.
What's the best portable Bluetooth speaker?
Conclusion
Most portable speakers in the market come with Bluetooth pairing which is a must as wires outdoors are highly inconvenient. Long battery life is crucial apart from the sound quality. There are options with rugged construction and telescopic wheels for ultra portability. And of course, make sure to check for aux inputs just in case the situation doesn't allow using the Bluetooth feature.