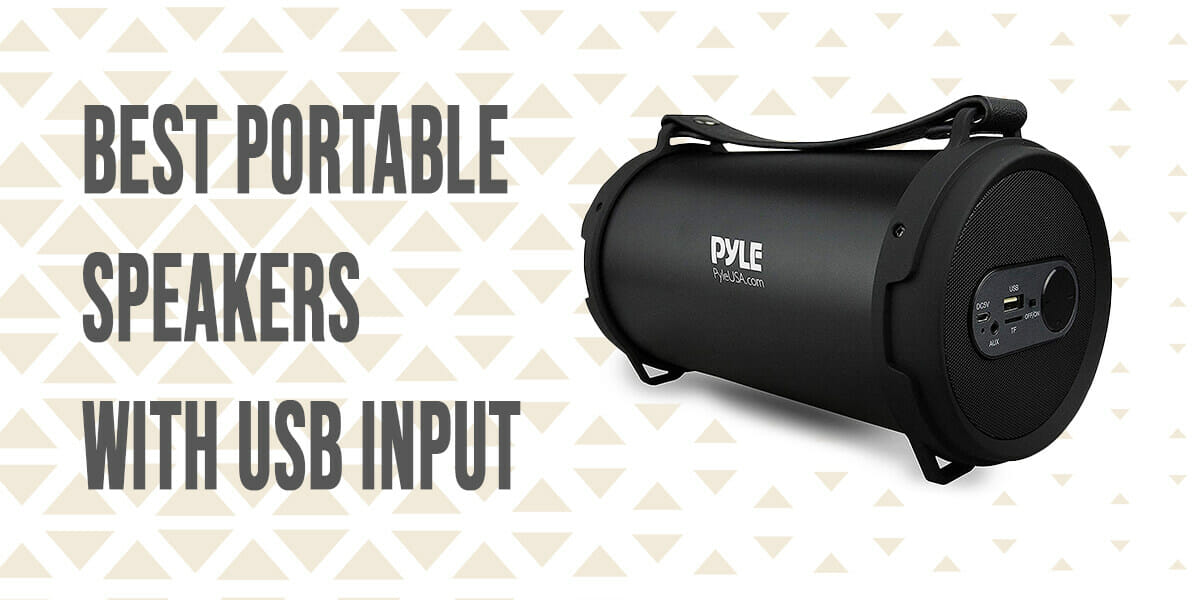 With the increasingly fast-paced life, everyone wants to enjoy the highly practical and ultramodern technology for everything. And if you're someone who loves listening to music through speakers at a high-volume on the go, then we have the perfect fix for you. To enjoy a high quality audio, you should get the best portable speakers with USB input. The USB input allows easier charging, even while streaming music simultaneously.
It further allows you to easily connect any device through the USB cable to your speakers for a convenient and easy to plug and play option. You also get a choice to play your favourite hits through a USB drive. These speakers can be effortlessly carried to wherever you're headed and are suitable for any outing or travelling. They're equipped with the best technology to boost the bass and mid-range performance for enhanced sound-quality to fill the environment with powerful and clear sounding audio. In addition, the user-oriented Bluetooth connectivity is a definite plus of these speakers.
Check out the best Portable Speakers with USB inputs below:
Table of Contents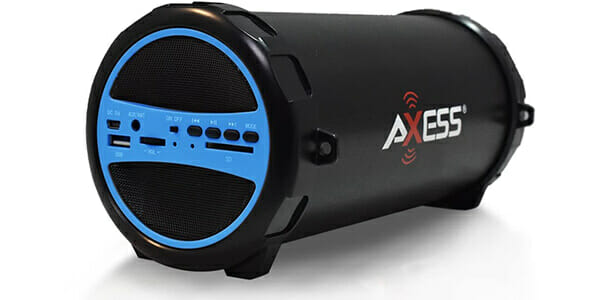 The AXESS SPBT1031BL is a highly creative and functional Bluetooth portable speaker. It delivers an excellent and rich sound from the 3" subwoofer and two 2" speakers which enhances the sound quality further. It features a wide range of compatibility and connectivity with Bluetooth technology, 3.5mm AUX input, USB and SD card inputs. It has 5 colour options for the front panel and comes with a cloth strap for extra supportive portability. The built-in battery is highly performative and recharges very easily. You also get easier controls to adjust the volume from the volume-control button on the side panel.
Pros
Lightweight and portable
Stereo Bluetooth playback
Built-in subwoofer and horns (enhanced sound)
1500 mAh battery
Volume control
5 colour options
32 foot range
It is a stylish and easy to carry portable stereo speaker which is suitable for several audio devices and the built-in 3" subwoofer delivers high-quality sound.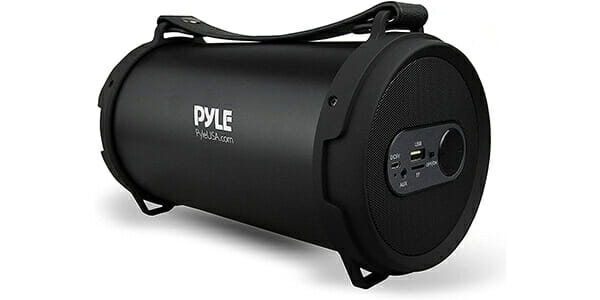 The Pyle PBMSPG7 is a high-powered tube boombox and compact and portable stereo sound speaker which allows you to instantly stream music from a wide range of devices. It delivers a Bluetooth streaming range of up to 30 foot. It is equipped with a hi-powered 40" full range stereo sound system and has an enclosed design for enhanced bass response and sound performance. It comes loaded with features like AUX input, SD card and USB flash drive reader which helps in connecting audio from any external device. It's loaded with other additional features like a built-in rechargeable battery, side-panel button controls, FM radio and a digital sound amplifier.
Pros
Hi-fi active stereo sound
USB Flash and Micro SD memory card reader
Bluetooth streaming
Rechargeable battery
Amplified bass sound performance
30 foot wireless range
Side-panel controls
Cons
Battery life could be better
It is a highly compact and portable speaker which delivers a highly enhanced and loud stereo sound and allows easy connection to any external device.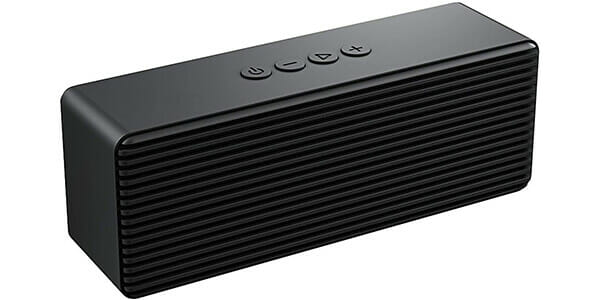 The LENRUE A12 is a superiorly crafted portable Bluetooth speaker which is designed for effortless Bluetooth connectivity for up to 33ft range. The enhanced dual-high performance drivers and unique rich bass provides excellent, loud and clear audio streaming. The built-in 1500 mAh Li-ion rechargeable battery is suitable for up to 16 hours of playtime on 60% volume. The excellent shape and non-slip design makes it easy to carry around anywhere. It supports various inputs like AUX input, TF card and USB input for easier connectivity for your music streaming. It also allows for simultaneous streaming while put on charge.
Pros
1500 mAh long-lasting battery
Sleek and portable design
Various connectivity options
33ft wireless streaming range
Superior sound quality
Includes USB and AUX cables
Built-in microphone
Cons
Doesn't support shuffle play
It is a well-designed portable speaker which is compact and comes with a non-slip design and delivers a rich and superior sound quality.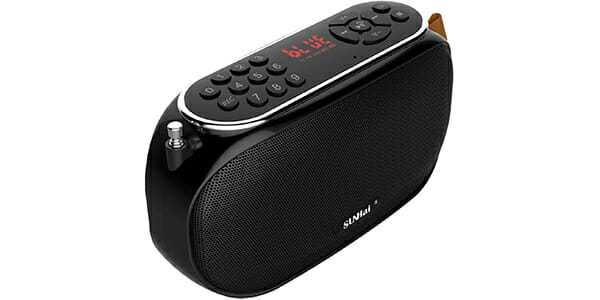 The WSHDZ SUNhai J19 is a powerful and loud sounding portable wireless speaker which has a Hi-fi stereo sound and a built-in voice coil speaker. It's a one-way solution for compatibility and supports multiple connections including AUX input, USB input, TF card and of course Bluetooth. It also has a built-in radio with preset stations so you can enjoy hassle-free music streaming. It also supports hands-free calling with the built-in mic and delivers a crisp and rich audio. The wireless range goes as far as 66ft without any distortion or noise interruption. It has a built-in lithium polymer battery which is rechargeable and delivers up to 7+ hours of playing time.
Pros
Excellent compatibility
66ft Bluetooth range
Built-in mic and recorder
HD sound
Compact design
Built-in FM radio
Easy controls
It is a top-notch Bluetooth speaker which provides excellent sound performance in a compact body and allows for hands-free calling with the built-in microphone.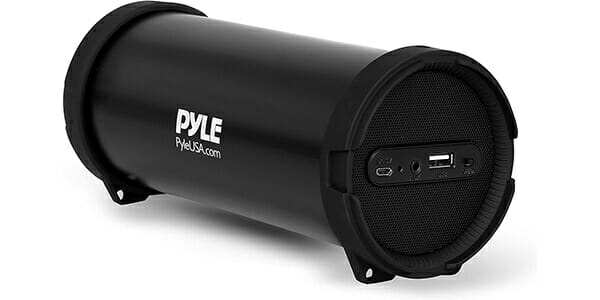 The Pyle PBMSPG6 is another boombox surround stereo sound portable Bluetooth speaker which is ideal for any place with its compact and lightweight design. It delivers a wireless range of up to 30+ feet for better connectivity. It is also compatible with many devices and includes an AUX input and USB flash drive reader. It provides a full-range stereo sound which is absolutely flawless and crystal clear. It supports a 50W maximum power output and a 4ohm impedance which provide high-quality sound performance. The 1500 mAh rechargeable battery delivers long performing time and is highly durable. It also has an in-built FM radio, detachable carry strap and easy side-panel control options.
Pros
Easy to carry and operate
Multiple connectivity
30+ feet Bluetooth range
3" full range stereo
1500 mAh battery
Side-panel control
FM radio
It is a highly performative full range stereo sound speaker system which delivers enhanced and loud sound within a compact design and provides multiple additional features.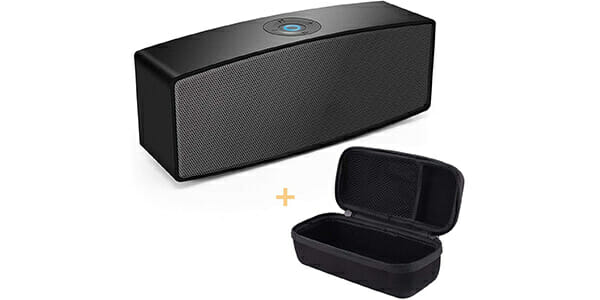 The LENRUE A11 is another portable Bluetooth speaker from LENRUE which is designed to deliver high-quality sound. It is equipped with dual high-performance drivers which output rich and powerful bass response. It has a 4.1 Bluetooth technology which can go as far as 33ft without any distortion. It has 4 playing modes and is compatible with many devices through the Bluetooth, TF card, USB and AUX cable connections. It has a high-performing built-in Li-ion battery which allows for 12 hours of playtime and easy recharging. It has a stylish curved edged look with a sleek control system which makes it visually pleasing to look at.
Pros
12 hours playtime
4 playing modes
Multiple connection
Dual drivers + bass diaphragm
Sleek elegant design
33ft range
Lightweight and portable
It is a high quality and elegant looking speaker which is equipped with dual-driver technology and enhanced bass performance for excellent sound output.
Frequently Asked Questions
Can I plug a USB into a speaker?
Yes, some speakers allow you to plug a USB into it. They're designed with a built-in USB port which is developed for charging the speakers. But some speakers also allow for streaming and playing options with the USB. You simply need to connect the USB cable to your device and plug the other end into the speakers' USB port. You can also simultaneously charge as well as stream the music. 
How do I play a USB through a Bluetooth speaker?
You can easily play a USB through a Bluetooth speaker via this method:
1. First, connect your device to the USB A port of your speakers. 
2. Then select the application to play songs on your device. 
3. You'll see a notification at the top of your screen to allow the USB connection for transferring files. 
4. Tap on the Files sharing option and start playing. You'll be able to hear the sound from your speakers. 
                         OR
1. If your speakers don't have a USB A port, then you can also play via a USB drive. 
2. Simply load your USB drive with your desired songs and plug it into the Bluetooth Speakers and power them on. 
3. If they don't automatically read the USB drive, then look for an "M" button to change the Mode and it'll start playing from the USB drive. 
How do I make a USB speaker?
You can easily make a USB speaker through this DIY method:
1. Gather all the necessary components. What you need:
2. A piece of hardboard 
3. A piece of Copper clad board 
4. A 2" speaker (or if you want to take a big one, based on preference) 
5. 8002 ic Amp (based on preference) 
6. USB cable 
7. 3.5mm AUX cable 
8. Hot glue and some other pieces of wire 
9. Now, start making the box. Cut the hardboard as per your required dimension and glue it together using hot glue or wooden glue for extra support. 
10. Prepare the circuit. You need to make this circuit based on the amplifier you're using for the speakers. You simply need to trace the circuit diagram and make a replica on a piece of copper clad board. You can copy the layout on the board using a permanent marker. Then etch it using the etching solution and complete the entire pcb. Collect and solder all components together. 
11. Start with the wiring. For this, you'll have the input jack and the USB supply cable. Take these wires through the back side of the speaker box and fix them inside tightly by soldering each wire in place. Next, solder the speaker wires too. 
12. Start assembling and fixing to finish it up. Place the pcb inside the box and fix it using hot glue and cover the back side of the box. Use wood glue for support and do some final finishing using a file. 
How do USB speakers work?
USB speakers work slightly differently than other speaker systems. They don't require the audio drivers used by other speakers to play audio, rather they use the system's USB drivers itself. They have an in-built sound card which makes them work without any external audio driver. Hence, they make up for a great replacement option for any malfunctioning or inoperative sound card. 
Is USB audio better than aux?
USB (Universal Serial Bus) connections send digital information to any device, while an AUX input sends analog signals. Now, this digital-to-digital transfer allows for better sound quality without any loss while converting the audio. But since the AUX transfer analog signals, the other device would have to convert it into digital signals for you to listen to the sound. This will lead to little distortion or loss of information. USB transfers data as you would to a computer, while AUX cables transmit audio as you would to an amplifier or headphones. So, you'll notice a difference in audio output when you play from the two inputs simultaneously and USB definitely sounds better. 
Does USB to HDMI carry audio?
Yes, USB to HDMI adapters or cables do carry audio as well as video signals. If your HDMI connection is going to the TV, then it allows you to play audio and video on your TV. You'll simply have to look for a USB to HDMI convertor or adaptor which is suitable and compatible with your devices and delivers high quality sound. 
Conclusion
There are a lot of Portable Speakers with USB input available in the market, but we have listed the top-rated products for you. They're designed for providing easier plug and play options through the USB port. These speakers deliver an excellent sound quality with a powerful and rich bass.
You can easily carry these speakers to anywhere you're travelling. They allow easier connectivity to any device using the Bluetooth technology and AUX input and some also support TF card and SD cards. They deliver a high playing time with durable and long-lasting batteries which are also easily rechargeable. Additionally, these are typically under budget without compromising on the sound quality, design and performance.