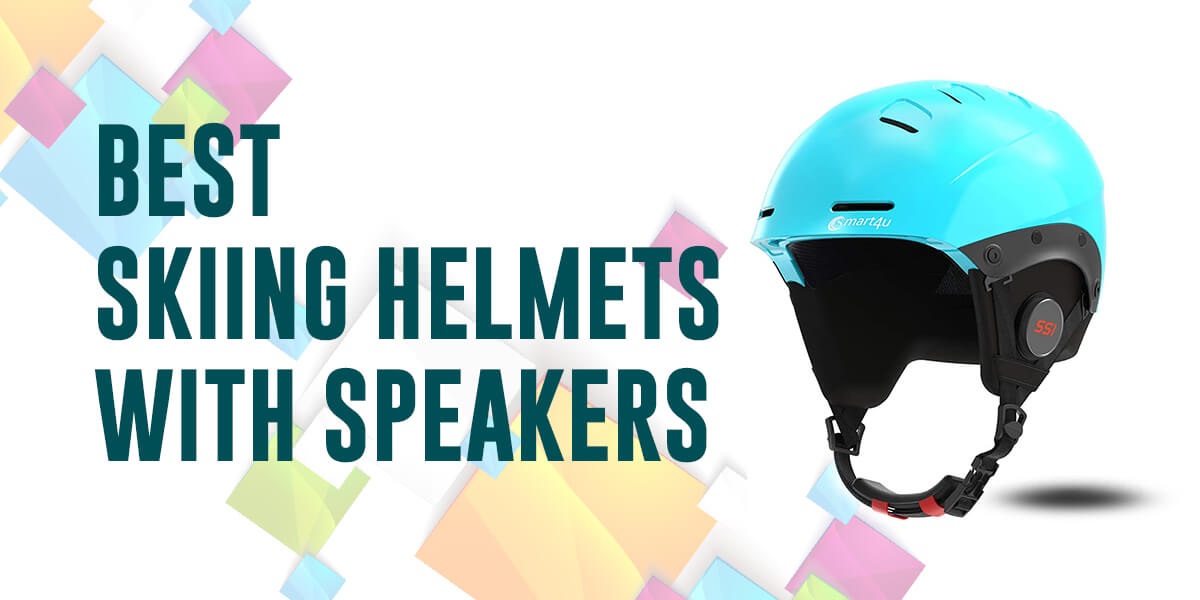 Skiing helmets with speakers have proven to be very useful and entertaining for skiers. The addition of speakers to skiing helmets has made it possible to listen to music and even take calls while skiing. These helmets completely elevate your skiing experience.
You don't have to be a professional skier to get these innovative helmets. These are suitable for everyone ranging from amateurs to professionals. Given below are the 6 best skiing helmets with speakers.
Table of Contents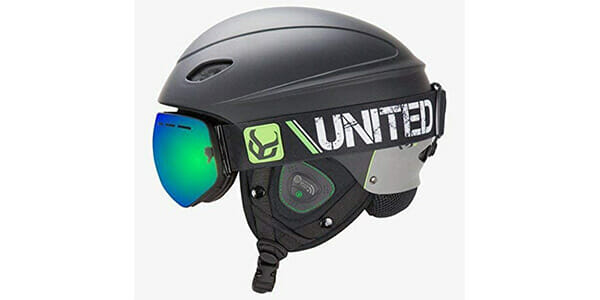 The DEMON UNITED Phantom helmet is a good quality skiing and snowboarding helmet that serves its purpose really well. The helmet has an outer ABS shell. ABS is a strong and durable polymer which is resistant to strong physical attacks. It thus helps to protect against head injuries and concussions. It also comes with a thick inner padding of Styrofoam for comfort and protection.
This helmet comes with inbuilt snow goggles which do not fog and has UV protection. They also come with an adjustable strap. They have good upper face protection. The built in speaker system is of good quality. It comes with a wire with an inbuilt microphone which you can use to connect to Bluetooth or take calls. This helmet has a good design with a matte finish.
Pros
Good protection
Option for Bluetooth
Well built
UV protection
Good sound isolation
Cons
Could be more ventilated
Audio quality could be better
It is a well built and functional skiing helmet which protects really well. It is also comfortable.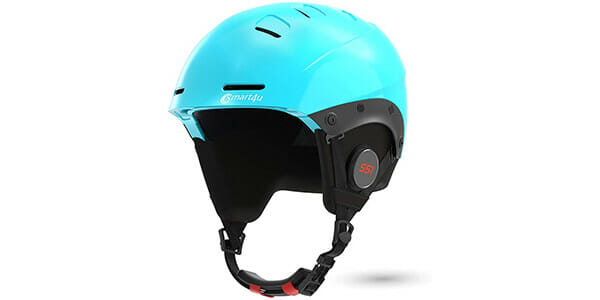 The Smart5U Smart Ski Helmet is a lightweight and durable helmet designed for all skiing and snowboarding activities. It has an outer polycarbonate shell for high impact resistance. The inner padding is an EPS Styrofoam layer for extra cushioning and protection. It has a lining which can be easily detached and washed when dirty. It is well ventilated and the adjustments can be made easily.
You can easily listen to music through the wireless Bluetooth feature. It also lets you take calls with the help of an inbuilt microphone. This helmet is equipped with a lithium battery which is optimized for cold temperatures. It has a good battery life and charges pretty easily. It has a simple and elegant design and also comes with a 1 year warranty.
Pros
Visually appealing
Comfortable
Durable
Affordable
Wireless Bluetooth
This helmet is a good all rounder and is equipped with all the necessary features that make it a good skiing helmet.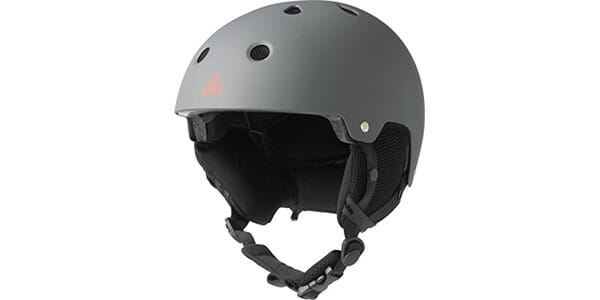 The Triple Eight Snow Helmet With Audio is a very comfortable skiing helmet which comes with inbuilt speakers in the ear flaps. It is well constructed with an outer ABS shell which is heavy duty and can withstand harsh cold environmental conditions. The inside of the helmet is well padded with EPS Styrofoam along with a back neck cushion for comfortable positioning of the neck.
This helmet is available in 3 sizes and is suitable for both kids and adults. It has numerous holes designed for proper ventilation. The built in speakers have good audio levels and you can listen to music comfortably. It comes with an external wire which you are required to plug into the connection cable.
Pros
Very affordable
Good volume levels
Comfortable
Protective features
High impact shell
Cons
Ear pads are not detachable
This helmet is designed to be very comfortable for long skiing sessions. It is also very affordable so you don't have to spend a ton of money on a helmet.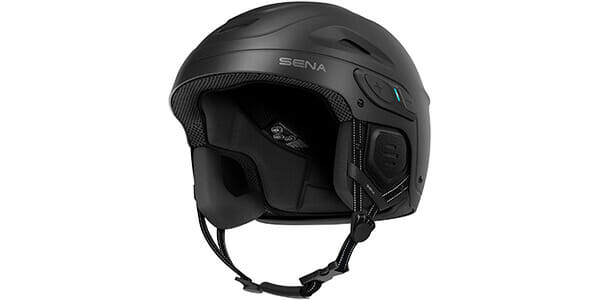 The SENA Latitude SX – Freestyle Snow Helmet is one of the best and innovative skiing helmets available in the market. It is visually appealing with a strong and solid shell with a matte black finish. The inner padding is comfortable and breathable. It is also detachable for cleaning purposes. The goggle and chin straps are secure. It also comes with a lithium battery to power the speakers.
This helmet comes with a built in audio system which is very versatile and impressive. It has wireless Bluetooth and intercom feature where you can talk to three other people at the same time. The Bluetooth connects very easily without lagging or any other hassle. The helmet has various features like volume control buttons, system controls and an integrated microphone. This helmet even has its own app called the Sena outdoor app where you can customize Bluetooth or other audio features.
Pros
Durable
Comfortable
Wireless Bluetooth
Intercom feature
Good quality audio
This is a very high quality and high performing helmet. The technology is very impressive.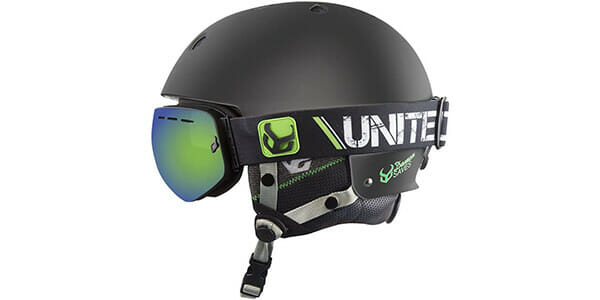 The Demon Black Factor Ski And Snowboarding helmet is similar to the Demon United Phantom Helmet but with a few modifications. It is a very durable helmet which is well built and well constructed. Ventilation holes are provided on the front and back with mesh covers. The outer ABS shell is pretty solid and the inner EPS lining is light, comfortable and well insulated.
The helmet comes with inbuilt speakers and an audio jack. You use an aux cord to plug it to your phone and listen to your favourite tunes. You can also adjust the volume with the cord. Another cool feature of this helmet is that it comes with an adjustment dial. This makes it very easy to adjust the helmet for a snug fit. The inbuilt snow goggles are a good bonus.
Pros
Well constructed
Good protection
Satisfactory audio quality
Inbuilt goggles
Easy to adjust
This helmet is a good investment especially if you are a serious skier. It comes with good protective features.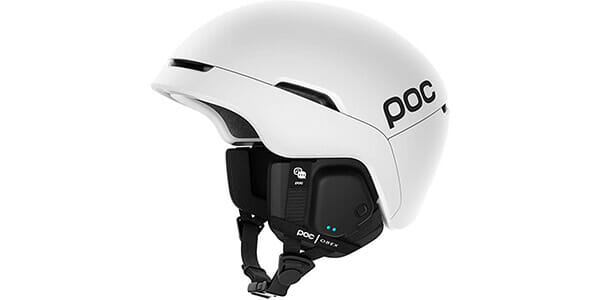 The POC Obex Spin Communication Snowboard And Ski Helmet has a sleek and neat design with a white matte finish. It is constructed with two shells – a polycarbonate shell and an outer ABS shell. This guarantees protection against sudden or violent impacts that may happen. The inner EPS lining is well padded. This helmet comes with vent covers which allow you to open and close the vents according to your comfort and the prevailing conditions. This makes it comfortable and breathable.
This helmet is equipped with an integrated speaker system which has Bluetooth. You can listen to music or take calls using the inbuilt microphone. The ear pads are detachable and the size of the helmet can be easily adjusted for a comfortable fit. Overall it is a well constructed helmet which is durable and long lasting.
Pros
Good safety features
Bluetooth feature
Comfortable
Durable
Helps prevent fogging
Cons
Expensive
Audio quality could be better
The helmet fit and shell quality are top notch. It is very well worth the investment.
Frequently Asked Questions
Should you listen to music while skiing?
Here are some following points you can keep in mind,
1. If you do choose to listen to music make sure it is a clear path without any steep slopes or sharp bends. Also make sure there are no people close to you so you don't risk hurting anyone.
2. Make sure you can still hear the background noise while listening to the music. Background noise can be essential in directing your skiing. You must also make sure you can hear people properly in case they warn you of any upcoming danger.
3. Make sure you don't get thrown off by the music. It is very important to be alert and aware of your surroundings while skiing.
Can I ski with AirPods?
Yes you can but there is always a risk factor when it comes to skiing with AirPods. Since skiing is a fast sport there is a chance for your AirPods to fly off. If your head gear is fit and tight enough, even if your AirPods jump out of your ear they will remain in your helmet. You can also wear a balaclava over your ears or a face mask for extra protection.
How do I keep my AirPods in while skiing?
Here are some ways you can keep your AirPods in while skiing,
1. Many skiing helmets come with audio compatible ear pads. You can secure the AirPods in the ear flaps.
2. You can wear a balaclava over your ears so they remain more secure.
3. You can get a tight and well fitting helmet so that the AirPods won't pop out of it.
4. You can also wear a thick face mask.
Conclusion
If you are someone who loves to listen to music while skiing or just want the extra built in speaker feature, then you have come to the right place. We have made a list of the best skiing helmets with speakers to make your search easier.