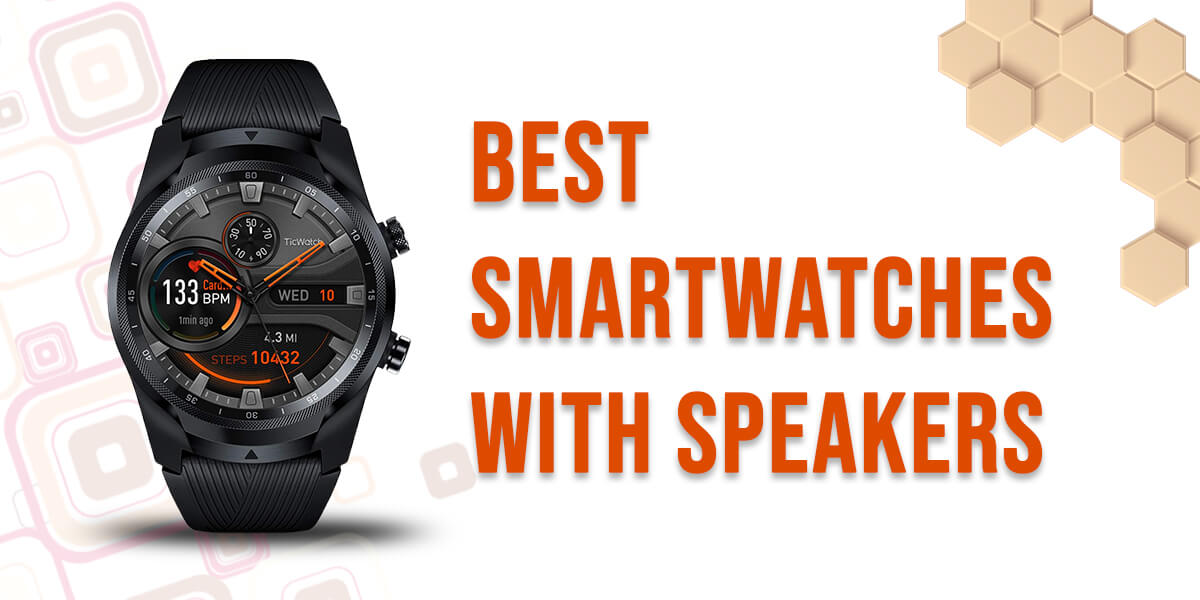 Technological advancement in this new-generation era has left everyone in awe and has most definitely increased consumer's expectations. In this hectic and fast-pacing life, we want everything on the go. This becomes especially true when we think of most time-saving options for callings and music.
And getting a smartwatch with speakers might be your best bet for adapting these features. These smartwatches are packed with numerous additional features which also lets you take care of your health and fitness goals. The best part being the usage of these smartwatches for hands-free calling without the hassle of carrying your smartphone everywhere. The top-notch technology packed in these mini smartphones comes with user-friendly usage and additionally gives a classy and sleek look for accessorizing.
Check out these smartwatches with speakers below:
Table of Contents
Our Top Picks
Best Overall Smartwatch: Samsung Galaxy Watch Active 2
It's designed with better fitness insights and long-lasting battery life.
Best Budget Smartwatch: HUAWEI Watch GT 2
It's built with several new features at an affordable price.
Best Smartwatch For Swimming: TickWatch Pro 4G LTE
It is built with 3 anti-finger print cover glass and waterproof speakers which are swimming suitable.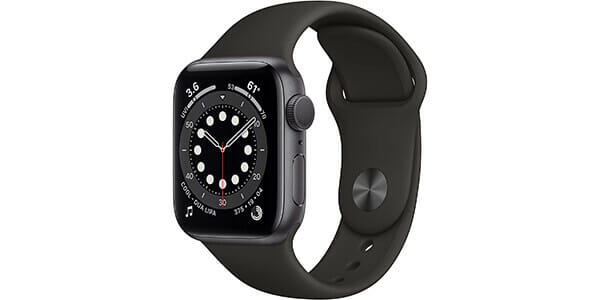 The Apple Watch Series 6 is a high-quality master smartwatch with various in-built features and effects. It is the latest edition in the Apple Watch series which comes blended with all new technology required in any smartwatch. It comes in two variants of 40mm and 44mm size with aluminium and stainless steel options in various colours. Moreover, various health-related features like Measuring blood sugar level and heart rate are always on display for you to live a healthier life. It also allows you to download other health apps such as Blood oxygen, ECG app and sleep app so you can track your daily activities more precisely.
Pros
50% louder Speaker than Series 3
Built-in GPS
Fall detection
Mobile app connectivity
Always on retina display screen
Health and fitness precise tracking
It is the latest version in Apple watch series with countless additional features and upgrades from previous versions.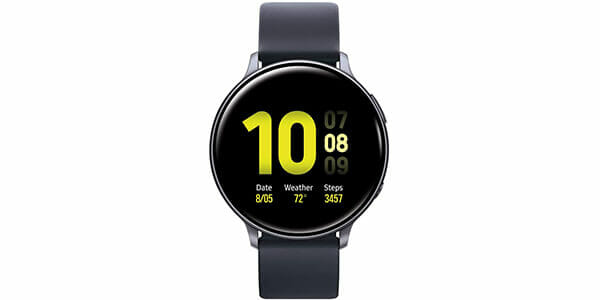 The Samsung Galaxy Watch Active 2 is a lightweight and comfortable to wear watch with sleek designs that comes in aluminium or stainless steel band. It is available in two variants of 40mm and 44mm dial size to choose from and also provides an option for Bluetooth and LTE styles. It gives better insights on your physical activities and helps in achieving your fitness goal. The in-built sleep tracker and pace coaching feature is a definite perk which gives valuable insights on your sleep and health. It also alerts you when you have a low or high heart rate. The battery is built to last for almost 5 days on a single charge for higher usage and longevity.
Pros
Better fitness insights
Comfortable and sleek design
Heart rate and sleep detector
Persistence battery life
Easy streaming and calling
In-built speaker and microphone
It is built to help you reach your fitness goals and track your journey. The all-new comfortably sleek design adds value to your personality.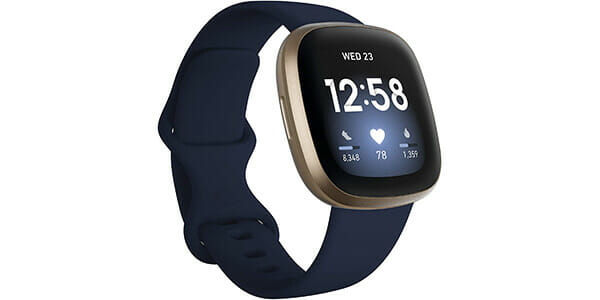 The Fitbit Versa 3 is a smartwatch which helps you stay motivated throughout your day by looking at its descriptions. It features several components like built-in GPS, Active zone minutes, 24/7 heart rate, voice assistant and sleep tracking and scoring for better evaluating your health. The always on display clock is great for keeping track of time. It provides fast charging with 12 minutes charge for 1 day and longer battery life for 6+ days on full charge. You also unlock a free Fitbit premium membership for 90 days which gives you more personalized insights and guided programs for fitness.
Pros
Water resistance
Store and play music
Alexa and google assistant
6+ days battery life
Built-in GPS and speaker
Sleep, heart rate and stress tracking
It is a comfortable to wear and easy to use watch which provides many additional features to track your health and fitness.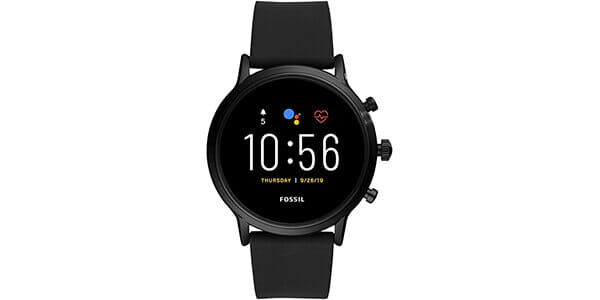 The Fossil Gen 5 Carlyle is built with a highly durable stainless steel band and comes in different black and brown shades. It is powered with Wear OS by Google and can be easily paired with android and iPhone. The health and fitness features lets you track your sleep, heart rate and other activities using the in-built GPS. It's also featured with swim and waterproof design. You can always stay connected with your notifications and calls through the always on display screen. The battery life is 24+ hours and can be extended to multiple days based on your usage. And Qualcomm Snapdragon Wear 3100 platform also makes it deliver high performance and sensing.
Pros
In-built speaker and microphone
8GB storage
Fitness and health features
Multi-day mode battery
Heart rate tracking
It is a perfectly designed watch with sleek design, good finish and high-quality features.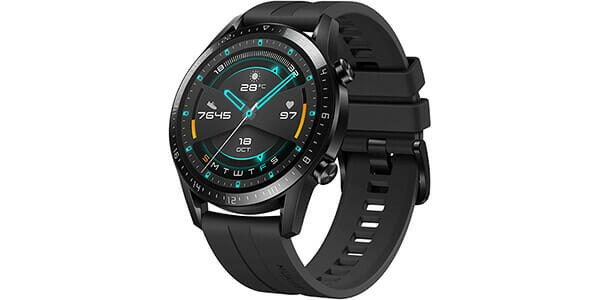 The HUAWEI Watch GT 2 has two options of 42mm or 46mm dial size which comes in Matte black colour that looks super classy and elegant. It also features HUAWEI's wearable chip Kirin 1 and power-saving technology for long-lasting battery life. You can receive and answer calls easily using the in-built speaker and microphone feature without your phone. It also provides 15 workout modes and full-time fitness trainer features that are pre-installed. You can easily track your everyday activities like sleep, heart-rate, step counts and calories burned.
Pros
Precise workout tracking
HUAWEI self-developed wearable chip
Long-lasting battery
Bluetooth calling
Android and iPhone compatibility
In-built speaker and mic
It is designed with a long battery life and various features for tracking your health and fitness.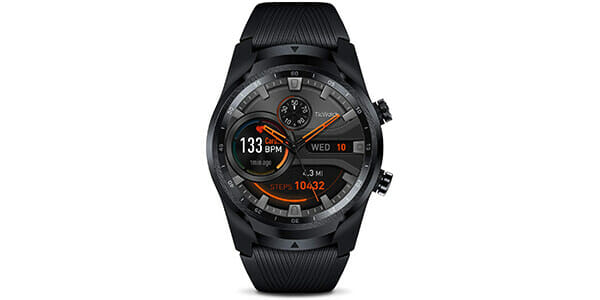 The TickWatch Pro 4G LTE is a superiorly designed smartwatch with several new-age features. It is constructed with a light-weight silicon strap and provides certified durability. The 4G LTE version also lets you answer and receive calls on your smartwatch without any phone. It also comes with 3 anti-finger cover glass and waterproof speakers and is definitely your swimming companion. It features easy tracking with built-in GPS. You can also monitor heart rate, running, walking and sleep. The layered display helps in low power consuming and higher battery performance.
Pros
4G LTE Calling
In-built GPS tracking
Health monitoring
Layered display
IP68+ Swim ready
It is built with long battery life and the light-weight silicon strap makes it comfortable to wear.
Frequently Asked Questions
Does Samsung smartWATCH have a speaker?
Yes, most of the new smartwatches launched by Samsung have a speaker. For example, the Samsung Gear S3 Frontier and Samsung Galaxy Watch Active 2. Now you can easily attend calls without your smartphone or additional earbuds. This also lets you listen to music at any time and anywhere. Samsung has made a name for itself in the smartwatch industry by installing in-built speakers and microphone in all new models. These provide great volume levels with clearer and louder sound. 
Which smartwatches can store music?
Some of the smart watches which support on-board music storage are:
1. LG Watch Sport 
2. Zeblaze Thor 4 
3. Samsung Gear S3 Frontier 4G LTE 
4. Garmin Vivoactive 3 Music 
5. HUAWEI Watch 2 4G 
6. Apple Watch Series 3 
7. LG Watch Urbane 2nd Gen 
8. HUAWEI Watch 2 Sport 
9. TicWatch Pro 
10. Polar M600
Can Fitbit play music without a phone?
Yes, Fitbit's latest feature in the Versa series lets you listen to music without the need of your phone. You can easily listen to music with the free Fitbit connect or Music app on your Fitbit watch. You can store up to 300 songs or your favourite podcasts and play for several hours. You can also use apps like Spotify, Deezer and Pandora to download apps on your device and transfer them into your Fitbit smartwatch. Then you simply need to connect your Bluetooth headset to your watch and listen to music anywhere without a phone. 
Can you answer calls on Galaxy watch?
Yes, you can answer calls on your Galaxy watch. You simply need to connect your smartphone with Bluetooth connectivity to your Galaxy watch. Then go to the Galaxy Wearables App and change the settings. When you go to settings, simply tap on Notifications and then Manage Notifications and enable your preferred apps, in this case your calls. Now when you receive any call on your smartphone, your Galaxy watch will show it on screen. For answering a call, you simply need to slide the answer icon from left to right on the watch screen. And then your watch will display the 'Check Your Phone' message and you'll be directed to continue the call via your phone. 
Does the Galaxy watch Active 2 have a speaker?
Yes, Samsung's new Galaxy watch Active 2 has an in-built speaker and microphone. Now you'll be able to get calls and text messages on the go and also be able to answer them from your watch without continuously checking your phone. And the LTE version also allows you to leave your phone altogether. You can also listen to music without needing an additional Bluetooth headset. The speakers provide great audio response and superior quality sound. 
How can I make my smartwatch louder?
If your smartwatch has a speaker, you can easily change the volume and adjust the sound to make it louder. 
You simply need to follow these steps to adjust the volume: 
1. Wake up your watch screen by tapping on it. 
2. Swipe down from the top of the screen. 
3. Now, tap Settings and scroll down to Sound or Sound and Notifications. 
4. Choose the option you want to change: Media Volume, Alarm Volume or Ring Volume. 
5. Simply drag the slider up or down to increase or decrease the volume. 
Do Fitbits have speakers?
Most Fitbits smartwatches don't have a speaker. But the latest version of the Fitbit Versa 3 has an in-built speaker and microphone. And it allows you to take and receive calls on your watch when it's connected to your phone. But you still need to connect a Bluetooth headset and cannot speak directly into the watch. 
Conclusion
There are a lot of Smartwatches with Speakers available in the market, but we have listed the top rated products for you. All these smartwatches provide a hassle-free option for calling with the in-built speaker and microphone. The speakers provide clear and loud sound which is also suitable for listening to music.
The smart options for keeping up with your health and fitness goals is definitely a much-needed feature in this busy and hectic life. These also have high endurance batteries for long-lasting usage on a single charge. Additionally, most of these are super affordable and easy to use.