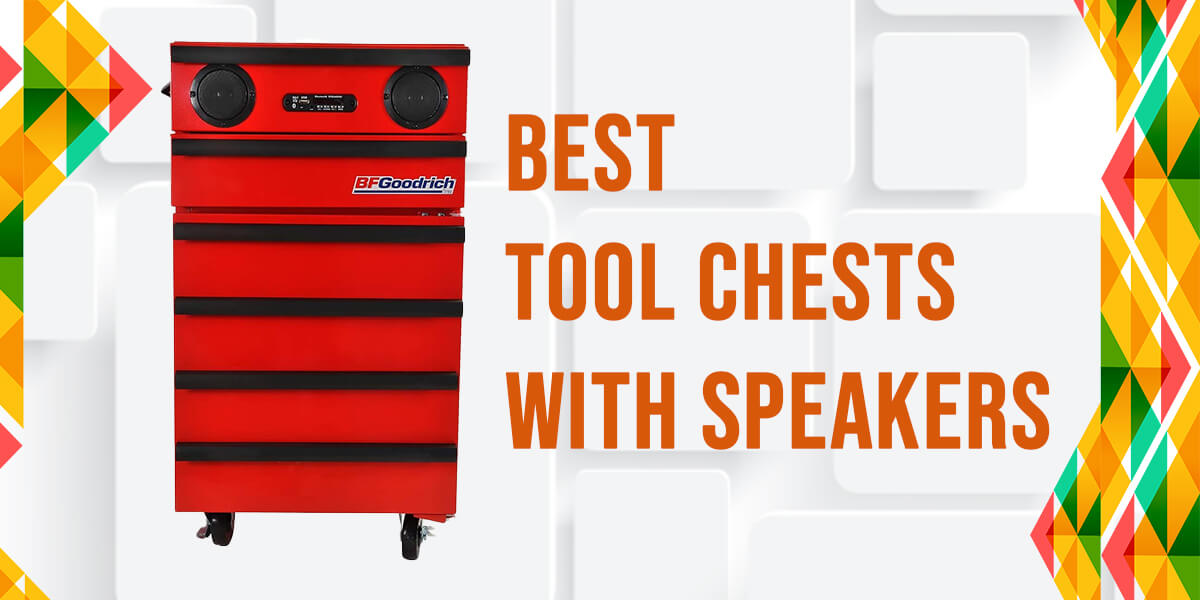 ool chests with inbuilt speakers are a great way to spice up your workplace. Most of these speakers are Bluetooth enabled so you can listen to your favorite tunes or any audio of your choice.
This innovative idea of installing speakers in a tool chest is gaining popularity in the market. Given below are the best tool chests with speakers.
Table of Contents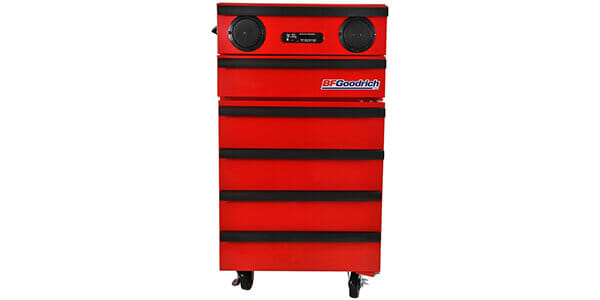 The BF Goodrich Tool Chest Fridge With Bluetooth Speakers is one of the most versatile tool chests which is equipped with many features. It is sturdy and well built with well organized compartments. It has functional gliding drawers and magnetic tool holders specially designed for magnetic tools. It even comes with a fridge where you can store your beverages. The temperature of the fridge is adjustable.
The Bluetooth enabled stereo system works really well. You can connect to any Bluetooth enabled device wirelessly and listen to the audio of your choice. The tool chest has heavy duty wheels so you can shift it to any desired place. It compliments every kind of workplace and garage.
Pros
Sturdy and well built
Durable
Inbuilt fridge
Spacious drawers
Good Bluetooth speakers
Cons
Expensive
Not travel friendly
This tool chest has every feature you can possibly think of. You can now enjoy the benefits of wireless speakers in your tool chest.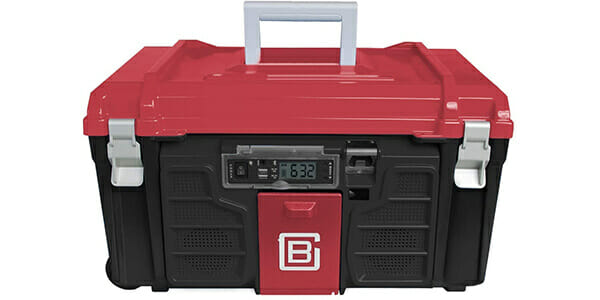 The Coolbox : World's Smartest Toolbox is a toolbox with multiple uses and purposes. It is built with strong, heavy duty components which make it durable and weather resistant. You can listen to audio through the 3.5 mm aux input connection or through the Bluetooth enabled wireless speakers. 
It comes with an LED display which shows the time and the battery status. It has two USB charging outlets and comes with the necessary cable for charging. The inbuilt bottle opener is a very good bonus feature. You can carry it to different places using the handle or move it with the help of rubber wheels.
Pros
Detachable whiteboard
Wireless and wired audio connections
Portable
Good battery life
Cons
Sound quality could be better
This is a very innovative tool chest which also makes a very good gift to people.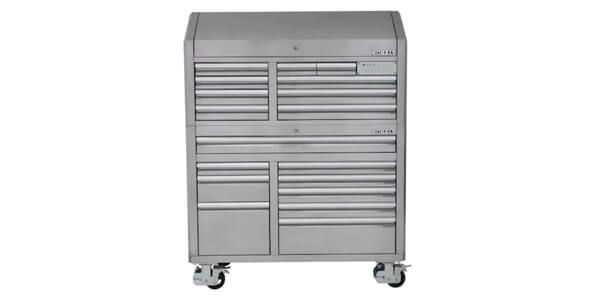 The Kobalt 3000 Series Stainless Steel Rolling Tool Cabinet is a heavy duty and well constructed steel tool box. The quality of the steel is top notch and the cabinet has a firm build. There is plenty of storage space distributed between the 18 compartments. These compartments come with LED lighting for illumination purposes.
It comes with USB ports and other ports for charging your electronic or power tools. The Bluetooth enabled speakers are well built and have decent sound quality. There is also a locking facility to lock your tools safely. The tool cabinet also comes with inbuilt wheels for transportation purposes.
Pros
Sturdy and durable
Plenty of storage space
Many charging ports
Locking facility
Cons
Expensive
Not travel friendly
This is a very spacious tool cabinet with useful safety and entertainment features.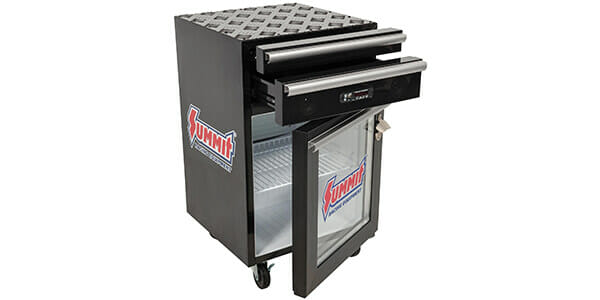 The Summit Racing Toolbox Mini Fridge With Bluetooth Speaker is a budget friendly and functional toolbox which is a great addition to your garage or workshop. It can make your workshop or garage experience more pleasant. This toolbox is divided into a 50 L capacity mini fridge and two spacious drawers for accommodating tools and appliances.
The mini fridge is compressor style and can easily accommodate 15 to 25 beverages or cans. The temperature of the fridge is adjustable from 32°C to 50°C. The built – in Bluetooth has a sufficiently good range and connects very easily. It also has a radio feature and comes with a remote for easy navigation through controls.
Pros
Affordable
Good Bluetooth range
Comes with remote
Sufficient accommodation
Inbuilt wheels
This toolbox is designed to elevate your entire working experience.
The Bar Fridges Australia Music Toolbox Speaker is similar in style and build to the Summit Racing Toolbox. It is an all in one toolbox with a mini fridge, tool drawers and a Bluetooth stereo system. This eliminates the need to pay for separate components. It is well built with durable and heavy duty components. It has neutral finishes and colours which makes it compliment almost every environment.
The compressor style fridge can accommodate up to 35 cold drinks. The stereo system comes with Bluetooth speakers and a USB port for charging your devices or listening to your MP3 music files. It even comes with an RCA jack which you can use to connect headphones or other external devices. The tool chest has inbuilt wheels for easy mobility.
Pros
Good sound output
Multiple features
Well built
Good accommodation capacity for beverages.
Cons
Less storage space for tools
This toolbox meets both aesthetic and functional requirements.
The DEWALT 20 – Volt MAX Bluetooth Speaker With ToughSystem Toolbox is a combo kit which includes a Bluetooth speaker and a toolbox in one. The toolbox is constructed from heavy duty and durable components and it has a very rugged look. It comes with an inbuilt bottle opener which is very convenient for opening bottles. You get plenty of storage space for your tools. 
The Bluetooth speaker has a very crisp and clear sound output and even compares in quality to expensive speakers. It has a long battery life and you can charge it by either plugging it or using a separate battery. The Bluetooth pairing takes place very seamlessly and the controls are easy and functional.
Pros
Affordable
Well constructed
Portable
Easy controls
Easy Bluetooth pairing
Cons
Less options for sound adjustability
This is very easy and convenient and makes your workplace very enjoyable.
Frequently Asked Questions
What is the best tool chest for your money?
Given below are some of the best tool chests for your money,
1. Husky Industrial 52 in W×21.5 in. D 9 – Drawer Tool Chest – This is a very solid and well built tool chest. It is constructed from durable and heavy duty materials.
2. Sonic Tool Box – Sonic tool boxes have sufficient storage space in the form of well organized drawers and compartments.
3. WEN  73015 Garage Rolling Tool Chest – This is a very budget friendly tool box which is also very portable.
4. US General Double Bank Roller Cabinet – This is a very durable tool chest with many storage compartments.
Are Harbor Freight tool chests any good?
Harbor Freight tool chests are some of the best tool chests in the market. They are impressive tool chests for the money. It has a good latch system and they last a pretty long time. The drawers slide back and forth very smoothly and you get both shallow drawers and large drawers with plenty of storage space. Overall they are a very good investment.
Are Husky tool chests any good?
Husky is one of the top selling brands when it comes to their tool chests. They have a very solid and durable construction and can handle a lot of abuse. Some tool chests even offer USB outlets for charging your power tools. They have good quality inbuilt castor wheels for mobility. Many husky tool chests have a nice matte black finish which compliments almost every workplace. They have spacious drawers and can accommodate many tools.
Who makes Kobalt tool chests?
Lowe's companies make Kobalt tool chests. Lowe's is an American retail company which specializes in home improvement through home appliances. Kobalt tool boxes started getting manufactured after Lowe's partnered with tool manufacturer J.H Williams. Lowe's continues to supply Kobalt tool chests although they have shifted their production process to other vendors.
What is the best tool box brand?
Given below are some of the best tool box brands,
1. Husky – Husky is a well reputed tool box brand. They manufacture some of the best tool boxes which have plenty of storage space and other useful features.
2. Kobalt – Kobalt makes very impressive tool cabinets. They have a good storage layout which is well organized.
3. Craftsman – Craftsman offers very versatile tool cabinets and boxes with cool inbuilt features like speakers and mini fridges.
How do I choose a tool chest?
Given below are some factors you should keep in mind while choosing a tool chest,
1. Brand – Make sure you select a tool chest from a well known and reputed brand.
2. Storage space – Make sure you choose a tool chest which has plenty of storage.
3. Functional – Make sure the tool chest is functional with drawers which are easy to glide and have simple controls.
4. Durability – Make sure the tool chest is constructed from heavy duty and durable components.  
Who makes Craftsman chests?
Stanley Black and Decker is an American manufacturing company which manufactures industrial tools and household hardware. Craftsman is a subsidiary branch of Stanley Black and Decker. Craftsman specializes in tools, appliances and equipment. They are one of the best tool manufacturers in the United States. They also manufacture good quality tool chests.
Conclusion
Tool chests with speakers can be a convenient way to elevate your workplace experience and make working more enjoyable. We have made a list of the best tool chests with speakers.