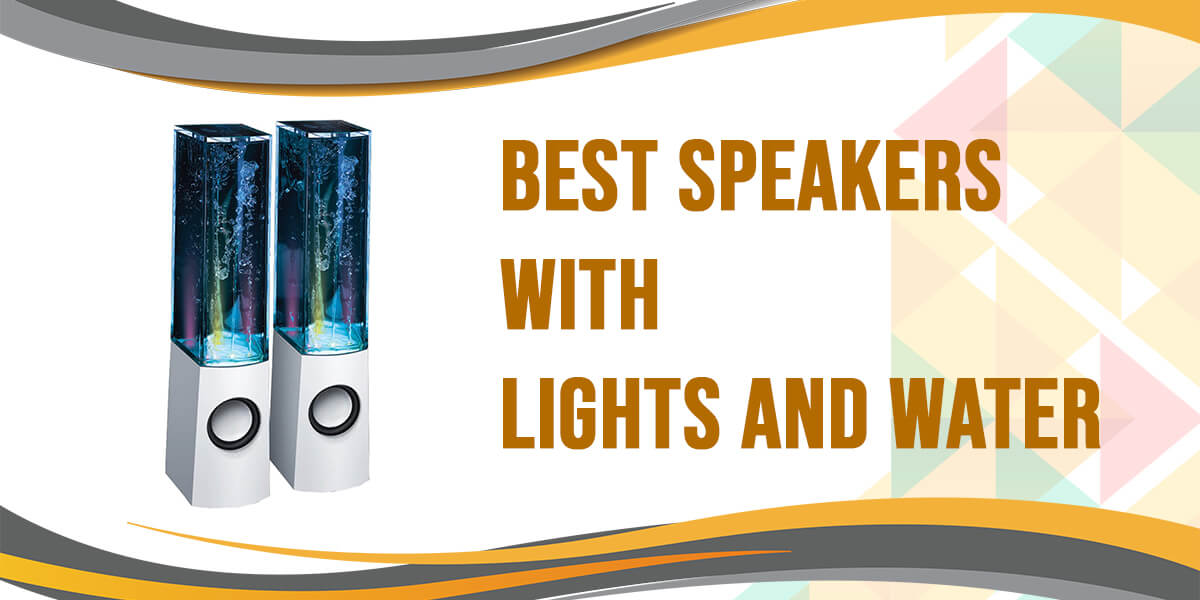 If you're a party enthusiast, you'd know that sometimes the room and disco lights can get quite frustrating. It doesn't let you enjoy your moment fully. But you still want something lit to look at. If you're someone facing this dilemma, getting the best speakers with lights and water is the perfect solution.
These dancing water speakers are uniquely designed to let you enjoy a lights and water show when the room lights are turned off. They're super pretty to look at and can even be used as room décor. You can easily use these speakers for playing your favourite songs, either alone or by organising a house party. They're designed to give you high performance, better sound quality and great listening experience. And the LED lights and water show makes them even more captivating and appealing.
Check out the best Speakers with Lights and Water below:
Table of Contents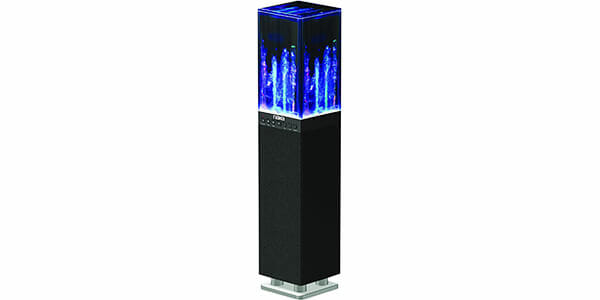 The NAXA Electronics NHS-2009 is an attractive dancing water and light tower speaker which comes with a black body. It has mounting floor standing which makes them easy to place and keeps them steady. The distinctive blue and pink hue LED lights and water show makes them alluring to look at. It includes all necessary features required to set up and play, like AC power adaptor, remote and AUX cable. It also has a built-in FM tuner which lets you enjoy music anywhere. It is built with two high-performance full-range drivers which ensures greater sound quality.
Pros
Bluetooth and AUX connectivity
Corded electric power source
Included cables
Floor-standing tower design
Elegant water and light show
Durable and high sound performance
The speakers have a glass body and elegant tower design which makes the water and light shoot up in an outstanding formation.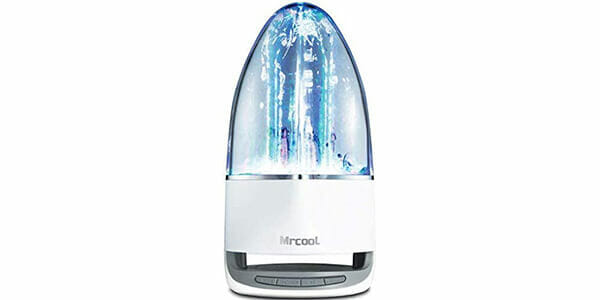 The MRCOOL I6 is another excellent little dancing water speaker which is built to last. It provides high quality sound with full-frequency speakers and strong bass and treble. The built-in 1200 mAh lithium battery is placed for 8 hours of playing time and is fully charged within 2 hours. You can also play music while the speakers are charging. The remarkable built-in anti-jamming chip technology makes the sound more clear and vibrant. It also supports TWS and Bluetooth connectivity which can turn them into wireless stereo speakers and connect them to other devices easily.
Pros
Beautiful transparent and compact design
Long battery life
Includes USB charging cable
Water injector included
Aesthetic water and LED lights
Cons
Initial issues with Bluetooth pairing
It is a beautifully designed dancing water speaker with oval-curved and compact body and white colour structure which makes it aesthetically pleasing.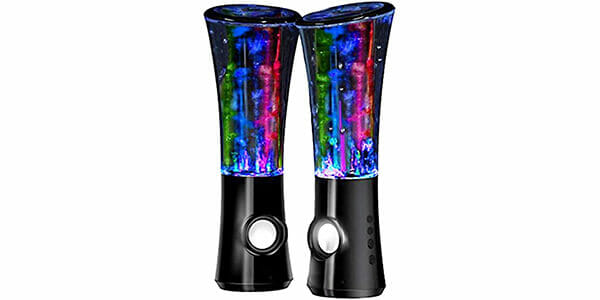 The KALANDO Dancing Water Fountain Speakers are superiorly constructed with 6 coloured LED lights and water show. They're suitable for every device ranging from PC, MP3 players, tablets, iPhones, Mobile phones and Mac. You can easily pair these with wireless Bluetooth pairing which makes them super portable. It also has additional features for AUX input. The four buttons on one speaker are placed to make them easy to operate to adjust volume, power on/off speakers and stop the dancing water. They're constructed with acryl and ABS material which is highly durable. They offer stylish audio and visual experience for your jamming sessions.
Pros
6 colour LED lights
Durable material
Easy to operate buttons
Wireless and AUX connectivity
Stylish elegant design
Cons
Noise level is little low
They're exclusively designed with 6 coloured LED lights which are pleasing to look at while listening to music.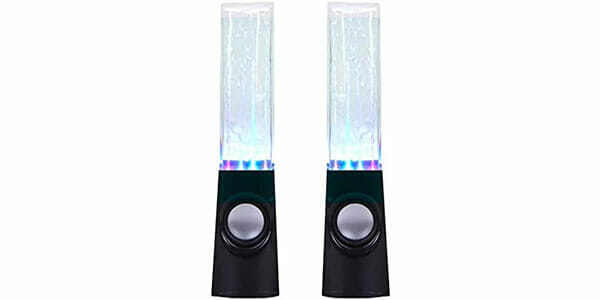 The Aoboo LED Light Dancing Water Speakers are available in 2 colour bodies: black and white. These speakers are powered by DC 5V or computer USB and no other power outlet is required. The two 3W speakers are designed to achieve a balanced stereo performance with both the speakers. They have a built-in amplifier and intelligent decoding chip which makes the speaker sound clearer and louder. Additionally, the powerful subwoofer makes the bass more strong and thick. The colourful LED lights up and water starts dancing whenever music is played.
Pros
High quality sound
Non-crack noise function
USB port power supply
Excellent lighting effects
Two body colour options
These have an in-built amplifier and subwoofer which makes the sound performance clearer and louder and the LED lights with dancing water is a cool feature.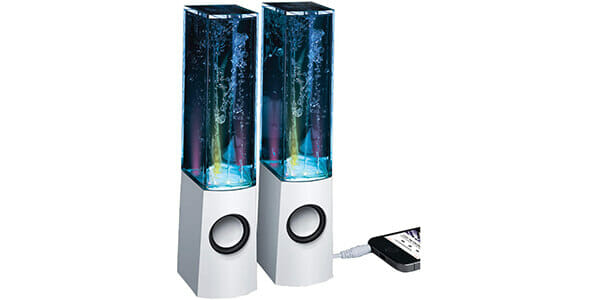 The Merkury Innovations Dancing Stereo Speakers is well-constructed with LED lights and dancing water. It works in accordance with the rhythms and sound frequencies and creates a beautiful universal LED show. The water canister is built with high-quality and durable glass. It comes in a charming white colour with an elegant and classy look. You can easily connect them with any device using the AUX input and enjoy your favourite music while relaxing. Both speakers are constructed to provide excellent stereo sound performance.
Pros
Universal LED
Dancing water on rhythms
Stop buttons
Highly durable material
AUX input
Amazing stereo sound experience
Cons
No Bluetooth connectivity
These speakers give wholesome stereo sound performance and easily operated buttons to stop the water and lights.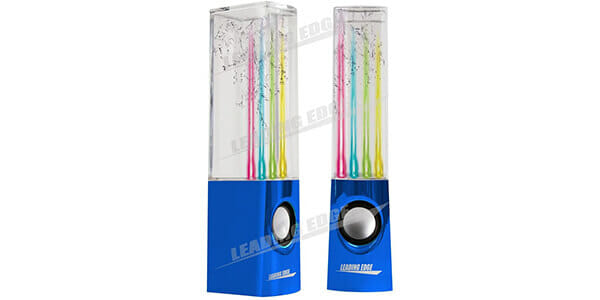 The Leading Edge Novelty Dancing Water Speakers comes in an exquisite blue coloured structure which can complement your room décor. As you play your favourite music, the water will dance up to the sound frequencies and you can adjust this by adjusting the volume. They also light up in 4 different colours which creates a mesmerizing LED water show. The tall body with 9" height makes them highly stylish and give tower-like standing finish. You can easily pair them with any device using the 3.5mm AUX input which is included with the product.
Pros
4 LED colours
Mesmerizing lights and water show
AUX input
High sound performance
Verified and tested
These speakers are constructed to provide clear sound performance with beautiful dancing water and lights.
Frequently Asked Questions
How do Dancing Water Speakers work?
Dancing water speakers have a motor fitted inside of them which works on the pulse system. This motor also has magnets attached to it. The magnet placed at the top of the motor is connected to the bottom of the fan part. When the speaker is turned on and music is played, it results in making the motor spin and pulse. Hence, making the fan spin and pulse as well. Then this fan leads to the water starting spinning up and down in accordance to the music frequencies. As the music volume increases, the motor spins faster leading to the water spinning faster. And the LED lights fitted changes the colour of the water through reflection. 
How do you make a water Speaker?
You can easily make a water speaker with the following steps:
1. Collect necessary parts 
2. Dismantle the Bluetooth adaptor 
3. Set up the IC on Perfboard 
4. Add mosfets 
5. Place the diodes and 5W resistors 
6. Add Panel jack, Bluetooth and Potentiometers 
7. Prepare your water speakers 
8. Add the Arduino wires 
9. Place motor resistors and potentiometers 
10. Assemble the parts and add the code 
Can you add water to water speakers?
Yes, you can easily unscrew and refill your water speakers with extra water. You need to follow the following steps: 
1. First, you need to remove the 4 screws at the back of the water speakers with a screwdriver. 
2. Now, slide the water canister part apart from the bottom piece and place the water canister bottom facing up. 
3. On the bottom of this water canister, you'll find a hole through which the water was initially inserted. This hole is usually covered with a black plug to prevent it from spilling. 
4. By using a screwdriver again, you should pry the plug out. And once the plug is out you can add water to the speakers. (It's advised to only refill the speakers with one inch of water)
5. After you've filled water, just super glue the hole and let it dry completely. 
6. When the glue is dry, slide back the speaker and attach it to the water canister and screw them up again. 
How do you charge water speakers? 
You can easily charge the water speakers with a USB cable. Most water speakers come with an included USB cable, you simply need to connect your speakers to a USB power source to charge the battery. First, connect the small end of the cable to the USB charge port of the speakers. Then connect the other larger end of the cable to a high-power USB input of a computer or charging adapter. Make sure the other device is turned on. You'll be able to see a steady red light on your speakers, which means the battery is charging. It typically takes 1 to 2 hours for water speakers to charge fully when connected to a standard USB port. 
How do you hook up water speakers?
You can easily set up your water speakers. By using the USB port included with your speakers, simply attach one end to one speaker and the other end to another speaker. Once you've connected the two speakers together, switch on the power button at the back of your water speakers. It'll light up your speakers. Now if your water speakers have Bluetooth connectivity, you can easily connect it to your mobile device or other device by pairing them together. Otherwise, you also get a mini plug with your water speakers which you can connect with any music device and play the sound of your speakers. 
Conclusion
There are a lot of Speakers with Lights and Water available in the market, but we've listed the best products for you. These speakers give a high-quality sound output and performance. You can easily connect these through Bluetooth or mini-plug connection to your music device.
The dancing water and LED lights make them highly attractive and captivating. These are perfect to use as party speakers or even as a room décor. Additionally, they are very affordable without compromising on the sound quality.