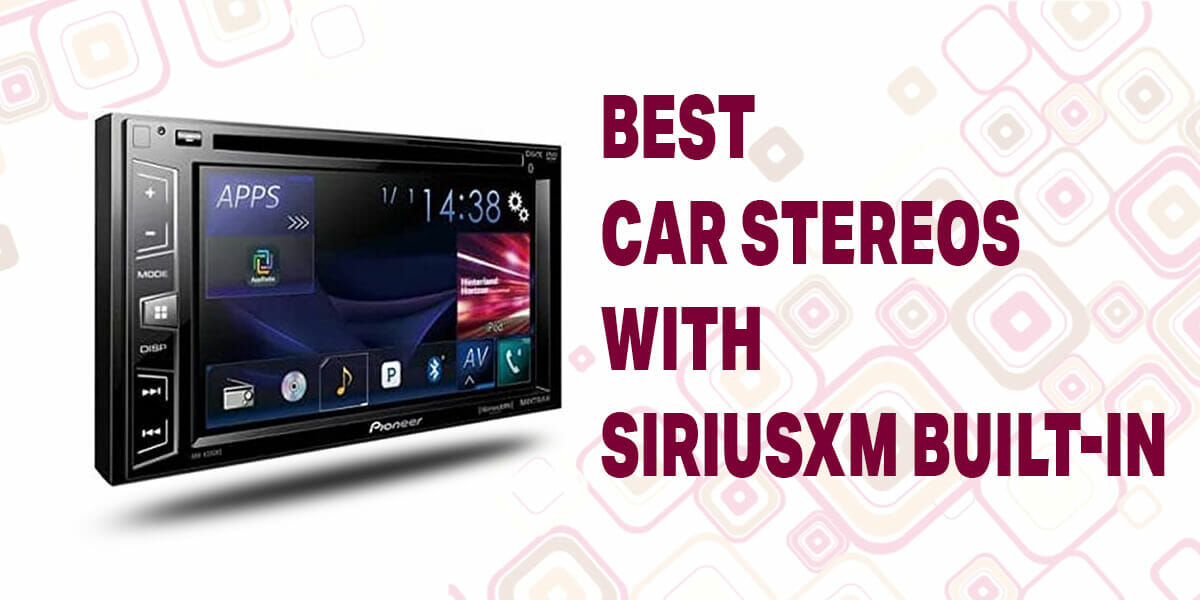 SiriusXM is one of the best satellite radios in the market that provides online radio services. Car stereos equipped with SiriusXM offer personalized stations, music and much more which you can customize according to your taste.
You don't need to spend a lot of money to make your old stereo SiriusXM compatible. Car stereos equipped with SiriusXM are very functional and available at affordable prices. Given below are the 6 best car stereos with SiriusXM built – in.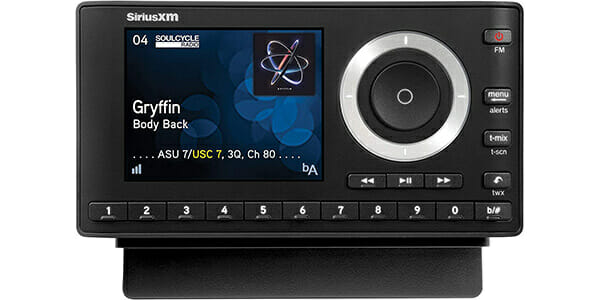 The SiriusXM SXPLIVI Onyx Plus Satellite Radio is a premium satellite radio which also functions as a car stereo. It is designed to compliment your car with the help of a vehicle kit that comes along with it. It has a very modern look with a beautiful colour display and a very neat layout. Some of the system controls include a replay feature, a backtrack feature along with rewind and pause options. The screen is well organized and easy to read.
This radio comes with a free 3 month subscription on the condition that you purchase the All Access subscription. In the All Access subscription you get access to everything which SiriusXM has to offer ranging from music to sports channels. The vehicle kit includes an adhesive radio stand which you can conveniently place on the car dashboard.
Pros
Easy installation
Beautiful graphics
Free 3 month trial
Screen is easy to operate
Cons
FM transmitter is a little weak.
If you want an updated and modern version of the old school stereo, then this is the one to go for.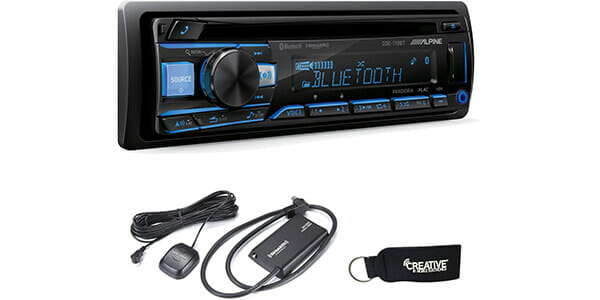 The Alpine CDE – 172BT CD Receiver is the perfect replacement for your old factory car stereo. It has a slightly old school look but with a good display and control buttons. The LCD display is good and the background is customizable. The radio is equipped with an Alpine CDE – 172BT receiver and a SiriusXM S×V300 radio tuner. Once the radio is installed, all you need to do is activate your SiriusXM account.
It has a USB port and a wireless Bluetooth feature in which you can connect to your phone. The connection takes place quickly and easily. You have options to adjust the bass, treble and mid levels according to your preferred output. The stereo is very easy to install and has a great power output. You also get a free trial for 3 months once you sign up for SiriusXM.
Pros
Easy installation
Controls are easy to navigate
Wireless Bluetooth feature
Clean layout
Cons
Small buttons
Little expensive
This stereo system has better reception than factory stereos and thus makes a very good replacement.
The JVC KD – R690S CD Receiver is a very functional SiriusXM ready car stereo which is very easy to install. It has a clean and slightly modern look with vivid and eye catching colours. There are 49 illumination colours from which you can choose. You can even customize your own by adjusting the RGB intensity. It has good FM reception and many adjustable features for sound.
This stereo comes with a USB port, a CD player and a wireless remote. You can connect any phone that has an aux cord. You can also charge your device. You don't need to buy brand new speakers for this – it sounds great with factory speakers. With the help of the remote you can easily navigate through the available options. Overall it is a very good unit for the money you pay.
Pros
Good display
Comes with remote
Good FM reception
Good sound quality
It is a very handy car stereo with a lot of useful features. Installation is very easy and not time consuming.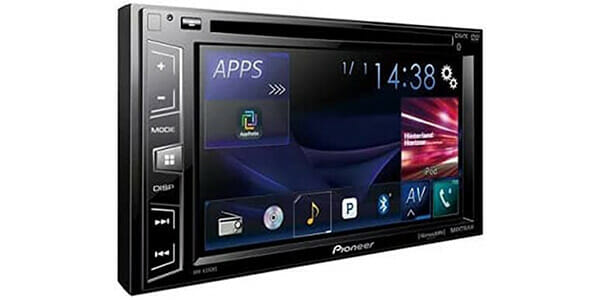 The Pioneer AVH – X390BS Car Stereo Receiver is a more advanced version of typical car stereos. There is a significant upgrade in sound and functionality along with advanced audio settings. The 6.2 inch is bright and easy to read. You can customize the background colour and even upload custom screensavers. There is brightness control along with other display customization features. It is also available in 4 languages other than English.
This stereo has Spotify and SiriusXM integration. You even get classic SiriusXM features like TuneMix and TuneStart. It has a built in dual Bluetooth feature which is very reliable. The back camera is handy and the DVD player works really well. There is a separate subwoofer channel and volume control. The sound quality is top notch without any distortion. It even comes with smartphone integrated voice control.
Pros
Big and bright screen
Dual Bluetooth feature
Advanced audio features
Customization options
If you are looking for a car stereo which has more audio and customization features than a usual stereo this is the one for you.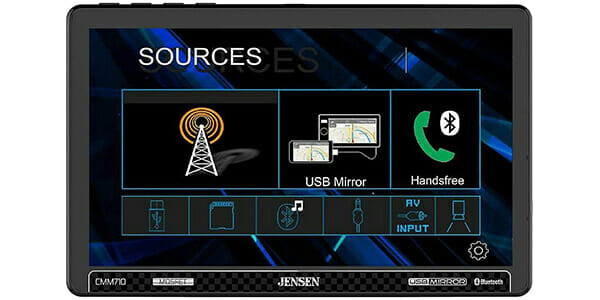 The Jensen CMM710 Multimedia Car Stereo Receiver is a SiriusXM ready stereo which is packed with tons of cool features. It has a big and bright screen which is functional and removable. The display angle is adjustable and it has other adjustable display settings like brightness and saturation. It comes with a microphone, built – in Bluetooth, a USB port and a micro SD card slot. The sound is crisp and clear.
One of the coolest features is that it has the ability to transform your phone into a wireless remote with the help of the J – link app. It even has USB screen mirroring which allows your phone screen to be displayed on the monitor. Along with this you get charging, calling and streaming services.
Pros
Bright display
Customizable
USB screen mirroring
Hands free calling
Removable screen
Cons
Screen tends to freeze
Can be slow
This stereo is well worth the price for all the advanced features that it offers. It is the perfect accessory to complement your car.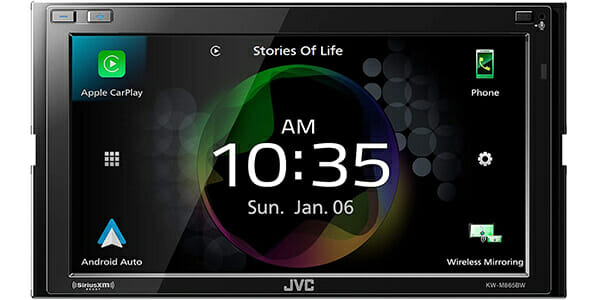 The JVC KW – M865BW SiriusXM Car Stereo is an innovative car stereo with impressive technological features. It features a big screen with good graphics and plenty of user interface options. The video resolution is great and there are loads of sound adjustment options. It is compatible with most cars and almost all Iphone and Android users. 
Almost every feature is wireless. It includes wireless Bluetooth, wireless screen mirroring and wireless DJ streaming services where you can connect up to 5  devices at the same time. It has two USB ports so two tasks can be carried out at the same time. The device pairing takes place very fast without any lagging. This stereo also includes a GPS feature. The sound is loud and clear with plenty of customization options and subwoofer controls.
Pros
Clear display
Wireless features
Good quality sound
Plenty of customization options
2 year warranty
Cons
Expensive
Installation can be a little difficult
This car stereo clearly represents the advanced digital age. It is the perfect upgrade for your factory stereo.
Frequently Asked Questions
Conclusion
SiriusXM is a great satellite radio service and nowadays there are many car stereos in the market that are integrated with this service. We have compiled a list of the best car stereos that have SiriusXM built into them.