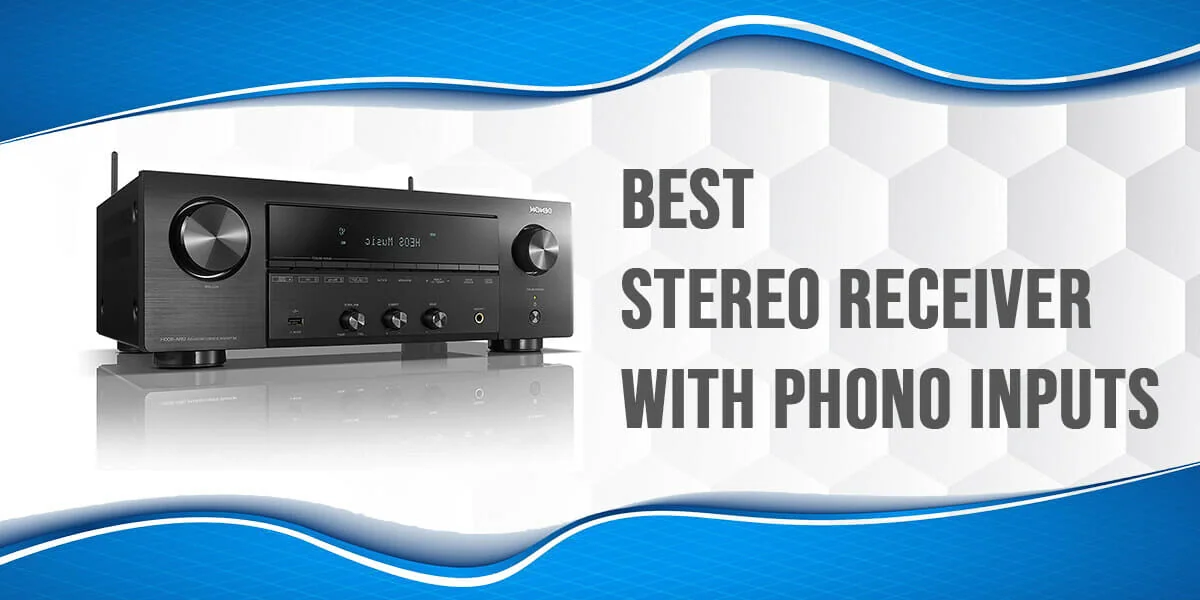 Stereo receivers with phono inputs are very useful for playing vinyl records, turntables or even for a mini home theatre. The phono input helps in equalizing and amplifying the signal before it is played.
With these receivers you don't need a separate preamp. The amplified signal is directly played through the receiver. Given below are the 6 best stereo receivers with phono inputs.
Table of Contents

The Sony STRDHI90 2 – ch Home Stereo Receiver is a very simple and functional stereo receiver. It is a compact black box which easily fits inside small panels. It has 4 analog audio inputs including a phono input. The grounding cable connects to the phono jack easily. It has a very well balanced sound output with proper bass, treble and equalization.
This receiver comes with a remote and FM antenna. FM radio is available and the FM tuner is really good. With this receiver you can enjoy the classical sounds of a turntable or a vinyl record. You can also enjoy the modern sounds through your phone or any device through the wireless Bluetooth feature. The pairing takes place very quickly and easily without any lagging.
Pros
Bluetooth feature
Good sound quality
Plenty of audio source options
Adjustable sound features.
Cons
Sound is not extremely loud
This receiver is very easy to understand because of the neat layout of all the inputs and buttons.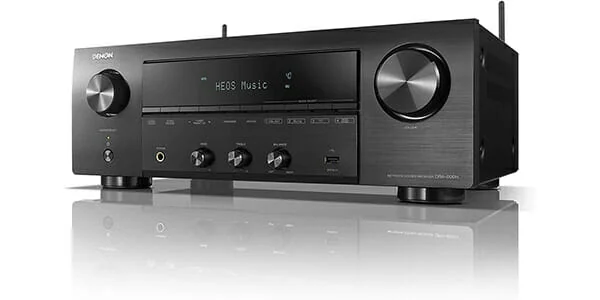 The Denon DRA – 800 H Channel Stereo Receiver is a premium receiver with many capabilities. This receiver has numerous inputs and outputs so it can be connected to multiple sources at once for multiple purposes. It has  a dedicated phono input which can be used to play turntables and vinyl records with great clarity. There is also a special ECO mode designed to reduce power consumption.
The sound quality is incredible with excellent resolution and clarity. You get a seamless listening experience. The subwoofer output is good and the sound is detailed and sharp. It has a very good HDMI functionality. With the help of the Denon app you can adjust the sound and switch between different sources.
Pros
High quality sound
Integrated voice control
High quality components
Adjustable features
Cons
Can be confusing to understand
The possibilities are endless with this receiver. You get different and multiple sound experiences.

The Cambridge Audio AXR600 Stereo Receiver fulfils its main purpose really well. It has a minimalistic design and neat layout without any cluttering of buttons. Although it has lesser features compared to other high end stereo receivers, it delivers when it comes to the main purpose of delivering high sound quality. The sound is well balanced and clear with very low distortion.
It has 4 analog inputs including phono and can be connected to two pairs of speakers. It also has a subwoofer speaker output for rich and deep bass. The bass and treble levels are adjustable with the help of a wireless remote. It comes with an inbuilt Bluetooth feature. Overall it is a well constructed and well ventilated receiver which delivers high definition sound.
Pros
Minimalistic design
Good sound quality
Easy to set up
Functions are easy to understand
Cons
Low Bluetooth range
Limited audio sources
If you want a receiver that isn't too complicated to understand or has many unnecessary features which you don't need, then this is the one for you.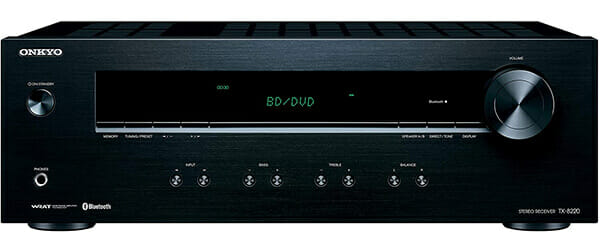 The Onkyo TX – 8220 2 Home Audio Channel Stereo Receiver is an economic and good quality stereo receiver. It has a simple, modern and elegant design. It comes with a sufficient number of inputs, the two notable ones being the phono input and the optical input. With the help of the optical input you can amplify the TV audio through routing.
With this receiver you can play CD's, turntables and audio through other wireless streaming services. It comes with FM and AM tuners for the radio. The Bluetooth pairing takes place very efficiently. You have an option to connect an external amplifier if you need more power. The sound controls are easily adjustable and customizable with the help of the remote or the knobs on the stereo.
Pros
Adjustable sound
Easy to setup
Affordable
Many audio source options
Customizable options
This stereo receiver is a very good all rounder and has all the essential features. It can connect to many audio sources.

The Cambridge Audio AX A35 Stereo Amplifier/Receiver is similar to the Cambridge AXR100 but with a few modifications. It has a solid build and performs the basic functions very well. It has a 35 watt power output which is decently loud enough. It is equipped with a headphone jack in case you want to listen to music through your headphones. 
This receiver is perfect for playing old records including vinyl records and old CD's. It really enhances the old school sound. The sound is really crisp with low distortion. You can even connect to a subwoofer using the rec input. Bass and treble controls are easily adjustable. Overall it is a very well performing amplifier which also serves as a stereo receiver.
Pros
Simple design
Adjustable sound
Easy setup
Good quality sound
Affordable
Cons
Audio source options are limited
This is a simple receiver which is easy to set up and install without any hassle. It does the main job really well.
The Devon AVR – S750H Stereo Receiver is a very good receiver which enables you to expand your sound system. There are input jacks for Bluetooth, phono, CD, satellite cable and other options. You get two subwoofer pre – amp outputs. It is compatible with most of the online streaming music platforms. It has high quality audio tuned components.
 You can connect to multiple rooms at a time and it is perfect for a home theatre system. There are plenty of adjustment options for sound. You can navigate through the different controls and settings easily through the Denon app. You also get great FM and AM reception. The audio has plenty of warmth and brightness.
Pros
Easy to set up
Affordable
Incredible sound
Various input options
Compatible with many devices
Cons
Remote can be hard to understand
This is a very premium receiver which has an incredible functionality. It can completely elevate your musical experience.
Frequently Asked Questions
What is a phono input in a receiver?
Phono inputs help in amplifying and equalizing the signal before it plays through the receiver. They are usually used for playing turntables and old vinyl records. They can be found as a set of input jacks on the panel of the receiver. It is designed to properly reproduce the musical contents embedded in a vinyl record.
How do you connect a turntable to a receiver without a phono input?
The main component required for playing turntables is a phono pre – amp. If your turntable does not have an inbuilt phono pre – amp, you need to get a separate external phono pre – amp which connects the turntable to the available outputs of the receiver. It can be any LINE level output. This is the easiest and quickest way to connect a turntable without a phono input.
What is the difference between a stereo receiver and an AV receiver?
The AV receiver receives both audio and video signals. It is usually used for home theatre systems to route the video to a television monitor or screen. AV receivers have multiple audio and video inputs which can be used for multiple sources.
The main function of the stereo receiver is sound amplification. They also have multiple units and outputs but they are mainly sound focused.
What is the best vintage stereo receiver ever made?
Here are some of the best vintage stereo receivers,
1. Sansui G – 33000
2. Pioneer SX – 1980
3. Kenwood KR – 9050
4. Marantz 2500
5. Hitachi SR – 2004
6. Project – One Mark 1500DC
7. Carvar The Receiver
8. Onkyo TX – 8500 Mkll
9. Yamaha R – 2000
10. Sansui G – 9700
Can I use aux input for phono?
The short answer is no. They have different voltage outputs. If you plug an old vinyl record into the aux input you will barely hear anything. However in case you want to play a turntable in a receiver that does not have a phono input you can get an external phono pre – amp. You can connect the turntable to the phono pre – amp and then connect it to the receiver.
Conclusion
Stereo receivers with phono inputs are great for those who want the extra benefit of playing records and turntables. Keeping important factors in mind like sound quality and audio source options, we have listed the best stereo receivers with phono inputs.