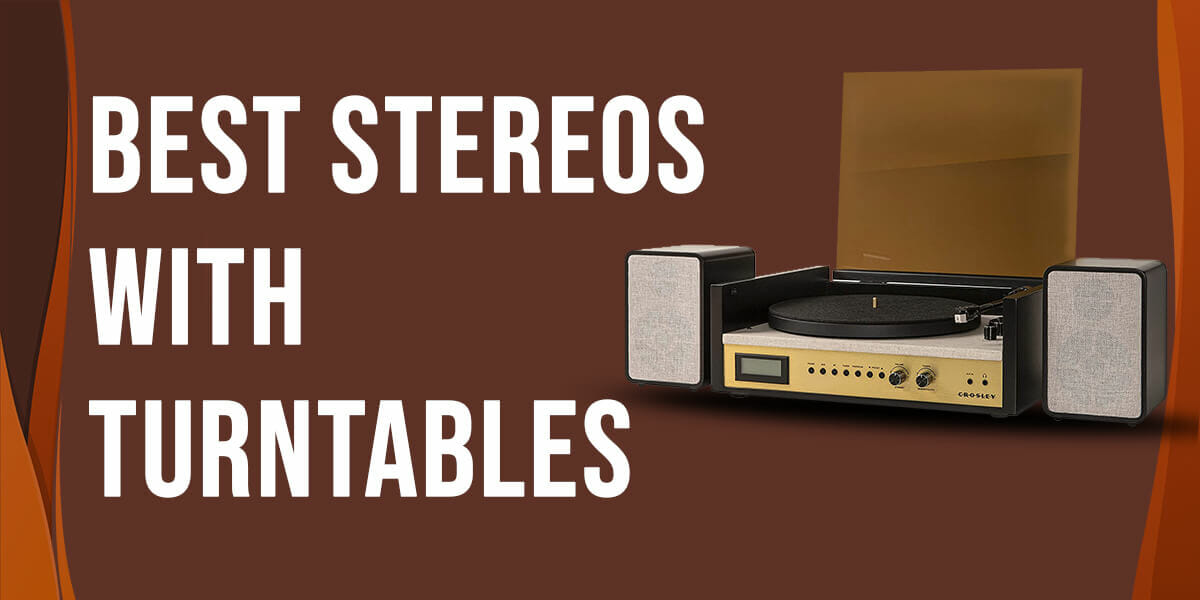 Before CDs came along with their laser sensing on metal surface holes, the vinyl was the ultimate champ of recorded music. For music oldies, it still kind off is.
Interestingly, turntables never actually left our homes with the advent of modern day stereo systems. With amazing sound quality and less noise and vibration, belt-drive turntables are quite a hit within the stereo community.
Let's break the confusion altogether about assembling a stereo system gathering preamps, turntables, cartridges and speakers. Here are the six best stereo systems with turntables that we've got eyes on to transcend timelines within the horizons of your living rooms.
Table of Contents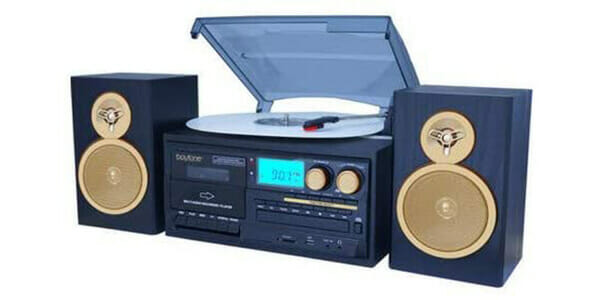 This classic wood stereo system could convert records from vinyl, cassette, radio to MP3 and comes equipped with two stereo speakers for wireless Bluetooth music streaming. The large display enables you to view the tracks and control everything easily while there are additional SD card, aux and USB functionality. You could play songs randomly on this one or record USB/SD from the turntable. The sound quality is great with the volume control knob resting on the stereo itself.
Pros
Very compact with stereo, turntable and speakers
Vinyl to MP3 conversion without a computer
Programmable memory, CD-R/RW compatible
Great Bluetooth connectivity
This classic stereo system is everything you need as the centerpiece of your living room. The functions provided on this one are not just for show. You could even save your music on SD or flash drives.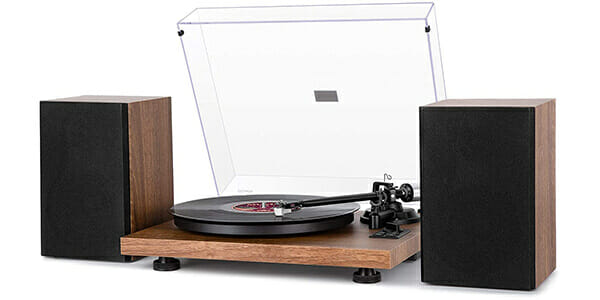 The design and sound balance of this stereo system is state of the art. Just like your classic old stereo turntables, this one has got an iron platter for perfect stability, rotation and an adjustable tonearm counterweight producing quite smooth stylus movements preventing distortion or skipping. The speakers are externally powered on this one with the built-in phone line and preamp allowing connection. You can record your vinyls on your computer via USB connection. The speakers feature wireless connection compatible with MP3 devices.
Pros
Adjustable counterweight, anti-skating movement
High-fidelity music streaming with solid design
Wireless speaker connectivity with external audio devices
Unbeatable sound quality
Cons
Everything is manual on this stereo
No separate bass/treble controls
Excellent sound quality is the one feature that stands out this product from the others. The Bluetooth feature is an added bonus. The wood finish is super rich looking. There's not much we can criticize this Hifi System for.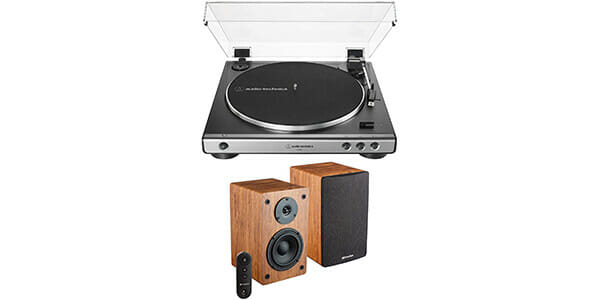 The stereo system comes with a fully automatic belt-drive turntable and knox powered bookshelf speakers. The best thing about this product is the phono pre-amplifier to make it compatible with all your audio devices so you could enjoy the vinyl sound. There are two speed settings provided: 33-1/3 RPM and 45 RPM. The design of the product is sleek with a wood finish with reduced resonance and improved tracking. A DC servo controlled motor offers great sound quality.
Pros
Comes with dual magnet cartridge
Built-in phono amplifier
Die cast aluminum platter for reduced resonance
Best-in-class sound quality with powered speakers
Cons
Does not have too many input options
Audio-Technica has made a name for itself in the stereo business and has some of the best turntable models in the market. This bundle saves you the trouble of having to assemble the speakers separately to build a complete system.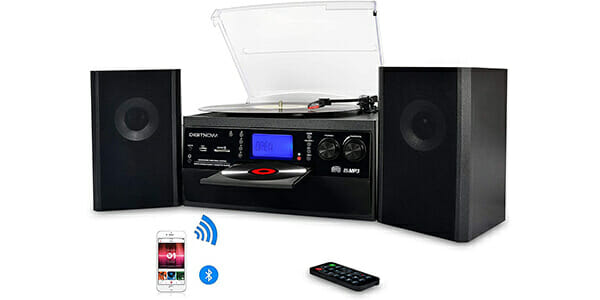 The DIGITNOW stereo system comes with two detachable speakers that have a clear, crisp sound quality without any distortion, and a turntable to play vinyl records directly in MP3 format as well as USB/SD recording. The Bluetooth connectivity ensures seamless music streaming from your laptop/mobile phone. The CD changer is so convenient it can record and play just pressing a single button. Three speeds: 33, 45 and 78 RPM are available.
Pros
Aux, FM/radio, CD playability
LCD screen display and backlight
No noise from the HiFi speakers
Remote control included
Cons
Might not rock the entire house
Controls take some getting used to
This one is a great option with CD and cassette function and could pretty much play any audio source. The stereo comes with a headphone jack as well if you prefer private listening. Just a great deal at a great price.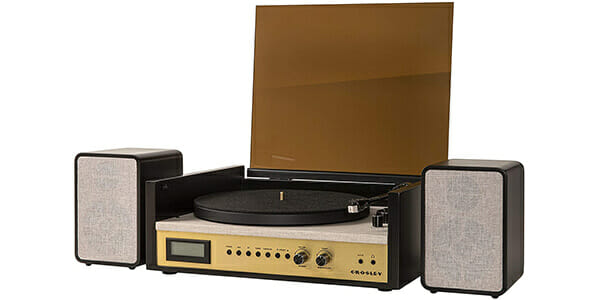 This one is a vintage inspired stereo system with a fully manual tone arm, adjustable counterweight and pre-mounting magnetic cartridge. Bluetooth functionality lets one wirelessly stream music, you could listen to your favorite FM channel and there is an added aux input. The belt-driven turntable has three speed settings: 33 1/3, 45 and 78 RPM. Matching stereo speakers deliver an artist like experience while listening to music and look amazing.
Pros
Pre-mounted magnetic moving cartridge
Digital clock and radio
Dust cover provided
Increases the aesthetic of your house with stylish design
Cons
Speakers are pretty compact
Only for those not wanting too loud music
If you're looking for a vintage-style stereo turntable with decent speakers on the smaller side and good overall functionality, the Crosley CR7017A-BK is a great option for you. The sound quality might be better than you would anticipate.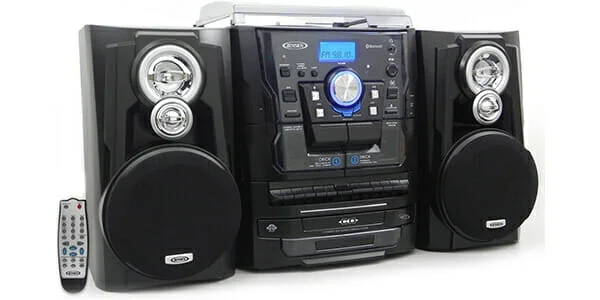 With three speed support: 33, 45 and 78 RPM and the belt drive stereo turntable, this stereo system is compatible with CD-R/RW, FM/audio supports Bluetooth and random play function, has a programmable memory, a backlit LCD display and PLL digital tuning with 20(AM+PM) presets. Other functions include a clock display, sleep and timer, EQ controls and digital volume control. This stereo is pretty easy to operate and has a decent sound quality.
Pros
Comes with a remote control
Easy to operate, manual provided
Five mode EQ controls
A dust cover is provided in the package
Cons
Speaker wire is not long enough
A perfect mini-stereo system for your living room, this one comes feature packed with so many compatibility options. Highly recommended if your requirements are suited to a bedroom or a small apartment.
Frequently Asked Questions
How do you hook up a turntable to a stereo receiver?
If the phone preamp is in the receiver you simply need to plug the audio signal cable of the turntable into the receiver's phono input. If the phono preamp is built-in in the turntable, you have to plug the audio signal cable in the receiver's analog audio input. A separate external phono preamp is needed in case the preamp is inbuilt in neither.
What kind of receiver do I need for a turntable?
Better turntables don't include what's known as a phono preamp, which boosts sound to the level of other audio components, so vinyl newcomers should look for amplifiers and receivers with a dedicated "phono" input; if you buy a receiver that doesn't have a phono preamp, you'll need to buy some kind of standalone preamp.
Can you play CDs on a turntable?
No. There are turntables that come included with a CD player, however, a turntable is designed to play vinyl records by scratching the surface with a stylus/needle. CDs on the other hand are read by laser sensing the pits on the aluminium, etc. The mechanisms are so different there is no way one could be used to achieve the both of them. 
Can you plug a turntable directly into speakers?
Yes. Why not. But for that you will need active speakers and if your turntable has a built-in preamp. When you plug a turntable directly to the speakers it greatly improves the sound quality and also you get access to switching audio inputs from various audio sources like your TV or CD player, etc. 
Do you need a preamp for a turntable?
Yes. Turntables need a preamp. However, whether you need a standalone preamp for your turntable or not depends on what your requirements are. Turntable models with built-in preamps save extra expense, so you can go without another one if you don't want to bypass it completely to plug in the standalone one.
Conclusion
On a complete note, stereo sets save you the trouble of going around hunting for best individual components for your personal record player and are quite economic (do the math). Sure, you might want the best of the best if you're passionate about the experience, however, beginners could easily delight themselves in the simple pleasures of an assembled stereo-turntable set.