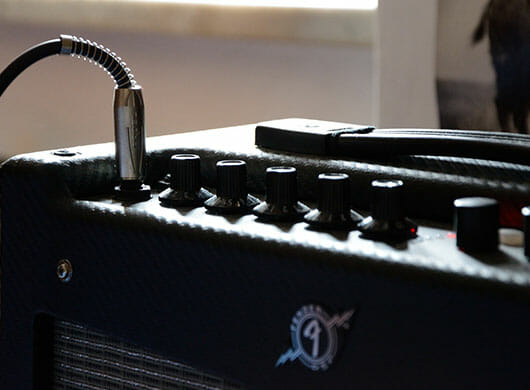 Since amplifiers are what your audience will listen to, they are as important as the instrument itself. So, it is important to pick the right one. When it comes to a bass guitar amp, there are a couple of things that you should understood first.
First – the watts.
The loudness of your instrument depends on the watts of the amp. The higher the watts are, the louder it will be. So, a 100 watts amp would produce a far weaker sound than a 250 watt amp.
However, in case of bass amps, they sound terrible when pushed to the extremes. So, it is generally better to get a high watt amp and use it on a low setting.
Nonetheless, the perfect watt for you depends on your playing style. A really loud amp (like a 500W amp) could be too loud for your style. Similarly, a 100 watt one could be too light.
It depends on how you want it to be. Do you want your sound to be louder than the drummer? Or is your band going for a lighter tone? You need to take all these into consideration while choosing an amplifier.
The next major factor is – the size.
Unlike guitar amps with a standard size, bass amplifiers have variety of options. So, it is important for you to consider that as well. The size influences the tone and the frequency produced, thus it will affect your playing style.
So, be sure to keep these things in mind in case you are looking to buy a bass amplifier. Here are some of the best bass amplifiers of 2023 to get you started.
Table of Contents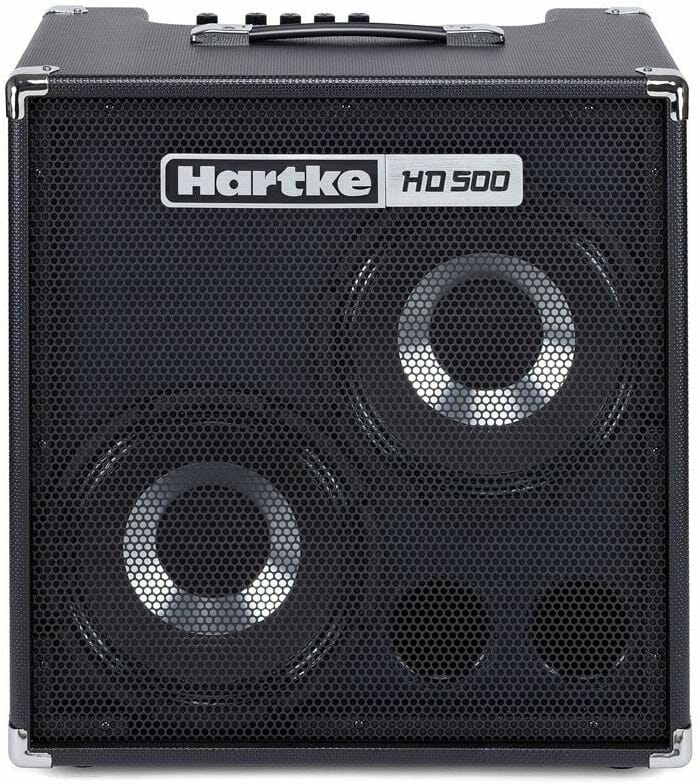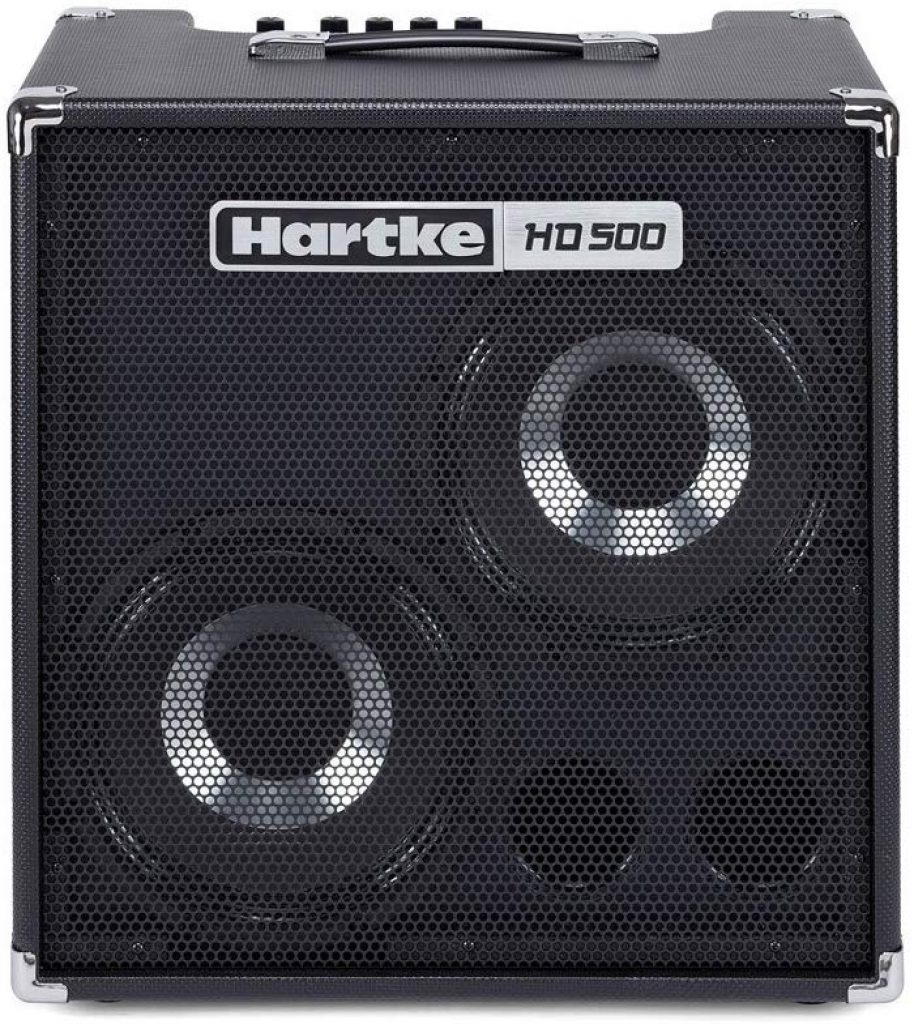 Hartke, which emerged in the 80s, is one of the major manufacturers of bass amplifiers. Their innovations with the aluminum cone has made them distinct from other competitors in the market. They are endorsed by many leading artists like Darryl Jones.
The HD500-Bass Combo is ideal with a simple design and a lot of power. It is a 500 watt amplifier and can be really loud if needed. However, using amps in their extreme setting isn't ideal as it degrades the sound quality.
The aluminum built produces warm and punchy tunes. It is ideal for more experienced bassists. Often, some artists have complained about the aluminum, claiming it spoils the music, however, many more have endorsed it.
Portability of an amplifier is always a factor that should be kept in mind. Amplifiers are quite heavy and it is a difficult task to carry one from the practice ground to the performance stage. This particular amplifier is light weight for its size. It is among the most popular choices for a 500 watt bass amplifier.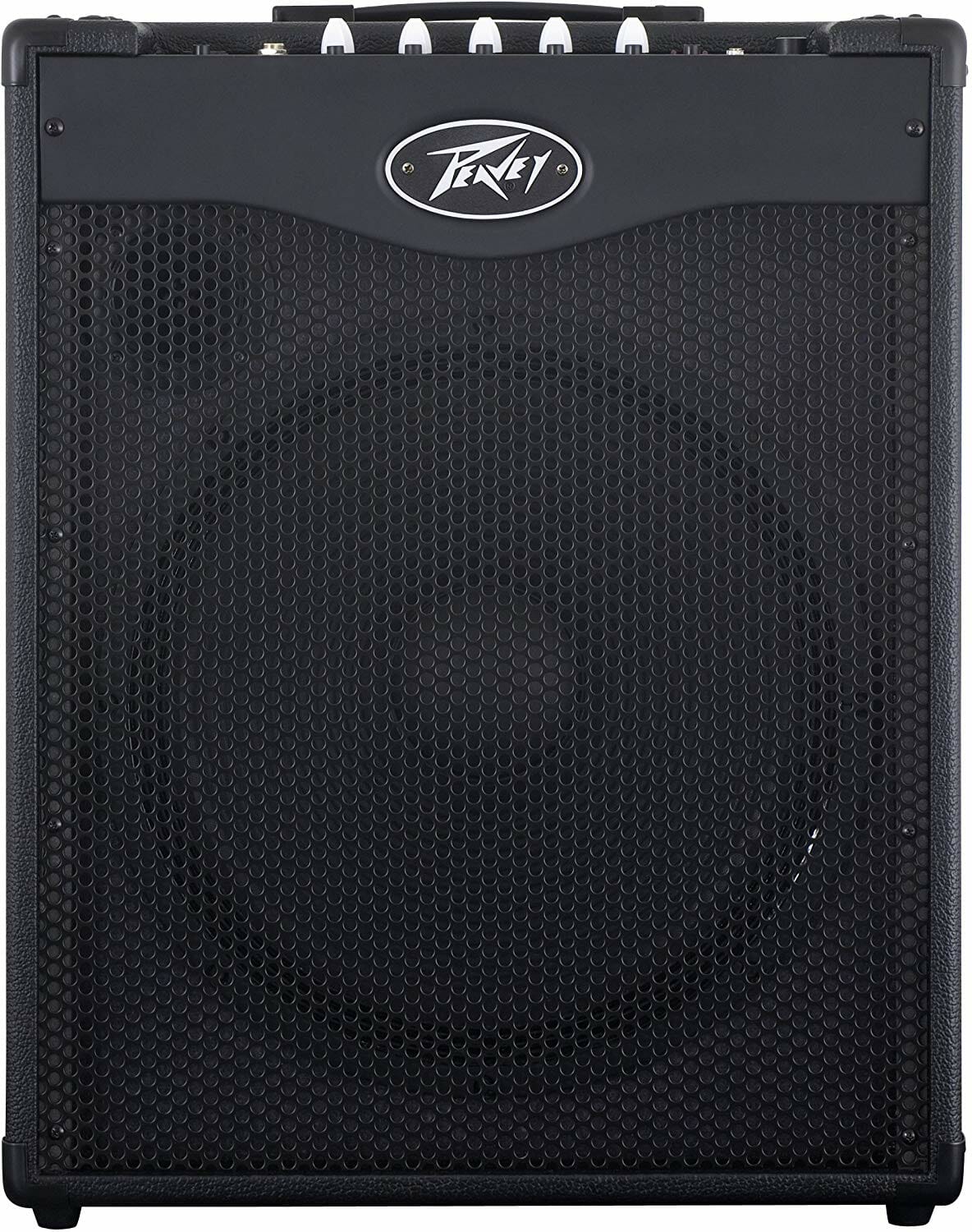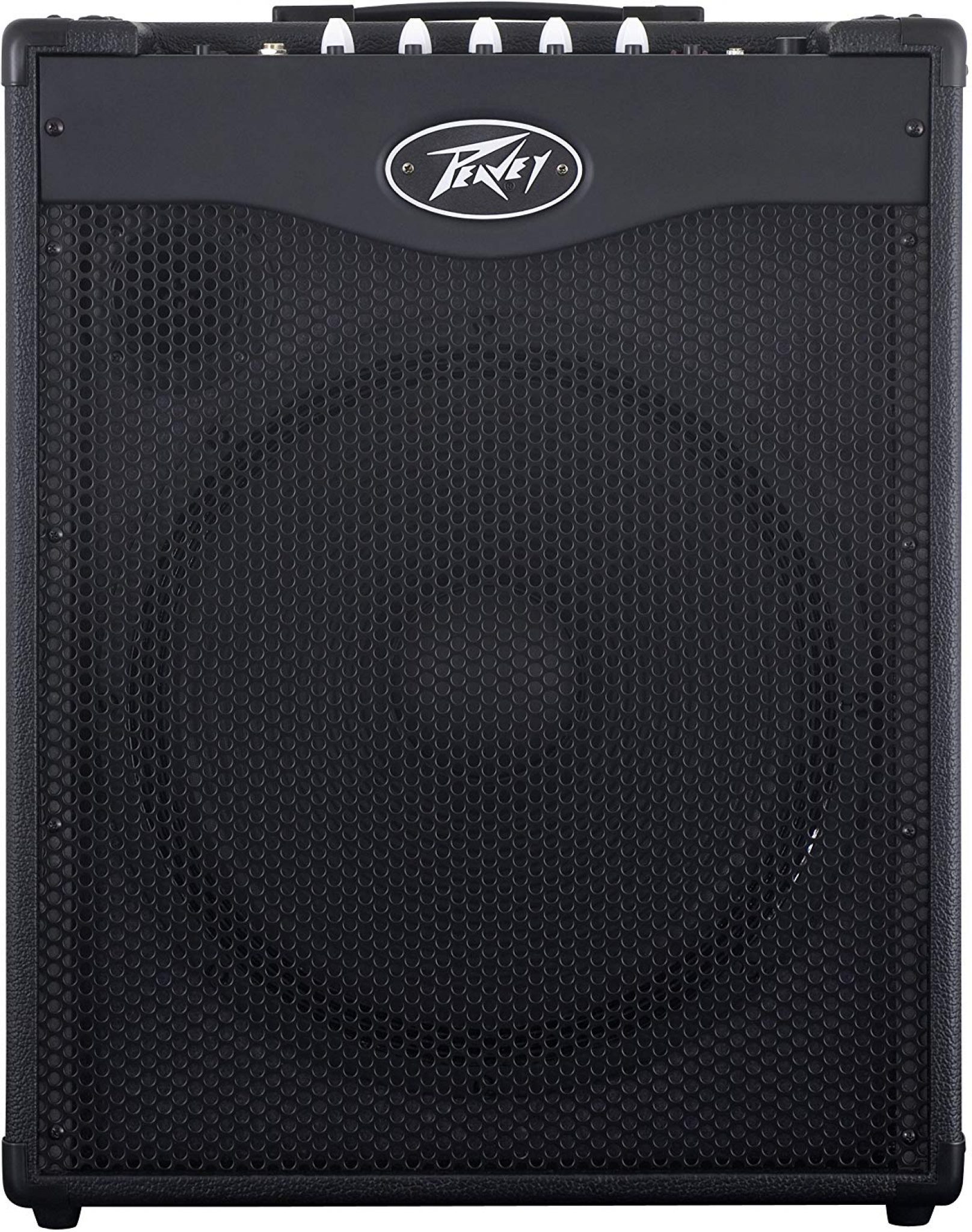 A private American corporation set up in 1965, Peavey Electronics is a well-known manufacturer of a wide range of audio equipment. It has produced a wide range of guitar and bass amplifiers which are quite popular in the international market.
This particular 300 watts amplifier from Peavey is perfect for both beginners and professionals. As a 300 watt one, it is neither too light, nor too loud. So, it offers the perfect variation for beginners to practice with. Peavey's amplifiers are well-known for the innovative usage of enhancers for acoustic low tones, which is present in this particular model as well.
They offer a wide range of amplifiers, from 10 watts to 300 watts. A key element is their design and weight. They are surprisingly portable considering their size. The amplifiers have a strap at the top to make it easier to carry. Overall, the design is quite well and the price is quite fair.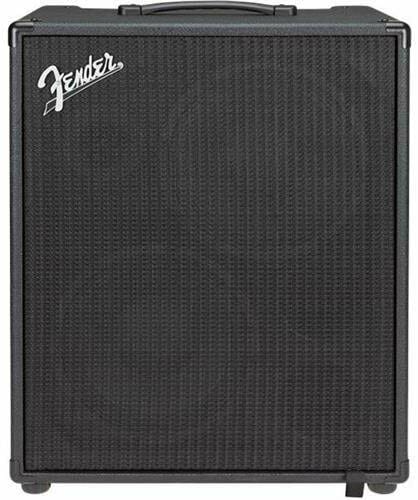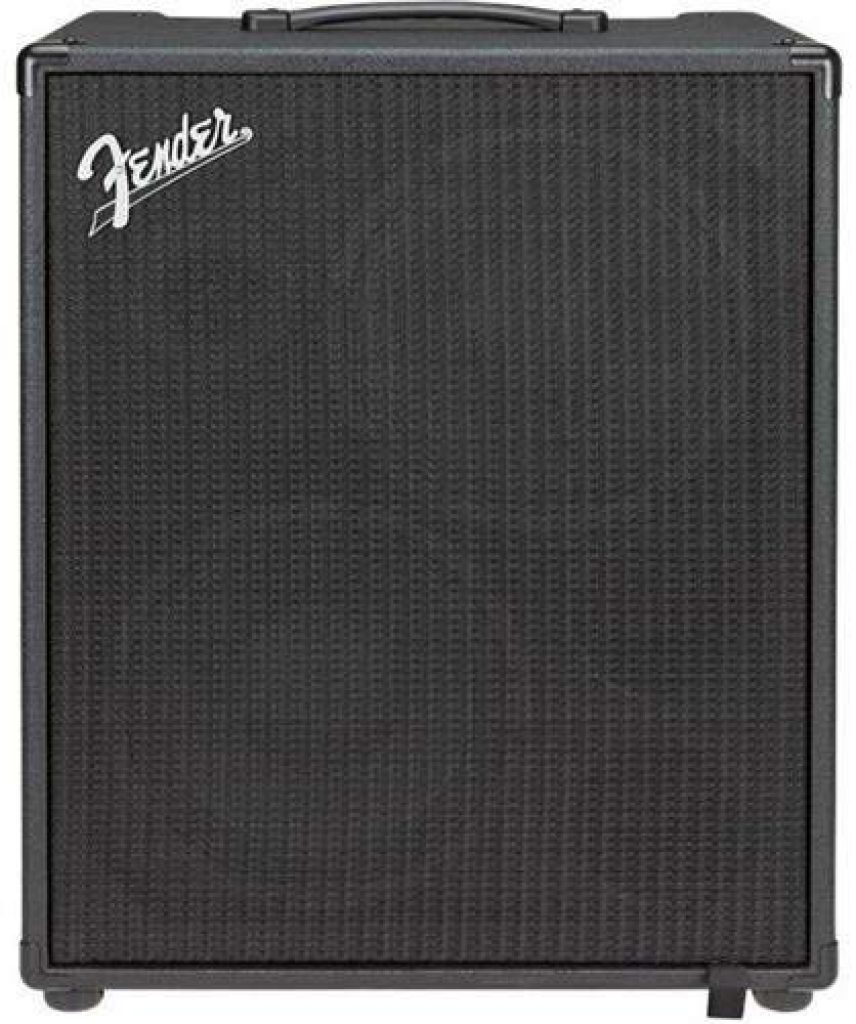 Another American based corporation, Fender was established in 1946, and is a reputed manufacturer of bass amplifiers and bass strings. It is also well-known for its electrical guitar and bass guitars. Fender is a well established brand for a wide range of musical instruments and accessories. It's amplifiers are quite popular as well.
The Fender Rumble Stage 800 is one of the loud bass amplifiers out there with 800 watts that can produce the loudest bass songs. It is perfect if you want your bass guitar to be loud and at the center of the music.
With this, it is surely louder than your drummer as well. However, as amplifiers don't do well on extreme settings. Thus, buying a high watt amplifier is better than buying a lower watt variant as they can be played on a mid-setting to produce loud sound.
As this bass amplifier is a 800 watt variant, it is quite bulky. So, it is not ideal for practices and smaller events. However, the loud amplifier is perfect if you are performing in a concert or a large auditorium. It is perfect for a larger audience. So, the next time you go out to perform, this is certainly worth considering.
A couple more benefits of this particular model include bluetooth and Wi-Fi connectivity. This innovative design by Fender makes it wireless. So, while the amplifier itself may be heavy and bulky, it is wireless and offers a very high quality audio. So, considering all these factors, it is undoubtedly one of the best heavy amplifiers out there.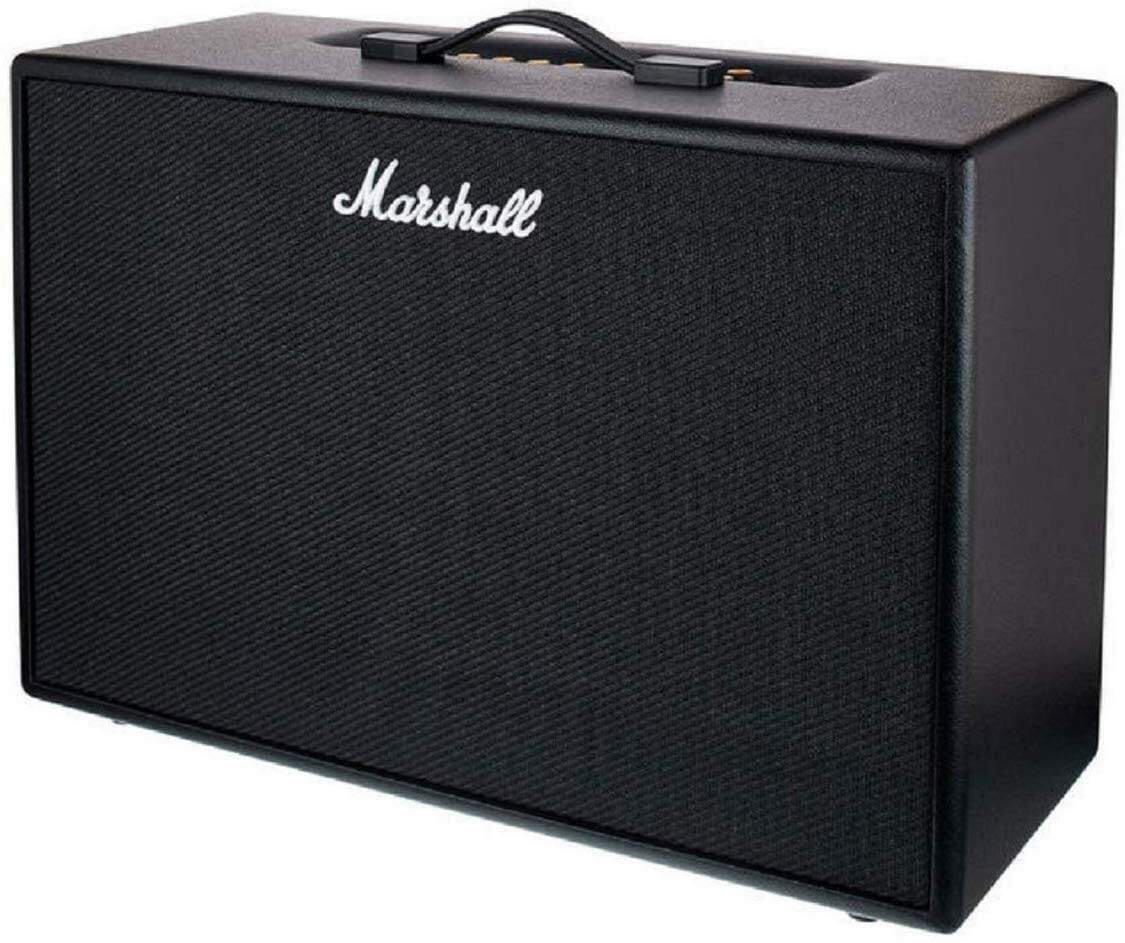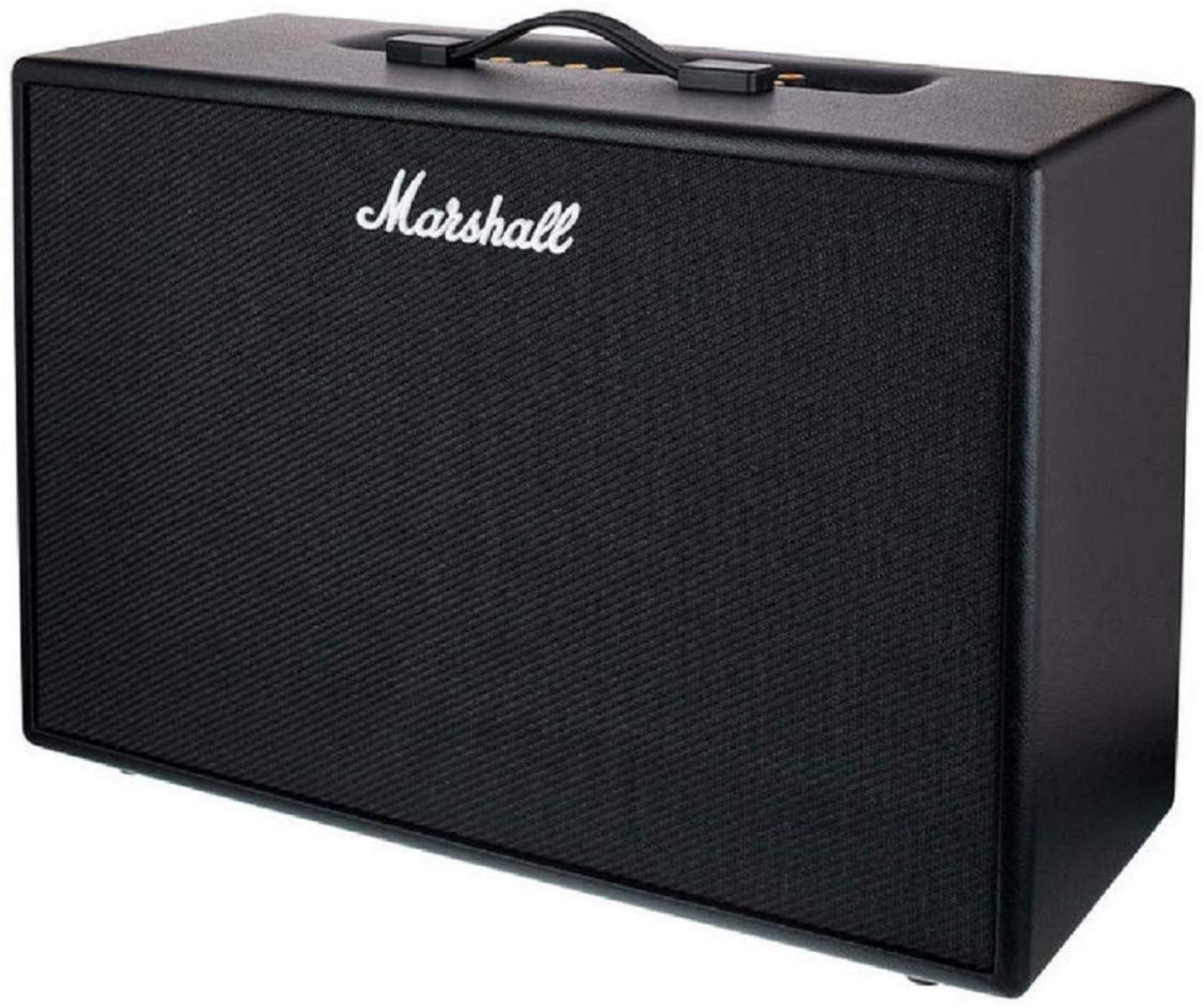 The Marshall CODE 100C is manufactured by Marshall Amplifications, which is an English company set up in 1962. They are known for their amplifiers, earphones, speaker cabinets among many other musical equipment.
This 100 watts bass amp model is perfect for those looking for lighter tones. As a well reputed brand producing quality tones, they are certainly worth considering.
It is perfect for smaller events (like a club or a gathering) and the sound quality is quite good as well. It produces clean and vintage tones – so, if you are looking to produce jazz tones, this is the amp for you.
In terms of portability, it is one of the better amplifiers. Its design is quite innovative and sleek. The controls are embedded in the speaker cabinet, which is designed quite well. It is relatively easy to carry around despite being bulky. Nonetheless, if one has to carry it frequently; it could be a challenge. It is certainly worth checking out if you are experimenting with lighter amps.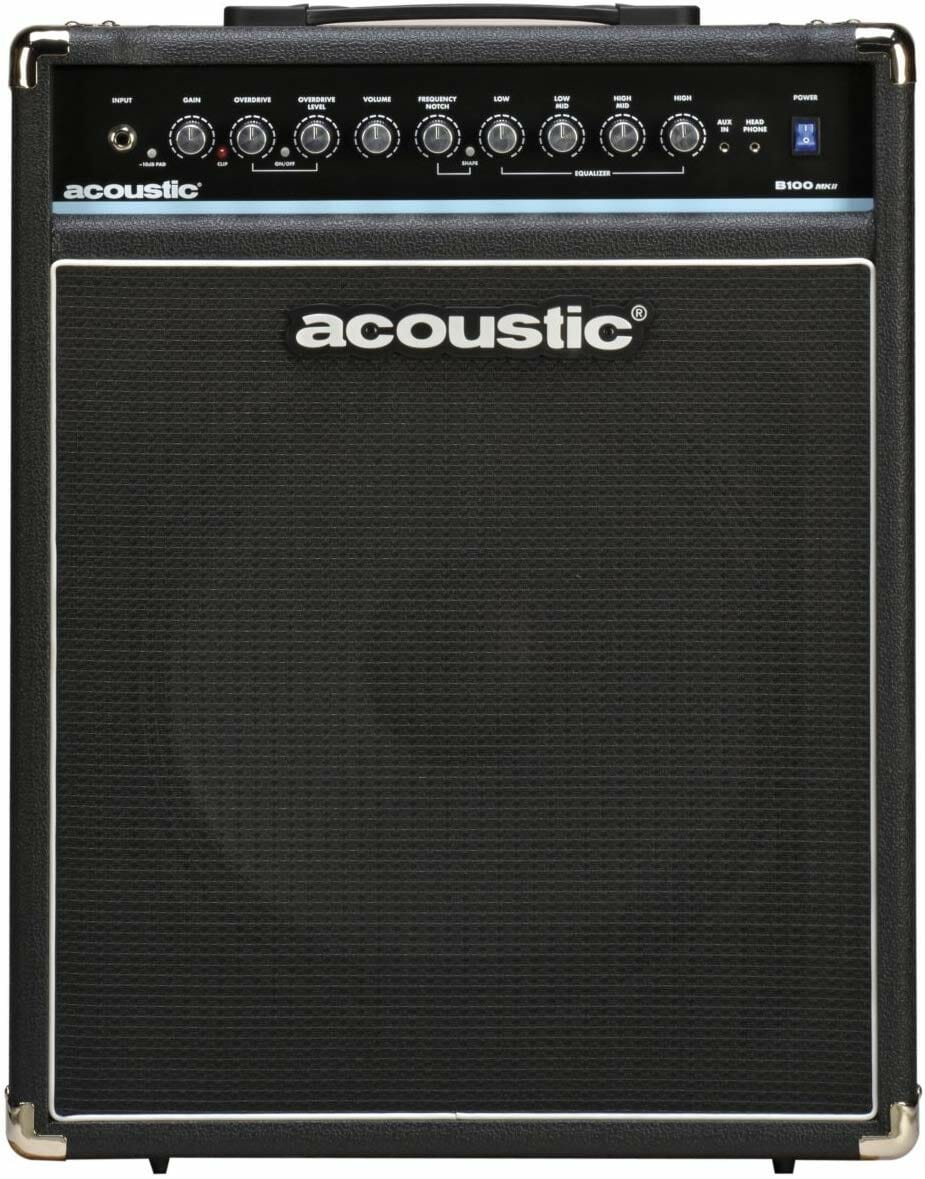 Acoustic Amplifications is a company that's around from the early 70s. They are an American brand well-known for their bass amps. Their vintage models 360 and 361, for their superior quality and tones, shot them to popularity, making them one of the most popular brands in the market. They re-released their model in late 2011 called 360/361, which is considered as one of the classic amplifiers.
Acoustic B100mkII is a fine choice for a beginner, if he is looking to practice and hone his skills (and for an expert looking to experiment with lighter amps). It has a custom built speaker, ensuring that the sound it produces is personalized and suits your playing style.
The portability is not the selling point of this particular model. It is rather bulky and heavy. So, it is not the easiest task to carry it frequently to and fro from your practices or performances. However, the custom speakers and a good input system makes it worth considering. It is ideal for performing in smaller events like a club.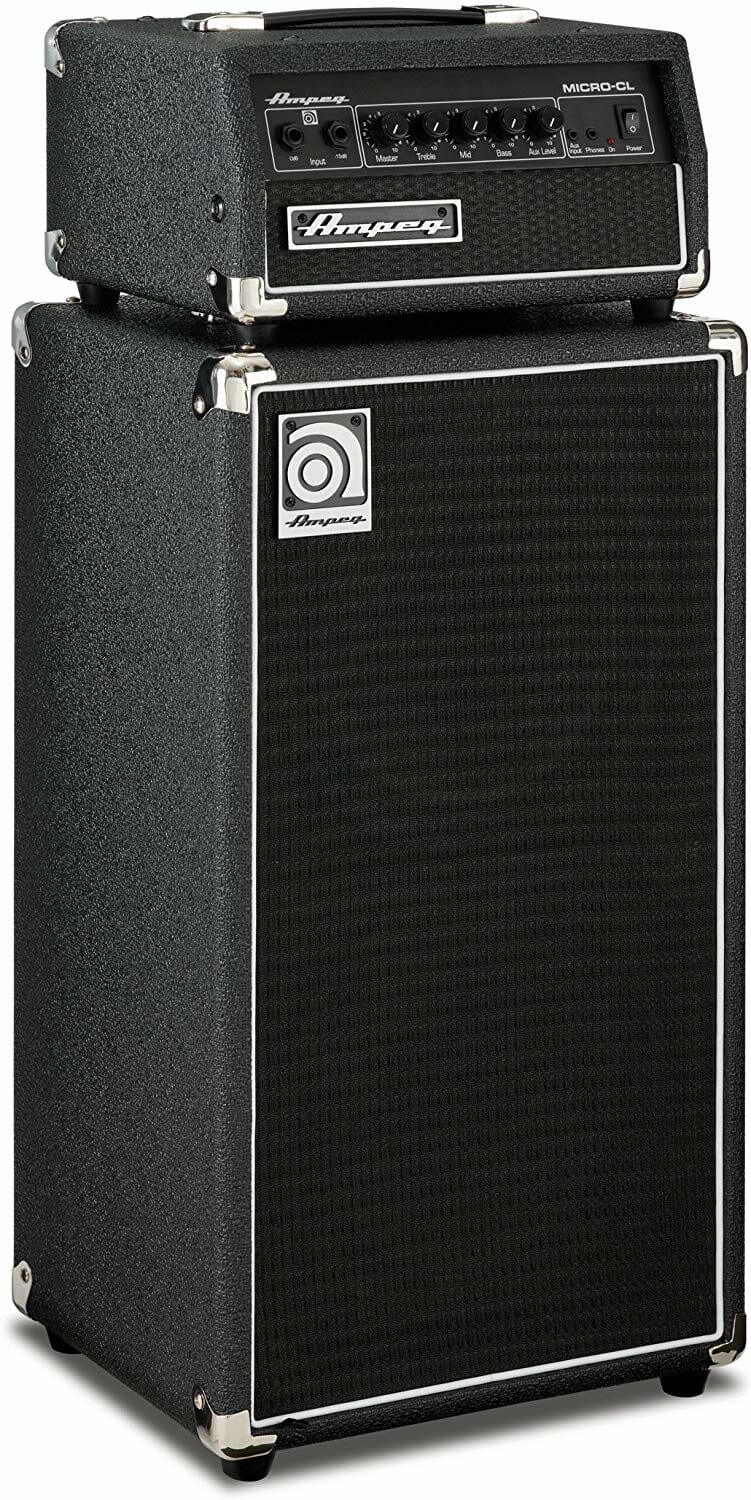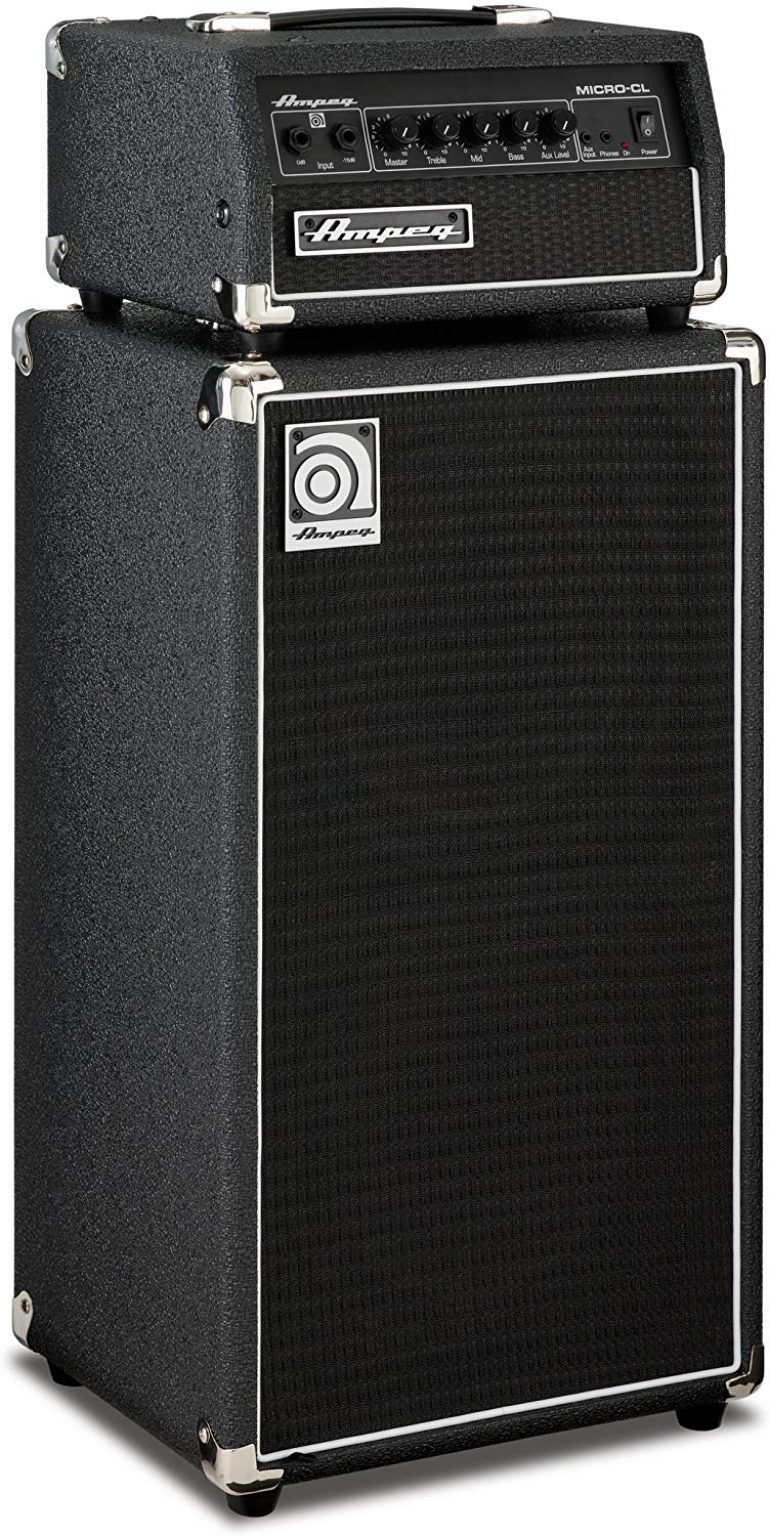 Established in 1946, Ampeg is among the most popular brands for many artists. They specialize in bass guitar amplifiers, so they are a reliable brand.
Ampeg Micro-CL amplifier might not be a popular option for some considering the price and the fact that it is just a 100 watt amplifier. However, it is perfect if you are looking for lighter and warmer tones.
The sound it produces is very high quality and it is one of the best bass amplifier for lighter tones. It is worth mentioning that Ampeg does have other models offering higher watts.
This amplifier is light in terms of weight. It is divided into two cabinets, one of them is the speaker while the other one is the controls.
The controls unit is relatively lighter and easy to carry around, while the speaker unit is a little bulkier. The high quality tones it produces makes it one of the best acoustic bass amp out there.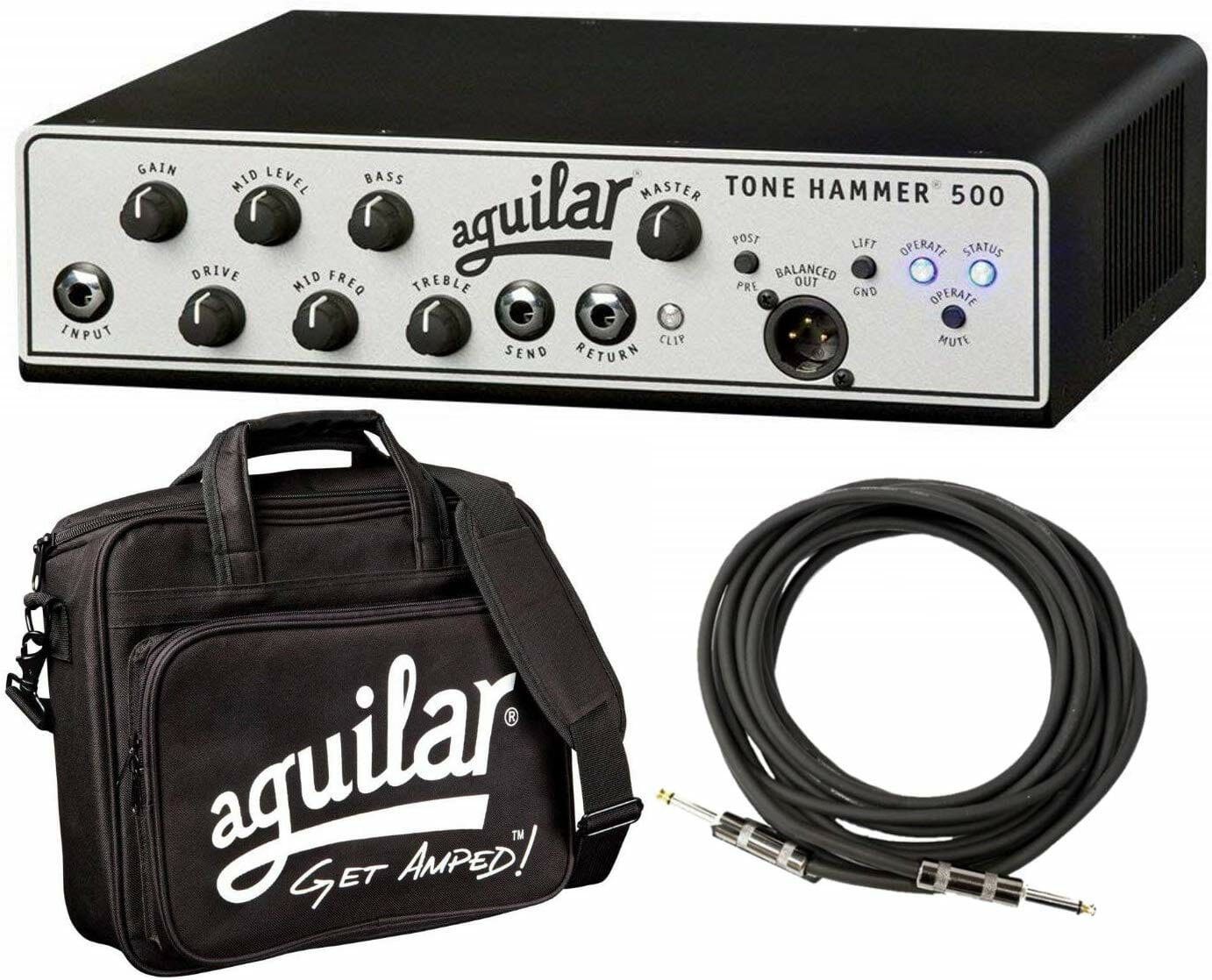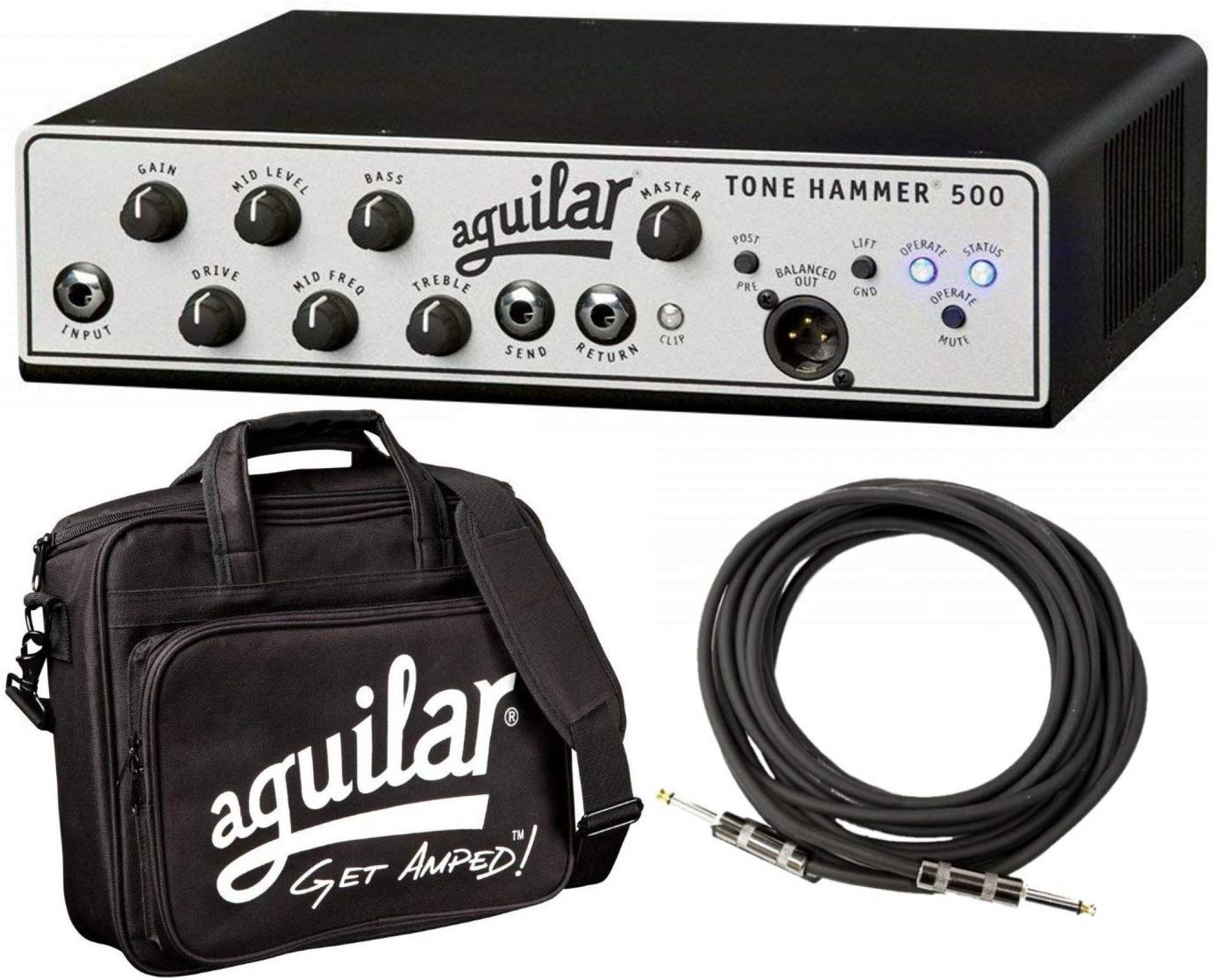 Founded in 1995, Aguilar Amplifications is quickly emerging a popular brand. It is primarily focused on manufacturing amplifiers, more specifically for bass players. It is well-known for its quality products producing warm and light tones.
Aguilar Tone Hammer 500 paired with a bass cabinet, forms a very high quality amplifier. As a 500 watts amplifier, it offers a wide range for the bassists to go for (from both lighter and heavier tones).
It can go quite loud. As a 500 watts amplifier, it is apt for both practices, by using it on lower settings, and for performances, by using it on higher settings. It is perfect for both beginners and experts.
The warm and sparkling sound produced by this amplifier make it a very popular choice. The Amplifier head is rather light-weight, and includes a bag which can be used to carry along, making it quite portable and convenient.
An idea worth considering is getting a portable and convenient cabinet of your own and pairing it with this particular head. It would be a fantastic set and would produce high quality tones. It is certainly worth considering.

Another English amplifier manufacturer, Orange was set up in 1968, and is known for its distinctive sound and the bright orange surrounding the speaker and the head. Usually, these products are sold separately, so, one has to get a cabinet along with this particular product. However, the brand has managed to distinguish itself and is among the popular bass amp brands in the market.
This 500 watts amplifier head is one of the best ones out there. As a 500 watts amp, Orange OB1-500 is used for larger performances involving a huge audience – like a concert. Setting it on a lower setting could provide you with lighter tones which are ideal for performance in smaller settings like a club or practices.
The head is not particularly heavy. It is easy to carry around and use. But as it requires a cabinet as well, it would be much harder to carry around on a frequent basis. So, in this area, it is not the ideal choice.
Its balanced output and its unique and innovative integration of various mechanics (and the wide variation offered by a 500 watts amp) makes it a perfect bass amp for beginners and experts alike. It is most certainly worth a consideration, when thinking about the right amp head to buy.


Established in 1968, Gallien – Krueger (or GK) is a popular American bass amplifiers and speaker cabinet manufacturers. The company started with Robert Gallien, who later teamed up with Rich Krueger – hence the name. They are well established in the market as one of the premier brands of bass amps.
This is another 500 watts amplifier head, that is among the popular ones in the market. The key element about this one as compared to the previous one is the affordability. This particular model is significantly cheaper while offering a warm and rich tone. It is well sought after by many artists.
Along with the massive power (which is loud and quite versatile), the product itself is quite light weighted. The compact and light design is the selling point of this product. It produces natural and organic sound which is unique and hard to get.
Thus, if you are looking for that particular tone, this is the bass amp to go for. It is ideal for beginners as it offers a wide variation. So, in terms of amp heads, it is certainly one of the best out there.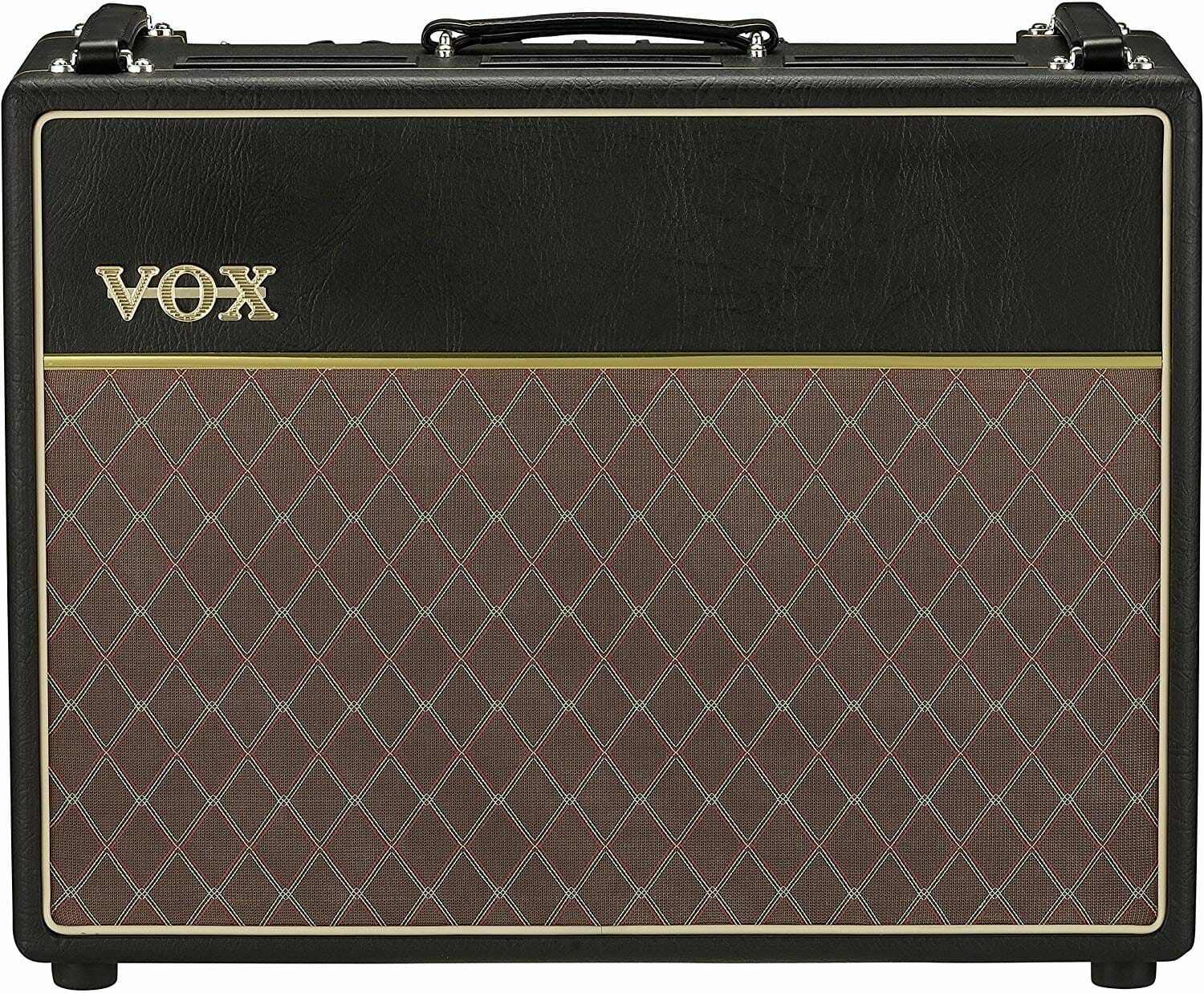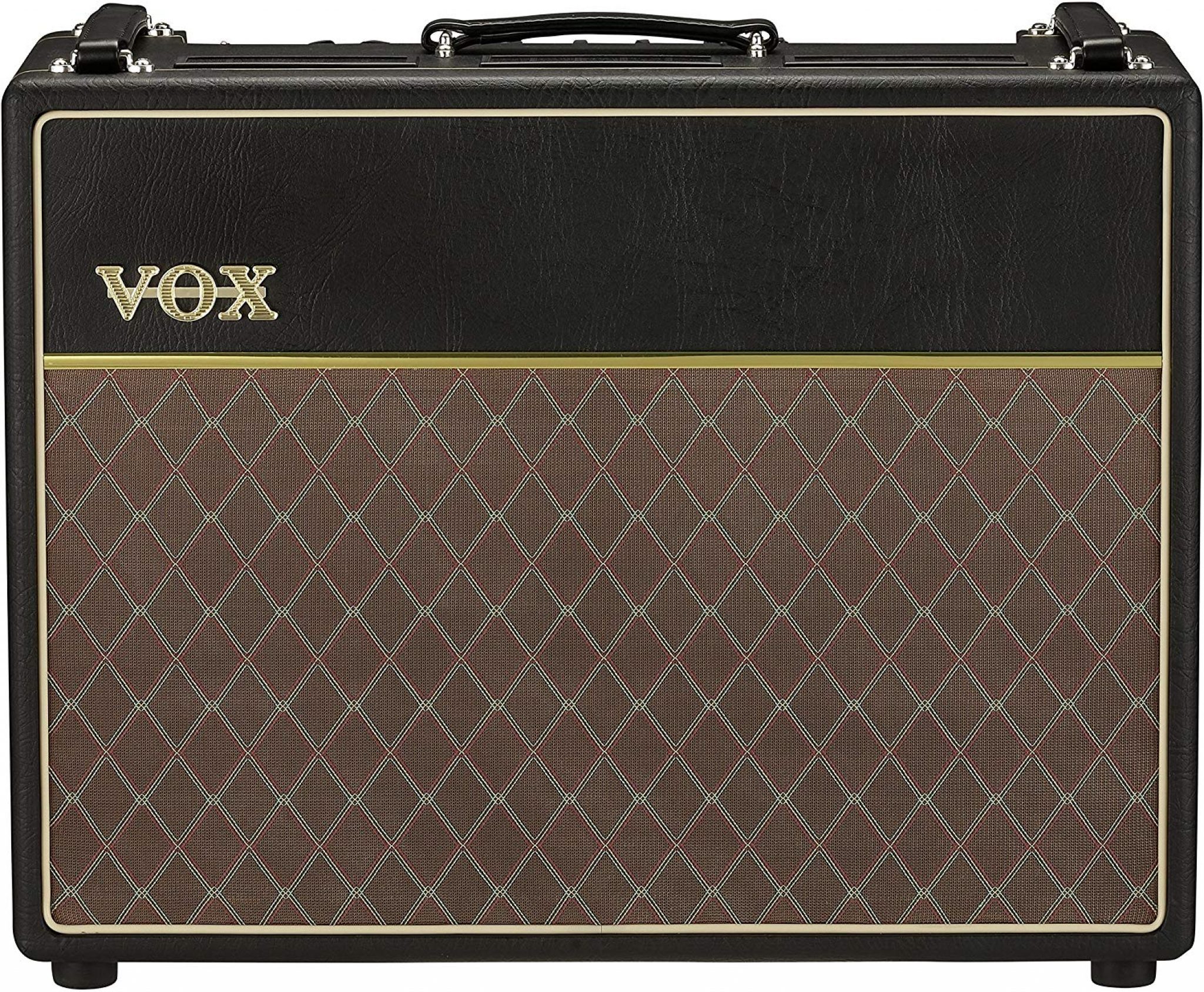 An English based corporation, Vox was founded in 1947 and is a leading musical equipment manufacturer. In particular, their innovative bass guitars and electric guitars are extremely popular. Since 1992, they have been owned by the Japanese electronic firm, Korg.
Vox AC30 is the recreation of the renowned amplifier used by bands like The Beatles and the Queen. So, it gives off a really vintage feel, with a rather light and compact design. It is a 50 watts amp, hence will produce light tones. It is ideal if you are looking for some vintage tunes or performing in a small event.
What truly sets this amp apart is a couple of features. The body is a faithful recreation of the one used by those bands and so it offers a sense of belonging to that group of musicians. It is completely hand-wired and has custom-wound transformers. The speaker it uses is a top quality and is exclusive.
As a result of all these features, this bass amp is extremely expensive. However, if you are looking to get a long lasting amp with a vintage look that produces top quality tunes – this is the one to go for. Considering the price range and the tunes, it is ideal for an expert.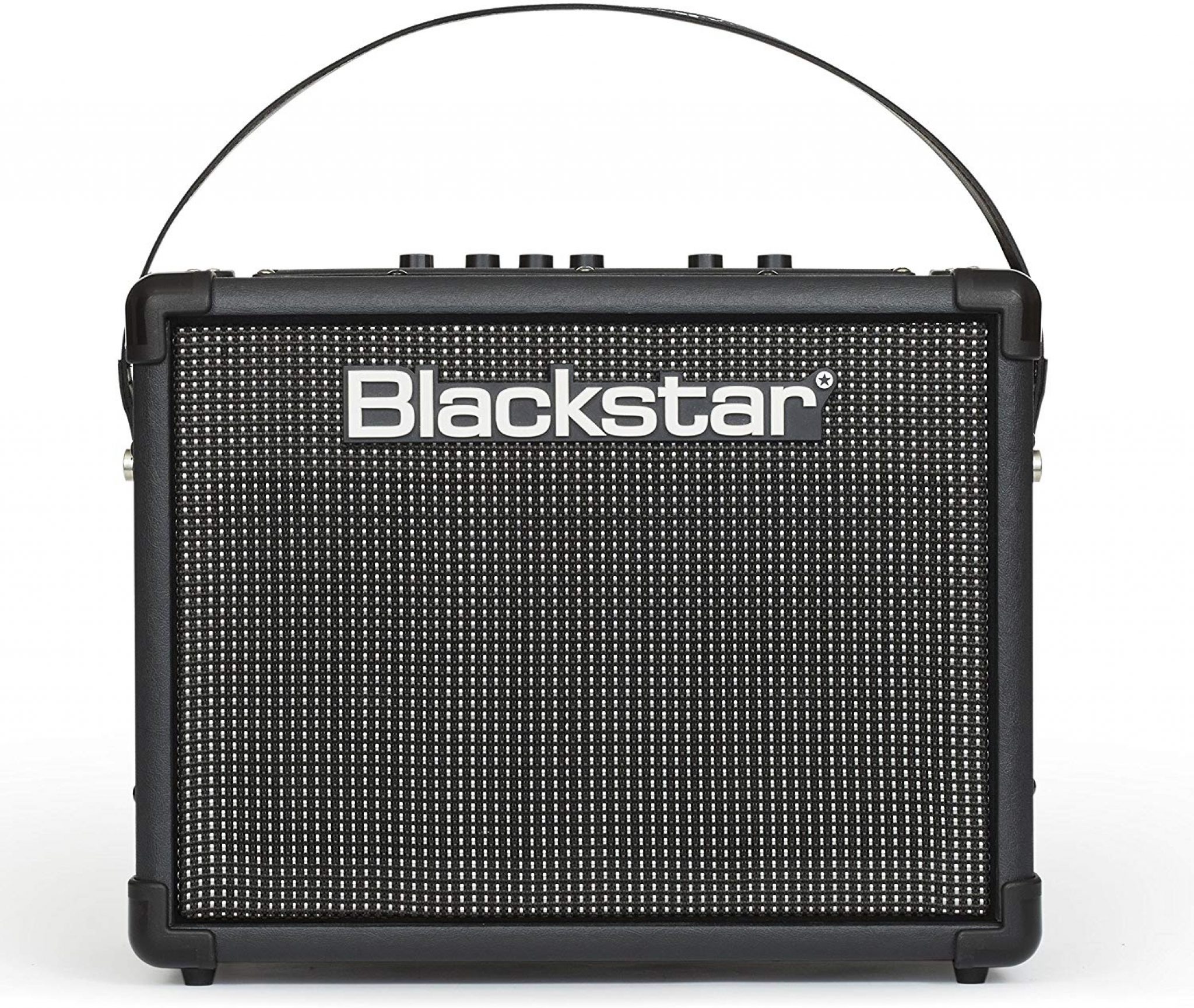 BlackStar is one of the youngest companies that has emerged in the last few years. It was founded in 2007 and is a manufacturer of amplifiers and similar accessories. It has a number of series with its production taking place in Asia and research in England.
This particular 20 watt model is ideal for your personal use. This amp is not too loud so it would not be ideal in concerts or in large gatherings. It is perfect for practicing and honing your skills. It is quite affordable and easy to handle making it among the popular choices in the market.
In terms of the portability, BlackStar 20W Digital Stereo is light and compact, making it quite easy to carry. It is not too heavy and has a light design as well. It offers a wide range of tonal variations, allowing you to experiment with different kinds of tones and music. So, it is ideal for both beginners and experts alike.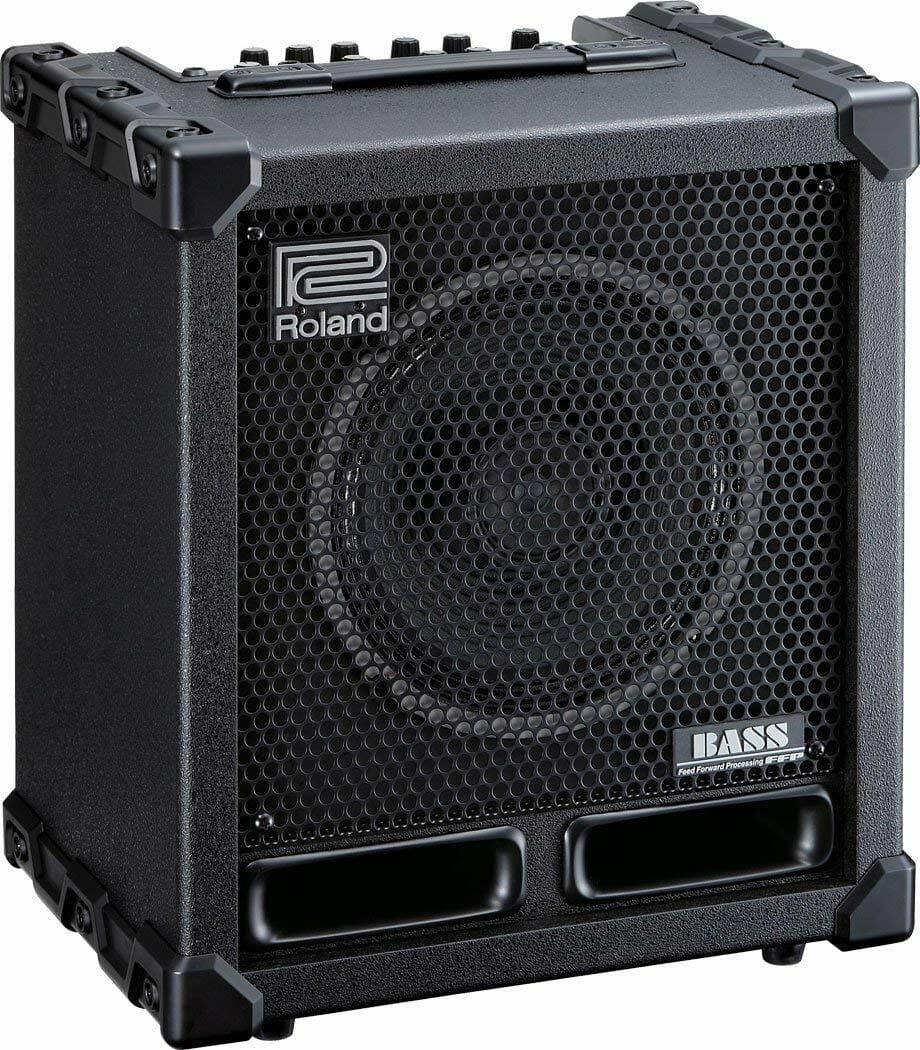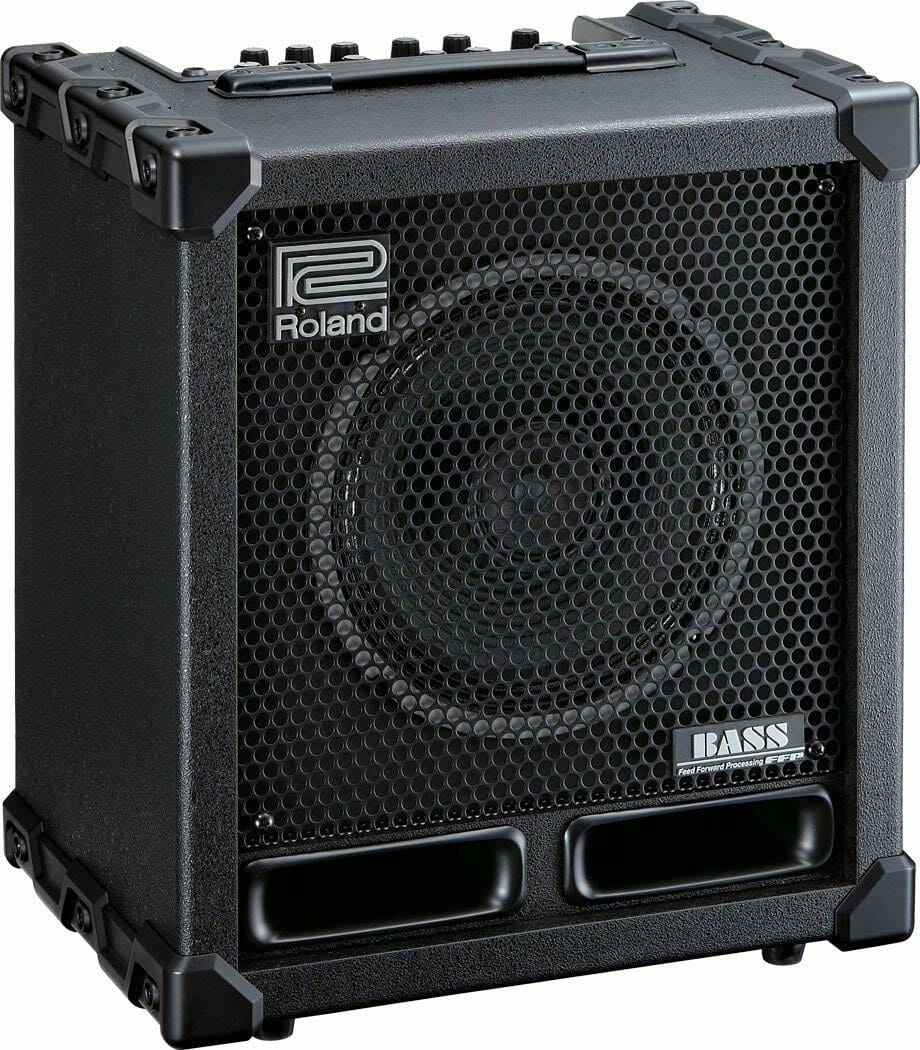 Roland is a Japanese corporation set up in 1972. They specialize in a wide range of electronic musical instruments and equipment. The Roland CUBE is a series of guitar and bass amps that utilizes amplifier modelling technology to produce organic and specific tones.
The selling point of CB-60XL is its affordability and portability. It is among the cheapest in the market. It offers a 60 watts amp, which is perfect for smaller audiences and to be used during practices.
The 60 watts offers a warm, clear and light tone for the bassist to work with. It is loud enough to cover a small audience but doesn't work in a concert with a larger audience. It offers a number of variations making it a popular choice among beginners.
In terms of portability, it is easily one of the best out there. The compact and cubicle design makes it easy to carry without exerting too much force. It's technology allows for louder sounds in lower volumes as an added benefit. So, as a beginner looking to practice or for smaller performances, it is the perfect bass amp.