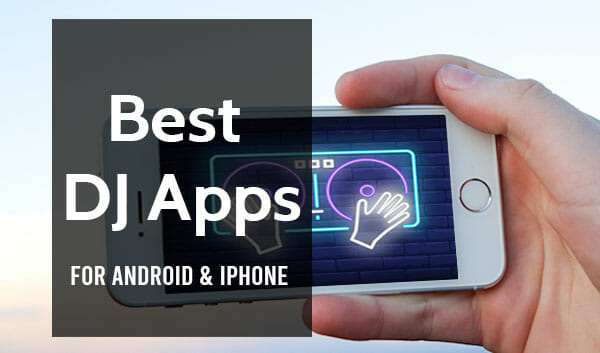 We all know that music mixing requires proper equipment and some amount of outlay, even for starters.
But, as times have changed, and so has technology and now we have efficient, portable and feasible ways of making our masterpieces, at the tip of our fingers.
For those of us aspiring to build a professional career or even impress friends at house parties, here is a curated list of the best DJ apps for Android and iOS in 2022 that won't make us spend a fortune and get the job done right.
Table of Contents
1. Djay and Djay2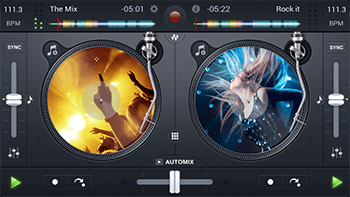 Price: Free / In-app Purchases / $2.99
Djay has been one of the most sought-after music mixing app in the market. Their original version was made for MAC OS, iOS and Windows. But later they came out with Djay 2 for android users as well.
I have intentionally clubbed Djay and Djay2 under the same category because it is under the same parent company.
Many features are free in Djay but Djay2 costs $2.99 per month and includes a superb integration with Spotify.
Here are the features of both these apps.
Clean interface, beginner-friendly.
Integration with iTunes and iCloud in MAC and iOS.
Recording high-quality live performances.
Can use any file format and Bluetooth device.
Seamless mixing.
Matching a key to any key in iTunes.
Download Djay 2: android
2. Edjing Mix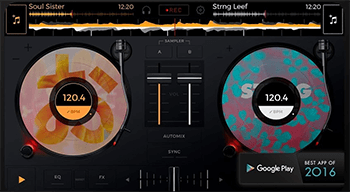 Price: Free / Offers in-app purchases / 
Edjing Mix is another app that is raved about in the world of new and aspiring DJs with the option to remix over 50 million tracks and unlimited access from Deezer, local files and SoundCloud.
Edjing Mix and its other variants are available on both Android and iOS.
With 16 samples and a customizable turn-table, this app costs $5.49, but the free version has dozens of features which are sufficient on their own as well. Here are some of them:
Sample packs in collaboration with future loops.
Crossfader.
Pre-cueing.
Automated BPM.
Note: Edjing Pro, the premium version of Edjing, has a huge amount of feature add-ons that you might want to check out if the original app yields beneficial results.
3. Cross DJ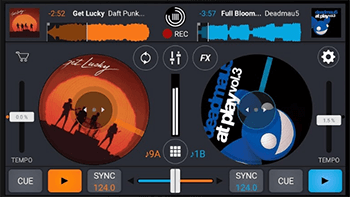 Price: Free / Offers in-app purchases
Cross DJ is popular for being less complicated to use. 
You can find songs on SoundCloud with ease. The unpaid version has important yet basic functions like reverb, equalizer, tempo and slip modes. 
People with different purposes and skills can customize the app between free and paid, which is $8.99 a month for add on features like manual pitch adjustment, 72 samples and audio FX. Here are some of the features of the app:
Effects like delay, Hi-Pass.
Live recording.
Editing and recording custom samples via microphone.
Sorting a couple of files simultaneously.
Working with external devices like mixers.
And much more.
4. DJ Studio 5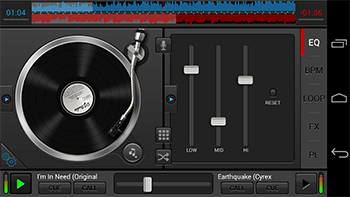 Price: Free / Offers in-app purchases
The best part about DJ Studio 5 is the honesty of the developers and how they protect the dignity and identity of the users. They have a "no watermark" and pop-up facility that enables freedom to creators.
This free application has a lot of essential features useful for both beginners as well as pro-level DJs.
Here are some of its features:
8 sound effects including Phaser and reverberation.
Beats detection.
Sharing option for social media.
Equalizer and live recording.
Basic hardware support.
Download DJ Studio 5: android
5. Party Mixer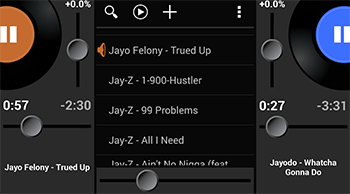 Price: Free / Offers in-app purchases
If you want to put in minimal efforts and rock the party with your cool mixes, Party Mixer will definitely come in handy.
Mixing a track with another with a smooth transition and having the music stored on your device is what the app does for you, and serves fine.
It is currently present in Google Play for free.
Easy interface.
Great for beginners with no prior knowledge.
Custom playlist and auto-mix.
Setting crossfades and the right pitch.
6. Music Maker Mix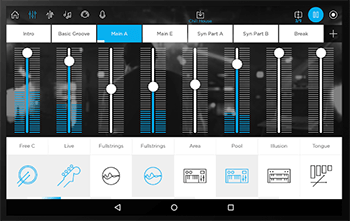 Price: Free / Offers in-app purchases
Music Maker Mix is one of the top DJ apps on Android. You can make your track from scratch by mixing a variety of samples from different packages. 
With prices ranging from free to $49.99, the app can be customized to your level of requirement and budget.
Here are some of the features of this app.
More than 500 thousand loops in premium and 2000 in the free version.
10 mix packs for free.
Recording own vocals.
Real-time adjustments of tempo and beat along with effects.
Live recording with a mixdown.
A community of like-minded and talented musicians, producers and audience that help in growing.
7. Pacemaker- AI DJ app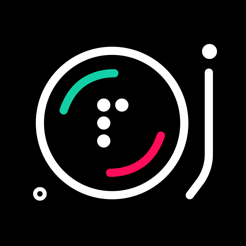 Price: Free / Offers in-app purchases
Pacemaker allows users to create their jams by mixing various songs from iTunes and adding their own twist to it. This iOS application is also known for its eye-catching theme and colorful interface.
It is a very beginner-friendly app and does not cost a lot for add-on specifications. With options such as white-noise addition, you can add depth to your track. Here are some of its features:
Synch beats.
Crossfades.
Loop and beat-skip.
Autopilot mode- letting Pacemaker identify loops and tracks to play them automatically
Echoes.
Option to use music from Spotify and modify it.
Most key features are free, but add on packages can range between $1.99 and $9.99, depending on the requirement.
Download Pacemaker- AI DJ app:  iOs
8. DJPlayer Professional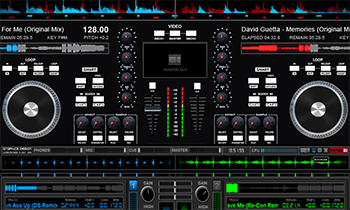 Price: Free / Offers in-app purchases
DJPlayer has been specially designed for DJs with intermediate to pro-level experience. It is currently available only on iOS and claims that you do not need to depend on a laptop to make your innovative pieces. 
You can use it on your mobile, or connect it to any external device with a USB cable. 16 tracks can be controlled at the same time, due to 4 decks.
Using the "Cloud Community Power" option, you can create your tracks, share them and get access to tracks made by other DJs in the community. Here are some popular features of this app.
MIDI technology.
Three-band EQs.
Syncing with Dropbox as well as Deezer.
Auto BPM detection.
Manual beat-matching and tempo adjuster.
Pitch and fine adjuster.
The app is free for the most part, and Pro features can be obtained for $19.99 if you get a 12-month subscription.
9. DiscDj 3D Music Player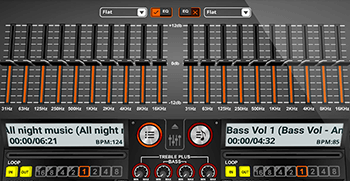 Price: Free / Offers in-app purchases
Want to get into the real world while enjoying a virtual experience? Worry not. You will see floating turntables and a 3D DJ setting in DiscDJ 3D and can switch back to normal decks if that is your thing.
This not only helps you get basic ideas regarding the dimensions of actual hardware but also helps in saving money by not buying the equipment like controllers.
Currently available on Android, this app helps create tracks and work on your mixing skills through practical applications. Switching between tracks is unlimited along with cross-fading.
DiscDJ is a freeware, with certain IAPs (in-app purchases) if required. Here are some features of this app.
Advanced browsing of files.
Centralized play and pause, along with a manual shift.
"10 Band Equalizers".
Looping.
Cueing.
Download Djay: android
10. GarageBand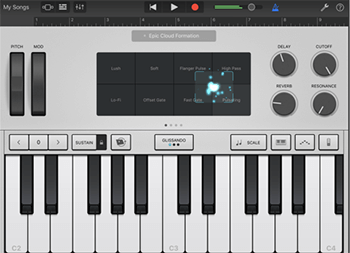 Price: Free
OG iOS users and music lovers certainly know about this app, and might have used it as well. Creating tracks and music wherever you go, even without internet connectivity is a great thing to have.
With options that help create sounds of any instrument and amalgamate them with existing songs to create your unique track, GarageBand is easy for starters too. 
The app itself is free, but add-on features and unlimited access require a certain amount of purchases, based on the preferences and needs of users. Here are some of the features of this app.
32 free tracks for recording.
Packages for various additional tools.
Loop creation via live performances.
Access to external drives containing files.
"Remix FX" feature.
Templates and "Apple Loop".
EQ for mixing on the go.
Download GarageBand:  iOs
To sum it all up, these apps are meant to serve a variety of different users having varying needs and finances. If you are a beginner, choose wisely and start out with the free versions.
If you are a professional, you know exactly what you want in an app for your needs.
Happy DJ-ing!