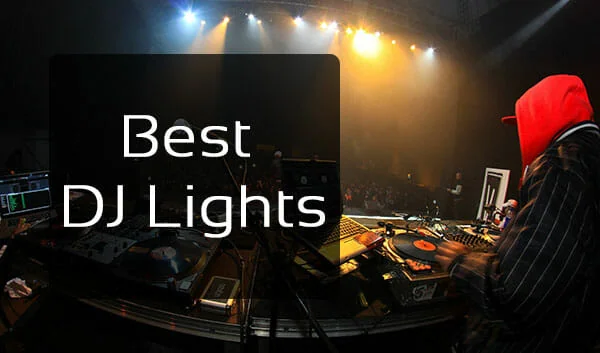 With brilliant DJ lights, you set the tone for your audience and keep them grooving to the music. Every party of yours deserve to be grand with cool lighting.
While music gives pleasure to the ears, perfect lights provide pleasure to the eyes.
But picking a random set of lights from the store is not the way to go as there are many things you need to consider before buying the best DJ lights for yourself.
Here, we've listed the 9 best choices of 2023 along with a detailed review of each to make your job easier.
Table of Contents
Our Best Picks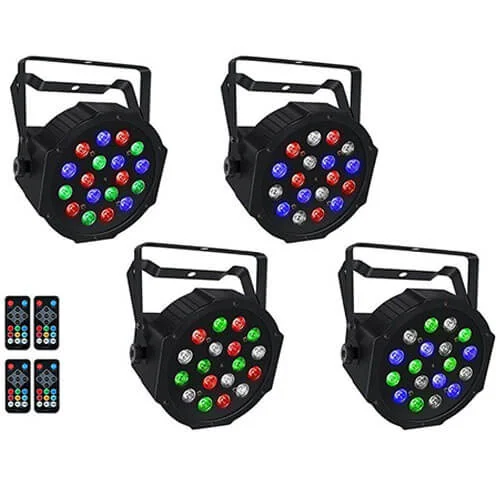 These lights can be controlled with wireless IR remote, over short distances (up to 5 meters) and operating them on DMX is not complicated, either.
Color mixing is top-notch. Sky's the limit to your creativity with mixing the shades and adjusting them.
These lights work best for smaller rooms with low ceilings.
Built-in cooling fans ensure a longer lifespan for the lights. Over the course of time, the fans might make noise though.
The material is not very durable and the power cords are short but in this price range, we cannot complain.
Sound-activation mode is decent.
Pros
Light-weight, compact and portable.
Many shades to create.
High quality color mixing.
Cons
Cooling fans are a little noisy.
These are the perfect portable lights for a little party in an affordable price range.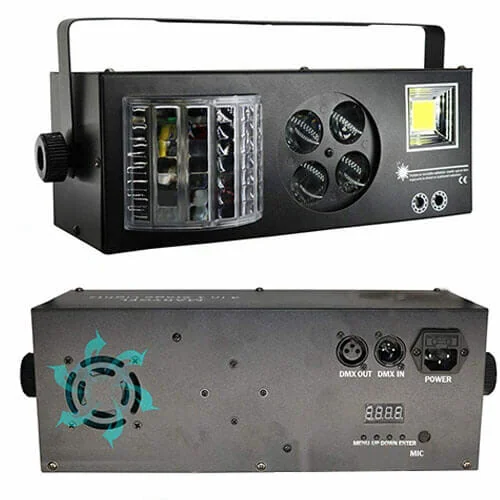 The Marygel lights include Sword Butterfly lights, Four Eyes Pattern lights, White Strobe light and Red & Green Effects light.
The knob is fixed on both sides and the handle can be removed or adjusted as per your requirement.
Supports remote control, DMX mode and sound-activated mode (although DMX mode is preferred). For the sound-activated mode to give desired result, the volume has to be very high as the microphone is tiny.
This is perfect for that karaoke night you've been planning for a long time. The colors are bright and brilliant.
RGBWY LED light and Stage flash light come together to make your atmosphere vibrant. The strobe light cannot be turned off, though.
Along with cooling fans, these lights have an efficient heat dissipation system giving them a longer lifespan.
Complex lighting effects are made simple with the 4 in 1 system.
Pros
You get 4 types of lights with a single purchase.
Easy to use.
Vibrant colors.
Cons
Strobe light cannot be turned off.
If you are looking to get a professional look on a budget, these lights are one of the perfect user-friendly choices available out there.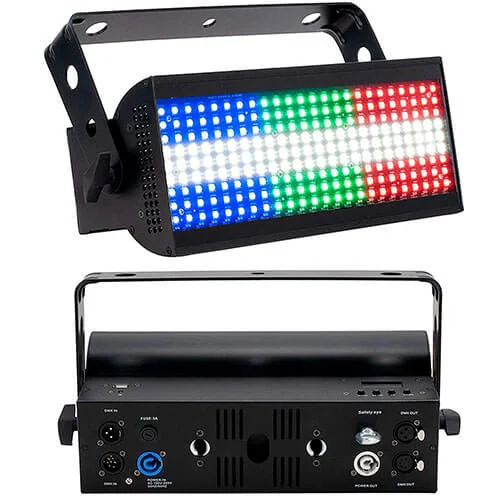 This high-powered strobe light has to be marked not just for the strobe effect but also for the equally vibrant wash effect.
JOLT 300 has a central strip of 144 x 0.5W white SMD LEDs, surrounded on both sides by 144 x 0.5W RGB SMD LEDs.
Because of the LED technology, the strobe effect offers additional artistic options.
It offers an LCD display with a 4 button menu so that you easily navigate its features. The display lets you control dimming, LED refresh rate, gamma settings, 64 color macros, strobe, shutter and 6 DMX channel modes.
It has 32 built-in programs that need no advanced programming to create effects.
Six dimming modes are preset and you can dim the lights to your preference too.
If you do not wish to control it via DMX mode, you can buy ADJ wireless IR remote separately.
The rear panel has 3-pin and 5-pin DMX connections with twist-lock power input and output. Having both pins makes this DJ light compatible with almost all DMX setups.
Scissor yoke, omega bracket attachment, safety bolt and USB port are provided.
This DJ lighting is ideal for larger venues, concerts, live events or even permanent installations.
Pros
Professional wash effect.
Easy-to-access menu.
No flickering (thus camera-friendly).
USB port to update firmware.
3-pin and 5-pin DMX connection.
Cons
Remote should be bought separately.
ADJ JOLT 300 provides a professional lighting effect without interrupting the filming of event.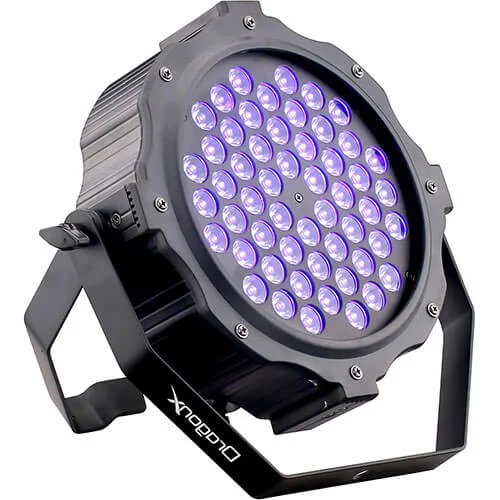 This list can never be complete without including a black light.
The price you pay for this UV light is quite less for the quality it offers. We called it non-true because it bridges the gap between quickly heating UVs and slow heating LEDs. The cooling fan is quiet and there is no need for you to worry about the noise.
Its 30 degree beam is not wide enough for the wash effect and the light is distributed only to a small area. So, it is best to focus this DJ light on a particular area of the stage. Of course, that is where a blacklight looks the best.
Sound-activated mode is not at its best and so is the master-slave function.
It comes with an adjustable flash rate and a linear dimmer. The LED par can also be adjusted with a DMX controller.
Dimming is fantastically smooth and the light prevents flickering.
With its double yolk design it can be used as a floor stand or as a standard hanging fixture.
Pros
Smooth dimming.
No flickering.
Double-yolk design.
Focus is pinpointed.
Cons
Poor wash effect.
Cannot rely upon sound-activated mode.
When you need to provide an exclusive dark tone with as little heat as possible, DragonX Professional UV is the best. This is also an ideal pick for outdoor venues.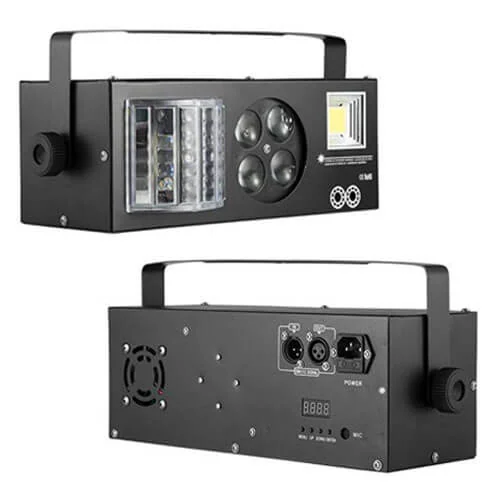 The LEDs used in these lights are highly power efficient. With the AOELLIT 4 in 1 Professional, strobe lights, LED lights, pattern lights and beam lights come together to add life into your party.
The lighting effects are colossal and will let you experiment with as many color combinations as you desire.
They also offer preset lighting modes and you will find a suitable mode in the list for any occasion you might have.
These lights can be controlled by a remote or through DMX mode. The remote control is exceptionally good, unlike many others. The remote's buttons are touch-sensitive and the options are easy to navigate.
Sound-activated mode is more accurate than what one would expect.
Coverage area is large, making it suitable for professionals.
The strobe light is excellent in  giving a funky tone to the party and taking your guests to a high.
With these lights, you will party all night and party all the time.
Pros
Excellent remote-control.
Sound-activated mode is top notch.
Large coverage area.
Super good strobe.
Light-weight and easy to carry.
These lights are easy to set up and easy to control. Great value for money and no regrets after buying. The output is beyond one's expectations.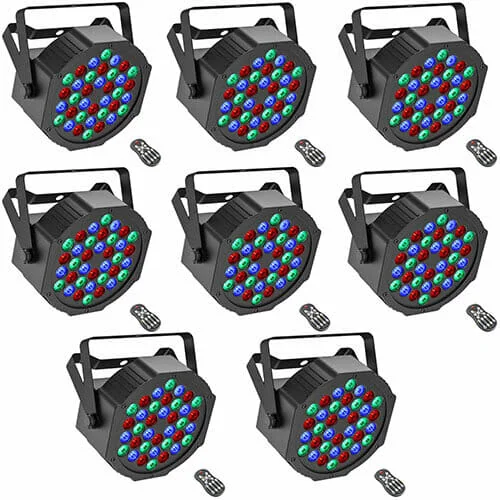 The light consists of 12 red, 12 blue and 12 green top grade LEDs.
These lights offer seven modes to fit any of your needs. Else, you can create your own effects and shades. Mode of operation is quite easy.
Can be controlled with an IR remote or a DMX program. Besides, these have slave ports. Sound-activation is quite good.
Brightness and the effects created through color combinations are vivid.
These make a great uplight for smaller parties. In case you have to use them for a larger area, getting another set or two is advised..
For the power consumption of a mere 35W, the brightness is impeccable.
Cooling is fast and quiet.
For mood light or fill light, Donner PAR lights have to be your pick, though they require you to spend some time assembling them. (Assembling is not as hard as it sounds.) They are light-weight and won't hurt your back while assembling or carrying.
Pros
Brightness is too good for its power consumption.
Light-weight.
Sound-activation is quite sensitive.
These are the perfect mood lights when you're on a budget. The quality of the lighting is quite good for the price tag.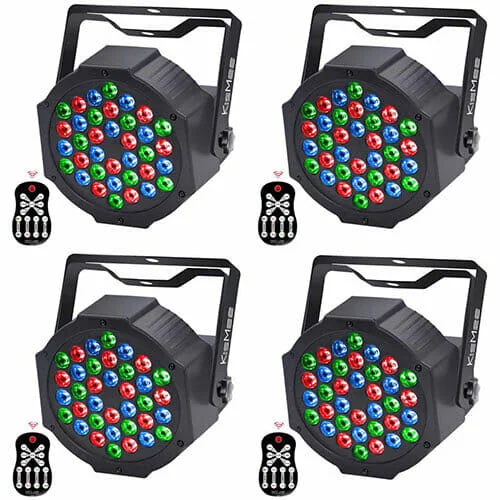 These light weight, portable lights come with two handles. You can either hang them or make them stand on the floor. Handles have adjustable screws for any angle changes to be made.
The system offers seven modes. Out of them, color fade and color jump modes are the sleekest.
With an upgraded lens, the color effect from KisMee Stage Lights is super bright and energetic with the same power consumption as its counterparts.
The high brightness enhances its wash effect.
The remote control is intuitive with 8 main function keys and 8 auxiliary keys. DMX control is available.
The cooling fan makes no noise making you wonder if there really is a cooling fan. This makes these lights ideal for quiet or calm events with a gentle tone like silent dramas or classical concerts.
Memory function enables you to save settings for any upcoming events in advance.
Pros
Easy-to-use remote control.
Memory function.
Zero noise.
Super bright wash effect.
Rotation speed can be controlled.
These are the best professional mood lights and fill-lights with bright output. A must have for quieter events.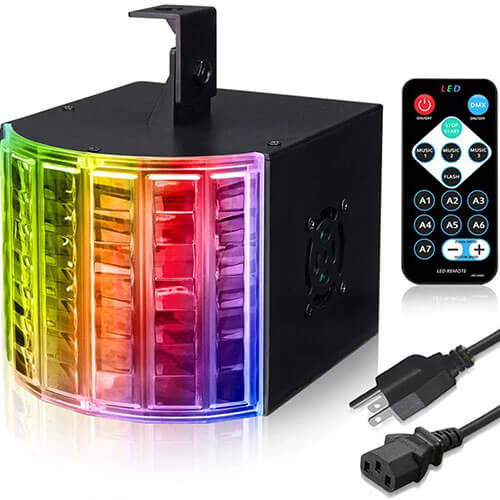 These multi-functional party lights built with LEDs can be operated through the remote or through DMX.
You can choose a single color or many colors or mix them and create your own shades.
Made of high quality material and with a built-in cooling fan, the lights are waterproof too. LEDs are high end and consume less power.
With a 3-pin DMX In/Out, they are suitable for DMX control. Remote control is satisfactory.
These lights come with 3 music settings, 7 light settings, flash setting and speed control.
Sound-activation makes the lights flicker and change patterns with a change in the beat of music.
Installation is easy. Just plug in and play.
Though each light looks tiny, once you plug them in, you won't be disappointed. After all, big things come in small packages.
Pros
Easy to carry, install and use.
Exquisite sound-activation mode.
Waterproof.
Light-weight.
Settings are practical.
Power saving
Cons
Not for filming as the light flickers.
SOLMORE Party Lights give a rich professional vibe despite their very low price range. The durability is impressive too.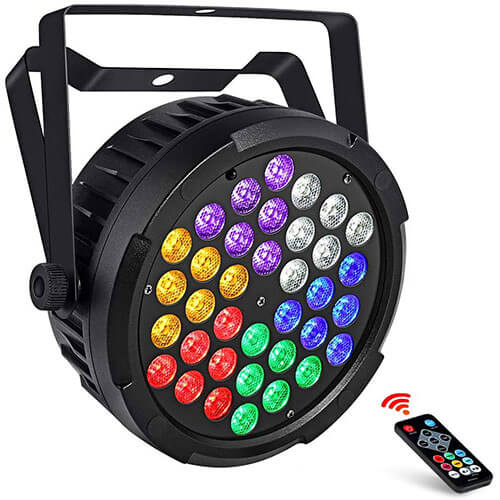 Powerful LED PAR lights well built with built-in color macros utilizing one color at a time.
Remote control is good and sensitive.
With these lights, you can use a quick flash without a strobe, a feature impossible with many other lights. Full color fade is awesome.
Color combinations are limited but can be used for a specific color wash.
Lighting can be controlled by music i.e., sound-activation mode is quite precise.
Brightness is particularly high while using one color.
Cooling fans are a little noisy but not to the point of being disturbing. But they do run as long as the lights are plugged in.
Highly recommended for DJs. If you have plans to film the event, please take note that flickering happens.
Pros
Strobe-less flash.
High quality brightness for a single color.
Meet all needs for a DJ night.
Advanced optics providing amazing color mixes.
Cons
Not ideal for outdoors.
Flickering makes them unsuitable for filming.
For strobe-less flash, a feature desired but rarely available, these lights are worth picking. Fits right for your party needs.
Frequently Asked Questions About DJ Lights
Is buying DJ lights worth the money?
Absolutely. The lights are a part of the equipment that gives out the needed vibe to your occasion. Moreover, lights affect a person psychologically. Adding lights to music exponentially improves listeners' experience.
Should I start using the lights as soon as I unpack them?
It is advised to go through the manual and take it slow. You might take a day or two to get a basic understanding about your lighting system. You can also check out the tutorials on YouTube to make this job easier to yourself.
What are the different types of DJ lights available out there?
Lasers, scanners, retro lights, party lights and many sub-categories in them. (PAR lights, LED Strobe lights and so on.
What is a gobo?
Gobo is a metal template you can place in front of a light source to control the shape of the light emitted, just like a stencil.
What is key light, fill light and back light?
Key light shines directly on the subject to highlight its form.
Fill light shines from sideways onto the subjects thus reducing the shadows on the subject.
Back light falls onto the subject from top separating the subject from the stage's background.
How do I control these lights?
DMX control, daisy chain, internal sound activation, console and even through your laptop (using a lighting software) in many cases.
Dimmer reduces the brightness of a light and a channel is a control path of the designated lights.
The lighting control console sends cues to the stage manager.
Is there something else I need to keep in mind while using DJ lights?
Appropriate usage of smoke/fog enhances the light effect. Though hazers are good to accompany lights, nothing can beat a well done effect of smoke.
Intensity and the colour of the light you use plays a vital role.
What should I keep in mind while choosing and picking the lights?
The shades suitable to the gig you are going to perform, the space available (whether it's a large/medium/small room) and most importantly eye-care.
How do I fix the lights? How do I conclude their position?
That depends on a few things. If you want no shadows, four-point lighting is how you do it.
Three-point lighting is suggested for public presentations and speeches.
Two-point lighting works best for a three dimensional look. Don't be confused by its name.
Single-point lighting adds a dramatic effect to the performers from the audience' perspective.
It all lies in how good you are in experimenting with the features your lights offer. The choices may vary from person to person while picking suitable DJ lights. Feel free to look through and find what would compliment your audience and your event. There are brands other than what we listed but we hope this helped you to decide upon what fits your needs.