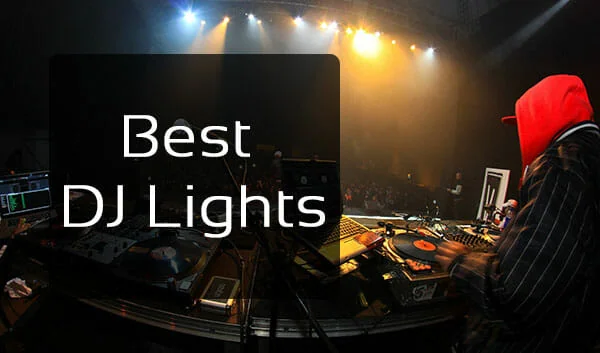 With brilliant DJ lights, you set the tone for your audience and keep them grooving to the music. Every party of yours deserve to be grand with cool lighting.
While music gives pleasure to the ears, perfect lights provide pleasure to the eyes.
But picking a random set of lights from the store is not the way to go as there are many things you need to consider before buying the best DJ lights for yourself.
Here, we've listed the 9 best choices of 2021 along with a detailed review of each to make your job easier.

Our Best Picks
---
---
---
---
---
---
---
---
---
Buying Guide
It is ideal to choose LEDs over the conventional fixtures as LEDs are a step ahead in saving power, producing less heat and in providing versatile output.
The light you have to choose depends on the ambiance you want to create for your audience. While flashy lights go with dance parties, musical plays might need lights that give a dramatic effect.
For professional use, it is ideal to choose the one with USB port feature for any updates to be done in the future.
Sound-activation is a vital feature for DJs as it reduces a task from their to-do list.
If you're planning on getting the entire event filmed, anti-flicker lights are ideal.
For special events like Halloween or a purple themed party, a UV black light covers everything.
For professionals, DMX controlled lights are perfect. Remote control is apt only for house parties.
If your party involves kids, it is safe to choose less heat producing lights.
Frequently Asked Questions About DJ Lights
1. Is buying DJ lights worth the money?
Absolutely. The lights are a part of the equipment that gives out the needed vibe to your occasion. Moreover, lights affect a person psychologically. Adding lights to music exponentially improves listeners' experience.
2. Should I start using the lights as soon as I unpack them?
It is advised to go through the manual and take it slow. You might take a day or two to get a basic understanding about your lighting system. You can also check out the tutorials on YouTube to make this job easier to yourself.
3. What are the different types of DJ lights available out there?
Lasers, scanners, retro lights, party lights and many sub-categories in them. (PAR lights, LED Strobe lights and so on.
Gobo is a metal template you can place in front of a light source to control the shape of the light emitted, just like a stencil.
5. What is key light, fill light and back light?
Key light shines directly on the subject to highlight its form.
Fill light shines from sideways onto the subjects thus reducing the shadows on the subject.
Back light falls onto the subject from top separating the subject from the stage's background.
6. How do I control these lights?
DMX control, daisy chain, internal sound activation, console and even through your laptop (using a lighting software) in many cases.
Dimmer reduces the brightness of a light and a channel is a control path of the designated lights.
The lighting control console sends cues to the stage manager.
7. Is there something else I need to keep in mind while using DJ lights?
Appropriate usage of smoke/fog enhances the light effect. Though hazers are good to accompany lights, nothing can beat a well done effect of smoke.
Intensity and the colour of the light you use plays a vital role.
8. What should I keep in mind while choosing and picking the lights?
The shades suitable to the gig you are going to perform, the space available (whether it's a large/medium/small room) and most importantly eye-care.
9. How do I fix the lights? How do I conclude their position?
That depends on a few things. If you want no shadows, four-point lighting is how you do it.
Three-point lighting is suggested for public presentations and speeches.
Two-point lighting works best for a three dimensional look. Don't be confused by its name.
Single-point lighting adds a dramatic effect to the performers from the audience' perspective.
---
It all lies in how good you are in experimenting with the features your lights offer. The choices may vary from person to person while picking suitable DJ lights. Feel free to look through and find what would compliment your audience and your event. There are brands other than what we listed but we hope this helped you to decide upon what fits your needs.