Being a DJ is hard and exhausting, you need to make sure to drop in those sick beats at the right time to keep the audience entertained. But it can easily become frustrating when there are way too many instruments on top of your desk.
A DJ usually needs to maintain the mixer, the controller, the audio interface, the jukebox and the laptop. Managing these at the same time is a very taxing job and is sure to make you feel exhausted.
Therefore, there are several stands available in the market to make sure you are able to perform for a long time without any hassle. These go by various names; DJ Laptop stand, Controller stand, Mixer stand etc. Keep reading below to learn why you should buy one of these.
DJ laptop stand has a very versatile market. There are literally thousands to choose from. It can be quite a confusing to those who don't know where to look. Therefore, we have compiled a list of our favorite picks of DJ laptop stands in 2023. This list includes both premium & budget models. Let's start!
Table of Contents
Top DJ Laptop Stand Reviews of 2023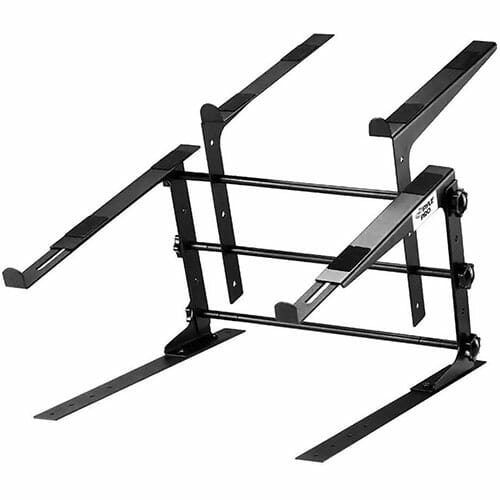 Let's start this list with one of the most trusted brands, PYLE. The Pyle Portable Dual Workstation, is a dual tray laptop stand. Which means you can place two devices on its trays. One tray is at the rear & the other is at the front. Both trays can accommodate the laptops, DJ mixers, controllers, turntables and other sound equipment.
The height can be adjusted as per your convenience & comfort. The prongs are anti-slip, to avoid any sort of damage to your equipment due to accidents. Prongs are also adjustable to fit in a variety of devices.
The top bracket can be adjusted from 9.4 to 11.9 inches. Similarly, the bottom one can be adjusted from 11.4 to 13.4 inches.
The whole unit can support a total load of 33lbs. The workstation is also quite easy to assemble & the manual that you get with it makes it even easier.
Pros
Dual Trays.
Adjustable Height.
Durable Construction.
Easy to assemble and disassemble.
This DJ laptop stand is good for supporting two devices at the same time. It is also quite budget friendly.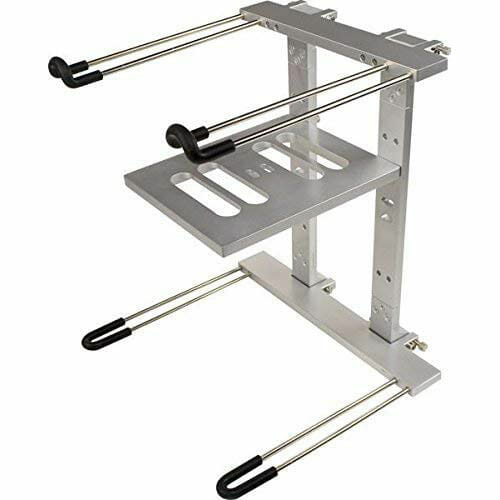 One of our favorite DJ Laptop stands is the Ultimate Sport. It stands 12″ tall and can easily fit in 2 devices, one on the top & the other in the middle shelf. You can use it for controllers, mixers, CD players, multi-track recorders, laptops etc. The ergonomics are great and it comes with an adjustable height so you can easily choose the position that suits you better.
The build material is aluminum, which makes the stand light weight while giving a premium finish. Weight of the stand is roughly around 1.86 kgs. Another great feature is, the stand is foldable which increases its portability & makes it much easier to carry around if you are a traveling DJ.
It's properly vented to ensure good air flow & to prevent your electronic devices from overheating. The stand can bear a load capacity of up to 20 lbs.
Pros
Foldable and easy to carry.
Lightweight Aluminum Construction.
Properly Vented.
Premium looks.
Cons
Not suitable for very heavy devices.
It's a bit pricey when compared to others.
This stand is one of the most portable stands out there. It's sturdy and also offers a premium finish.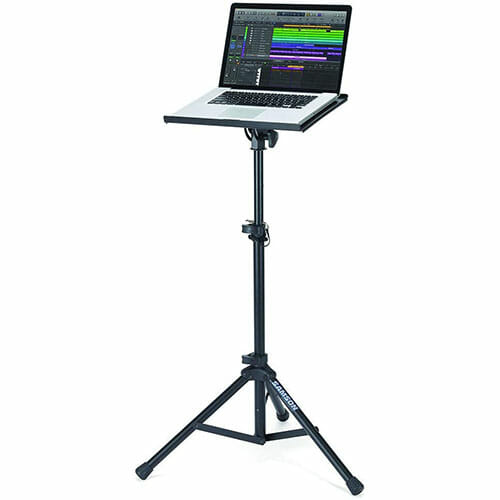 While the previous two entries were table-top, this laptop stand from Samson is a floor-top stand. It comes with a tripod base for better stability.
You can easily place your components at the top without any fear as the top surface is coated with silicon material. This ensures that any component placed on it does not move no matter how much action is going on-stage. The silicon surface damps the vibration & the tripod base ensures added stability.
The build material is high grade steel & can bear a lot of load. The height can also be adjusted easily through locking lathes & pin lock. It can go through 30″ to 47″ in height. The dimensions for the tray is 15″ x 11″ & it can also be tilted for optimal positioning. This laptop stand is ergonomically comfortable & is one of the best for live & studio performances.
Pros
Tripod base for added stability.
Adjustable Height.
Silicon Surface Tray.
High Quality steel material.
Cons
Accommodates only one device.
The tripod needs some balancing.
Although this stand allows accommodation of only one device, it is sturdy enough to take in all the vibrations happening on-stage.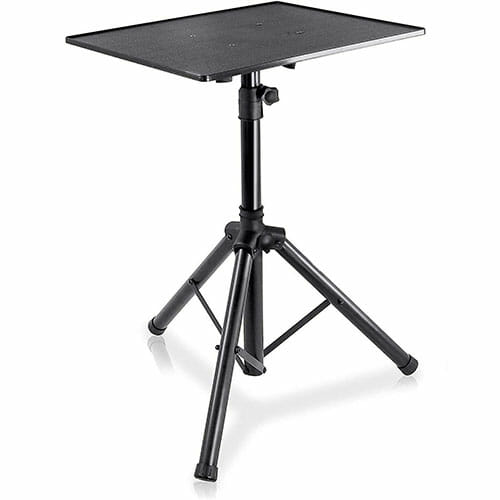 This is one of the simpler DJ laptop stands on this list. The Pyle universal laptop stand, is yet another floor-top DJ laptop stand. It consists of a single tray at the top to place your musical equipment or laptop. The dimension of the tray is 20.0″×16.0″, and is a good fit for various sound devices, laptops, mixers, amplifiers etc.
The angle of the tray can also be adjusted easily. The tray is supported by a metal rod whose height can be adjusted. It can go from 28″ to 50″. These all are supported by a foldable tripod base with rubber pegs at the end enabling slip free usage. The whole unit weighs in at about 10.68 lbs.
One of the best features of this DJ laptop stand is its ease in assembling & disassembling it, making it perfect for traveling singers.
Pros
Durable Construction.
Easy to assemble and Disassemble.
Adjustable Height.
Cons
The tripod needs balancing.
Accommodates only one device.
This floor-top DJ laptop is quite sturdy and it's adjustable form factor makes it quite easy to store and transport.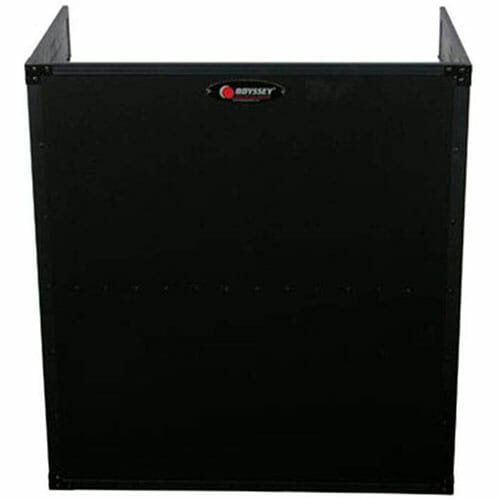 This DJ Laptop stand from Odyssey is one of the most professional looking stands in the market. It is a floor-top type DJ laptop stand, but instead of a tripod base as seen in the above-mentioned models it is supported by flat legs on three sides, making it quite stable.
The material used for construction is aluminum which is coated with Black Anodized powder offering it a much premium finish. It is also easy to setup and pack up. The whole unit can conveniently be folded down to a smaller form factor. While being folded its dimensions are 33.25" x 36.5" x 3.625" and when unfolded it becomes 33.25″ x 36.5″ x 19.25″.
The interior shelves are supported from all three sides providing maximum stability, also the shelves are well hidden from the audience. Therefore, all your equipment is safe, sound and stable. The bottom feet are rubberized for anti-slip measures.
Overall, the weight of the unit is 40.0 lbs. If you are into professional DJ, this laptop stand might just be the perfect one for you.
Also Read: 9 Best DJ Tables of 2021 for All the Space You Need
Pros
Premium looks.
High strength and durability.
Interior support shelf.
Cons
Overpriced.
Takes a lot of space.
Although this one is one of the most premium DJ laptop stands out there, you definitely get what you pay for.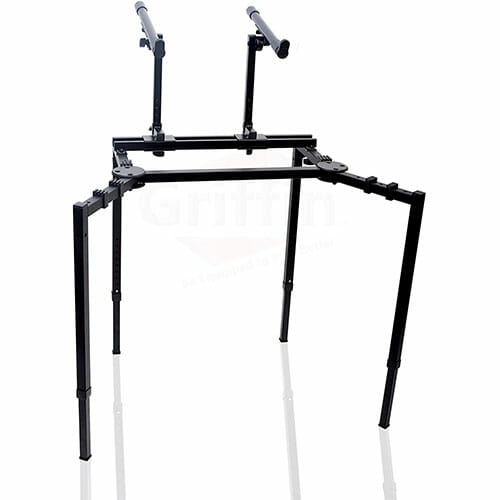 Griffin 2 Tier portable laptop stand is a floor-standing stand which uses four legs for support. As the name suggests, it can fit in two devices, one in the upper tier & one in the bottom tier.
Both the tier's height & width can be adjusted easily. The bottom tier's height ranges from 24"to 33.5" & depth ranges from 17"to 27". It is perfect for heavy musical instruments such as piano, music controller, mixer, amplifiers etc. The upper tier's height ranges from 8.5″ to 13.5″ and depth from 29″ to 45″. It can easily accommodate laptops and other sound devices. The top tier can be easily removed from the unit if you need as well.
The bottom legs are rubberized to provide protection to your equipment & prevent them from slipping. Although it looks rugged & heavy, this stand can be easily folded down into a smaller T shape form factor for transporting & storage.
Its gross total weight as a unit is 24 pounds & the load bearing capacity is 60 pounds for top tier & 250 pounds for bottom tier. This laptop stand is good for personal use, studio project, live performances etc. depending on the user's needs.
Pros
Two tier for two devices or instruments.
Good stability.
Adjustable Height, Depth and Angle.
Easy to fold up into compact form factor for storage and transport.
Cons
Takes a lot of space.
It takes some time to set it up.
This is one of the sturdiest DJ Laptop stands out there and offers quite good stability. Another plus point is it can easily accommodate larger devices.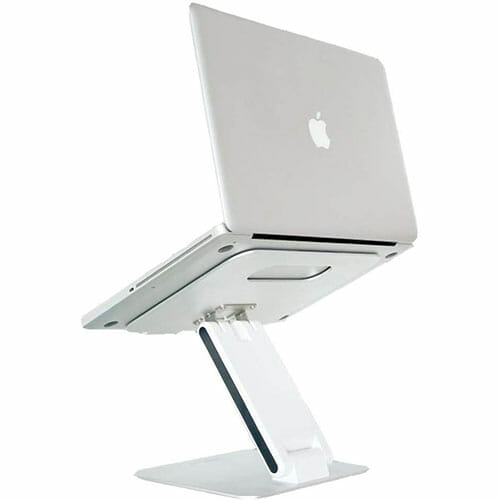 This laptop stand by Skygonal is as simple as it gets. It raises the laptop up to the optimal height as per the user's requirement. No rods, no screws and no assembling or disassembling, just place it on the table, adjust the height of tray and place your laptop on top, that's it.
This laptop stand is quite ergonomic and also offers a premium & elegant finish. It's made of sturdy aluminum alloy with sand-blasted and silver anodized finish. It is perfect for Apple MacBook and other laptops with depth less than 10.4″and size up to 17″. The height can be adjusted from 2″ to 9.8″ and the tray can be rotated easily for better viewing angles.
As mentioned before, the complete unit can be easily folded down increasing its portability & mobile factor. It weighs about 3.1 lbs and has a load bearing capacity of up to 22lbs. The aluminum alloy also acts as a heat-sink to remove all the excess heat coming from your laptop and prevent overheating.
This laptop stand is absolutely perfect for those who just want a classy and elegant looking laptop stand and nothing fancy.
Also Read: 9 Best DJ Facade to Light Up Your Music in 2021
Pros
Premium and strong build quality.
Foldable and easy to carry.
Lightweight.
Cons
Expensive.
Accommodates only one device.
This is one of the most premium looking DJ Laptop stands. It will perfectly complement your premium laptops such as Macbooks and other devices.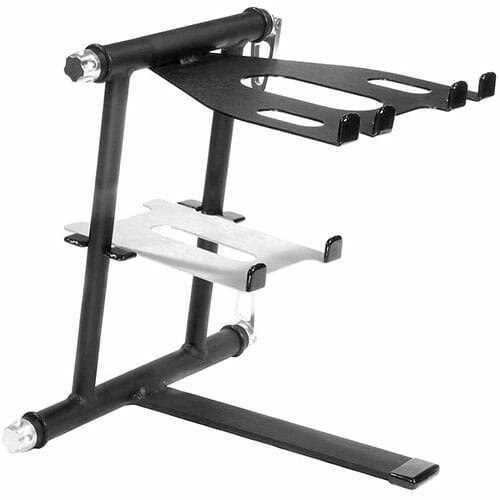 Just like the entry above, this stand is also one of the simpler ones. This laptop stand from Crane is a fully foldable and folds flat to 13″x13″x1″ for portability & storage. You also get a nylon cinch-sack carry bag when you purchase it, making transportation much easier. When fully opened, it extends its dimensions to 13″×13″x13″.
It is easy to set-up & requires no tools to do so. Just open it up and you are good to go. It also comes with a removable sub tray which can be used to hold small devices such as tablets, hard-drives, mobile-phones etc. The main tray can easily fit any model laptop with size up to 17″. This is all made from anodized aluminium alloy which gives it an elegant look & premium finish. The tray's lips are rubberized, lo prevent any scratches to your laptop. You can also use the knobs & levers provided to adjust the height & pitch.
You can go for this device, if you are on a tight budget & want something that can just get the job done.
Pros
Strong Aluminum frame.
Folds flat into a compact form factor.
Includes a carry bag.
Cons
Accommodates only one device.
Not suitable for very heavy devices.
Another premium looking DJ Laptop stand for those on a budget, also its foldable design makes it easy to carry around.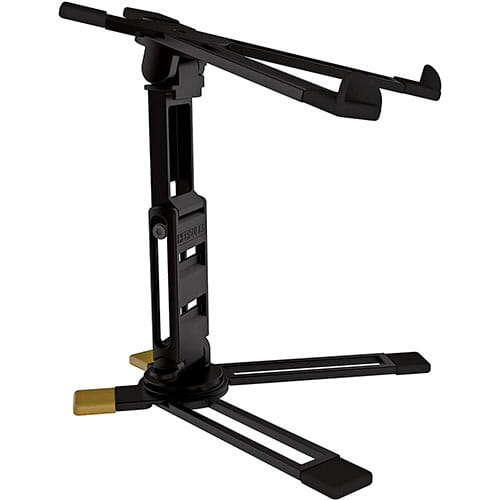 This is one of the sturdiest one-piece table-top DJ laptop stands. By one-piece we mean the stand doesn't need any tools for setup. You can just unfold it and set it up for use & then fold it back again when it's not needed.
This laptop stand by Hercules has four legs for support instead of just two that are found in other similar stands. The rear support legs are rubberized to fix the stand in one place, thus preventing any accidental slips. The forks can easily accommodate any 17″ or lesser sized laptop and other small devices such as projectors, CD players, small mixers etc.
The four-leg support enables the stand to bear loads of up to 22 lbs. The angle & height can also be adjusted easily. It offers three height settings of 8.6″, 10.4″ and 12.4″. The overall weight of the unit is about 3.08 lbs and when folded its dimensions can be reduced to 14.1″× 6.9″× 2.6″ making it perfect to carry around. You also get a carrying case for transportation & storage.
Pros
High load bearing capacity.
Very stable.
Adjustable Height.
One piece foldable design.
Cons
Accommodates only one device.
This table-top DJ laptop stand is for supporting heavier devices. It's four legged design makes it quite stable and foldability makes it easier to carry around.
FAQs About DJ Laptop Stands
Buying a DJ laptop stand can be quite a cumbersome process, especially when you are new to the market and don't know much about them. Here are some frequently asked questions, you can go through them if you have any doubts regarding purchasing a DJ laptop Stand.
What Exactly Is A Laptop Stand?
A DJ laptop stand in a nutshell is a table-top or floor-standing accessory used to support your laptop & other musical devices. It is generally made of good quality and sturdy metal with one or more shelves for placing in your laptop, controller, mixer, etc. for easy accessibility.
The more premium ones also feature adjustable heights & offer even more degrees of freedom.
Why Should You Buy One?
With so many devices placed here and there, it becomes very difficult to monitor every one of them at the same time, also moving your body a lot causes muscle pain and other problems.
Therefore, an ergonomic accessory such as a laptop stand will make all your devices more accessible and within your hand's reach, causing much less strain on your muscles and body.
Which DJ Stand is the Best – Table-Top, Floor-Top or Foldable?
This answer to this question depends on what you intend to place on the stand and whether what environment you will be playing in.
If you are going to play in a studio, a table-top should suit you fine.
If you are more of a live-performance guy, the floor-top will be best for you.
The foldable ones are for those who are casual hobbyists and travel around a lot. You also cannot place heavier devices on foldable stands.
How much should you invest?
This depends solely on you and your personal choices. There are many DJ laptop stands on the market which do not look premium and professional, but definitely do a good job of supporting your devices.
Many others offer good quality construction using heavy metal alloys and premium finish, which makes them look and feel much more premium.
Although expensive, they are definitely better for those without a budget constraint.
Which one should you purchase?
Choosing the right DJ laptop stand can be quite difficult and there is no perfect stand which suits everyone. Some people prefer premium and classy looking stands while some prefer the funky ones. Each one has their own taste and should choose accordingly.
If you want to save your time, you can easily choose the ones mentioned on this list. This list is curated and includes some of the best DJ stands on the market.
If you want to purchase the one which suits you and your personality, you can go through the buying guide. This will surely help you choose the perfect fit for you.
Conclusion
As you can see, a stand is a necessary component in a musician's lifestyle. You can choose which stand to purchase by selecting one from our top 9 list or decide which stand you should purchase by following our buying guide.