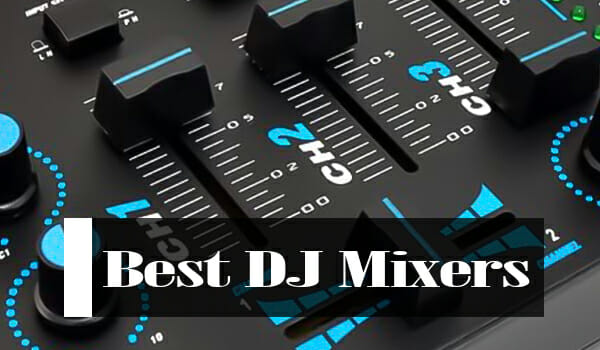 Whether you aspire to be a DJ, or already are one, mixers are the devices responsible for almost everything you do.
So, it becomes very important that you choose a DJ mixer which suits you, and your type of music, plus has all the features you want to mix music seamlessly.
So here's looking at the top 9 DJ mixers available of 2023 in the market right now.
Table of Contents
Top DJ Mixer Reviews of 2023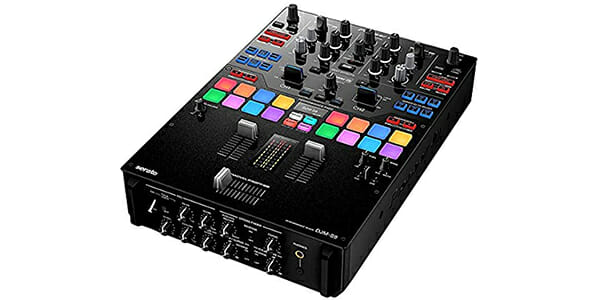 Specifications:
Frequency Range: 20 – 20000 Hz
Rack Mount: Yes
Distortion: < 0.005 % (USB)
S/N Ratio USB: 107 dB
The DJM-S9 Battle Mixer brings the worlds of Pioneer and Serato together, as this has been designed by keeping in mind the Serato DJ Pro.
It is Pioneer's first device which is a 2-channel battle mixer. The device can be easily personalized to match your style of DJing, because of the Magvel Pro crossfire which can be completely configured, and the FX buttons and pads, which can be customized.
It has a tough build, meaning it will withstand even the craziest energetic scratch performances. The multi-color pads are highly responsive, and you can use them to trigger to Hot Cue, Slice, Roll and Loop.
It has an EL display which shows the current playing mode. You can choose as you want with 6 Serato DJ Pro buttons, 6 Beat FX buttons, and 2 banks.
The power inlet is designed so that the resistance is reduced, and you get a stable sound, which you require in the noisy and loud environment, in clubs. The audio circuitry is very high quality, and is inherited from one of the most successful devices of Pioneer, the DJM-2000NXS.
It delivers a smooth performance, because of the Magvel Fader Pro magnetic crossover. You can change the settings to your preference, like you can change the operational load by using the Feeling Adjust dial, or change the curve of the crossfader, or choose the level of rebound you want with the shock absorbing bumpers, which comes in 3 materials, or add a high or less w pass filter to FX on every channel by rotating the dial, or switch to other filter FX.
The clip display on the device shows when there are very high input levels, and the peak limiter in the device removes the unwanted distortions from the main or master output. The device is completely MIDI assignable DJ controller, via USB.
It comes with a Melodic App, for free, which is a drumming app and is built to help the user perfect the technique of pad drumming, something which is very popular with the modern DJs.
Pros
Solid and sturdy built quality.
Great Serato and Pioneer Effects section, with punch-in switches.
Dual USB ports for multiple users.
Comes with the complete Serato DJ software and control vinyl.
Brilliant crossfader with many adjustment options.
The mixer is sturdily built, and all knobs have metal posts. The mixer has Pioneer DJ effects as well as Serato DJ effects. It also has one of the best crossfaders in the market, the Magvel Pro V2, which has many adjustment options.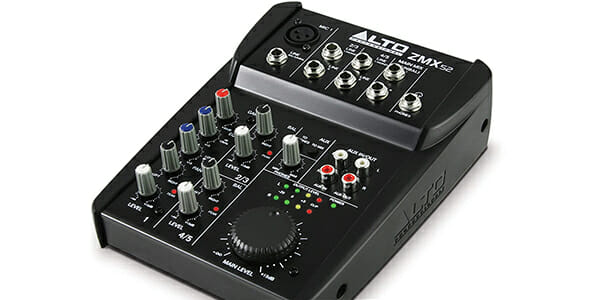 Specifications:
Frequency Range: 20 – 22000 Hz
Power consumption: 9 W
Power supply: 18 V, 500mA
If you want no hassles, and a DJ mixer which is perfect, and sets up very quickly and easily, this device might just be the one you're looking for.
You get condenser, plug dynamic, wireless microphones into the first channel, drum machines, 2 stereo channel inputs for keyboards, and other instruments. Plus, it has a CD/TAPE input where you can simply plug in your CD Players, MP3 players, or audio from a DVD player.
In addition to the main stereo outputs, you also get a dedicated stereo output, for sending to a recorder.
This is a 5-channel mixer, for solo performances, and multimedia studios, and has all the important inputs, outputs, and EQ. There is a 2-band EQ, balanced TRS inputs, one mono channel and more. With 2 balanced TRS inputs, for each, it also delivers 2 stereo channels. And even for things like audio playback, it has 2 track inputs.
So, if you want a centre command for your home studio, or video suite, or live performances, you should choose the ZMX52. You can plug in keyboards, MP3 or CD players, microphones, drum machines or audio from DVD players.
There are high chances that the place where you have to operate your device is dark, and you'll definitely face challenges because of that. This device solves that problem by color coding every mixer section.
Not only that, it uses brightly colored knobs, so that you have no trouble in finding whatever it is that you need to fix. The pots are colored blue, white and red, so even if the lighting is dim, you can easily identify them. Apart from that, you also have bright LED indicators for peak, output level and phantom power, which makes sure you have visual aids every time.
Pros
Has discrete, ultra-low noise mic.
For seamless integration of A/V gear, has RCA inputs and outputs.
Each channel has peak LEDs.
Compact, easy to travel with.
Cons
No EQs on the line channels.
It is the perfect compact professional mixer to take anywhere. It's small, easy to use, inexpensive, and well-built. It has mic with ultra-low noise, and every channel has peak LEDs.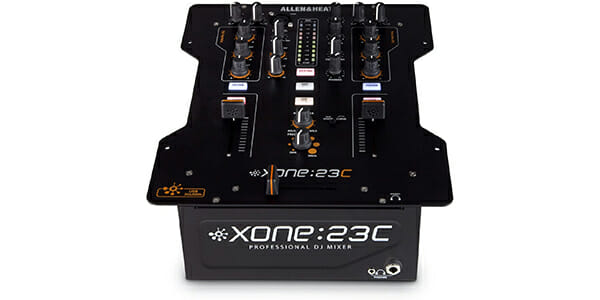 Specifications:
Effects: Resonance
Channels: 2+2
USB: Type B
Crossfader: Adjustable
Faders: 2
Frequency response: 10 – 50000 Hz
This 2+2 channel DJ is a quite affordable set for starting with the popular mixer range. It consists of some great features, the likes of which you'll usually find in the much higher-priced devices, like VCA faders, control over resonance, total kill three band EQ, crossfader curve selector, illuminated switches, and a Xone: DB4 inspired style. The mixer consists of 2 pairs of RCA line inputs, along with 2 pairs of RCA phono inputs for I/O.
Even though there are 2 faders in this mixer, you can play upto 4 sources in the mix simultaneously, because of independent level control in each of the 4 inputs.
To integrate the units for external effects, it includes specific stereo channels for send and return. The unit's front panel also features a stabilized XLR input to connect a microphone with level, low frequency and high frequency equaliser controls. The balanced XLR connectors have the master outputs.
There are gain knobs for each one of the four channels on the front panel of the mixer, for control. A dedicated stereo booth output, plus a dedicated stereo record out is included in the mixer, for catching your mixes to a recorder which is portable. There are connectors for 1/8 inch and 1/4 inch headphones, which enable connections with a large variety of DJ headphones.
All the four inputs are divided into two sides, each one of them having separate total kill EQ knobs for high, mid, and low frequency, a 9-segment meter of LED light, a VCA channel fader, a cue button which is illuminated, and to engage the filter of that particular side, an illuminated button.
Also, in the central section, there are 3 illuminated buttons, one for engaging a high pass filter, one for engaging the low pass filter, and one for engaging send or return of external effects. Also, the center section has a frequency selector knob for the filter, and a knob for VCA resonance control from mild to wild.
For mixing or scratching, the crossfader features a switchable curve. The user, as an option, can replace the default crossfader with the higher quality Inno fader by Allen and Heath. The device combines modern DJing with conventional mixing into one set, at a very convenient price.
Pros
Great sound quality and filters.
Comes combinedly with Mixvibes LE.
Amazing built quality.
2+2 device connectivity.
A great built quality, and is built to last. The mixer has great low and high pass filters, and an amazing sound quality. It has 4 different inputs and all of them can be mixed and played simultaneously. Plus, it has the DVS capable USB DJ soundcard, which can be used with different DJ softwares.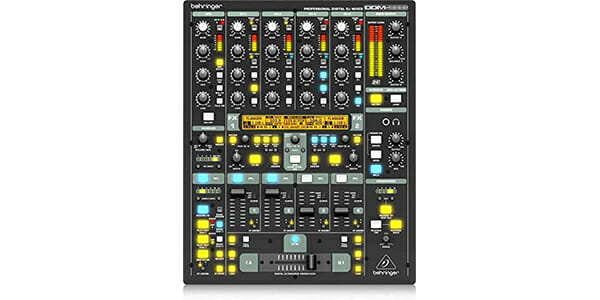 Specifications:
Effects: 2 high quality, BPM synchronised, freely assignable effects engines + BPM counters
Channels: 4 + mic
MIDI Control: Yes
Crossfader: Replaceable, with advanced frequency-selective crossfading and full crossover adjustment
Frequency response: 20 – 20000 Hz
Behringer has always been a producer of pocket-friendly, but great products, and this one is no exception. This 5-channel, 32 bit, digital DJ mixer is crafted expertly, and has a sleek and futuristic design which looks great. Every stereo channel has fully customizable EQ and kill switches, and you can connect the channels with CD/MP3 players or turntables.
The device has great versatility, thanks to the multi-FX modules which are beat syncable and fully programmable. It also has a digital crossfire with custom curve adjustment, and a pair of BPM counters which are highly precise. And the sampler which is BPM synced, and has real time pitch control as well as reverse and loop functions, and your crowd would love it!
Out of the 5 channels, the initial 4 are stereo channels, which are crossfader-assignable, and are suitable for both CD and vinyl, and the input has sufficient toggle switches for phono/line level. Every channel can be directly monitored using headphones, because of the PFL switch. All of them feature digital, 3-band EQs, with options for infinite cut, or kill, and up to 12 dB of boost.
In mono, there's a separate mic channel with 2 XLR mic inputs. This mic channel has its own FX section which you can apply using one button. Even when the music is playing, the 'talk' feature, in the vocal channel, ensures you are heard over the music, by attenuating the other 4 channels' volume.
One of the best additions to this device is the BPM-synced sampler, which allows you to record any incoming audio segment and without dropping the beat once, continuously loop it.
Now, once your track is on loop, you can swap any discs or queue up and mix new tracks! The device also features an amazing dual FX section, which has the patented technology of BPM counting, which allows for the mixer to apply the effects which are BPM synchronised, by first reading (and displaying) the BPM of 2 different inputs, for example, echo synced to the music beat. Effects like reverb, bitcrusher, pitch shift, delay, and more can be independently assigned to multiple channels.
Pros
MIDI sync and control.
Built-in output and subwoofer crossover.
Dynamic range, with great sound quality.
Several flexible input connections.
Cons
Mic controls affect both input connections at once.
Even though it has a low price, and lightweight, it is a solid performer. It is jam-packed with useful features, and has pro controls which are sound oriented. If you are someone who has to spin analogue sources a lot during your gigs, you should look no further!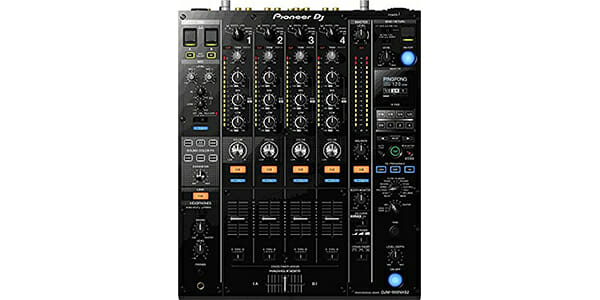 Specifications:
Channels: 4 + mic
Effects: Yes
MIDI Control: Fully assignable
Crossfader: Standard
Sampling Rate: 96 kHz
Faders: 4
Frequency response: 20 – 40000 Hz
This is the second Pioneer set we are featuring here, and there will be another one below, and it is because of the great quality of these products. There's a reason for Pioneer's ubiquity, as they have been designing DJ gear of great quality and for pro-level, and this device is no exception to that. It has lots of options for different effects, and it plays quite nicely with the CDJs of industry standard.
The audio components are of high quality which ensure warm and detailed sound. The device features an on-board signal processing which is digital, refined and of studio-quality, and which properly represents the analogue sound. It is a high quality device with low jitter clocking, and it performs at 96kHz/ 64-bit. Every channel has effects to color your sound, like Filter, Sweep, Crush, Noise, Dub-Echo, and Space.
The fader curves which are controlled by the sturdy Magvel faders, enhance the standard 3-band EQ, and the 2 metal shafts support the faders, for extra durability. There are 14 unique beat effects, all of them adjustable and can be tracked by an optimised LED screen, which can be engaged by the large X-pad. Ping-pong, role, slip-roll, vinyl brake, spiral, helix are some of the effects.
With the 4 phono inputs, 2 USB ports, and the independent send/return, you get a lot more flexibility and versatility over the setup. You can also connect upto 4 players, and share one source (PC/Mac via USB) because of the link connection.
Pros
Dual USB ports.
Better sound quality and crossfader.
Sound Color effects.
For CLIP levels, and BEAT FX, LED indicators present.
Lots of options for effects.
You get a vast range of features, from dual USB ports and mic inputs, to channel EQs and filters. You also get a wide range of effects including the Sound Color FX.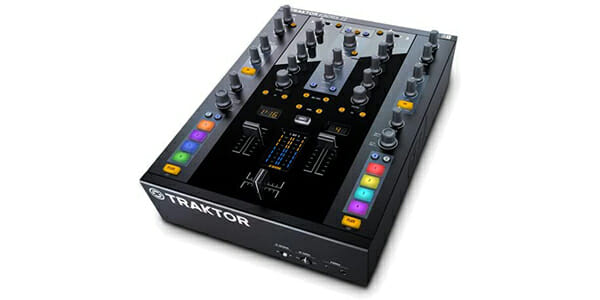 Specifications:
Channels: 4 + mic
Audio Interface: 24 bit
MIDI Input/Output: Via USB
Crossfader: 1
Sampling Rate: 48 kHz
Frequency response: 20 – 20000 Hz
The Kontrol series of DJ mixers is popular for a reason. With this model, you get to fully control and simulate the DJ setup within 1 rig, hence the name. This device combines Traktor's technology with a traditional setup, and has been developed keeping the Traktor software in mind.
The hardware players having MIDI controls can be connected to balanced analogue inputs. The MIDI controls here are very focused on using the Remix Deck and Sampling functions within Traktor.
As this device is Traktor Scratch ready, you can convert CDJs or turntables into a digital DJing setup. For additional controls, you can pair it with X1 and F1 controllers, thus expanding on the digital side. It also features RGB control buttons, and Precision buttons and knobs.
The main reason why this set comes at a higher price, is because of the Traktor DJ software, and which means you can run a completely digital setup. It comes with the full version of a digital vinyl system, Traktor Scratch Pro 2, plus their Macro FX which adds more than 30 solid effects which can be controlled by the knobs, as well as their time code CDs and vinyl, through which you can digitally scratch literally anything.
Pros
Top sound quality.
Many inputs and outputs.
Excellent crossfader and line faders.
Heavy metal build.
Cons
Posts of plastic, instead of metal, on rotary knobs.
This is for people who want a mixer which is heavy-duty, and has an excellent build quality as well as sound quality. It comes with a built-in high quality sound card, and comes bundled with the full version of the software, Traktor Pro 2.6 and timecode CDs/vinyls.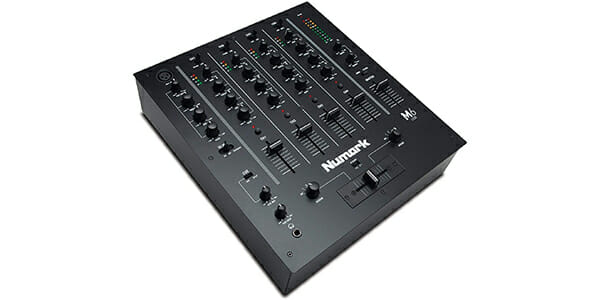 Specifications:
Channels: 4 + mic
USB: Type B
EQs: 3-band
Crossfader: Replaceable
Frequency response: 20 – 20000 Hz
It's difficult to find a device with more features, at this price range, as the M6 USB. The product differs from Numark's other products because of its key feature, the USB connectivity.
Even if you don't use a digital rig and go with a traditional DJ setup, don't let the USB connectivity feature move you away, as the device is compatible with the standard analogue setups.
You get the range of essentials for performances, including LED metering per channel, and 3-band EQ. It has a crossfader (replaceable) with slope control, and to either side of the crossfader, you can assign any channel.
It has a club-styled design, and can be used with any standard audio source, like CD players or turntables. Not only that, as the name suggests, it also has a USB port in the rear panel allowing connection to a computer for streaming and recording audio.
On connecting with a PC or Mac, you can mix-in audio using music player software, because of the plug-and-play connection, and thus record your sets into any application for audio recording virtually.
The device has a dedicated XLR microphone challenge, as well as on channel 4, a secondary mic input, so that you can talk over the mix. And you get balanced outputs for the best sound. You get the flexibility of a mixer with four channels, and along with the ability of computer connection.
The device, even though it is a bit dated and lacks any effects or filters, is a sturdy four-channel mixer at a great price.
Pros
Has four channels.
It has a rugged built.
Has USB connectivity.
Multiple inputs for phono/mic/line.
Even though it lacks any effects or filters, it is a great four-channel mixer, which comes at a very affordable price. Each channel comes with 3-band EQ, and mic input, and also, the mixer can be connected to PC, via USB.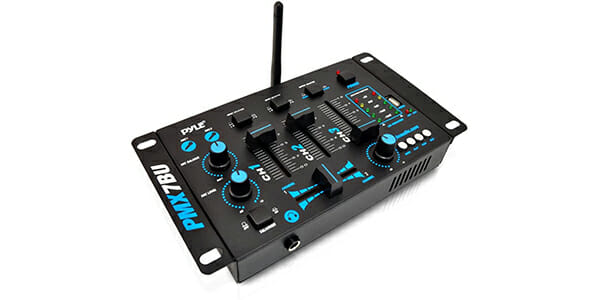 Specifications:
Channels: 3-channel
Maximum Power Consumption: 0.5 W
Frequency response: 20 – 20000 Hz
For great sound in your performances, this is a great device to choose! With this, you get the ability to mix professionally, your entire digital library of mp3 tracks, with any of your connected devices like turntables.
You can add most of your devices like Android smartphones and tablets, iPhone, iPad to your DJ sessions completely wire-free, thanks to the Bluetooth technology present in the device.
Because of which, you can also stream wirelessly, from streaming services like Pandora or Spotify, directly into your mix. And so, you no longer have any of those extra cables and wires, and get great sound with a completely wireless setup.
Now if you are wondering that it allows for only music to be played via Bluetooth connectivity, you don't need to worry. It also features 2 AUX input sources, through which you can plug any audio source like phones, MP3 players, microphones etc. And you can further mix this music with the Bluetooth audio and MP3s. Not only that, you can combine it with the USB flash MP3s, or rather, any audio channel in your unit. The AUX inputs can be switched between phono input and line level.
The device has a built-in USB flash reader, through which you can fill your USB device or stick with MP3s and through your mixer, play them. You can use all your channels normally, while enjoying the benefits of MP3s.
You can get access to all the files just by plugging it in. Once you are connected to your Bluetooth device or the USB flash reader, you can access all the MP3s in the USB flash and Bluetooth devices, using the built-in controls. You can skip tracks, pause and play, and switch between different modes, using the built-in controls.
Pros
Wireless streaming through built-in Bluetooth.
Works with Android, iPhones, tablets, etc.
Can mix your entire music library with connected devices.
It allows you to stream your music wirelessly using Bluetooth, and you can mix all of it with the connected devices like turntables. So, whichever device you use, be it a PC, or an Android, or an iPhone, you can easily connect it to the mixer.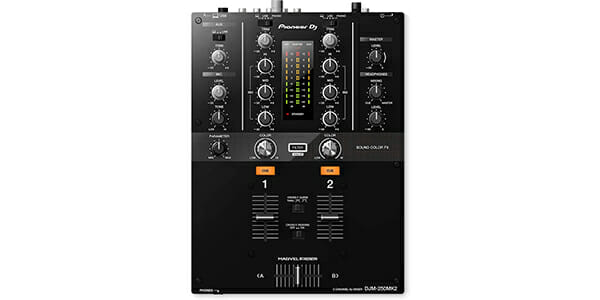 Specifications:
Crossfader: Magvel
Digital Inputs: USB
Channels: 2 + mic
Sampling Rate: 48 kHz
Frequency Response: 20-20000 Hz
Effects: Sound Color FX Filter
It's the third time a Pioneer device has arrived in this list of only 9 DJ mixers, and that says something! This device is probably the best one for beginners, as it offers at an affordable price, the look and feel of much higher-end devices. But this is much more than a beginner's tool.
This is the perfect mixer for entry-level for turntablists and aspiring DJs. If you are someone looking for a tough mixer for scratching and cutting, with the combination of simple blending and mixing, you need not look any further than this. But for those who want lots of effects and want to combine them, they will have to look for other products.
Two channels are present in this device, each of which has channel fader, 3-band EQs, headphone cue button, trim pot, and a Magvel crossfader, straight from their DJM-900NXS2 mixer. The same mixer has also provided the parameter knobs and the Sound Color FX filter.
For each of the two channels, you can switch among line, phono inputs, or USB (for Rekordbox DJ use). There are several knobs, including headphone cue and level knobs, and a master knob dedicated for output.
The device has an AUX input which can be switched. You can choose whether you want to receive the input through the AUX input via RCA jacks, in the back, or through your computer via an USB connection. On the unit's face, there are knobs present for mic level and tone. Also present on the face are hamster switches and crossfader curves.
The rear side includes RCA master outputs, a power switch, XLR master outputs, a power brick receptacle, line and phono inputs for both channels 1 and 2, a 1/4 " mic jack, plus a USB output. And for an entry-level kit, that is quite a bit of connectivity. The booth output is absent here, but by omitting that, the company indirectly sent across the message that this is meant for use in homes or for small gigs.
The mixer has a Rekordbox DJ licence, and is also compatible with Rekordbox DVS. But even though it has the Rekordbox DVS add-on, you'll have to separately purchase the Rekordbox control CDs/ control vinyl.
Pros
Simple layout.
Easily fits the budget.
Durable construction.
Includes Magvel crossfader.
If you are an aspiring DJ, or turntablist, you should look no further. It has got a strong built to last for years, and it has the Magvel crossfader which enables advanced DJing, and excellent scratching.
Buying Guide: DJ Mixers
Top Brands: DJ Mixers
DJing is a popular and rising industry, so it's natural there are a plethora of companies which manufacture and produce DJ mixers. Here's looking at some of the most famous companies which have made a name over the years:
1. Pioneer
Pioneer (a.k.a. Pioneer Corporation) was found in 1938 as a repair shop for radios and speakers. This Japanese multinational corporation is one of the biggest names in the DJ industry.
The company, which is based in Tokyo, specializes in digital products for entertainment. It manufactures DJ equipment, DVD players and recorders, PC DVD drives, televisions, car audio, and navigation systems for navigation.
2. Numark
Founded in 1971, Numark is based in Rhode Island. Its parent company is inMusic Brands. Numark is a well-known player in the DJing industry for their high quality products.
Their products have attractive design, great performance, and a responsive operation.
3. Behringer
Based in Willich, Germany, Behringer is one of the leading companies in music products. This audio equipment was found in 1989, and Music Tribe is its parent organisation.
Even though it is a German company, it manufactures its products in China. It sells a wide range of products like amplifiers, synthesisers, headphones, speakers, and many many more!
4. Allen & Heath
Founded in 1969, Allen & Heath (a.k.a. AH or A&H) is a company, which specializes in manufacturing consoles for audio mixing.
Part of Audiotonix, the company also produces DJ mixers for nightclubs, and sound management systems for installing in industries. The company is based in Penryn, England.
5. Native Instruments
Based in Berlin, Germany, Native Instruments is a manufacturer, developer, and supplier of hardware and software for music production, performance, sound design, and for DJing.
It was founded in 1996, and Native Instruments Holding GmbH is its parent organisation.
Frequently Asked Question About DJ Mixers
How are DJ mixers different from audio mixers?
Audio mixers, basically, mix sounds of different volumes, and outputs to a master channel by passing effects through various channels. They are used by orchestras, live bands etc.
While DJ mixers are supposed to do roles, which the audio mixers simply can't handle. The DJ mixers have to match the beat of 2 or more audio channels, assist you in deploying your mix with creativity, apply filters and effects to your audio channels, and make your overall set sound great!
Depending on the music genre, how to distinguish between the type of DJ mixer I want?
Music genre should play an important role in the type of DJ mixer you purchase.
1. If you DJ house music, then it is important you look for a mixer with a good amount of filters and effects.
2. If you play pop music or hip hop, you should be looking for a mixer that enables you to perform easy scratching and cutting.
3. If you are a hardcore DJ or play drum and bass, you should look for a mixer with multiple formats of input, and with more than 2 audio channels.
Should the location where I usually play/ will play, affect my decision of a DJ mixer?
Yes. Portability is an important factor after all.
1. Look for versatility, plus many options for input and output, and innovative design, if you are a nightclub resident.
2. You should look for a mixer which is sturdy, lightweight and easy to set up, if you are a mobile DJ.
3. Get a compact mixer if you are a home or bedroom DJ.
Is the talk-over feature necessary?
Talk-over feature basically dips the music when you are talking on the mic. If that is something you do not find necessary, then no need to look for that feature.
Which type of mixer should I purchase, if I am a beginner?
Here are some tips you should keep in mind when you purchase a mixer:
1. Even if the mixer doesn't have all the features, stick to your budget.
2. Don't go for higher decks. Start with 2 decks, master it first, and then move on to higher decks.
3. Try to look for sets which are customisable, meaning you can later add new things to the mixer, without having to buy an altogether new mixer.
What are all the equipment I require for a DJ setup?
A DJ setup includes some or all of the following equipments:
1. An audio interface
2. A gear to play audio
3. DJ software and a controller
4. A DJ mixer
5. DJ headphones
6. A speaker system
Do I need to purchase a full-fledged DJ software platform?
While you can do most of the things using a controller only, it's the software which applies the filters, effects, and those seamless, perfect transitions. So, yes, buying the full version of software is very necessary.
Conclusion
So, hopefully, by now, you have decided on the type of mixer that you want to purchase.
Just keep in mind the basic requirements of the type of gigs you perform, and choose accordingly.
And you'll be all set for the best performances in the town!