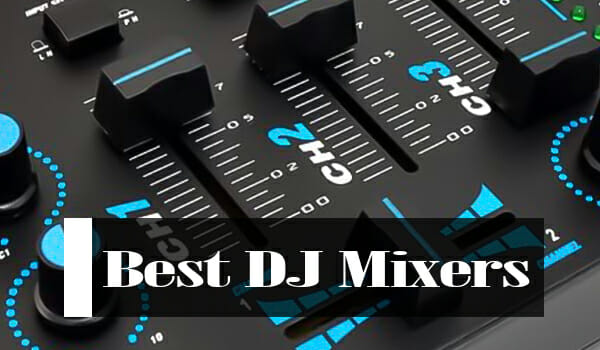 Whether you aspire to be a DJ, or already are one, mixers are the devices responsible for almost everything you do.
So, it becomes very important that you choose a DJ mixer which suits you, and your type of music, plus has all the features you want to mix music seamlessly.
So here's looking at the top 9 DJ mixers available of 2021 in the market right now.
Top DJ Mixer Reviews of 2021
---
---
---
---
---
---
---
---
---
Buying Guide: DJ Mixers
There are different categories of DJ mixers. Which one would be apt for you, and hence which one you should buy, you can get an idea by the following comparisons:
1. Scratch Mixer vs Regular Mixer
Scratch mixers (a.k.a. battle mixers) mainly focus on scratching, as the name implies. This means that the basic setup is simple, and there aren't many effects, or you can say, not many choices. The focus is on the crossfader, so that you can cut your scratch audio precisely. The crossfaders in the battle mixers are always of the best quality.
If you are someone who has other priorities while DJing, then you should go for regular mixers which are of further many types.
2. Digital Mixer vs Analog Mixer
Most of the DJ hardware we see today, are designed for digital use, and there's a reason for that. They are basically a computer in themselves, and have an impressive range of effects.
If you are someone who doesn't like a lot of complicated features, analogue mixers are great. Just plug in, and you are ready to go! They are cheaper, more portable, and easier to use.
3. 2 Deck Mixers vs 4 Deck Mixers
DJs initially used to have 2 decks, one for playing live to the crowd, and one for previewing via headphones. For DJs who want sample looping, 4 decks can be more useful. The 4 decks add more creativity to your set.
More often than not, 2 decks are sufficient, because it is simpler, and there are less chances of messing up, it is cheaper.
4. MIC input vs LINE input
Mixers support either Mic input or Line input, and sometimes both. Most of the modern inputs are LINE inputs. You should make sure that you have the mic, which matches the input.
Top Brands: DJ Mixers
DJing is a popular and rising industry, so it's natural there are a plethora of companies which manufacture and produce DJ mixers. Here's looking at some of the most famous companies which have made a name over the years:
1. Pioneer
Pioneer (a.k.a. Pioneer Corporation) was found in 1938 as a repair shop for radios and speakers. This Japanese multinational corporation is one of the biggest names in the DJ industry.
The company, which is based in Tokyo, specializes in digital products for entertainment. It manufactures DJ equipment, DVD players and recorders, PC DVD drives, televisions, car audio, and navigation systems for navigation.
2. Numark
Founded in 1971, Numark is based in Rhode Island. Its parent company is inMusic Brands. Numark is a well-known player in the DJing industry for their high quality products.
Their products have attractive design, great performance, and a responsive operation.
3. Behringer
Based in Willich, Germany, Behringer is one of the leading companies in music products. This audio equipment was found in 1989, and Music Tribe is its parent organisation.
Even though it is a German company, it manufactures its products in China. It sells a wide range of products like amplifiers, synthesisers, headphones, speakers, and many many more!
4. Allen & Heath
Founded in 1969, Allen & Heath (a.k.a. AH or A&H) is a company, which specializes in manufacturing consoles for audio mixing.
Part of Audiotonix, the company also produces DJ mixers for nightclubs, and sound management systems for installing in industries. The company is based in Penryn, England.
5. Native Instruments
Based in Berlin, Germany, Native Instruments is a manufacturer, developer, and supplier of hardware and software for music production, performance, sound design, and for DJing.
It was founded in 1996, and Native Instruments Holding GmbH is its parent organisation.
Frequently Asked Question About DJ Mixers
1. How are DJ mixers different from audio mixers?
Audio mixers, basically, mix sounds of different volumes, and outputs to a master channel by passing effects through various channels. They are used by orchestras, live bands etc.
While DJ mixers are supposed to do roles, which the audio mixers simply can't handle. The DJ mixers have to match the beat of 2 or more audio channels, assist you in deploying your mix with creativity, apply filters and effects to your audio channels, and make your overall set sound great!
2. Depending on the music genre, how to distinguish between the type of DJ mixer I want?
Music genre should play an important role in the type of DJ mixer you purchase.
If you DJ house music, then it is important you look for a mixer with a good amount of filters and effects.
If you play pop music or hip hop, you should be looking for a mixer that enables you to perform easy scratching and cutting.
If you are a hardcore DJ or play drum and bass, you should look for a mixer with multiple formats of input, and with more than 2 audio channels.
3. Should the location where I usually play/ will play, affect my decision of a DJ mixer?
Yes. Portability is an important factor after all.
Look for versatility, plus many options for input and output, and innovative design, if you are a nightclub resident.
You should look for a mixer which is sturdy, lightweight and easy to set up, if you are a mobile DJ.
Get a compact mixer if you are a home or bedroom DJ.
4. Is the talk-over feature necessary?
Talk-over feature basically dips the music when you are talking on the mic. If that is something you do not find necessary, then no need to look for that feature.
5. Which type of mixer should I purchase, if I am a beginner?
Here are some tips you should keep in mind when you purchase a mixer:
Even if the mixer doesn't have all the features, stick to your budget.
Don't go for higher decks. Start with 2 decks, master it first, and then move on to higher decks.
Try to look for sets which are customisable, meaning you can later add new things to the mixer, without having to buy an altogether new mixer.
6. What are all the equipment I require for a DJ setup?
A DJ setup includes some or all of the following equipments:
An audio interface
A gear to play audio
DJ software and a controller
A DJ mixer
DJ headphones
A speaker system
7. Do I need to purchase a full-fledged DJ software platform?
While you can do most of the things using a controller only, it's the software which applies the filters, effects, and those seamless, perfect transitions. So, yes, buying the full version of software is very necessary.
---
Conclusion
So, hopefully, by now, you have decided on the type of mixer that you want to purchase.
Just keep in mind the basic requirements of the type of gigs you perform, and choose accordingly.
And you'll be all set for the best performances in the town!