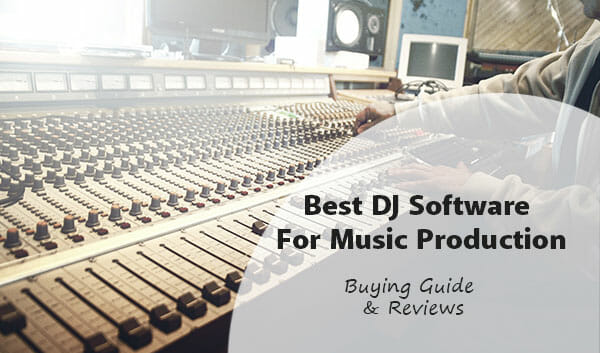 If you look back now, you can see how things required to produce music evolved into simpler forms with time. Before digital audio workstations (a.k.a DJ software), people used to work with CDs and mixers. And before that, there were vinyl records. Well, almost everything is simpler now, thanks to the technology.
But that doesn't mean you don't require a good software to produce quality music. Choosing the right software for music production is crucial as its features shape the output. To help you choose the right one, we have made a list of the 9 best DJ software of 2021.
DJ Software For Music Production : Reviews
---
---
---
---
---
---
---
---
---
Buying Guide
Are you a beginner or a professional?
Are you serious about working with DJ software to make music or are you here just to see what it is like?
Is your operating system compatible with the requirements to launch the software? Few software are compatible only with one type of operating system.
What instruments are your priority? Drums? Synths? Guitar or bass?
Do you want to broadcast your performance live?
Do you wish to stream directly from other music streaming services?
How fine do you want MIDI controls to be? Is staff notation your priority?
What genre of music are you into? Electronic or hip-hop or soulful melodies?
How much customization do you need?
Do you want a stable no-crash software or the one with versatile features even if it might crash now and then?
Can the software integrate with the hardware you use?
What is your budget? Do you wish to start it for free and then move towards the advanced, pricey products?
FAQs About Best DJ Software For Music Production
Usually known as DJ software, a digital audio workstation, abbreviated as DAW works as a virtual studio to compose, mix, create and play tracks even without any real studio setup.
2. What is a sampler in DAW?
DAWs have a sampler that plays the provided instrument samples and recorded or loaded tracks. It is more or less like a synthesizer.
3. What if I don't know how to use software to produce music?
Most DAWs come with help center and tutorials on their websites or YouTube pages. You can also teach yourself by experimenting.
4. Is getting the paid version of software to produce music worth it?
Absolutely, if you are a professional. While the basic versions are not bad, purchasing a higher version will provide you ample features to work with and bring finesse to your music.
Shortly known as EQ, it is the process of tuning the volume of the frequencies you are using and thus setting the track in the right level.
6. How long does it take before I get comfortable with using software for music production?
That really depends but you surely will get comfortable. It is all about trying out and experimenting. As you make yourself familiar with the effects, controls and features provided in your software, you will find it free to create a track in a day or even in an hour.
---
There are many other software available and each has a specialty of its own. As we listed you the best, feel free to pick one to level up your music-production game.