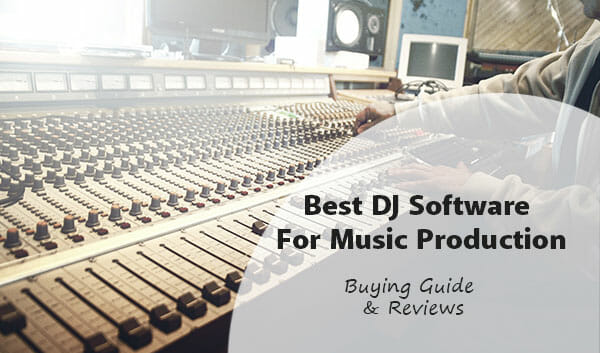 If you look back now, you can see how things required to produce music evolved into simpler forms with time. Before digital audio workstations (a.k.a DJ software), people used to work with CDs and mixers. And before that, there were vinyl records. Well, almost everything is simpler now, thanks to the technology.
But that doesn't mean you don't require a good software to produce quality music. Choosing the right software for music production is crucial as its features shape the output. To help you choose the right one, we have made a list of the 9 best DJ software of 2023.
Table of Contents
DJ Software For Music Production : Reviews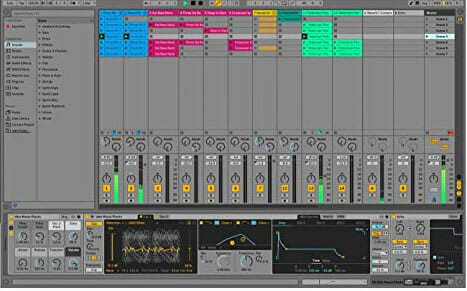 If electronic music and hip-hop beats are your niche, Ableton Live is what you've been looking for.
Though it is not advised to produce an entire song using Ableton Live, certain mixes and additional effects can be excellently crafted using the controls this software offers you.
Fun-fact: Richie Hawtin, a well-known music producer started experimenting with Ableton Live during its beta days and he has done so many full compositions in it.
Now, the current running version Live 10 comes in three modes, intro, standard and suite. The names pretty much explain themselves.
Intro is for beginners, Standard has a few additional features with respect to Intro. For professionals, Suite suits the best.
The three commonly share drum rack, instrument rack, simpler and impulse. External instrument feature is an addition in both standard and suite modes.
Speaking of Suite's exclusive instruments, drum synths, electric pianos, bass and many more should be counted.
Wavetable, drum booth & buss & essentials, synth essentials, and electric keyboards are exclusive features in Live 10's Suite (They are not available in the previous Live versions).
Here is why you should opt for Live 10 or update (if you are already a user of Ableton Live) to Live 10.
The capture MIDI feature is impressive and makes your work with MIDI files easier.
Channel equalization, color limiter, shaper, updated low frequency oscillation and many interesting features contribute to improve your music production experience.
It works on both Windows and Mac.
Pros
Capture MIDI.
Drum Buss.
Channel EQ.
Color limiter.
Excellent drum effects.
Cons
Not ideal for composing an entire track.
Though a full track is composed, additional effects are essential to bring life to the track and to make it complete. With its drum buss feature, Ableton Live 10 gets the job done in no time.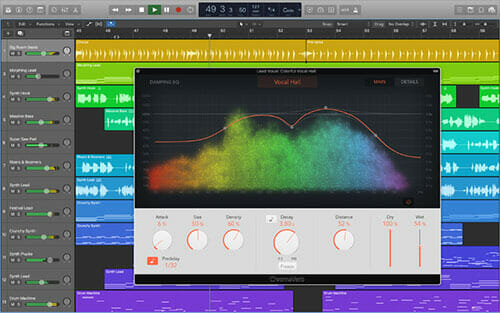 This workstation is professional and works on your Mac.
Though at first look, the interface seems too professional for you to even understand, it won't take time for you to start working like a pro with this software.
The screen shows you tempo along with the time and key, one beneath the other. If you do not know which tempo you should opt for, Logic Pro X's Smart Tempo is your savior.
It supports key commands and you don't have to hover with a mouse all the time. You might take a while in memorizing all the key commands but don't worry, you'll get accustomed soon.
Flex Pitch feature lets you alter any note's characteristics individually.
Along with a variety of instruments, you also get a drummer. You read that right. Not just drums but drummers who play alternative rock, R&B, percussion and brushes. While the drummer plays, you can control them according to your track.
Smart Quantize takes care of the minutest details while working with your MIDI files. You can convert your MIDI files into musical notations if you have a band or students to teach.
If the music kit is not satisfactory, take things into your hands by  adding or removing anything according to your taste. Logic Pro X lets you build a customised kit the way you like it.
This is the ideal workstation for your Mac to completely produce a full track.
Pros
Organic drum sounds.
Smart Tempo.
Flex Pitch and Flex Time.
Smart Quantize.
Vintage EQs.
Cons
Not ideal for live performances.
Not available on Windows.
The software is professional and lets you compose a full track without looking for any other. If drums are dominant in your music, Logic Pro X is a must have on your Mac.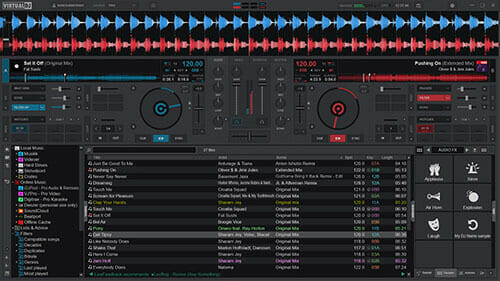 If you are a beginner and do not know what software to begin with, Virtual DJ is the one to start with.
The interface is easy to use and quite intuitive. Whether you want to use it with a hardware companion or not, it adapts to all your preferences.
DNA Scratch edit feature needs a special mention. With unlimited effects, you get to mess around and experiment a lot.
As the software is ideal for amateurs, the features are not specific but rather a combination of all. Sound quality is high and without distortion.
The sampler is rich with many banks and the editor allows you to easily set the samples for your track. Additional samples can be added as well.
For live performances, its Sandbox mode lets you prepare the upcoming track without interrupting the currently playing track.
As a beginner, it is obvious that you want to try a wide range of things before you settle on one. With many interfaces that you can customize if needed, you can make yourself comfortable with the software.
Plug-ins and add ons are infinite and so are the extensions.
This software is ideal for karaoke production as it enables automatic background music play and display list of next singers. A huge relief is that it supports all popular formats.
The pads editor is useful in creating customized performance pad effects. Your creativity gets to take the lead here.
Pros
Customizable interface.
Excellent Library Management.
Sandbox mode for live performances.
DNA Scratch feature.
Cons
Not a complete package for professionals.
Beginners who just stepped into music production have no clear idea about what they need and what they do not. To cater to their unclear needs and to help them arrive at a point, VirtualDJ is ideal with unlimited supply of most of the features.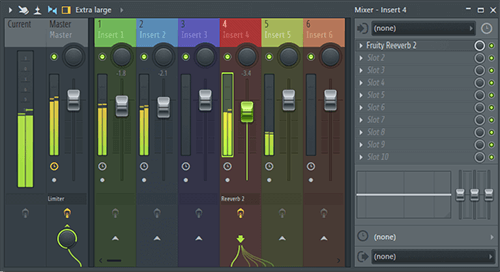 With step mode, note mode and drum mode, FL studio is here for the professional in you.
Step mode lets you create patterns through plug and play. Note mode lets you create melodies and harmonies. Drum mode brings it all to completion with multiple percussion pad layouts and effects.
It is available in four editions viz Fruity, Producer, Signature and All Plugins Bundle.
If you are a beginner or if your preferences are basic, Fruity is good enough for you.
With Producer and Signature, you can do production of a full track but Signature has extra plug-ins.
All Plugins Bundle is the ultimate package as the name suggests and you get access to everything FL Studio could offer. For example, Drumaxx and Transient Processor are accessible only via the All Plugin Bundle.
Drag and drop feature is available in all except in Fruity Edition.
The plug-ins offered in Producer Mode are quite powerful and for a good composition, extra plug-ins may not be mandatory.
FL Studio has its critically acclaimed fame for its piano roll which makes complex score compositions smoother and easier.
If you wish for more instruments, VST plug in is supported and you can connect FL Studio to any VST suitable host. FL Studio is compatible with ReWire.
The interface is vectorial allowing you to rearrange it, if needed.
With a single purchase, you get lifetime access. No frequent annoying notifications.
The software is compatible with Windows as well as Mac.
Pros
Powerful plug-ins.
Synth.
VST support.
Intuitive interface.
Value for money.
Flexible and non-linear.
Compatible with Windows and Mac.
Cons
Few audio editing options are missing.
FL Studio is ideal for professionals who are looking for smooth workflow and also need VST support.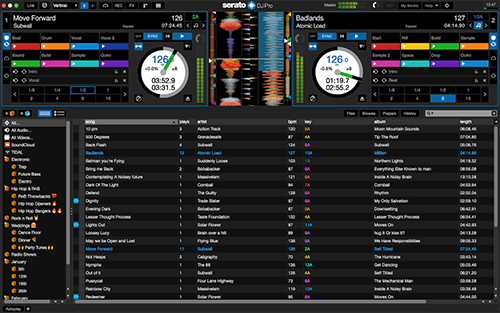 Serato is that software almost all DJs might have used at least once.
Kittens, Dada Life and several other artists are known users of Serato DJ Pro.
The interface is of high resolution making it join the club of those very few 'high resolution DJ software'.
This software has ample professional features making it the right one for professional music producers. Note that Serato DJ Pro hardly crashes. Yeah, it can labelled super stable.
It comes in two modes, performance and practice.
Practice mode offers onscreen crossfader to mix any two tracks without connecting hardware. Therefore, you can make music on the go.
However, it is compatible with all professional hardware so that you don't have to struggle with mouse and keyboard often.
2 deck modes and 4 view modes are available along with Day Mode.
You can use Saved Loops, Auto Loops and Manual Loops. Serato DJ Pro shows you individual play count of each track helping you to design your live performances.
Performance mode offers more than 40 effects. You can load 8 samples into the workspace to use during the performance. (Explains why the sampler is its most appreciated feature.)
Beatjump feature enables you to move forward or backward accurately by a particular amount of time.
Its 64-bit processing will give you unlimited library space.
The software supports direct streaming from SoundCloud and Tidal. The sound effects are slick.
In case you need any additional feature to facilitate something (like turntables), you can check out the expansions available for Serato DJ Pro.
The software is compatible with both Windows and Mac.
Pros
Practice mode.
High resolution interface.
No crashing.
Super good sampler that works as a stand alone instrument.
Cons
Working with MIDI files is not up to the mark.
A top notch stable software with excellent sampler along with many other high end features, for professionals.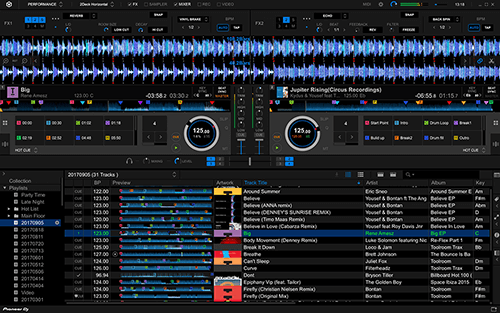 This is an utterly professional software brought to you by Pioneer DJ.
It offers you three types of plans. Lyrics plan, base plan and premium plan.
Lyrics plan costs the least of all giving you access to the songs' lyrics database. You can arrange them for display according to your taste.
Base plan includes basic packs just like the name suggests.
Premium plan is for you when you want to have it all for a complete show or music production. It is more like 'lyrics plan plus base plan along with few additional effects'.
As the software is a professional one, the sound quality has nothing to complain about, either.
The sampler is decent and will let you play around 20 tracks at the same time. The pads are customisable and use them according to your other needed features.
Sound color effects can be customised.
Deck modes are either 2 or 4 along with choices of horizontal or vertical look.
For live performances, the software supports split screen mode. Two screens for arranging and performing individually.
You can simultaneously move tracks from one playlist to the other. You can work likewise with 5 tracks at a time.
You can play those tracks in your library and also stream from SoundCloud and Beatport LINK if you are a subscriber.
For the Auto Mix feature, the algorithm is accurate and the results seem more natural than automated. Along with Auto Mix, you can manually reset the tracks wherever and however desired.
Rekordbox DJ works equally well with Windows and Mac.
Pros
Auto Mix feature that actually works.
Customisable pads.
Compatibility with Beatport LINK.
With upgraded design and improved features, Rekordbox DJ does not disappoint professionals. The library feature is much needed for DJs to produce or perform.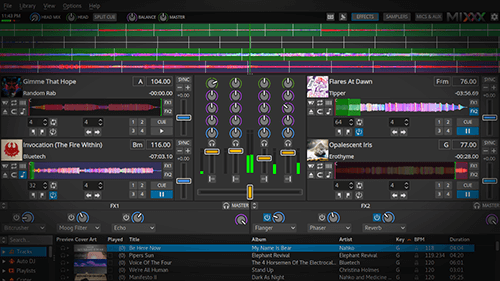 Mixxx is an open source software which means, in addition to using it for music production, you can also edit its code.
From an amateur to a pro, everyone can use this for their live performances and music production. We suggest it for beginners, personally.
Using this software will help you get along with other DJ software.
Mixxx has got master sync with which you can mix up to four songs with a suitable tempo and beat.
But wait, you don't have to bother if each individual tempo is adaptable with the other. The master sync really does it all. And no, the beats do not change with the tempo.
Beat detection is quite sensitive and finds the beat of the toughest track you can get.
It offers Beat Looping that will loop any segment in the track seamlessly.
For layers, you can add up to 64 decks.
The software supports all popular hardware without restrictions.
Drag and drop any track you want straight from your iTunes library.
The user interface comes in 4 types so that you can choose the look you want. . Additionally, you can configure, resize and rearrange each one as you wish. But the interface could have been a little better. Not a 10 on 10.
It is advised to record your live mixes in WAV format as the loss is negligible.
With Shoutcast server, you can broadcast your performances live.
Did we mention that it is absolutely free of cost? Yes, you don't pay anything to use any of its effects or features.
Oh, wait! It works on Mac, Windows as well as Linux.
Pros
Works with Linux as well.
Free of cost.
Accurate beat detection.
Impressive vinyl control.
Cons
Interface is not up to the mark.
This is the most ideal one out of the free software available, for those looking to start DJing and music production.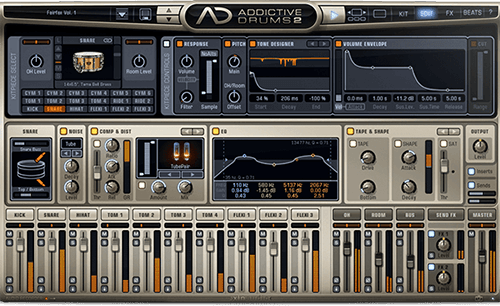 Sonar by Cakewalk makes your audio production job, a cakewalk.
Notable artists like Chris Standring and Jochen Flach have praised the sound quality of this software.
Sonar's Skylight interface is completely customizable and flexible.
The mix engine is 64-bit that enhances the accuracy and quickness of each of your projects.
Sonar comes in four versions. Sonar Home Studio, Sonar Artist, Sonar Platinum and Sonar Professional.
While Home Studio is limited with 8 stereo, 64 Tracks and 8 busses, each of them are unlimited in the other three.
Patch points are available unlimitedly in Professional and Platinum.
The style dials are 8 in all of them, in MixStrip of Home Studio and Artist and in ProChannel of Platinum and Professional.
With a whopping 23 instruments and zoom spectrum analysis, Platinum is perfect for professional producers.
The virtual instruments sound as organic as possible and if you want to work with a melody but don't know how to play it, you can just hum or sing and the audio to MIDI feature will take care of making it ready to be edited.
For songwriters and composers and even for music teachers with students, the software's staff view is helpful. Guitar tab view is cool for guitar students.
The guitar and bass sounds are perfect and deserve a special mention. The audio quality of strumming is top notch.
Let your wings of creativity spread. This studio seeming software will catch up with all your experimenting.
The Control Bar is practical and intuitive, no matter on what kind of screen, you use it. Drag and drop feature is available.
However, it is compatible only with Windows.
Pros
Guitar sound quality.
Split your work to multiple screens for more comfort.
Staff view.
Patch points.
Compatibility with touch devices.
Cons
Compatible only with Windows.
An easy to use software for professionals with a fine touch-device compatibility.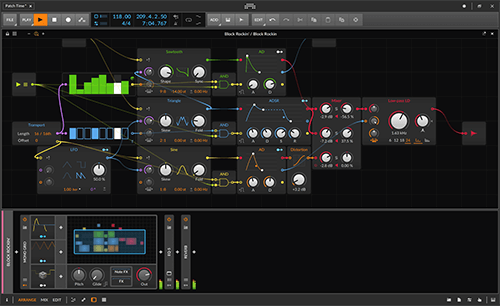 A mentionable feature of Bitwig Studio includes its usability as a stand alone instrument in addition to being used as a music producing workstation.
If you are a turntablist and are going to start working with a DJ software, Bitwig Studio's interface suits your work mode.
The interface is quite impressive with three primary layouts, Arrange, Mix and Edit and you can switch from one to another easily.
Audio export is available in three types, 16- bit, 24-bit and 32-bit. With drag and drop, you can open and work with multiple projects at the same time.
With time stretching available in 8 algorithms, Bitwig Studio is one of the most advanced workstations. Phase modules are a separate feature holding their own importance.
The sampler is way ahead of its time and the workflow is smooth and fast.
The Grid has so many modules and using them the right way will shape distinctive sound effects to make your mark.
Another rare quality of Bitwig Studio is that all signals are equally interchangeable. And each audio cable and control signal work  as individual stereo.
If you are doubtful about how to use any feature, the interactive help is at your desk for your service.
With over 80 instruments and effects, it lets you create tracks in professional standards.
MIDI support is excellent and expressive. Micro pitch is another unique tool offered by this workstation.
It offers VST plug-in multi-out and side-chain support. All devices and plu-ins can be supported from a single open controller.
It has Ableton LINK 3 which supports start and stop synchronization.
Bitwig Studio is compatible with Windows, Mac and Linux.
Pros
Compatibility with all OS.
Multiple modules.
Apt for professional needs.
Fine MIDI controls.
For a professional looking for excellence in every feature, Bitwig Studio is the ideal pick.
Buying Guide
FAQs About Best DJ Software For Music Production
What is DJ software?
Usually known as DJ software, a digital audio workstation, abbreviated as DAW works as a virtual studio to compose, mix, create and play tracks even without any real studio setup.
What is a sampler in DAW?
DAWs have a sampler that plays the provided instrument samples and recorded or loaded tracks. It is more or less like a synthesizer.
What if I don't know how to use software to produce music?
Most DAWs come with help center and tutorials on their websites or YouTube pages. You can also teach yourself by experimenting.
Is getting the paid version of software to produce music worth it?
Absolutely, if you are a professional. While the basic versions are not bad, purchasing a higher version will provide you ample features to work with and bring finesse to your music.
What is equalization?
Shortly known as EQ, it is the process of tuning the volume of the frequencies you are using and thus setting the track in the right level.
How long does it take before I get comfortable with using software for music production?
That really depends but you surely will get comfortable. It is all about trying out and experimenting. As you make yourself familiar with the effects, controls and features provided in your software, you will find it free to create a track in a day or even in an hour.
There are many other software available and each has a specialty of its own. As we listed you the best, feel free to pick one to level up your music-production game.