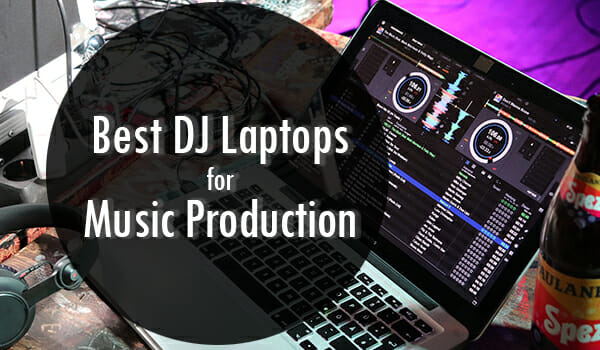 Imagine this: you have worked tirelessly on creating your first-ever mixtape, for the world to listen. The final editing process is on, and suddenly, your laptop crashes due to overheating.
Sadly, you didn't save the progress during the final edit, and hours of work went down to drain. Don't worry, this can be avoided by making smart investment choices by looking at some of the best DJ laptops in 2023 for music production.
The laptops in this list not only fulfill the bare-minimum basics but go above and beyond in delivering what was promised. This buying guide is unbiased, unfiltered and is meant to ease the process of getting you a laptop based on your needs and judgements.
Table of Contents
Top DJ Laptop Reviews In 2023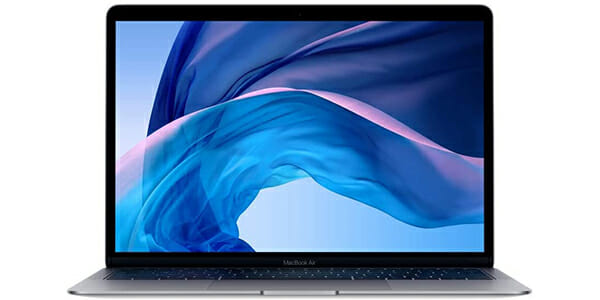 The new MacBook Air is slim and very light-weight, standing at just 2.75 pounds. This makes it easy to carry around and to commute to different places.
Battery life has been improved significantly which means there is no worry for at least 13hrs. The price is definitely on the higher side though.
The RAM is 8 GB and can be configured up to 16 GB, which means super-smooth functioning without any lag. This laptop is great for new and intermediate level musicians and DJs.
13.3-Inch Retina Display that has 2560*1600 resolution with 50% thinner borders for more display and touch area.
Touch ID for robust security and unlocking.
Dual-core 10th-Generation Intel Core i5 Processor with turbo boost of up to 3.6 GHz for the processing speed.
Intel U-HD Graphics 617 card.
Wide Stereo sound with 2x base, along with 3 microphones for better sound capture and noise cancellation.
Thunderbolt 3 USB C-type ports for connecting to turntables and mobile phones simultaneously.
Force-touch touchpad for multi-touch gestures and precision.
Up to 1 TB of fast SSD storage with 256 GB of internal memory.
Pros
Super thin and light-weight.
Good display.
The sound quality of recordings are crisp.
Fast data transfer through Thunderbolt.
Upgradable RAM.
Cons
Pricey.
Not too useful for high-level production and composing.
MacBook Air is sleek, lightweight and has a stunning display, along with a solid processing speed and RAM for medium-scale music production and sound engineering. It comes with the latest ThunderBolt ports for fast data transfer with additional features like touchpad for better control.
This Microsoft laptop has a battery life of 10.5hrs, therefore you do not worry about recharges during intense sessions.
The latest version comes in 2 variants, one of up to 8 GB RAM and the other with up to 16 GB of RAM. This laptop is a plus for all the DJs looking to perform and produce without any delay and distortions. This DJ laptop is suitable for entry-level and small scale musicians pumping out content.
Fast charging: over 80% in less than an hour of charging.
1 TB of free storage on OneDrive, for unlimited storage of work-in-progress and new musical creations.
10th generation intel core processor with either i5 or i7 quad-core processor, depending on the version.
Many ways to connect via USB-C and USB-A type ports to connect to phone, turntables etc. simultaneously. Ethernet adaptors can also be connected.
The screen size of 12.3-inches, that can be converted to a tab as well and used with a Microsoft Surface Pro Pen for precision and control.
The weight is just 1.7 lbs (800gms), which makes it almost feel like an iPad if compared, and the build is sturdy.
The microphones are of good quality.
SSD is of 256 GB, and expandable memory up to 1 TB.
Multiple-user interface.
Compact and highly flexible, easy to throw around in a backpack and carry.
Pros
Light-weight.
Fast-charging.
Expandable memory.
Free storage on OneDrive.
Cons
No Thunderbolt 3 type port.
Less ideal for high scale production.
Surface Pro 7 is another pick for DJs and Producers starting out/making their way in the music scene due to it being easy to carry around, having a decently powerful processor and fast-charging features to always be on the go or work for hours.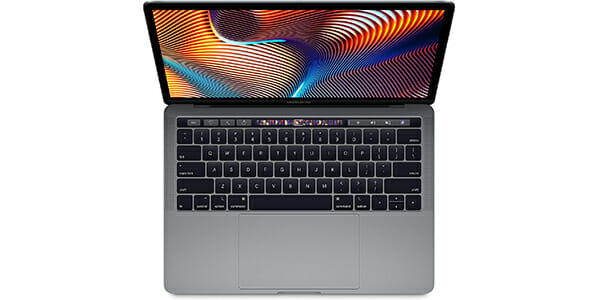 The new MacBook Pro comes in 2 variants, 13-inch and a 16-inch display with 500nit brightness, depending on your requirement. The memory is expandable up to 2 TB and 8 TB respectively, which doesn't require much to say if you can expand your budget for it. 8 TB is the highest in any laptop so far. MacBook Pro is great for music producers at all levels, especially the ones at an advanced level.
The Pro 13 stands at 3.02 lbs and Pro 16 stands at 4.3 lbs. This makes the Pro 13 ever so slightly more compact as compared to the Pro 16 if that is something you look for.
A battery life of up to 10+ hours is there, which is decent and standard for heavy-usage due to its high capacity and utility.
4 Thunderbolt USB-C ports, for multi-user/multi-device connectivity in Pro 13.
RAM is expandable up to 16 GB in Pro 13 and up to 64 GB in Pro 16, which means super-smooth functioning irrespective of the usage.
A back-lit keyboard for convenience in darker working conditions and Magic/Butterfly keyboard in both the versions respectively.
The resolution is 3072*1920 and pixel density of 226pi with "true tone" that automatically adjusts to various light settings, be it for DJ-ing at a party or for creating a mix.
The processor is 8th and 9th generation intel core with a quad-core processor of turbo speed up to 2.8 GHz in MacBook 13 and an octa-core processor of turbo speed up to 4.8 GHz in MacBook 16.
A six-speaker sound system along with 2 microphones is present in Pro 16 and the hiss reduction while recording is superb with extra bass.
Bluetooth 5.0 is available, which is the latest version.
The cooling system is improved due to the intensity of the fans, which helps prevent overheating during charging and heavy use.
Pros
Amazing RAM and processors.
Great cooling system.
Multiple ThunderBolt ports.
Display quality: high.
Cons
Expensive.
RAM could have been more expandable in Pro 13.
MacBook Pro is the ultimate DJ laptop for music production. Getting up to 64 GB of expandable memory elsewhere would not be possible. All the features are cutting edge and high-quality, especially in Pro 16. So it might be the best for high-scale production, engineering and music composing.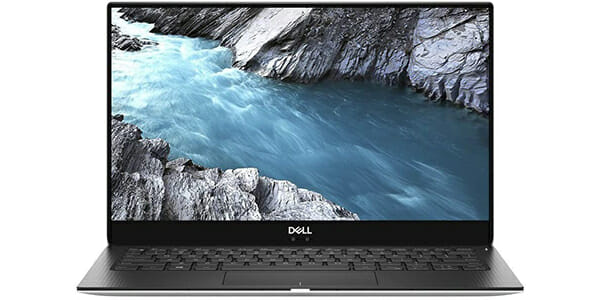 This new touch-screen model from the XPS series stands out due to its features at a good price point, which is ideal for starters as well as people finding a path in the music scene.
With a battery life of 12 hours when used moderately heavily and a 13.3-inch borderless display, this laptop for DJs is ideal to carry around for work. The weight is just right, at 1.22 kgs, which makes this laptop thin and light-weight. This laptop can be really useful for beginners as well as small-scale music producers.
The processor is 8th generation intel quad-core (64 bit) with a "Dynamic Power Mode" that improves performance by 44%; ideal for intense use (1.8 GHz is the normal and up to 4GHz turbo processing speed).
The RAM is up to 16 GB with a storage of 512 GB, which is expandable.
Thunderbolt 3.0 USB slot, along with 2 USB 3.0 for multi-device connectivity, which means turn-tables, phones etc. can be connected simultaneously.
Docking for up to 3 devices.
Speakers on either side of the panel along with an SD card slot.
Finger-print sensor for high security.
Pros
Bezel-less screen.
ThunderBolt Connectivity.
Expandable Storage.
Sleek and light-weight.
Cons
Supports only USB C-type.
Battery could have been better.
Dell XPS comes with a bezel-less display, good processing speed and ThunderBolt connectivity. This would be one of those laptops that people making moderately complicated mixtapes and/or being DJs at a party would find really useful.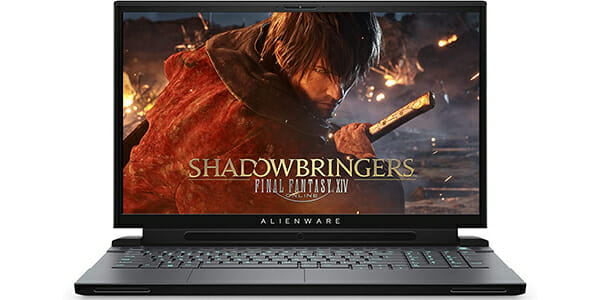 Alienware is one of the most popular laptops among gamers, for obvious reasons and features. But, this laptop is power-packed for most levels of music producers, especially the ones working at a higher scale. The price is definitely on the higher side with this product, and it's worth can be decided by the usage.
With a big display size of 15.6-inches (FHD) and 16 GB of RAM which is expandable up to 32 GB, you are good to go for moderately intense music production sessions.
An Intel U-HD 630 graphics card of 6GB with Tobi sensor that tracks motion and adjusts the display accordingly.
The processor has 6 cores and is a 9th Gen intel core i7 processor with a speed of up to 4.5 GHz, to glide through work.
A glass touchpad for better precision and control.
Decent battery life to sustain high CPU and GPU usage.
Great cooling system due to two differently designed high-voltage fans.
Connectivity: 2 USB 3.1 ports along with one Thunderbolt 3.0 port, and an HDMI port. This is great for multi-device and multi-user connectivity.
The keyboard is backlit.
The laptop is slim and comfortable to carry around.
Also Checkout: 9 Best DJ Laptop Stands of 2020
Pros
Superb graphics.
Great processing speed.
Sufficient RAM for mid to high level music production and sound engineering.
Cons
Battery life reduces- due to intense processing and graphics.
It's a gaming laptop that has great RAM, superb graphics and an amazing processor. The connectivity is good too along with high-functioning cooling systems.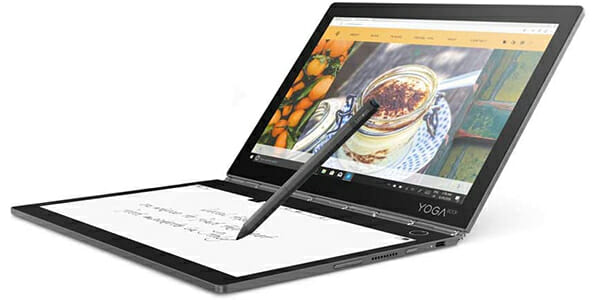 This 10.8-inches of tablet-cum-laptop is stunning and useful for new musicians wanting to multi-task and carry it around anywhere. This is not meant for seasoned artists and DJs due to it meeting the essentials for starters.
This laptop-cum-tab is a part of the list primarily due to its small size and price point.
The battery life is up to 10 hours when used heavily and 13 hours when continuous reading.
The key feature is the E Ink panel technology, which means that both the sides can be converted to tablet mode, and it uses less power.
Touch keyboard rather than a standard one.
The OS is Android but works perfectly with Windows applications as well. Android is considered a plus for its interface and compatibility.
The RAM is 4 GB along with a storage capacity of 64 GB which is expandable up to 256 GB SSD. This makes it only for starters.
2 USB 3.1 (C-type) ports along with a SIM Card slot for 4G LTE network connectivity.
Dual-side speakers.
It's light-weight, at just 775 grams which makes it easy to carry work along with you.
The processor is intel i5 7th generation, quad core with a speed of 1.2 GHz, which is not much.
It comes with a pressure-sensitive stylus, called Precision Pen.
Also Checkout: 9 Best DJ Lights of 2021
Pros
Small and compact.
Light-weight.
Decent for starters.
Cons
Processing speed is slow.
Less in-built storage.
It's affordable. It's compact. It has keyboards that can be converted to a second screen and vice versa. Basically, if you want a small, light-usage laptop cum tab, then this is the ideal pick for you to get work done.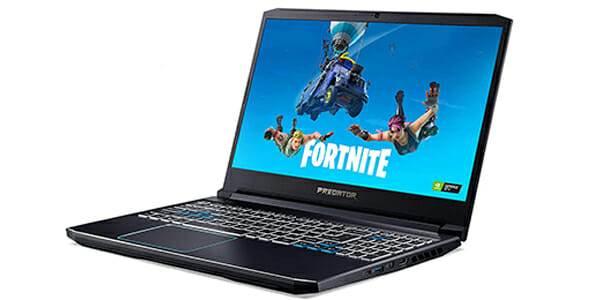 Another solid gaming laptop which can be used by most levels of DJs and music producers. Predator has a display size of 15.6 inches with 300nit brightness, standard and solid, along with a screen space of 77%. The battery life is mediocre, assuming that this laptop will not be used for intense gaming purposes.
The weight of the laptop stands at 5.07 lbs, which makes it slightly on the heavier side, and not super compact.
The RAM is at a solid 16 GB, expandable up to 32 GB. This helps in treating several programs at the same time.
Processor: Intel i7 9th generation processor with Hexa-core processors with processing speed of 4.5 GHz.
Storage space in this version is 256 GB, which is expandable up to 1 TB.
The keyboard is backlit, and the light colours, as well as settings, can be changed as per the requirement.
AeroBlade fans for supreme cooling of the device.
Great sound effect with Waves MaxxAudio and MaxxBass in 2 in-built speakers that produce stereo sound.
Connectivity is good with 4 USB 3 ports and an SD card slot.
The graphics are the key element, with a 6 GB graphics card by NVIDIA.
Pros
Solid RAM.
Great processing speed and graphics.
Fast cooling of device.
Great audio quality.
Cons
Pricey.
Relatively bulkier than the rest.
It is a heavy-duty DJ laptop that has good audio quality and processing speed along with an upgradable RAM up to 32 GB, which is useful for both mid and higher level music production, enabled with solid graphics.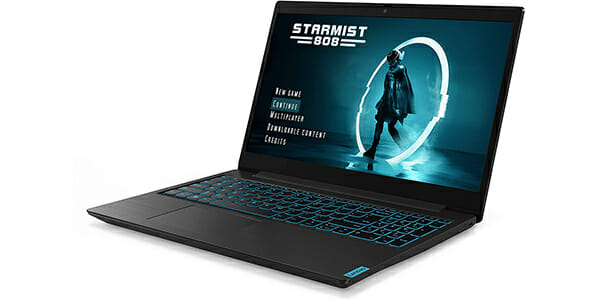 This laptop is one of the most affordable "gaming" laptops of the lot. The battery life of L340 is 9 hours when used intensely, and has a screen size of 15.6-inches with 250 nits of brightness. The built of the laptop is slim, yet sturdy. The weight stands at 4.8 lbs, which makes it on the bulkier side of the spectrum.
Ideapad is a viable option for novices and can be used by creators and DJs who are a level higher if the RAM is upgraded.
The RAM is 8 GB and can be bumped up to 16 GB, depending upon the usage and speed.
The storage is 512 GB and can be elevated to 1 TB SSD.
There are 2 USB 3.1 slots along with 1 USB C-type slot and an HDMI 2.0 port for connectivity with multiple devices.
The keyboard is backlit to make sure that it can be seen anywhere, along with settings to adjust the same according to the ambience.
There are two speakers on either side of the panel which are enabled with Dolby Audio.
The processor is i5 9th Generation intel core and can go up to i7 with a processing speed of 2.4GHz.
Graphics card is by NVIDIA GeForce and has a capacity of 4 GB.
Pros
Good pricing.
Processor is sufficient for beginners.
Upgradable storage.
Cons
Bulky.
No ThunderBolt port.
Lenovo Ideapad L340 made it to this list due to its price point, reliability and upgradable storage. It is a more affordable version to a gaming laptop, with limited but sufficient features for beginners in the world of music production or sound engineering.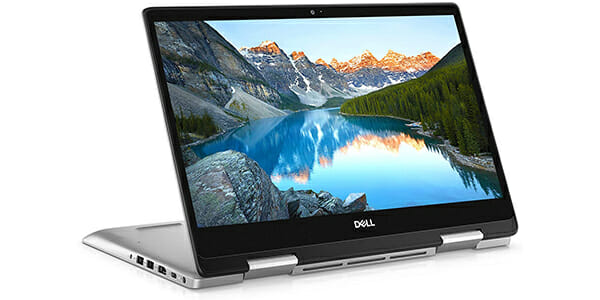 Here is the last laptop of this list that ticks almost all the requirements of DJs and music producers who are either starting or are expanding their music game.
The screen is FHD with a size of 14-inches and the weight of the laptop is 4.6 lbs, which is decent and makes it a bit more compact as compared to other "gaming" laptops.
Processor- 10th gen i7 intel quad-core processor, which is the latest version of it and the speed is 4.9GHz.
The RAM stands at 8GB, which can be topped up by an additional 8 GB, depending on the requirement.
The size of the Intel Iris Plus Graphics card's RAM is 2 GB.
For connectivity, there are 3 USB 3-type ports and one USB 2-type port.
The storage capacity is 512 GB SSD, which is basic for music and software storage.
The keyboard is backlit to work comfortably in a darker ambience.
Speakers are powered by WavesMaxx Audio to provide good quality sound.
The built is sturdy and protects the laptop from small damages.
Pros
Solid processing speed.
Ideal screen size.
Cons
RAM could have been more upgradable.
Dell Inspiron 14 5000 has a superb processing speed, which is why it is a part of this list. Along with that, this laptop for DJs is slimmer yet sturdy, as compared to other gaming laptops. The audio quality is really good and the graphics are good too.
1. Apple
MacBooks are widely used by music producers alongside other devices and instruments designed for music mixing and production. They are trusted, ahead with the technology and have premium features. Their laptops have pre-installed music software like Logic Pro X, which come in handy.
2. Dell
Dell is another company that produces laptops serving multiple audiences. From the famous Alienware laptop for heavy-duty gaming and graphics to Inspiron and XPS for normal to moderate usage, every laptop has distinct features and pricing.
3. Lenovo
If you are looking for reliable, relatively lesser priced laptops to start out your music production needs, then Lenovo laptops are a really good option. Both the laptops in the above list have varying qualities and cost to the user, so you have more options.
Frequently Asked Questions
Questions that are commonly asked, but are not trivial. Here is a list of questions that you might have, but don't know where to ask.
How much RAM do I need for a DJ laptop?
Depending on the scale of production, a minimum of 8 GB RAM that is upgradable as your needs go up. Starters that do light mixing, audio editing etc with some instruments will do okay with 8 GB plus tops.
Medium scale sound engineering and production will require 16 GB of RAM to support many MIDI files, multi-instrumental tapes and mixing.
For large scale production and music composing, 32 GB with an upgrade option will be required to run and mix 100+ tapes that are all MIDI. It would be best to start small, and upgrade slowly, rather than investing in a laptop with huge RAM at one go, unless you are sure it will be required and fully utilised.
Which processor will suit my DJing needs?
A processor of at least Intel i5 that is dual core, with a speed of 2.2 GHz is preferred for beginners
Intel Core i7 with a speed of 2.6+ GHz in a quad-core processor works fine for experienced, medium scale producers.
For experts and large scale sound engineering/composing, hexa or octa core processors, i7 or i9 Intel Core with 3+ GHz of processing speed is a necessity.
HDD or SSD, how to judge the right balance?
HDDs are cheaper alternatives to expand storage. They are compact, but not embedded in the device, hence making it slightly risky for the files to be lost or physically stolen. They are very affordable and are used by a lot of DJs for extending their storage without paying large amounts.
SSD is faster, safer and shock resistant since it is placed in the motherboard. It can be accessed and edited faster than a standard HDD and is most preferred nowadays. The prices have been going down, but an upgrade is still not as cheap as an HDD.
Now, to upgrade the storage, either of the two can be utilised, or a combination of the two.
What does USB-type and Thunderbolt mean to my needs?
USB type determines the speed at which the data will be transferred from one device to another.It is very important to improve efficiency in work and save time.
For example, USB 2.0 type has a speed of about 480 Mbps, USB 3.0 has a transfer speed of 5 Gbps and USB 3.1 has a speed of 10 Gbps. The lastest and the most powerful version, ThunderBolt 3 type, which is the latest version, has a speed of a whopping 40 Gbps.
Is a good graphics card important for a DJ laptop?
Graphics Cards that are integrated with the processing chip are economical and consume less battery as compared to dedicated and separate graphics cards. They are not crucial for the purpose of producing music, but can definitely help in enhancing the processing power for multi-tasking.
Conclusion
There you have it! A list of the best DJ laptops of 2020 that will serve the purpose of DJs and music producers well.
There are a couple of honorable mentions which include the Asus ROG series laptops, Dell XPS 15 7000 and Asus ZenBook 13 that you can have a close look at, considering they have comparable features and pricing to the ones in the above guide.
We hope you have a great purchase that will aid in boosting your work and creativity.