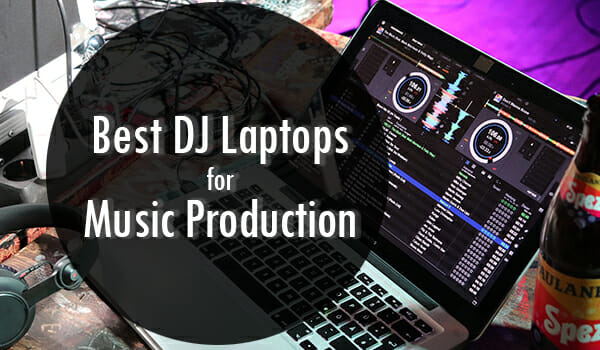 Imagine this: you have worked tirelessly on creating your first-ever mixtape, for the world to listen. The final editing process is on, and suddenly, your laptop crashes due to overheating.
Sadly, you didn't save the progress during the final edit, and hours of work went down to drain. Don't worry, this can be avoided by making smart investment choices by looking at some of the best DJ laptops in 2021 for music production.
The laptops in this list not only fulfill the bare-minimum basics but go above and beyond in delivering what was promised. This buying guide is unbiased, unfiltered and is meant to ease the process of getting you a laptop based on your needs and judgements.
Top DJ Laptop Reviews In 2021
---
---
---
---
---
---
---
---
---
Top Brands: DJ Laptops
Here are some of the brands that make laptops catering to your music production needs (based on the above list):
1. Apple
MacBooks are widely used by music producers alongside other devices and instruments designed for music mixing and production. They are trusted, ahead with the technology and have premium features. Their laptops have pre-installed music software like Logic Pro X, which come in handy.
2. Dell
Dell is another company that produces laptops serving multiple audiences. From the famous Alienware laptop for heavy-duty gaming and graphics to Inspiron and XPS for normal to moderate usage, every laptop has distinct features and pricing.
3. Lenovo
If you are looking for reliable, relatively lesser priced laptops to start out your music production needs, then Lenovo laptops are a really good option. Both the laptops in the above list have varying qualities and cost to the user, so you have more options.
Buying Guide: DJ Laptops
These are the features that any DJ or Music Producer should absolutely not miss out on before investing in a laptop.
A very good battery life: For uninterrupted music mixing and for it to not be dead in the middle of music gigs. Applicable to both DJs and music producers.
A good processor, i5 being the minimum bar and at least quad-core for starters, for the software to run lag-free and have an even-flow.
Amazing RAM, ideally a bare minimum of 4GB for newcomers, and higher than 8GB for small scale production. The laptop has to come with an option to upgrade as well.
High storage capacity for all creation to be stored, backed up and edited. Laptops with expandable SSD and HDD support are almost a necessity.
The good audio quality of the in-built speakers, preferably with surround-sound, even though external speakers are connected.
Good quality microphones if the laptop is used for recording purposes as well.
Many DJs look for backlit keyboards for the convenience factor in darker rooms and ambience, although it may not be a necessity.
Graphics card: is a preferred element, definitely not necessary. An expensive graphics card is not an essential if your budget is constrained, and it would be better to invest in primary needs.
Touch-screen is optional but preferred by many, as it helps with swift movements and accuracy.
Adequate number and types of USB ports for multi-device support as well as connectivity. The types include USB 2.0, 3.0 and USB 3.1 Ports
Decent screen size for better graphics and control, if you regularly do mixing and production.
The footprint of the laptop: how much space it occupies and how compact it is to move around or travel with. This totally depends on the usage and frequency of travel/commute.
Trusted brand that provides great warranty and after-sales services: this is like stating the obvious, but very important.
Frequently Asked Question About DJ Laptops
Questions that are commonly asked, but are not trivial. Here is a list of questions that you might have, but don't know where to ask.
1. How much RAM do I need for a DJ laptop?
Depending on the scale of production, a minimum of 8 GB RAM that is upgradable as your needs go up. Starters that do light mixing, audio editing etc with some instruments will do okay with 8 GB plus tops.
Medium scale sound engineering and production will require 16 GB of RAM to support many MIDI files, multi-instrumental tapes and mixing.
For large scale production and music composing, 32 GB with an upgrade option will be required to run and mix 100+ tapes that are all MIDI. It would be best to start small, and upgrade slowly, rather than investing in a laptop with huge RAM at one go, unless you are sure it will be required and fully utilised.
2. Which processor will suit my DJing needs?
A processor of at least Intel i5 that is dual core, with a speed of 2.2 GHz is preferred for beginners
Intel Core i7 with a speed of 2.6+ GHz in a quad-core processor works fine for experienced, medium scale producers.
For experts and large scale sound engineering/composing, hexa or octa core processors, i7 or i9 Intel Core with 3+ GHz of processing speed is a necessity.
3. HDD or SSD, how to judge the right balance?
HDDs are cheaper alternatives to expand storage. They are compact, but not embedded in the device, hence making it slightly risky for the files to be lost or physically stolen. They are very affordable and are used by a lot of DJs for extending their storage without paying large amounts.
SSD is faster, safer and shock resistant since it is placed in the motherboard. It can be accessed and edited faster than a standard HDD and is most preferred nowadays. The prices have been going down, but an upgrade is still not as cheap as an HDD.
Now, to upgrade the storage, either of the two can be utilised, or a combination of the two.
4. What does USB-type and Thunderbolt mean to my needs?
USB type determines the speed at which the data will be transferred from one device to another.It is very important to improve efficiency in work and save time.
For example, USB 2.0 type has a speed of about 480 Mbps, USB 3.0 has a transfer speed of 5 Gbps and USB 3.1 has a speed of 10 Gbps. The lastest and the most powerful version, ThunderBolt 3 type, which is the latest version, has a speed of a whopping 40 Gbps.
5. Is a good graphics card important for a DJ laptop?
Graphics Cards that are integrated with the processing chip are economical and consume less battery as compared to dedicated and separate graphics cards. They are not crucial for the purpose of producing music, but can definitely help in enhancing the processing power for multi-tasking.
---
Conclusion
There you have it! A list of the best DJ laptops of 2020 that will serve the purpose of DJs and music producers well.
There are a couple of honorable mentions which include the Asus ROG series laptops, Dell XPS 15 7000 and Asus ZenBook 13 that you can have a close look at, considering they have comparable features and pricing to the ones in the above guide.
We hope you have a great purchase that will aid in boosting your work and creativity.