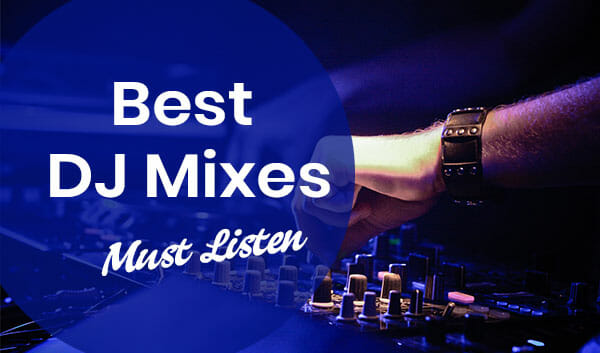 This year, it seems like the long awaited train of last year's brilliant tracks has not just arrived but picked up its speed.
Whether the mixes be live at the gig or premixed to perfection, whether you are in the mood for some alone time or want to turn the heat on the party, we have you sorted with the 25 Best DJ Mixes of 2023.
So, check them out.
1. Special Guest DJ – Juggalo Sky Burial
Here is someone who has definitely been around the turntable for a while, a true veteran of the scene returns to remind us clearly what makes him so special.
This one is strictly for parties that don't have a stop sign on fun, heavily featuring the psychedelic beat drops this mix will instantly enter your loop playlists.
2. AIR Krew- we'll call you
This one is as experimental as it gets but nevertheless this is the one you cannot mix, heavy on the EDM side with synths and distortions, it borders on almost spooky sometimes.
Featuring hits from a diverse cast this is an essential mix for you if you feel like spiraling into one of your best musical trips.
3. Vowel – Perilla Dome
This fresh hit comes from Japanese artist Vowel, a newcomer in the scene that has quickly cemented his place as one to watch out for.
This mix has everything that you might be looking for in a party track – heavy tones, synth drops, and relaxing vibes filled to the brim with talented artists you need to get on this track.
4. Gatan From Hell Live
Our first live entrant on the list is also our first single artist feature, and it is a special techno track.
For an artist to keep your attention with their spell bounding music for two hours is a special feat and Gatan From Hell Achieves that with masterful mixing.
5. Nae:Tek – Dub Waves
It is a good time to be a mixing artist with radios having the courage to stick with the same mix for an hour if the artist proves their worth with the track, and this one certainly has.
Heavily influenced by older dubstep trends of heavy drops followed by smooth and timely progressions, you need to give Nae:Tek a chance and let him entrance you.
6. CLAPS Records – Vinyl Convention
Now for a shorter track because not everyone is partying, and DJ Mixes can be a fun way to relax on your own and get your focus on and house music is just right for that occasions.
CLAPS Records does their reputation no harm by putting out a short mix that definitely does the trick.
7. Artessa Music: Podcast by SLP
Back to the big tracks that you wish were bigger, Artessa Music re-enters the scene after what seems like a long break but here they are with another perfectly curated musical podcast.
The deep house, progressive and melodic vibes in this song almost put you in two moods not knowing whether to dance or relax, this track almost tells a story.
8. Scuba: DJ Sets
On to Soundcloud veteran and curator extraordinary Scuba, this one is an elaborate set filled to the brim with talent.
Featuring 26 songs ranging from Hotflush to Boiler Room to Scuba the man himself, this DJ Set is one of the best ones, headphones or loudspeakers you can't miss this one.
9. Donatello: Mixing Podcast
The podcast genre of mixes really seems to be the thing that is in right now, the long form and play time lets artists experiment and users relax without having to worry about changing the song.
Donatello brings us our second House only mix here and you can pretty much bet money on it being fantastic.
It is melodious, it is rhythmic, and it will definitely stay with you for a while.
10. Pc-Pat and Claud Santo: Deepcast Unlimited
There is something about a collaborative effort in music that just gets you going, seeing two artists synergise and interact with each other to create a masterpiece is a thing of beauty.
This is exactly what Pc-Pat and Santo do, with this selection of House music essentially made to pump up the parties and get people dancing.
Check this one out for an almost out of body experience with the synth work in particular standing out and shining.
11. Ecotek Music: 4 AM After Hrs
Ecotek Music is back with another one of his interpretative Deep House Mixes, and he isn't messing around this time going straight into the heart of House beats from the get-go.
This one is a must play on your list if house music is your jam, and why wouldn't it?
12. Styller: Winter
By far and ahead the biggest mix on this list, Styller is really pushing the boundaries of what you can do with a mix. Have at it in one go or relish it in pieces – this is a masterfully crafted dish.
A 47-track giant, this mix has Tone Depth, DSF and all the greats of the House genre that makes it a quick relaxer and a feet tapper at the same time.
13. Component: Only Techno Podcast
Are you a fan of techno? Don't worry we haven't forgotten about you and by the looks of it neither has Component, with this week's podcast serving you bangers aplenty.
To say this one is a mix to rage and psych out to is an understatement, this track keeps pulling you into it to give you some of the best drops we have listened to in a while.
14. Dan Hume: Heaven's Industry
Dan Hume is back with a banger and so is the genre of techno music, from the edges of obscurity to back on the dance floors.
Turn your room or your party into a club when you put his compilation out to echo melodically.
15. Artessa Music: Podcast by David
Are you even surprised to see Artessa Music back on this list? They are just that good with mixing up beats.
This one is techno but has heavy melodic tones to make it a fusion fit for the name, Rachel Raw and Ivan Masa both feature, and they should be glad because this is masterful.
16. Thariel: Andre Gazolla B2B
From Brazil comes another House masterpiece, and Thariel is here to relax you and make you think of sunny rooftops in his hometown.
This is done with careful craft and you must listen to this one if you are a fan of synth and house.
17. Sounds Between Us
Steven Sho is one to experiment as we have witnessed before, but here he clearly knocks it out of the park with a fusing a good party vibe with lyricism.
Who doesn't like melodic undertone and masterfully written words to groove to, you should get on this in an instant.
18. Adel DepTek: Men Antoum
All the way from Paris, Adel brings us a culturally infused Arabic take on deep house and honestly, we are shocked that we didn't discover this before.
The brilliant fusion between oriental tunes and soothing house makes for a one of a kind experience that you should not pass on.
19. Paul Sawyer: 20th Anniversary Mix
DI FM has been around for 20 years now and for good reason, to change the trend they have gifted us on their birthday with this progressive house banger.
Take your time with this, let it grow on you and it will be paid off in musical delight and almost lyrical therapy.
20. Evolution Sound Mixes: Classic R&B Mix
We had to add a gamechanger here, this genre bending compilation featuring blues tracks and Soul Music coupled with R&B this is one brave track.
That bravery is repaid with reliving the classics under a completely new light that does not disappoint at all.
21. Sakatomi Live At Strawberry Fields
Our second entry from Japan, Trance and live categories this one is as symmetrical with its place on the list as it is with the tracks on it.
This is a pure work of art, every song complements the one before it and perfectly sets up the next one, trance has never felt this good.
22. Galestian: Global Entry Radio
House is a clear winning genre when it comes to radio mixes, people can tolerate beats for far longer than words it seems, and what beats are these.
Perfect for a quiet night in or a background for your favourite book this will have you flipping in more than one way.
23. Bohumil Live
Something about live performances excites us, and it is sure to excite you when Bohumil puts his creative genius under the cloche of spontaneity.
This is one live set that looks carefully crafted but is actually a Techno track made from an artist completely in his zone, unmissable for fans of the genre.
24. Poyan: Heartbreaker
Here is a prediction we have, oriental tones mixed with EDM are going to be a huge thing of the future and Poyan provides us with another evidence for the same.
This is a genre bending take on EDM, it almost surprises you that we don't see enough of such tracks, this is a good direction for the genre to take.
25. Deep Filip: 144,000
Our man Filip is a spiritual fellow and heading into the new year he has his spiritual gift for all of us to share.
Kieran J, Hosini, Wassu all feature in this master mix that will put you in a state of trance faster than years pass by.