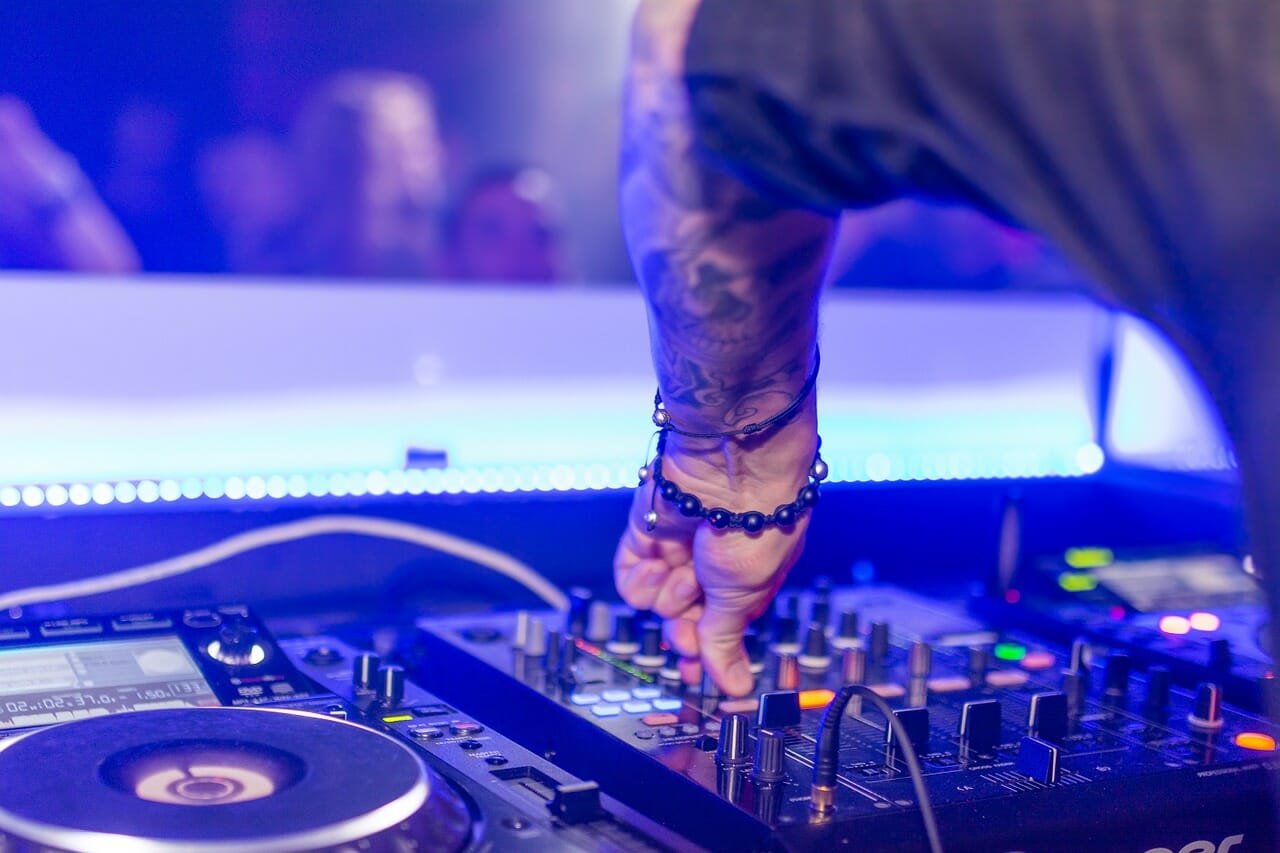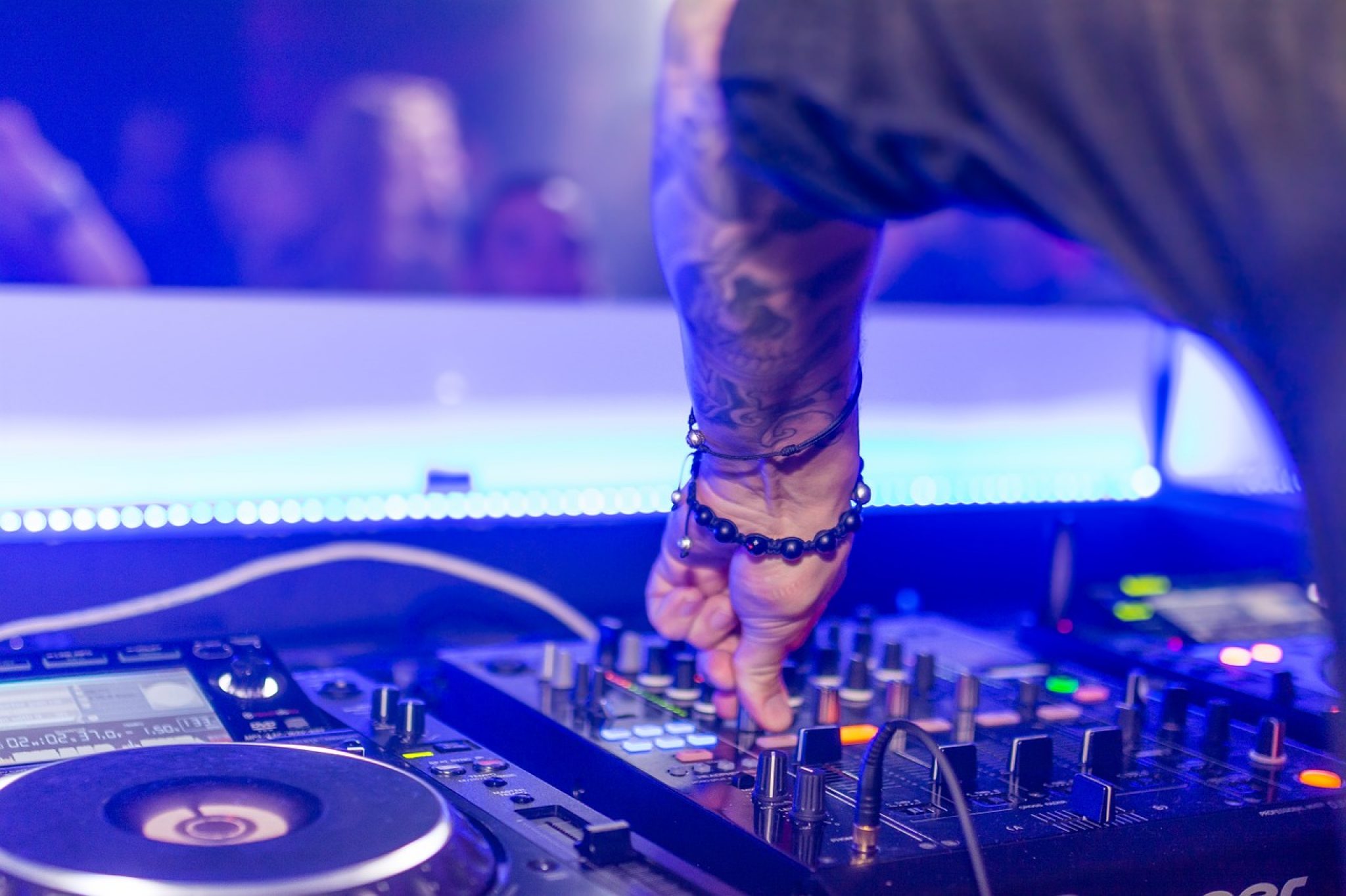 Every musician, especially DJs need multiple instruments to create music. They need to handle multiple units, sometimes all at once while playing live or in their studios.
DJ tables are equipped to support everything that a professional might need, to play great music.
There are multiple options available and below are some of the best DJ tables of 2022 that you can choose.
Table of Contents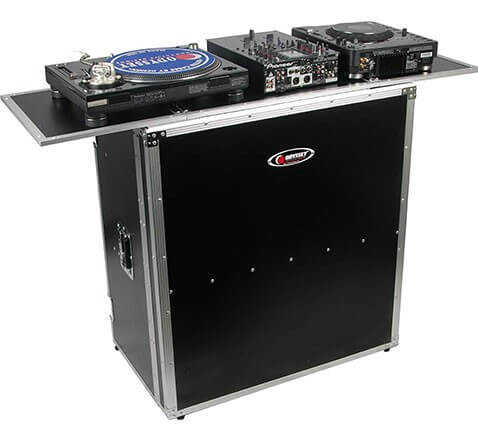 This DJ table from Odessy has a 54 by 37 inch fold out stand with an interior support shelf suited for all occasions. This DJ table is about 48 pounds and can be transported easily. The snaps on the side prevent your equipment from falling out.
Pros
The table is sturdy and can hold a lot of weight without breaking apart.
It does not take a lot of space and you can customize it according to your wish.
The cost is also very reasonable.
Cons
The side parts of the table can bend a little bit due to turntables.
Assembly might be an issue for beginners.
If you need to hold a lot of stuff then go for this one. The product is highly durable and can support a lot of weight without suffering any major damage.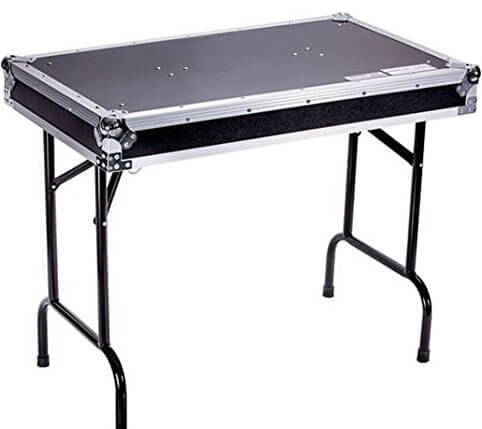 This DJ table by Deejayled is foldable and has an open edge that can be stacked. The DJ table is around 24.4 lbs and can be transported easily without any major problems.
Pros
It comes in chrome steel and impact resistant corners.
The corners are heavy duty ball and have stacking dimple on the bottom side to allow stability and centering when it has to hold multiple units
This DJ table has all the features that make it ideal for an easy and safe travel.
Cons
The legs can't be extended and therefore you can't change the height of this DJ table.
There might be some stability issue if the units are not placed properly on the table.
Overall, this DJ table is a good choice for people who are new at DJing and will be okay with a few units on their table.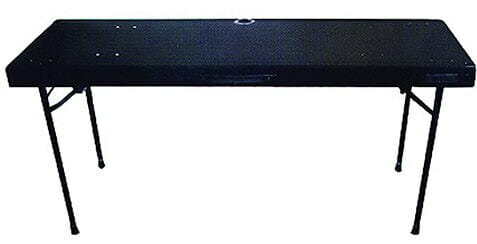 This DJ table from Odessey is available in both one and three pack. It is about 60 inches wide and 20 inches deep with a weight of 29 pounds.
Pros
This table has a strap for handling ease.
The leg is foldable and the height too can be adjusted from 26 to 38 inches.
There is a pre-tapped hole to act as a port for cable runs.
Cons
Adjusting the leg would require some extra work.
This is a great DJ table for professionals because of the features it offers. It is also durable and can hold the weight of a lot of units.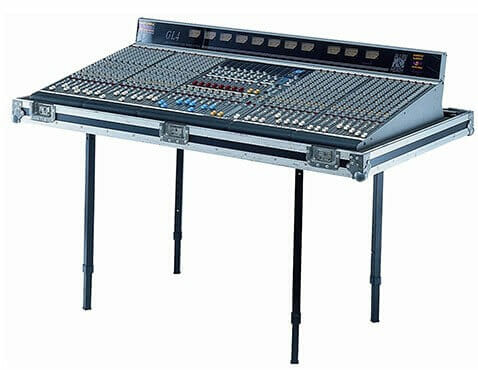 This heavy duty DJ table is perfect for live shows because it can hold speaker cabinets about 48 inches wide and can also support the weight of heavy keyboards. You can also hold CD rack systems, DJ coffins, rack cases, DJ turntables and CD record systems. The stand weighs about 21.3 lbs during shipping and has dimensions of 25, 30.5 and 5.5 inches.
Pros
The DJ table has a Quik Lok spring loaded security knob that holds everything securely.
The table is foldable and makes a "T" shape for easy transportation.
The height can be varied and tilt angle adjustments can also be made.
Cons
Not the best choice for people who have started DJing recently.
Overall, this sturdy DJ table is perfect for professional DJs who need a lot of space while playing live. This table is perfect for holding everything securely to make things easier for professionals.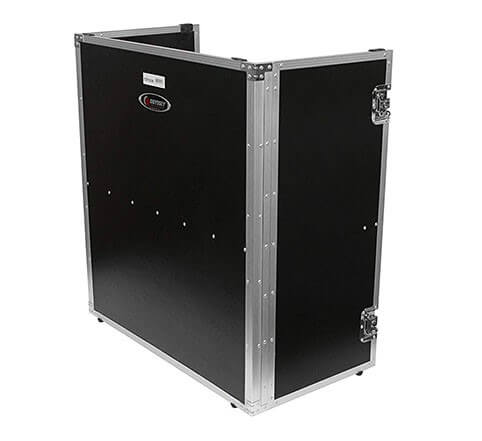 This DJ table is also available in different dimensions according to the user's convenience. The width can be 22, 26 or 33 inches with 36 inches in height. It is unique table that comes in an ATA style and therefore can go from heavy duty DJ stand to folded flat easily.
Pros
The construction is rugged and therefore snaps all the surfaces into its correct place for stability.
The table comes with bottom rubber feet supporters and an interior support shelf.
Cons
There is no top and you will need to make full sized coffin for DJ turntables to use this DJ table.
Overall, this is a good DJ table that has many locking features to keep everything stable. It is also easy to transport and therefore perfect for professionals who tour a lot.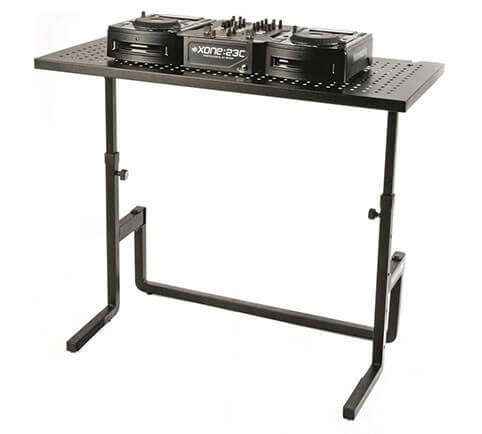 This DJ table and mixer stand equipment is what would suit most professionals. It comes with an adjustable height with four available positions that are 38.2, 33.8, 29.5 and 25.2 inches. It has a weight capacity of about 200 lbs and weighs 30.9 lbs.
Pros
You can fold the table easily for easy transportation and storage.
The table can hold a large amount of weight and therefore is ideal for holding heavy DJ equipment.
The wide table also has enough space to hold multiple units and music gear like DJ turntables.
It comes with a three year warranty.
Cons
The table is designed for professional DJs and therefore is a little expensive.
This heavy duty DJ table is recommended only for professional DJs. Beginners would find this table cumbersome because it is only suited for musicians who use a large amount of music gear. It is also heavier than other DJ tables for the same reason.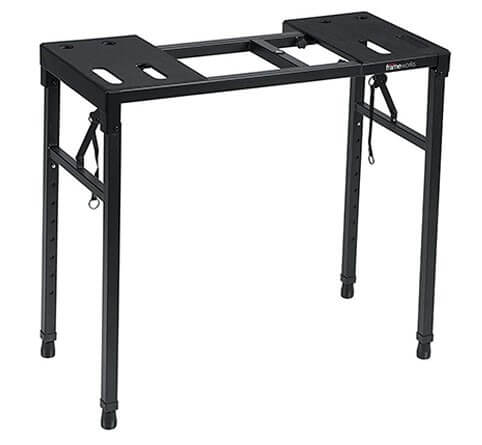 This is a perfect DJ table for people who have just started their journey as a DJ and don't want to spend too much for a good product. This table has great features but also comes at an affordable price. The setting up is easier compared to other DJ tables and it also does not weight too much.
Pros
The DJ table is fully adjustable by height and width to meet all your needs.
It can provide support to keyboards, mixers, DJ rings and can also be used like a percussion table.
The pin system for the leg support locks the legs to provide additional stability.
Affordable cost.
Cons
The table can't hold the weight of heavy equipments and can get wobbly if its weight capacity of 130 pounds is exceeded.
Not the best choice for professional DJs
Overall, This DJ table has a lot of great features for beginners. It can be adjusted to achieve a minimum and maximum height of 26 and 44 inches respectively. You can set up this table easily and it can be done by most amateurs as well.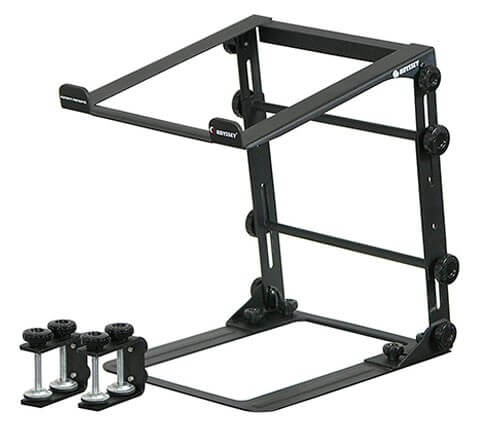 Odyssey LSTANDM DJ stand, weighs around 5 pounds and is 15.8 inches long, 14 inches wide and 3.3 inches high. This is designed to support your CD player, DJ Controller, laptop, EFX/Drum machines, laptop or lighting controller.
Pros
You can attach the stand to a wall or your case easily.
It is extremely light and therefore easy to transport without much hassle.
It is foldable and has a storage pouch.
You can use it in different configurations—stand alone, horizontal and vertical.
Cons
The stand is extremely light and therefore can't support heavy items.
This DJ stand is affordable and has a good grip support. It is also strong and easy to assemble for use. If you need laptop support, this DJ stand is the perfect choice for you.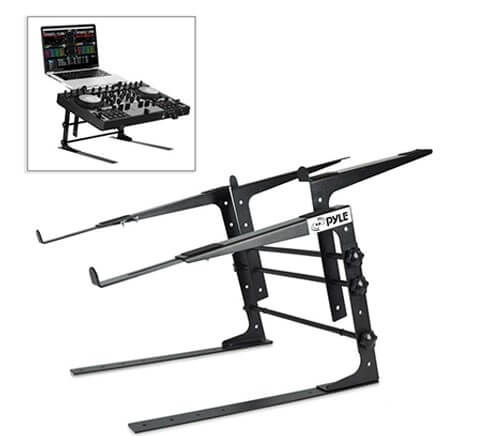 This laptop stand from Pyle has multiple benefits like a dual ergonomic design, adjustable height, anti slip prongs, durable construction and portability. It is made of steel with a top bracket maximum and minimum width of 11. 4 and 9.4 inches respectively. The bottom bracket maximum and minimum width is 13.4 and 11.4 inches respectively. The assembled dimensions are 90.2, 17.0 and 86.4 inches (LXBXH) and the product weighs about 6.1 pounds.
Pros
The laptop stand is stable and secure due to its prongs that become dual trays.
You can adjust the height according to your need and the holes and rods provide support for convenience and comfort.
Your laptop will remain securely fastened, without any incidents as the prongs are anti-slip.
The stand is portable and can be assembled and dissembled easily for the same.
Cons
You can only use it for laptop or any other single unit.
This DJ stand is perfect for both home and business purposes. You can use it for different single units like your laptop, turntables, DJ mixers or any other music unit.
DJ tables can be the perfect way to display and perform your music. If you want something for a single unit or if you don't have many units, then go for Pyle Portable Dual Laptop Stand or Gator Frameworks Keyboard and Audio Utility Table.
Professional DJs who have a lot of units in use while playing should go for something heavy duty like Quik Lok Multi-Purpose Stand (WS-650) or Odyssey FZF5437T Flight Zone 54 Wide, 37 High Foldout Combo Dj Table. Also checkout our review of DJ facades, speakers and headphones.