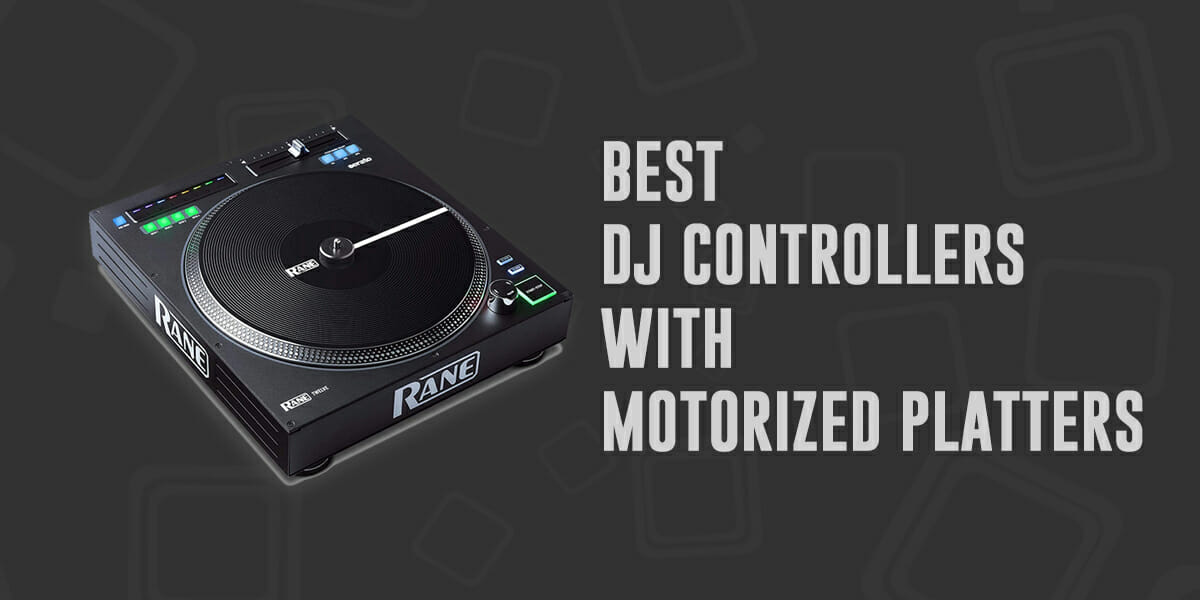 The DJ world is constantly evolving with new innovations and technology, one such highly usable feature is motorized platter in DJ Controllers. The jog wheels or platter are ready platforms for creating that scratchy effect and sounds.
The motorized platters have an in-built motor which enables the platter to move with relative ease. It gives the same feel, looks and experience of a classic vinyl turntable. It is the best type of platter for those DJs who're transitioning to Vinyl and want to sense the same spinning scratchy turntable experience.
Check out the best DJ Controllers with motorized platters below.
Table of Contents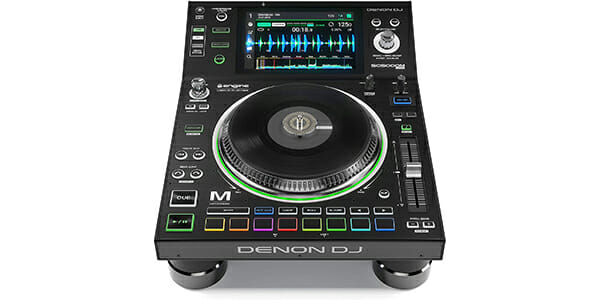 The Denon DJ SC5000M Professional DJ Media Player is the ultimate controller ergonomically designed with 7" vinyl motorized platter which ensures adjustable tension for slips and scratches.
It is equipped with a 7" HD display with multi-colored gestures for making your navigation and search experience smoother. The 24-bit/96kHz digital audio output and support for uncompressed audio formats give it a sonic excellence.
It comes with 8 multifunction pads for loops, cues, slices and rolls and is also primed with Engine Software for your music collection.
Pros
Motorized Platter (7" and 10.1")
Touchscreen Multi-colored Display
Digital Audio Output
Engine Prime Software
It gives the ultimate DJ experience with digital audio output and motorized platters. It is also primed with engine software for track analysis without a laptop/PC.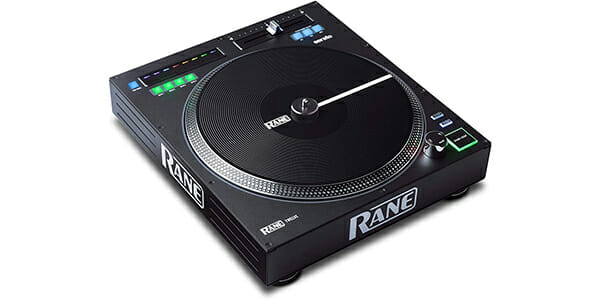 The RANE TWELVE MIDI Control Turntable For Serato DJ gives a highly authentic turntable experience with 12" all-new white acrylic control playback disc with motorized platters.
It gives high strip search with 8 hot-cue-triggers access and total control from 33 1/3 and 45 RPM platter speed with 4 decks of control. It is highly convenient and covers all your connectivity issues with an interface via USB which can be connected to any computer and also features Serato supported hardware.
Pros
12" Acrylic Control Disc
Motorized Platter
Serato And Other Connectivity Covered
High Pitch With Dual-Resolution
It is equipped with familiar turntable experience from acrylic control disc with motorized platters and covers all your connectivity needs. It is supported with Serato DJ Pro hardware.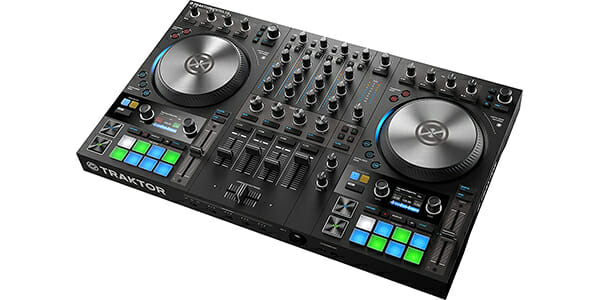 The Native Instruments Traktor Kontrol S4 Mk3 DJ Controller is equipped with new large motorized jog wheels with haptic feedback in 3 modes. The platter has an RCG LED ring surrounding each jog wheel for high-resolution color display.
The jog wheels also transmit loop markers and cue points which provides a more direct feel under your fingertips. Moreover, it is also featured with an integrated audio interface which is pro-grade and has external inputs, DVS Support and mic inputs.
Pros
16 RGB Pads
Large Motorized Jog Wheel
High Audio Interface
Adjustable Torque
It gives highly responsive scratching, back spinning, nudging and pitch-fading experience with its larger motorized jog wheels. It also has a high-resolution color display with RGB LED rings.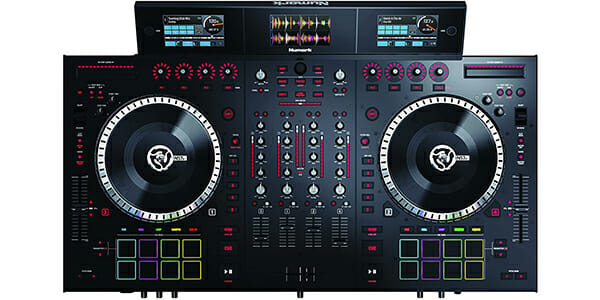 The Numark NS7III 4-Channel Motorized DJ Controller is a premier 4-deck controller which comes in 3 high-resolution color screens. It also provides a high level music mixing experience with 4-channel in-built audio mixer.
The highly sensitive touch-activated knobs help in producing control over filters, EQ and much more. It gives professional DJ turntable feel with authentic vinyl material and 16 velocity-sensitive with 10 MPC Pad modes and RGB feedback.
Pros
16 RGB Pads
Large Motorized Jog Wheel
High Audio Interface
Adjustable Torque
It comes with velocity-sensitive pads which are durable and easy to play with. It includes many features like Touch Mode, Touch Lock Mode, FX Mode and Roll Mode.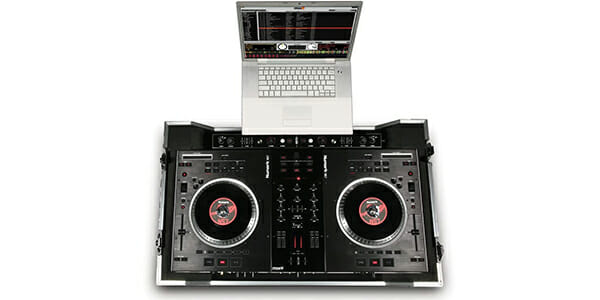 The Numark NS2FX Professional DJ Controller is a premium DJ controller with rugged metal chassis and motorized platters. It is equipped with many additional inputs including USB audio, mic input, turntable input and stereo RCA inputs.
It makes your workflow easier with strip search song navigation and dedicated hardware FX controls. It has a combined mixer with two motorized platters and adjustable torque-turntable which gives a real vinyl feel and professional digital audio interface for complete hard-core performance.
Pros
Professional Audio Interface
Serato ITCH Software
Premium Faders
Adjustable Torque-Turntable
It has a readily adjustable-torque platter for easier speed adjustments. It also comes with PAD mode which features different functions on every deck and has velocity-sensitive touch.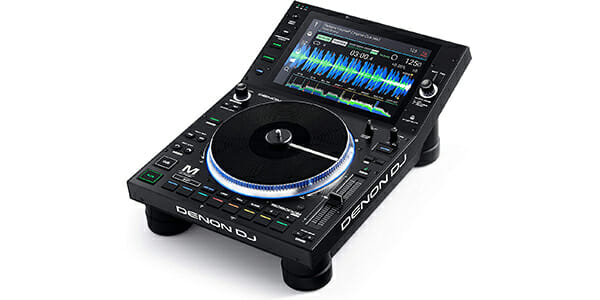 The Denon DJ SC6000M PRIME Standalone DJ Media Player is an updated DJ equipment with new mainstage media player powered by ENGINE OS and HD Touchscreen. It also has two variants of 7" and 8.5" vinyl motorized platter with quick release lock.
The Wireless streaming allows for fresh TIDAL, SoundCloud Go+ and Beatport LINK and Rekordbox tracks collection. It provides dual-layer playback and high performance pads for Hot-cues, Rolls, Loops and Slicker. It is a highly featured pack with StagelinQ connection with Pro DJ lights and video control.
Pros
Standalone Media Player
Vinyl Motorized Platter
Powerful PRIME
Wireless Streaming
Inputs
This controller is powered by ENGINE OS which allows fast DJ performance. It has a dual-layer ability and built-in HD bay for better dedicated deck.
Frequently Asked Questions
What controllers work with VirtualDJ?
Below is a list of few controllers that work with VirtualDJ: 
1. Pioneer Pro DDJ-1000
2. Pioneer DJ DDJ-SR2
3. Numark Mixtrack 3
4. Numark NV II
5. Denon DJ MC6000MK2
6. Pioneer DDJ-SX3
7. Pioneer DJ DDJSR
What's the best DJ controller for scratching?
Below is a list of top best DJ controllers for scratching: 
1. Pioneer DDJ-SX2
2. Roland DJ-808
3. Denon DJ MCX8000
4. Denon DJ MC7000
5. Native Instruments Traktor Kontrol S2 Mk3
6. Numark NS6II
7. Pioneer DDJSB3
Can you use a DJ controller as a mixer?
Yes, most DJ controllers now come with their own attached mixer which you can easily connect with your laptop and DJ software. And if not, then most DJ controllers are able to plug-in to any club level external mixers. You just need to make sure all your faders are down, your trim is controlled and the crossfader is rightly positioned. You can use any external mixer in order to use basic mixing functions for DJing. 
What DJ controllers work with Serato?
The following DJ controllers work best with Serato:
1. Pioneer DDJ-SB3
2. Numark Mixtrack Pro 3 DJ Controller
3. Roland DJ-505 Serato DJ Controller
4. RELOOP MIXON 4 4 Channel Multi-Platform DJ Controller
5. Pioneer DDJ-SZ2 Pro DJ Controller
6. Roland DJ-202 2Ch Serato DJ Controller 
7. Numark NVII Serato DJ Pro Controller
Can you use Serato DJ without a controller?
Yes, Serato upgraded public betas for Serato DJ Pro 2.1 and Serato DJ Lite 1.1, it now includes an expansion of Serato Play which lets you DJ by just using your laptop. It does not require a licence or external controller now.
It gives you a mixer interface, keyboard hotkeys and a DJ splitter cable compatibility. This new version also includes Tidal music which lets you play any tune from Tidal catalogue within your Serato DJ Pro or Serato DJ Lite. 
Which is better, Serato or Rekordbox?
Both Serato and Rekordbox are reliable and practical options for any modern DJ. Both of them allow you to organize your music collection, tweak FX elements, save cue points and display tracks with visual waveforms.
However, for the DVS world, Searato will be a top choice since it can be paired with several hardware and lets you expand the functionality as much as you want.
But, if you're low on budget and looking for an ideal CDJ setup then you should go for Rekordbox since it's easier to use Pioneer CDJ solutions with Rekordbox. And it lets your gigs go with nothing else but a USB cable. 
Can you DJ with just a mixer and laptop?
Yes, one of the most common DJ setups is the laptop and mixer one since it's a portable and versatile setup. You can easily store all your tracks in a laptop rather than CDs and it also gives you the compatibility to easily beat-match and remix lots of tracks.
And if you've got a big enough backup and a portable size mixer, you can practically take the entire setup with relative ease. 
What's the difference between a mixer and a controller?
A DJ Controller is an all-purpose compact device which contains an in-built mixer and two turntables built for connecting to a laptop/PC with a DJ software. It allows DJs to mix music with ease.
However, a DJ mixer doesn't come with in-built features, it requires turntables or CDJs to plug into each channel before any DJ can mix music. 
Which DJ controller should I buy?
These are some of the best DJ Controllers to buy:
1. Pioneer DJ DDJ-1000
2. Native Instruments Traktor Kontrol S4 Mk3
3. Roland DJ-505
4. Denon MCX8000
5. Pioneer DJ DDJ-SB3
6. Numark Mixtrack Pro II USB DJ Controller
7. Pioneer Pro DJ XDJ-RX DJ Controller
How do you scratch with DJ controller?
You can learn scratching with DJ controller through these four basic techniques: 
1. You need to use your dominant hand on the crossfader and other hand on the jog wheel. 
2. Make sure your crossfader setting is turned to scratch (Go to your preference settings, then Mixer and then set Crossfader curve all the way up). This will ensure your scratches sound tighter and easy movement. 
3. Start with baby scratch: It is the foundation and doesn't require crossfader, just rhythmic movements going along the jog wheel back and forth.
4. Next try the Scribble Scratch: It is similar to baby scratch, you just move the record faster, double or triple time. 
5. The Drag Scratch: You now need to open the fader at the start of the sound cue. Move the sound back and forth from 9 o'clock to 12 o'clock position. 
6. If you master these foundation scratches, you can easily catch-up with more progressive scratching
Conclusion
There are a lot of DJ Controllers with motorized platters available in the market, but we've provided you with top-rated products. These ensure high scratching experience with adjustable torque turntable experience under your fingertips.
These provide a classy look and feel with high vinyl experience for super DJ performance. They are some of the best DJ controllers which have high connectivity and superiorly powered in-built software which are durable and easy to use.