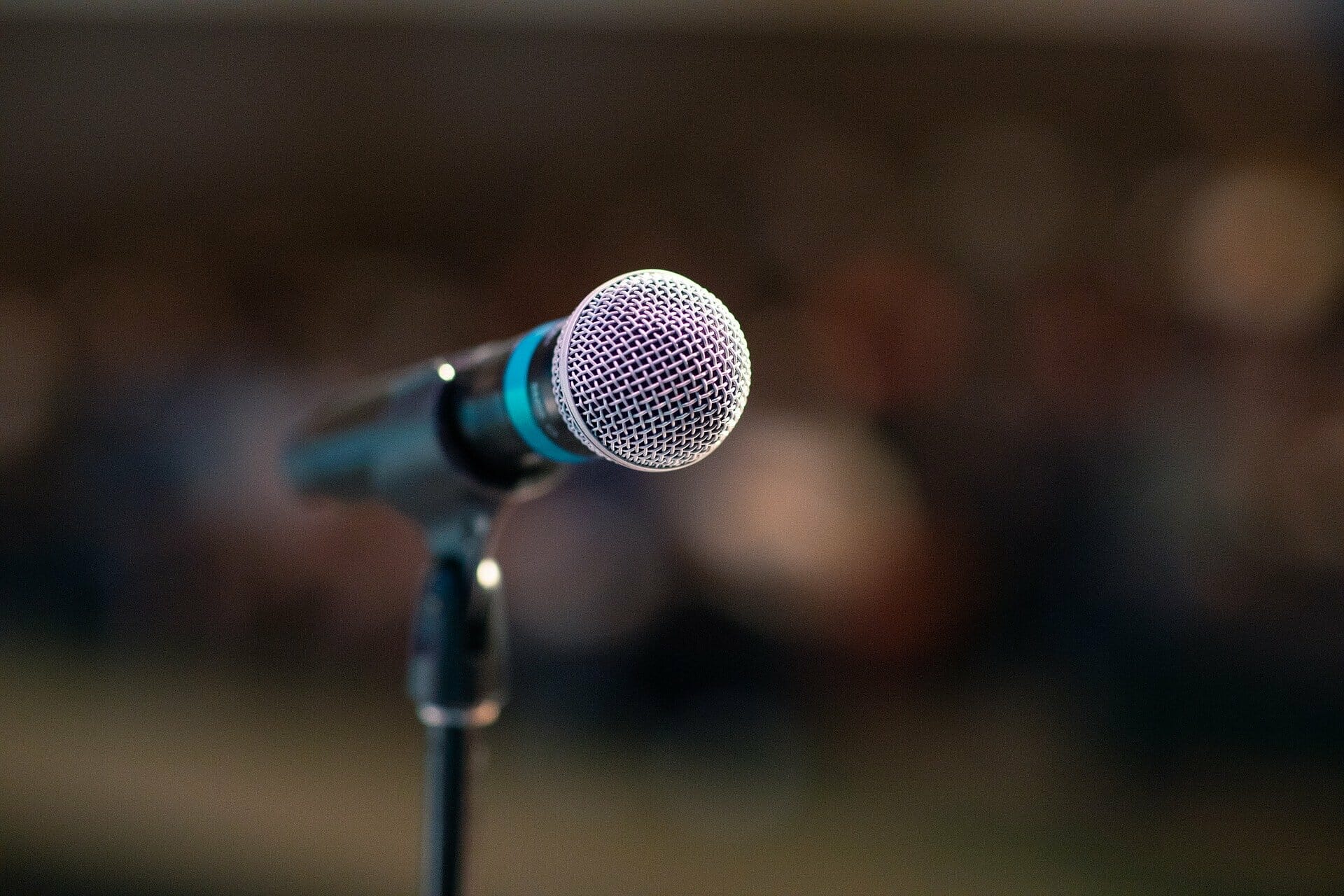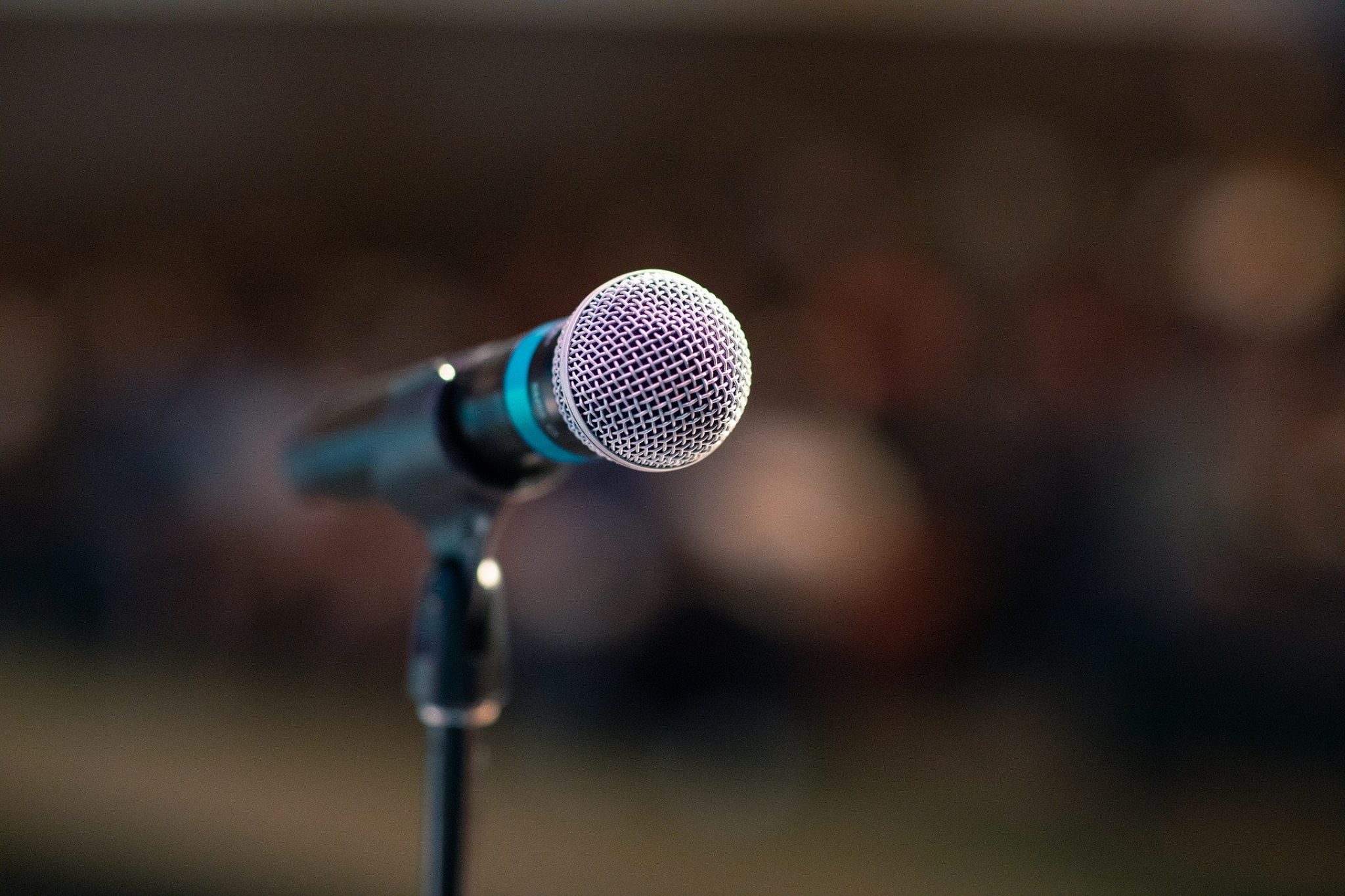 A karaoke machine not only gives you the confidence to sing but also allows you to be a rock star whenever you want. It allows you to mimic your favorite stars performing popular songs. So, there's always a reason to buy karaoke machine.
If you're a singer who wants to shine bright in a house party with your singing performance then a home karaoke system is your best buddy.
But since there are so many options nowadays, I've put together reviews of the best karaoke machines of 2023 that will give you an unforgettable experience right at home. See them below!
Table of Contents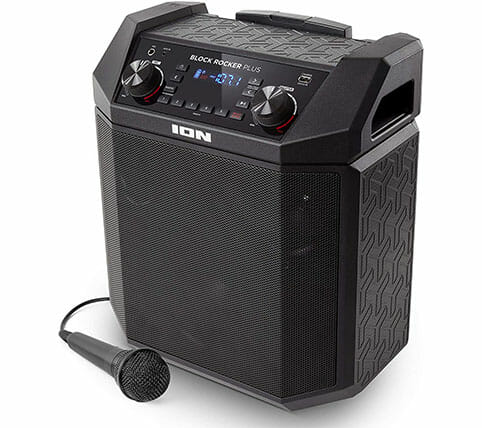 The ION Audio Block Rocker Plus is a revolutionary karaoke machine. It is a professional karaoke masterpiece in all its glory. This is exactly the type of machine you are looking for if you want something that looks elegant, is powerful and can store hundreds of karaoke songs.
As it comes with a speaker that blasts music loudly, the ION Audio Block Rocker Plus is ideal for house parties or even larger venues. Consider the sound of 100 watts of power booming from 8-inch-wide speakers. If the already incredible speakers aren't enough for your party, you can add external ION speakers to add more voice to it.
When fully charged, the ION Audio Block Rocker Plus can provide up to 50 hours of continuous playback. And don't forget, this is high-quality music. Connect your smartphone via the aux cable (or use Bluetooth to sync) and spend hours singing your favourite songs.
The ION Audio Block Rocker has wheels and a telescopic handle for advanced portability, as well as a compatible user interface for quick control. Aside from portability, I noticed that the ION Audio Block Rocker Plus is also tough, with a rugged exterior that keeps it safe and protected on the surface.
It has Bluetooth connectivity and also a USB power bank feature, which is useful if you're listening to music on your device for a long period of time and don't want to run out of battery. It also has an in-built radio system with excellent reception if you want to relax and go old school.
You can perform a variety of functions with the ION Audio Block Rocker app on your iOS or Android device. This includes a collection of various sound effects that you can use while performing. With its simple pairing feature, you can quickly connect your devices to the ION Audio Block Rocker Plus within 100 feet.
Overall, the ION Audio Block Rocker Plus is an enviable investment for anyone who enjoys karaoke and professional singing. The quality of the ION Audio Block Rocker is unrivalled, and it has some excellent features as well as a good value for money. I feel that ION Audio Block Rocker's customizable controls are also a very appealing feature.
Pros
Perfect for large gatherings, house parties and events.
100 watts of sound power.
One of the best karaoke machine for professionals in the market.
Option to add more sound power by getting external ION speakers and connecting them.
Long lasting battering. Can give up to 50 hours backup on full charge.
Easy to carry along using the wheels and handle.
Has a built-in USB power bank to keep your device charged as well.
Built-in radio.
Durable and strong exterior.
Easy pairing feature that can connect any device up to 100 feet.
Impressive price for the value it offers.
Cons
In rare cases, customers have complained about its Bluetooth connectivity.
According to a few buyers, the sound started to blow out after using it for a few months.
The packaging has not been satisfactory in some cases.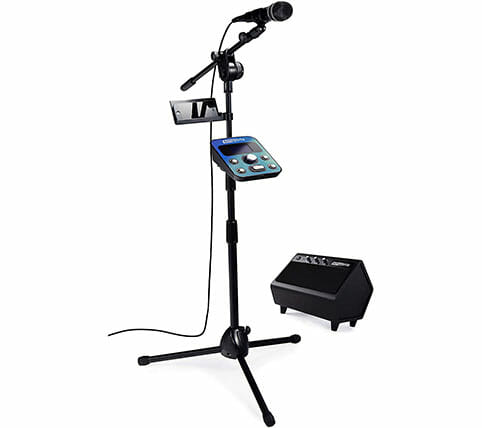 One of the most popular karaoke machine, the Singtrix Party Bundle is a delightful system for home karaoke.
Many celebrities and famous personalities have endorsed this product for it's brilliant features and amazing sound quality. This karaoke machine has been featured on popular shows like The Ellen Show, Today Show, The View and Shark Tank.
It boasts of a 2.1 stereo surround sound speaker, a built-in sub-woofer, along with special effects like natural pitch-correction, voice cancellation, reverberating tunes, delay, hard tunes and so much more.
Connect it to your smartphone and you can stream endless karaoke songs to sing along to. You can either make use of your own playlist (in YouTube) or find one in any karaoke app of your choice.
You get the usual karaoke machine features with some advanced features as well. Singtrix has a few tricks up it's sleeve to make your karaoke experience the best you've ever had.
You can sing at any level out of the 3 that Singtrix Party Bundle offers, and you can also take advantage of the 300 sound effects it has to offer. There's choir effects, gender bending, voice morphing and so many other effects that will make you feel like a professional singer in a recording studio.
The custom built microphone in Singtrix Party Bundle is an advanced one. When you press a button in the mic, you can induce the HIT effect control in moments. You can make it work with any karaoke app or music streaming apps online.
Singtrix Party Bundle has received raving reviews on Amazon and other online shopping websites as well. The stereo speaker and sleek design make Singtrix Party Bundle a favorite in any gathering or occasion. The user interface is quite responsive as well which means you won't have to spend hours trying to figure out the system of the karaoke machine.
Pros
Endorsed by many celebrities and famous personalities.
Many advanced features compared to a regular karaoke machine.
Built-in 300 sound effects.
Stylish design.
40 watts powerful speaker is suitable for a group gathering.
Responsive user interface and easy to use.
The company has developed a Singtrix app that can be downloaded to stream karaoke songs.
Cons
It is expensive compared to other karaoke machines in the market.
The Singtrix application that the company endorses isn't free (~ $20/month) but you can totally avoid it. You can use YouTube instead to sync karaoke songs directly to your device.
The packaging of the product isn't up-to expectations in some cases as reported by a few buyers in Amazon.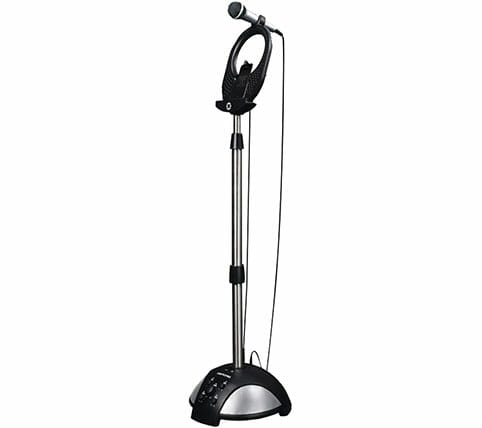 The Memorex MKS-SS2 SingStand is a handy home karaoke machine. With all its controls near the foot, this karaoke stand is a compact machine that can be stored anywhere with ease.
The Memorex Sing Stand comes with the technologically advanced and preferred feature of one line that is a universal audio jack. You can attach any device with a headphone jack to it, reducing the hassles of getting a CD for it.
The Memorex Sing Stand has made singing easy for you. As it is difficult to read the lyrics while singing – as you need to hold the microphone in one hand and your smartphone in another. This karaoke machine provides a space that will hold your device securely so that your hands remain free to hold the microphone. However, it does not guarantee to fit a laptop on the holder.
It doesn't take a lot of time to set up and is portable, you can even bring it out when you're on your own wanting a leisure time. However, if you do wish to make use of it in a larger gathering or a house party, you can purchase external cords to connect to the television or bigger speakers.
You do get an additional microphone jack along with an instrument jack to accompany the device. It's additional features include free downloads of karaoke songs on your device, voice auto tune, a speaker with amplification, the ability to connect to any instrument through the instrument jack, auto voice control for a balanced audio experience, in built stereo speakers that give an enhanced audio and background music, etc. The Memorex Sing Stand is a great singing karaoke machine if you're more interested in buying something that is portable yet lasts long.
Pros
Equipped with Universal Audio Jack (apart from Bluetooth).
Space to hold your smartphone device while you sing.
Option to connect with television or bigger speakers using external cords.
Easy to set up and portable.
Extra microphone jack.
Durable and long lasting.
Good sound quality for the price.
Cons
Not an ideal karaoke machine for professional singers.
The speaker isn't that loud and it doesn't perform well in parties where people are socializing. It is equipped with 2 5-watt speakers.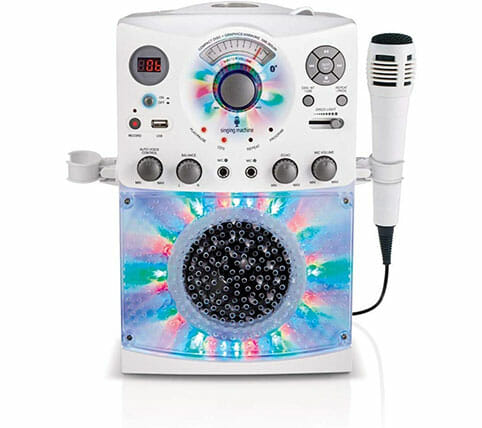 One of the best home karaoke machines by Singing Machine is the SML385BTW Karaoke Machine. It is the #1 best-seller on Amazon for a few reasons, the main one being that it has everything you can expect a karaoke machine to have and then some. We're talking quick and easy connection to any television for lyrics to be displayed on the screen and an audio plug-in.
We're talking all sorts of CD + Graphics compatibility, and the ability to connect any audio device through bluetooth that can help you play songs that aren't otherwise available on a CD or two. You can even plug-in a headphone jack. Although it doesn't come with the ability to display lyrics when connected by an audio cable, this downside is compensated by all the other amazing benefits it has to offer.
You get one microphone already included in the package, but two jacks so you can sing duets.
The controls include dual vocal effects, echo with dimension along with volume as well. There is an in-built balance feature that maintains the proportion between the microphone and the background music. There is also a free Karaoke app for IOS devices that allows you to stream videos of your favorite songs with lyrics. It also gives you recommendations based on the most popular songs that other users have chosen.
Additionally, there is a feature of colorful lights that would help give your house party a groovy and fun vibe. The 54 LED disco lights are a delight to look at, creating quite an interesting and enjoyable atmosphere, even for young ones! The electric plug can be powered through any standard issue outlet. If that wasn't enough, the Singing Machine SML385BTW has a long life and durability that will make it a great investment. A product that comes at an affordable price and gives you a full family satisfaction is definitely something worth investing money into.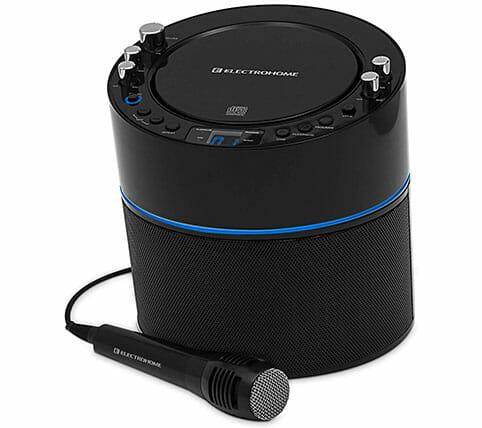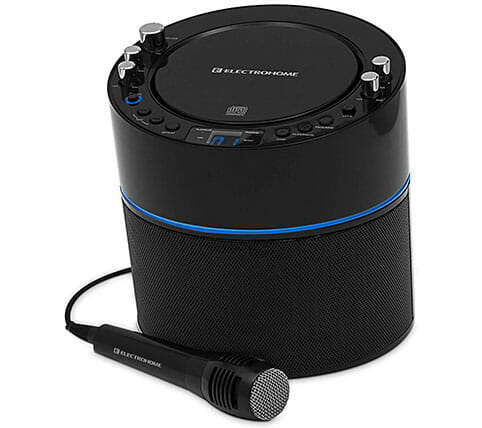 If you're a lover of all things aesthetic, Electrohome is one of the best professional karaoke machines to look at. With it's sleek look consisting of a gleaming black exterior that has a straight blue line right in the middle, Electrohome gives your party an elegant look all round. But it's not just a good looking home karaoke machine that makes you feel like a rockstar.
Electrohome has the usual features of CD + Graphics availability along with audio jacks and a cable so you can connect external devices to it. Although it won't show the lyrics on your screen from your device through the audio jack, it is the only minor setback within a plethora of amazing qualities. The audio quality of Electrohome is top notch, with a crisp, echo-free sound quality that creates a ripple effect with a clear audio throw.
It is perfect for small gatherings but if you're hosting a bigger party, you can attach external speakers and get a crisp audio with a greater sound effect. Electrohome has a hassle free setup routine. You get all the required cords and wires alongside a microphone. An additional microphone jack is also available. Electrohome has a portability feature like no other. It is lightweight and quick to carry around, which makes it perfect to be taken to another location to set the scene.
Electrohome also provides a lot of voice enhancement features. You can adjust the echo, and set up auto voice control as well. This means that even if you stop singing for some reason or want to catch your breath, the auto vocals will keep going to maintain the atmosphere. You get your very own backup singer! The blue party light that stands right in the middle of the device gives a sleek and attractive look to your party, keeping everyone's attention gathered.
Electrohome comes with a karaoke disc consisting of popular songs to get you started if you haven't found your karaoke playlist yet. With the Digital Echo feature of Electrohome, you can add a professional touch to your voice and make it sound crisp, clear and amazing. If you're new at karaoke and feel nervous, don't be, because the AVC Auto Voice Control will train you in the art of singing along until you are ready to sing without the backup singer.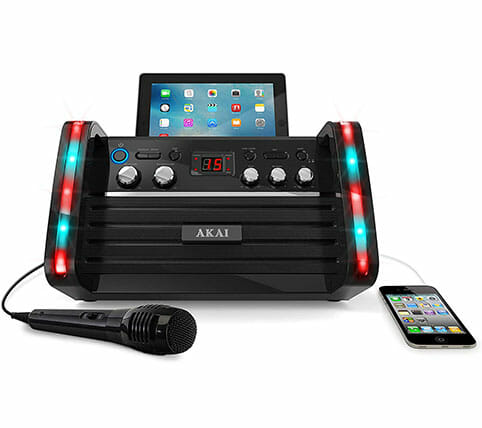 A lover of portable and lightweight things will enjoy the Akai KS213 Portable CD+G Karaoke System. All you have to do is connect your tablet or smartphone to the karaoke machine through Bluetooth or the USB port and you've got yourself a good system of home karaoke.
The Akai KS213 Portable CD+G Karaoke System is built with a top loading feature of CD + Graphics system along with a cradle for your smartphone or tablet so you don't have to hold it in your hands while it's connected to the system via the auxiliary cord to read the lyrics off of the screen. You will find the karaoke system built with speakers operating on six C batteries or an AC adapter if you wish to make it a portable system. This is completely customizable so you can pick what you feel is appropriate for your comfort.
As with other home karaoke machines, the Akai KS213 Portable CD+G Karaoke System includes two microphone jacks for duets along with outputs to connect easily to a television screen, and a lighting system of brilliant LED lights to give a great party effect. It also comes with Auto Voice control so you always have a backup singer just in case you stop to catch your breath, falter, or choose not to sing for some reason. Once you've customized the controls to your liking, there's a lot you can do with this system during a small gathering or a house party.
Although the speakers aren't huge and effective for larger gatherings, smaller gatherings and family occasions will perfectly benefit from the Akai KS213 Portable CD+G Karaoke System. A lightweight karaoke machine with amazing visual features and the fulfillment of basic requirements of a karoke machine along with interesting audio features as well, makes Akai KS213 Portable CD+G Karaoke System quite the attractive model. You can expect small gatherings to get completely on the groove with this amazing karaoke system.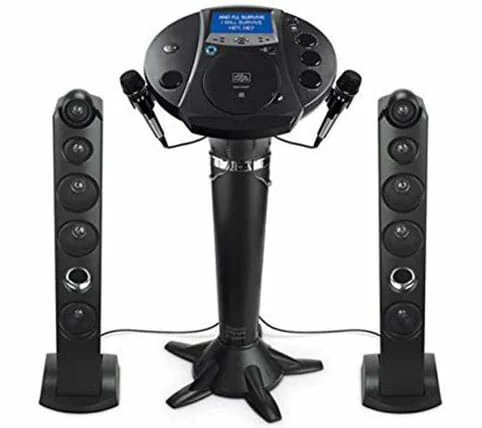 If you're someone who enjoys a professional singing atmosphere like no other, the Singing Machine iSM1030BT Professional Karaoke Pedestal is the perfect choice. This is a professional karaoke machine that will bring any and every party to life. There are two tower speakers that can emit high quality and top notch sound that can create a reverberating effect through your home and enthrall everyone at your party.
Like every other karaoke machine you will find, Singing Machine iSM1030BT Professional Karaoke Pedestal is compatible with every external audio device through it's audio jack in the system. Plus the availability of CD + graphics feature makes it all the more alluring. Not only that, the 7 inch LED screen will display your song lyrics without having to connect to a television. However, if you do wish to read the lyrics off of a television screen, the provision for that is also easily available.
If you're streaming the lyrics on your smartphone or tablet, you can place them on the cradle that comes in-built within the system so that you don't have to hold the device in your hands while singing. This gives you the freedom to hold the microphone easily. There is also the availability of connecting your flash drive through the USB port in the system, which means that you can play songs from the flash drive as well and get the desired effect throughout.
The microphone cord is quite long, allowing you to move around the area so that you can continue to feel like a rockstar in your house party. The stylish and sleek speakers of Singing Machine iSM1030BT Professional Karaoke Pedestal are a wonderful addition to any house party since they create quite a musical and fun atmosphere for you to enjoy your party. You can also enjoy the benefits of Bluetooth and digital audio streaming for a wireless experience.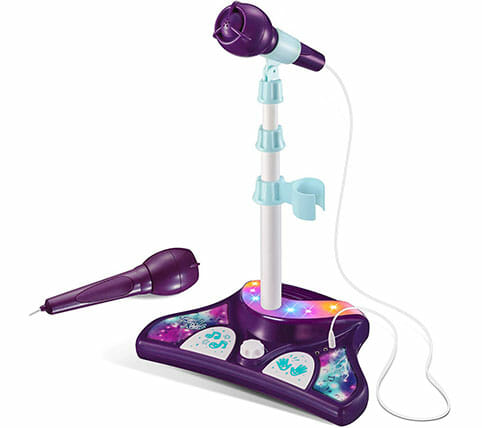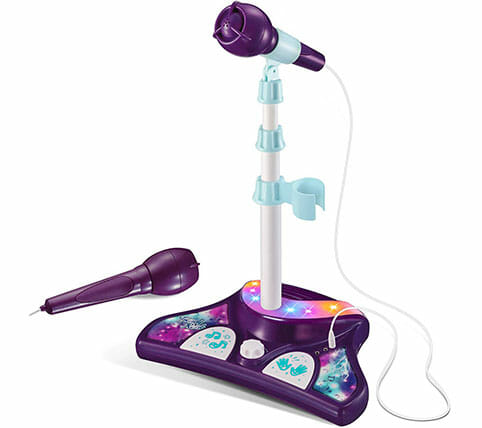 While you get to enjoy the benefits of a karaoke machine, why should your kids be far behind? Let the young rockstars in your family shine as well only with The Dime & Nickle Kids Karaoke Machine, which is one of the best karaoke machines for kids. Not only does it come with an enviable display and look, the features are on par with any karaoke machine you'd get out there in the market for adults.
A stand you can adjust according to your child's height, two microphones, flashing lights that give the experience of being right on stage, along with pedals that build an amazing and energetic atmosphere for your musical kids. There's a lot to look forward to with the Dime & Nickle Kids Karaoke Machine.
This karaoke machine weighs at 2.5 pounds with the measurement of 17.8 x 10.9 x 2.8. Kids above the age of 3 years can use it. The karaoke machine also comes with a stand that can be extended completely up to 40 inches so that your child can get up on the podium and sing their heart out. Speakers are at the bottom of the stand which can be easily assembled by any adult. As far as portability is concerned, the Dime & Nickle Karaoke Machine includes a handle that allows you to carry it around from one place to another in case you wanted to move the location of your young rockstar's stage.
There is an in built aux cable that allows you to stream music on the system, and at the bottom there are sounds that have been installed previously, which can be controlled through the pedals. Even within the pedals there are variations. The right side will play lullabies and similar tunes while the left pedal emits applause when pressed for effect. While your child is enjoying their time on stage, the LED disco lights will create a fun environment and a groovy vibe.
Your child doesn't have to be the only one singing either because the Dime & Nickle Kids Karaoke Machine includes an extra microphone which means that even friends of your little one can join in. The fact that it is portable and durable allows it to be carried around easily and it is also great for storage as it won't take up much space in your storage area.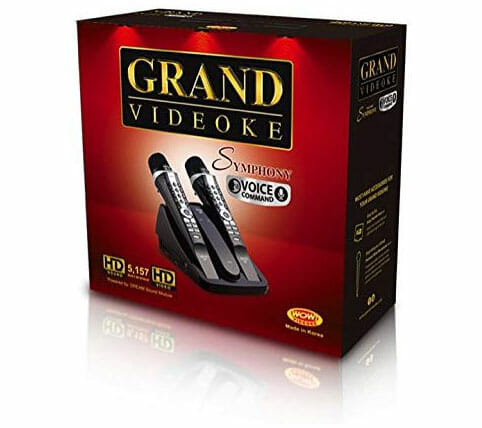 In a unique attempt to create a home karaoke system, the Grand Videoke Symphony 2.0 is a futuristic home karaoke machine that has an impressive perspective. It comes with two microphones that provide exceptional sound quality along with an array of functions and features that you can't find in the microphones of any other karaoke machine.
You can control the features while you're singing so that it doesn't put a stopper in fun at any point. If you're one of those people who enjoy ready-made and easily available stuff, Grand Videoke Symphone 2.0 is your best choice for a singing karaoke machine. Some of the most popular and classic songs are already featured in this machine, with top karaoke songs and hits in a large number right at your disposal.
This means that you don't have to spend hours trying to find the perfect songs to download off of the internet or search through an app for the same. Just pick out your favorite song from the long list of top hits in karaoke and you'll find what you're looking for. To be precise to the core, Grand Videoke Symphony 2.0 includes over 5000 songs including English and K-Pop songs as well.
One of the most outstanding features of this karaoke machine is the voice command feature. It allows you to control the entire system with just your voice, eliminating the whole need for extra efforts. Add a background of high quality images and visual effects and you've got a party that no one will ever forget. Grand Videoke Symphony 2.0 comes with two microphones which means that you can pull off duets with style. Karaoke favorites around the world are all in-built within the system.
Just search for your favorite song and start singing! No hassle of downloading and streaming through an internet connection. Plus, Grand Videoke Symphony 2.0 is portable and durable, making it the ideal choice for any party or social gathering.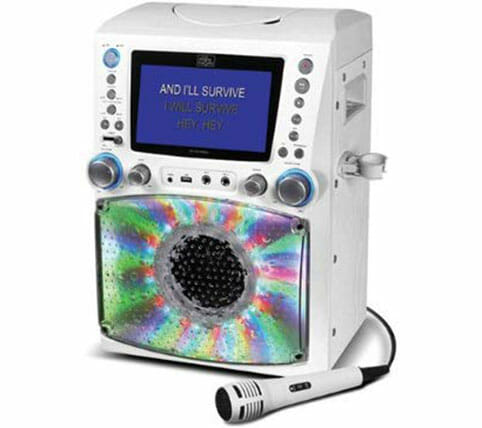 So you've been connecting all your karaoke machines to your television or computer screen so far. Here's the future of home karaoke with one of the best karaoke machines for adults, and that is the Singing Machine STVG786W. This is a karaoke machine with screen that displays lyrics. Not only that, you also get LED disco lights along with a speaker that delivers clean and reverberating audio!
This means you don't need any attachments or connections to external devices and you can enjoy all benefits of a karaoke machine in one. With a 7 inch LCD display monitor in color, Singing machine will display your favorite song lyrics wherever and whenever you want. Furthermore, the Singing Machine comes with CD + Graphics feature and allows you to connect your device through an audio/USB jack.
But if you're thinking that it will only display lyrics on the screen, you are wrong. Singing Machine has a port that lets you connect it to your television so that you can read the lyrics off of a bigger screen if that's what you prefer. An additional aux input is also available so tat you can connect other audio devices to it.
Singing machine also has two microphone jacks along with voice control features. You also get one demo disc and 5 free downloads of your favorite songs. You are allowed to connect wireless microphones to the karaoke machine as well, which means that you get to sing in a group.
No one at your next house party needs to feel left out anymore! Download songs from whichever source you wish and Singing Machine will play them for you. Singing machine is perfect for small gatherings and is also portable, which allows you to carry it to a friend's house too.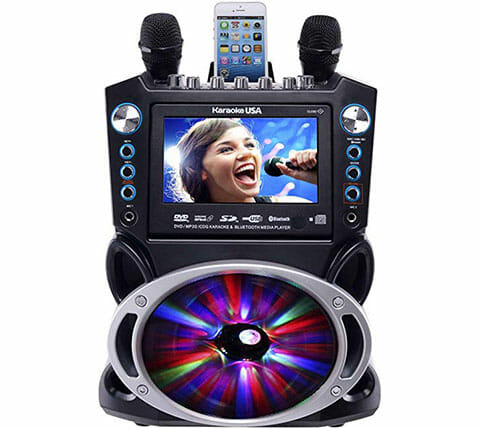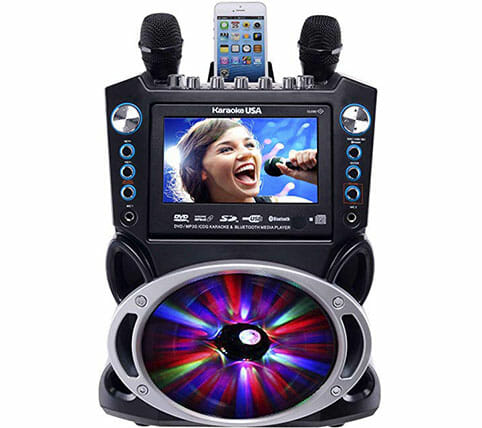 Party animals will especially enjoy this funky and adventurous karaoke machine. With a 7 inch TFT colour screen and controls sitting right beside the screen, you get ease of access and a fun machine to work with. Record your songs, record songs sung by others and play them immediately to hear what you sound like. There's much to take advantage of when it comes to the Karaoke USA GF842 Singing Karaoke Machine.
You get your surround sound fix through the powered speakers of 35 watts in the Karaoke USA GF842 Singing Karaoke Machine, along with an LED display that can bring a unique groove to your party. The colorful light display of Karaoke USA GF842 Singing Karaoke Machine is the main attractive feature of this system. There is also a remote control so that you can be anywhere in the room to control the system without having to walk over to the machine every time you want the volume adjusted.
The sound quality of Karaoke USA GF842 Singing Karaoke Machine is positively brilliant and that can be proven from the many great reviews it has gotten on karaoke machine reviews on online shopping websites. The microphone is of top notch quality which delivers amazing sound definition and a crisp and clear audio. The lighting effects are perfect for a party to create a dance floor effect or even if you're just looking to go eccentric on your own for one day.
Karaoke USA GF842 Singing Karaoke Machine comes with two microphones and 300 downloaded songs that are top karaoke favorites. You also get the smartphone and tablet cradle to rest your devices on while you sing and stream from the apps.
Along with that there is also the basic karaoke machine feature of CD + Graphics on the system to keep your old school mind in sync with the rest of the contemporary and modern machine that delivers great results. Light up your parties and keep the guests on the dance floor for hours with the amazing Karaoke USA GF842 Singing Karaoke Machine.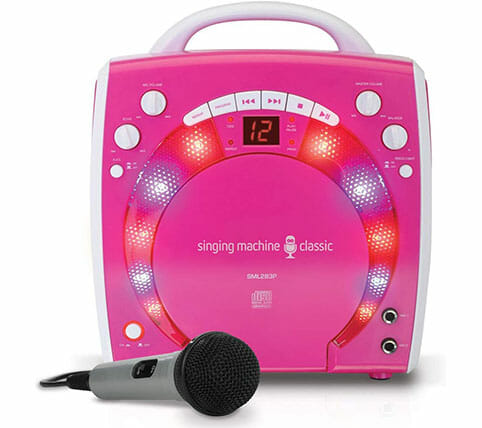 A portable, colorful and affordable karaoke machine, the Singing Machine SML 283P CDG Home Karaoke Player offers great value for money along with amazing features. This is one of the most popular karaoke machines for kids but adults can enjoy the benefits of it just as well!
Singing Machine SML 283P CDG Home Karaoke Player weighs 3.8 pounds and measures about 9.9 x 4.1 x 9.1 inches. It has an in built speaker that offers volume control along with an equalizer to allow you to adjust the balance, auto voice controls and echo. The Singing Machine SML 283P CDG Home Karaoke Player system comes with two microphone jacks which allows you to go duet in style paired with it's colorful exterior and effects.
Enjoy the amazing disco LED light effects while you sing and party along with kids who can take advantage of it as well. There is a top loading CD + Graphics player facility that will display the song lyrics on screen when you connect it to your TV. If you want to go for the more contemporary features, there is also an auxiliary cord to connect external devices so you can stream music on your own through karaoke apps of your choice or streaming websites online.
However, to display lyrics on screen through external devices, Singing Machine SML 283P CDG Home Karaoke Player will require MP3+G features. The main attractive feature of the Singing Machine SML 283P CDG Home Karaoke Player is it's affordability and ease of access that allows kids to use it just as well as adults do. With it's portability feature you can take it anywhere and everywhere as it is quite lightweight to carry around as well. You can also enjoy the benefits of 5 bonus song downloads as featured in the system.
Given the fact that Singing Machine is one of the most popular brands for karaoke machines and musical instruments, you can trust Singing Machine SML 283P CDG Home Karaoke Player to deliver the best results in an affordable price range. Singing Machine are a dedicated company that like to create products that bring people together, and what better way than to develop amazing karaoke machines that are sure to keep families in touch. With Singing Machine SML 283P CDG Home Karaoke Player you can rest assured that your family will surely come closer together.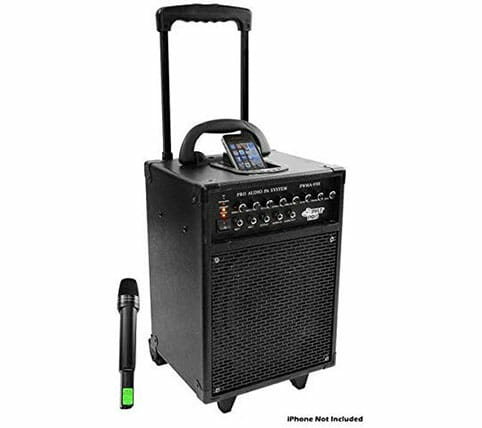 Boasting of an ultimate Wireless Portable PA System, the Pyle-Pro PWMA930I 600 Watt VHF Wireless Portable PA System/Echo with iPod Dock has the amazing feature of an ipd/iphone dock. You can go old school with using songs on your iPod to stream your karaoke music along with a 600 watt speaker system that will be the envy of everyone's eyes in a party.
Raise the roof with high quality audio and a crisp and clean throw of voice that can echo through your house during a reverberating party. Not only that, you also get a wireless microphone that can be used from a 100 feet distance, giving you the freedom to move around the area with the greatest of ease and no hassle of having to stick in one place because of the microphone wire. Pyle-Pro PWMA930I 600 Watt VHF Wireless Portable PA System/Echo with iPod Dock has a rechargeable battery feature so you won't need to keep it connected to a power source while you use it.
The portability feature and lightweight characteristics allow it to be carried anywhere and everywhere with lasting durability. With four audio jacks allowing you to connect two microphones, a musical instrument and/or a smartphone or a tablet, the Pyle-Pro PWMA930I 600 Watt VHF Wireless Portable PA System/Echo with iPod Dock truly has amazing features to keep your party alive and throbbing.
You can easily customize the sound and audio controls so that it works according to your will and the Pyle-Pro PWMA930I 600 Watt VHF Wireless Portable PA System/Echo with iPod Dock is quite flexible in that regard. Once you've made a sound investment with Pyle-Pro PWMA930I 600 Watt VHF Wireless Portable PA System/Echo with iPod Dock, there's perhaps no other home karaoke machine that you would want to spend your money on, since this is a karaoke system that has received great reviews and comes with a long life to make your parties more and more attractive.
Conclusion
Home karaoke machines are a great way to connect with friends and family and spend quality time together. Since almost everyone enjoys singing and dancing at parties, investing in a fun and musical karaoke machine that keeps your guests feeling adventurous is the best way to entertain them.
Take your parties and social gatherings to the next level by purchasing any one of these best karaoke machines that are perfect for any occasion. Home karaoke machines are a great investment for long term when you think about how much use you will get out of them.
It is also a fun activity for kids to enjoy and spend time together. Keep your parties energetic and groovy, but also make your normal days interesting and fun to unwind with your loved ones by getting your hands on at least one of these karaoke machines.
They also make for amazing gifts so you can always present your family or friends with a home karaoke system to keep the bonding strong and full of love. With features that keep developing with time, it is surely a wise investment and a fun activity for friends and family. Get yourself one of these amazing home karaoke machines today!