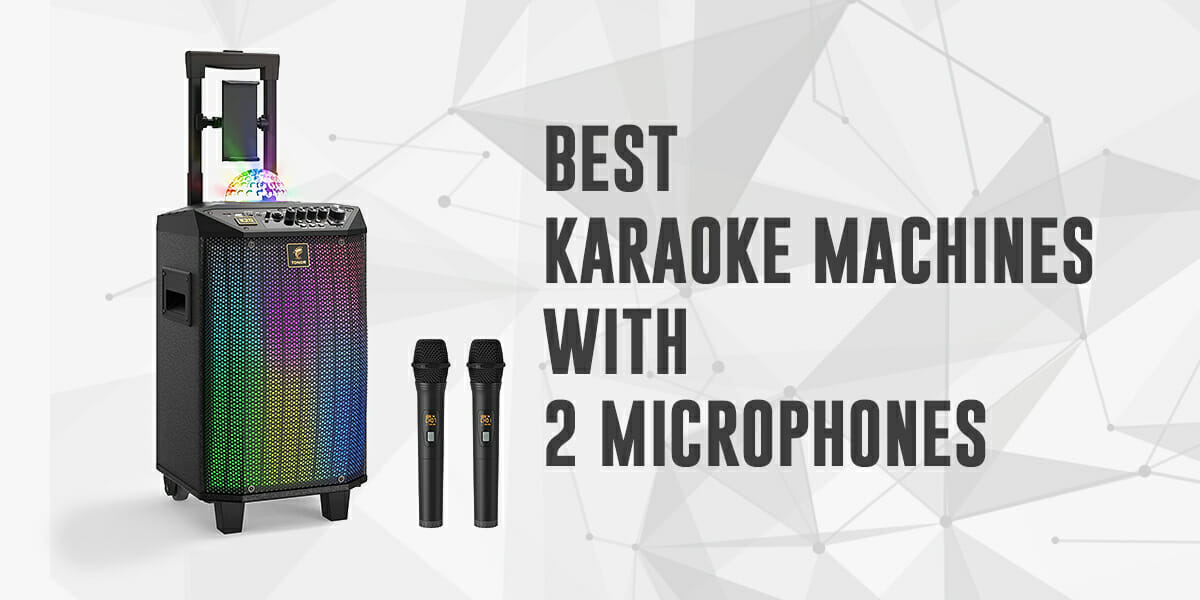 We all relish Karaoke and it also provides us a way to sing our hearts out. There's nothing better than singing in pairs as it brings about a fine fusion of songs, voices and emotions.
This would be the perfect idea for a great weekend at home, to spend quality time with your partner or to show your skills at parties or events. Here are the best karaoke machines with 2 microphones to sing with your partner.
Table of Contents
Our Top Picks
Best Karaoke machine for professional purposes: KaraokeUSA GF846
It is the only machine to sport a screen that shows the video of the song along with lyrics so that you won't have to take your eyes off and focus on speaking the correct tune.
Best Karaoke machine if size is a constraint: VeGue Karaoke Machine
This machine can be the best choice as it doesn't require a separate area to fit in. To add to its selling potential, the machine gets a 12-month warranty, shockproof material and a powerful subwoofer for engaging moments.
Best Karaoke machine if kids also want to be a part of singing: Karaoking Karaoke Machine
This is due to its fancy LED lights and ease of movement provided by wheels so that kids won't have to lift it everytime.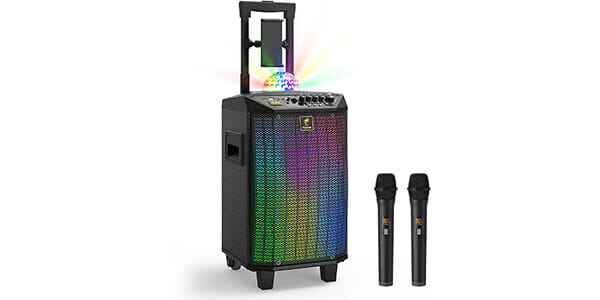 Have you always been wary of fiddling with wires or long cables trying to figure out which wire ends where or where should you plug in? Worry no more as this Karaoke Machine from Tonor is offered with 2 wireless mics to enjoy singing with your spouse.
For a smart look, it also gets LED lighting and a disco ball at the top along with a mobile phone holder to gape at the lyrics of the song. Quality of sound has a bearing on your decision. Hence, it features 8" subwoofer, a pair of 3" tweeters and power output of 250W.
Pros
Wireless mics.
Option of Bluetooth and USB connectivity.
Fancy decorative lights.
Subwoofer for augmented sound.
Cons
No screen to browse through menus.
The Tonor Wireless Karaoke system offers wonderful sound quality with woofers and with its lights, it will provide the perfect disco experience.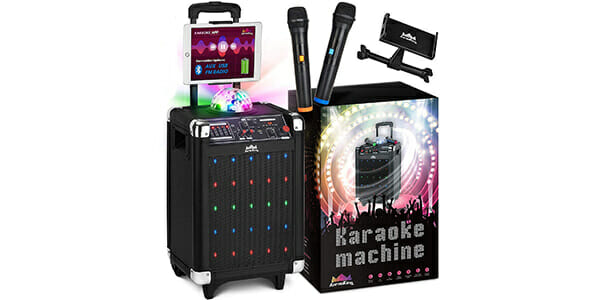 It allows you to enjoy quality Karaoke time with your partner and your kids can also taste their first music audition through this all-in-one Karaoke machine from Karaoking.
Apart from the usual Bluetooth, AUX and USB compatibility, it also allows you to stream songs through FM radio. It weighs 11 kg but you don't need to carry it. Simply roll it with wheels provided on the axis. It is highly durable which means rough use shouldn't unsettle it.
Pros
Rolling on wheels makes for easy movement of the machine.
FM radio availability.
High-quality mics.
User-friendly for kids.
Cons
No option to play songs via CD.
Lack of screen leads to an unexciting look.
This machine brings to the platter a great brand value and reliability which a few others can match. Its FM radio connectivity allows you to play the tuned song with your voice in it. The most notable feature is that it can be used conveniently by kids.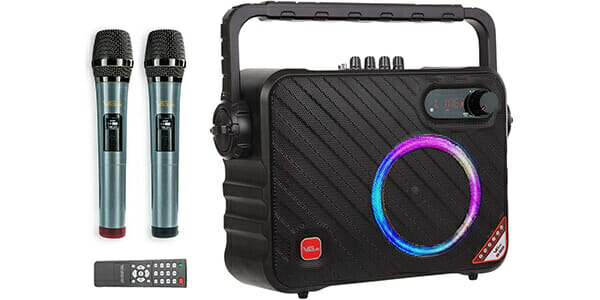 Size matters. We often end up in a dilemma between choosing things and their sizes. However, this portable Karaoke Machine from VeGue gets you everything in a small package that can be carried anywhere without much effort and can also be tucked in bags.
In terms of features, it covers everything from bluetooth, subwoofer, echo and more. It can be used for 6-12 hours depending on usage and volume on a single charge. Lastly, it also gets lights in a round element for an appealing look.
Pros
Small size makes it suitable for parties, weddings and picnics.
Powerful subwoofer.
12-month warranty.
Non-slip and shockproof material.
Cons
Not as powerful as bigger Karaoke instruments.
You will have to keep a check on its battery.
Its small size can be handy when you have to perform every now and then at various places. The best part about this instrument is that it doesn't skimp on features and is a lot cheaper than the bigger ones. Hence, we strongly recommend it.
This could be an ideal all-rounder choice for you. Its major USP is that it comes embedded with a screen so that you don't need any other device to play the tune.
The package includes a 35W peak digital power amplifier, LED lights which change according to the music track, bluetooth connectivity and a remote control as well.
Pros
Song video can be projected on the screen.
Recording of voice is possible.
Can link your SD card to feed a large amount of music recordings.
Cons
No wheels for easy transportation.
Might be complicated to operate for some.
It is worth it if you seek the comfort of not having to attach your mobile phone or other device thanks to the screen. The two powerful mics will also create a great experience.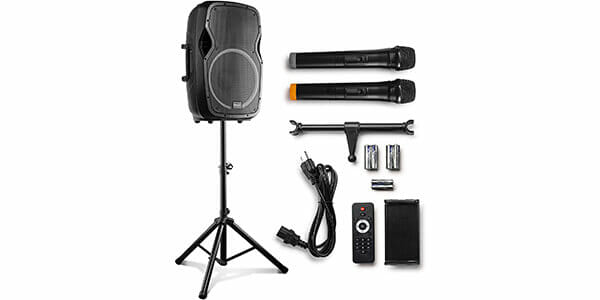 Looking for a high quality system with digital detox? This could be one amongst a few options in the market currently. As a separate kit, it features 2 mics, 15" subwoofer, a speaker stand and a remote control.
It can also be connected to your device through USB ports, bluetooth signals from 66 feet away and SD card. It keeps with the trend by offering music lights and customisable audio options for mics to suit your tone.
Pros
15" subwoofer with stand.
Long-range bluetooth.
Music lights.
Cons
Assembling by hand required.
Difficult to carry to places.
No fancy controls to tune the sound.
This is an ideal choice for a concert or a public gathering for the duo to showcase their skills. This system can prove to be the best for parties too. It could be recommended to one who wants to get better in singing before upgrading to a more sophisticated machine.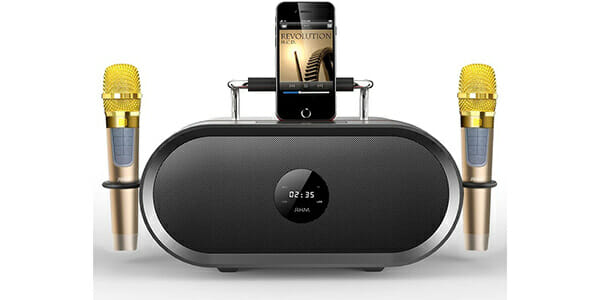 Are the conventional boxy Karaoke machine sets feeling too rife? Here's an oval-shaped Karaoke machine with the essential characteristics such as portability, dual wireless mics, rechargeable battery speaker, bluetooth, AUX and USB.
Despite its small proportions, it also gets you a 4-inch dedicated subwoofer speaker inside. Its unique color for the woofer and mics will also get a lot of attention towards itself.
Pros
Wireless mics.
Battery can run upto 12-hours.
Compatible with mobile phones, tablets, laptops, etc.
Portable.
Mobile phones can be connected via stand.
Cons
On the costlier side.
Sound intensity not as long-lasting as rivals.
It doesn't require cables to connect and all functions can be performed through buttons on the mic. Its size is also a benefitting factor here besides the plush look it has.
Frequently Asked Questions
What does a Karaoke machine cost?
You can easily find a good quality karaoke machine under $100. However, the amount can also exceed $200 if intending to purchase from a high-end brand such as KaraokeUSA GF842 (costing $145) or KaraoKing Karaoke Machine for Kids and Adults (costing $239.99). Make sure to keep in mind the usage and purpose of buying it.
What is the best way to do karaoke at home?
If you have a mic at home, start singing by connecting it to any device's bluetooth and play the tune of your favorite song on YouTube or other apps and that's it.
What is needed for karaoke at home?
What should I look for in a karaoke machine?
Certain things that should be a part of your checklist are:
1. Prices of Karaoke machines.
2. Purpose of buying.
3. Number of woofers.
4. Number of mics.
5. Additional features like recording, lighting, wheels, etc.
6. Warranty period
7. Powering options
8. A karaoke machine for singers should have auto-voice control which allows for muting the voice for only the background music to be playing.
How do I use karaoke without a machine?
The best option is to download YouTube on your TV, laptop or other gadget and play the karaoke version of the song. You can also connect an HDMI cable to your TV set in case you only have a laptop or tablet available so that its screen can be mirrored on the TV.
What equipment do I need to start a karaoke business? 
Some of the equipment required to start a karaoke business entails Music Player, Sound Mixer, Microphones and backups, video monitor and stand, speakers, good songs and equipment cases.
Do I need a Karaoke machine?
It purely depends on whether you want to make karaoke a simple hobby or take it professionally. If you desire to make it a hobby, you should get one basic karaoke machine, a screen for the lyrics and a couple of microphones. In case you see your career in it, you should buy a professional karaoke set.
What's the best free Karaoke app? 
Some of the best free karaoke apps are:
1. Sing! Karaoke
2. The Voice
3. SingPlay
4. Singa
5. KaraFun
Can you play a regular CD on a karaoke machine?
No, in case of playing songs on a karaoke machine through CDs, a normal one wouldn't do the job. A special software for a CD called CD+G player is required to play songs on a karaoke machine. 'G' in the phrase 'CD+G' stands for graphics. In case you only want to hear the audio of the song, a normal compact disc will be fine. However, if you want a slightly better version, make sure to get CD+G online for the graphics and lyrics of the song. 
Conclusion
There are a few things as rewarding and enjoyable as singing karaoke which just amplifies when there's another person contributing with you.
To make sure that singing in pairs turns out to be an easy task, we have provided the best karaoke machines for you. Start experimenting with these as it might unfurl a never thought before passion for singing in you.