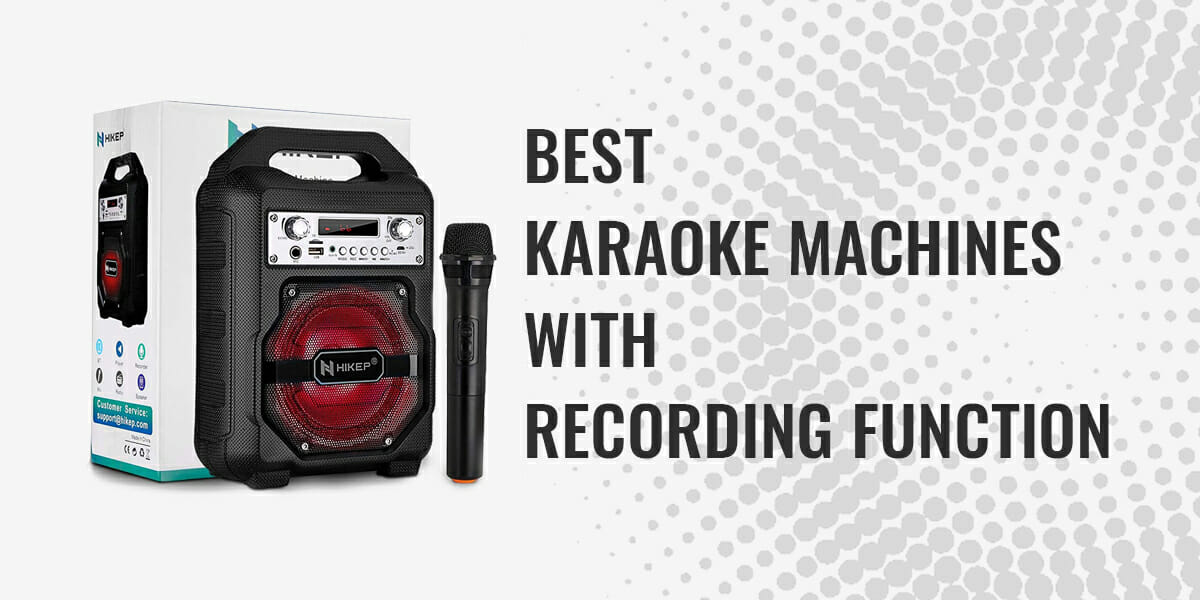 Are you planning to buy a Karaoke machine? Then go for the one with a recording function. This feature helps you to create memories that will stay with you forever. Even if you want to show off your talents, you can do that by keeping a collection of your recorded songs.
Usually, karaoke parties have a lot of people singing, and by recording them, you get to rewind the time you spent at the party. The recording function also helps you to learn a song from your mistakes.
To do all these things, you need a karaoke machine with a good recording function. Here we provide you with the 6 best karaoke machines with a recording function.
Table of Contents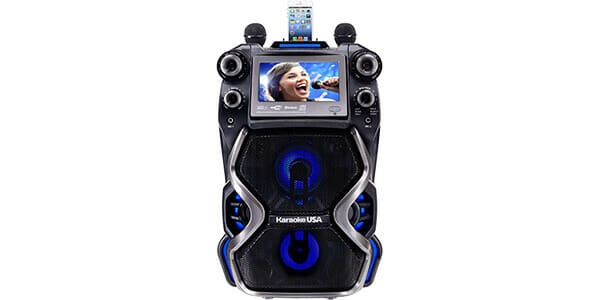 The Karaoke USA GF920 is the best karaoke machine with a recording function, to create great music. It has an instant play option that lets you play the music you recorded at the very next moment.
This machine comes with a music mix feature that helps you alter your recordings according to your needs. The music you create gets converted to mp3 format automatically and hence becomes playable on any device.
Added credits to this machine are, you can play both CDG and MP3G formatted music. You get a portable long-lasting battery.
Pros
Instant playback
Music mix
Converts to mp3
Quality recording
It has great recording quality. You can mix your recording and get it converted to mp3.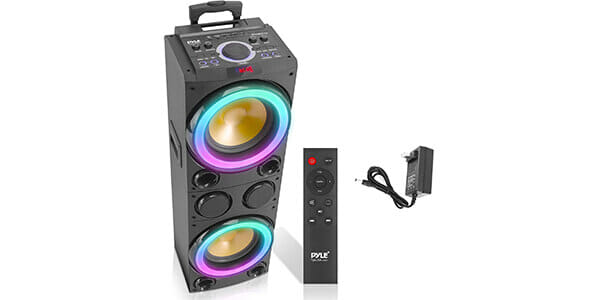 The Pyle PPHD210 karaoke machine is a complete package for your recordings. It has a one-button record activation system that makes it easier for anyone to operate and also makes it confusion-free.
You can record your voice through the microphone while streaming and save it in a USB/SD card connected to the machine. 
It records in mp3 format and can be played on multiple devices. Added perks are its Bluetooth wireless music streaming ability and its portable speaker system.
Pros
One button recorder
Microphone recording 
Mp3 format
User friendly
It is a package with all new features and gets you a very high recording quality in a click.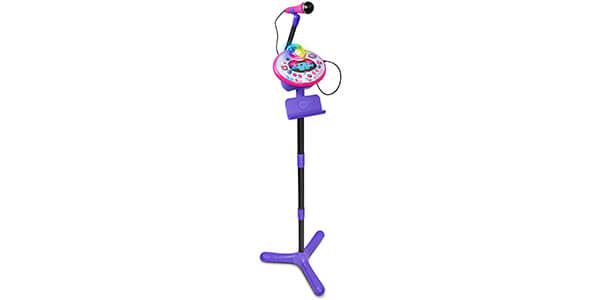 The VTech Kidi Star Karaoke machine is the best option for your children. It does not compromise the recording quality even though it is made for children. 
The recording is made easy and it also has many voice effects that can fill some fun to your child's experience. 
Added perks are a stand, inbuilt games, and portable features.
Pros
Child friendly
Affordable
High quality
Long-lasting
You can easily learn the functions and the voice effects in it help your child to have a great time.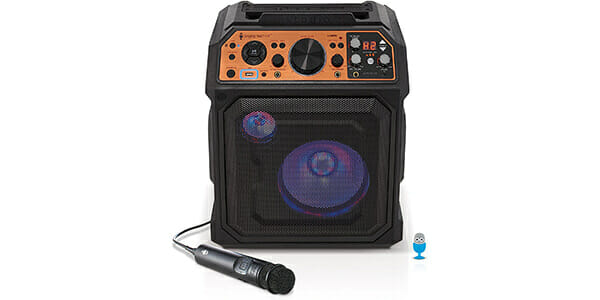 The Singing Machine SDL2093 is a complete setup that can make you sound like a star with its auto-tune. This one is made especially for all the amateur singers. 
It has inbuilt software that lets you add your effect to the recording. You can also connect the studio to your TV via HDMI. This helps you to enhance your sound engineering skills. 
Added perks are, you can also connect your keyboard or guitar to the machine and get it recorded as well.
Pros
Autotune
Inbuilt software
Easy recording
Affordable
It allows all the amateurs to flaunt their recordings. It produces cost-effective quality recording.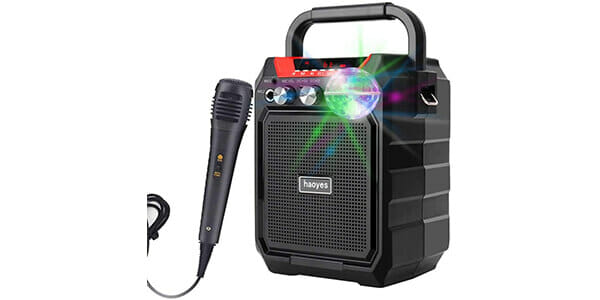 The Asonway karaoke machine is a very affordable machine with all basic features. It has a recording system that produces high-quality recordings.
This one has a complete humanized design that makes every function easier. The recording function can be used by anyone without technical knowledge. 
It has a full stereo, powerful and portable speakers also.
Pros
Compact
Easy to fun
Affordable
At a minimal price, you get the needed features including a high-quality recording.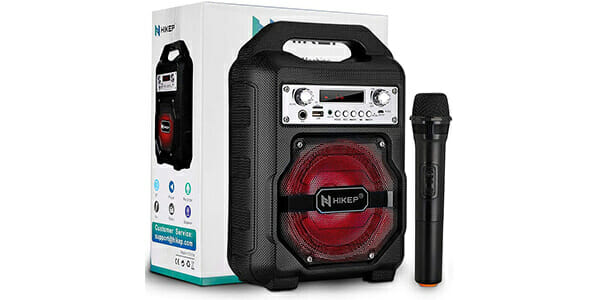 HIKEP is a compatible karaoke speaker with good recording quality. It records through the wireless microphone provided. 
The Bluetooth connectivity lets you connect it to any device. Hence you can record your voice to your favorite karaoke at a very feasible rate and flaunt your talents. 
It is a very lightweight and affordable system that you can carry around to your favorite location.
It is a perfect karaoke set for beginners at an affordable price.
Frequently Asked Questions
Can you record on a Karaoke machine?
Yes, there are a lot of karaoke machines that can record the songs you sing along with the karaoke. These machines let you save your recordings into an SD card or USB, making your job easier and keeps your recordings safer.
Most of these machines format your recordings into mp3, making them compatible with any of your devices.
How do I record karaoke performance?
1. Connect your phone to the machine via Bluetooth or simply insert a CD
2. Connect your USB to the machine
3. Press the record button on the machine
4. Start the karaoke 
5. Start singing
6. After singing, press the record button again on the machine to stop recording.
7. Disconnect your USB
How does a karaoke machine work?
A karaoke machine is used to sing songs with the background orchestra and vocals. It mainly comes with a package of microphones and speakers. Most of the karaoke machines come with a screen that displays the lyrics of the song while you sing to the karaoke. Karaoke machines have an input and output portal for your microphone and external devices. You can either play your CD/CDG or connect your machine to an external device through Bluetooth, to play your karaoke.
How can I record singing at home?
First of all, you need all equipment like a microphone or a recorder, a karaoke track, lyrics, and a very quiet and empty room. When you begin your recording, you should make sure that you keep proximity from the recorder/microphone to the machine. Some machines also have Bluetooth wireless microphone.
If you are recording without a singing machine, you can connect your microphone to a speaker and play the karaoke through a USB and sing along to record in a recorder.
How do I record on my singing machine?
Singing machine usually comes with an inbuilt Bluetooth connectivity that lets you connect your external devices to the machine. You can also play your CD/CDG on your singing machine.
It also has a singing machine Mic guy USB memory stick that has the capacity to store all the karaoke you want from your laptop or other devices. After your karaoke is set, you can connect your microphone to the machine and press the record button on the machine. After you record the song, press on the same record button to stop your recording. Your recording will be saved on your USB.
How can I make my voice sound better when recording?
Make sure that you don't sing too loudly when you have a microphone to amplify your voice. Give the necessary effects in your voice wherever required. Use modulations. Practice your song several times with karaoke to avoid any sorts of mistakes. You can also balance your sound in the machine.
What is the best karaoke app?
There are a lot of karaoke apps you can get from play store for android users and from app store for iOS users. Best amongst them provides you with a lot of song choices and a great sound quality. Here are some of them
For android users:
1. Smule: you get all of your favorite songs here
2. Yokee: you can watch videos and earn money too.
3. Red Karaoke: provides you a chance to showcase your talents to the online community.
4. Singplay: very similar to audacity.
5. Midifun: user-friendly and completely free.
For iOS users:
1. Smule: this one is the best for any option.
2. Voloco: it has auto tuning and voice processing.
3. Starmaker: add songs of your choice to your karaoke.
4. Yokee: it's the most downloaded karaoke app.
5. iSing: it lets your judge your singing while having fun.
How much does a Karaoke machine cost?
There are different kinds of Karaoke machines depending upon their features. A good one with all the features should cost somewhere around $60-$120.
How do I record my mic with Karaoke?
The best way to record your mic with karaoke is to connect the mic to your karaoke machine. Karaoke machines like singing machines have an input and output portals. They come with a microphone in the package. And they also have an inbuilt capacity to record the voice from the microphone with the karaoke played in the machine. Some machines also have Bluetooth wireless microphone. 
If you are recording without a singing machine, you can connect your microphone to a speaker and play the karaoke through a USB and sing along to record in a recorder.
How can I sing a song with karaoke?
First of all you need to know the song well enough to sing it in the right sequence. Hence,
1. Study the song well 
2. Practice with lyrics on
3. Work on your voice
4. Remove your fears
5. Get a karaoke machine
6. Conquer the stage
We hope that this article helps you to choose the best Karaoke machine with a recording function. Grab one soon and start singing. You are going to rock the stage!