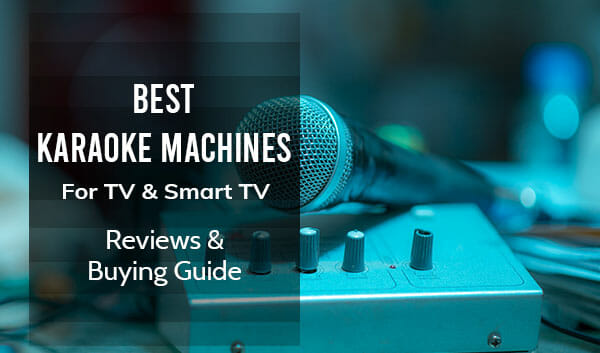 While it's not easy to choose a karaoke machine, it's even more difficult to find the one that connects to your TV. The options are many and you have to choose the one that's best for your needs.
And you don't want to compromise with features. Do you?
That's why we've got all your needs covered with our list of the best karaoke machines for TV in 2023 that plays seamlessly on that karaoke night.
Table of Contents
Top 7 Karaoke Machines For TV Reviews 2023
Singing Machine, a leading manufacturer of karaoke machines, comes up with SML385UW which is compatible with two microphones at a time and has the voice auto-tune feature.
Its CD player plays CDs as well as CD+Gs and you can listen directly from your USB by connecting to the port provided. The option to record your music is available. The machine is accessible by Bluetooth as well.
The cabinet is made of wood and has a built-in speaker.
This is not a mere system but also a flashy companion to your karaoke night. Yes, we are talking about the beautiful LED disco lights that will balance the lighting too. Plus, the lights have a dimmer giving you the control over the tone you want to give to your party.
The machine comes with video and audio cables that let you connect it directly to your TV to view the lyrics. Additionally, you can plug in to your mp3 player or iPhone or Android.
If you are a user of Chromecast, plug in the red AV cord into the TV by casting YouTube through your device and the karaoke night is good to go.
This is an ideal karaoke machine for tv for home use.
Pros
Accessible via Bluetooth and USB.
Music plus lights.
Can play CD+Gs.
Echo control.
Cons
Volume is not exceptionally loud.
This is an easy-to-use karaoke machine that provides value for money. An ideal choice for house parties.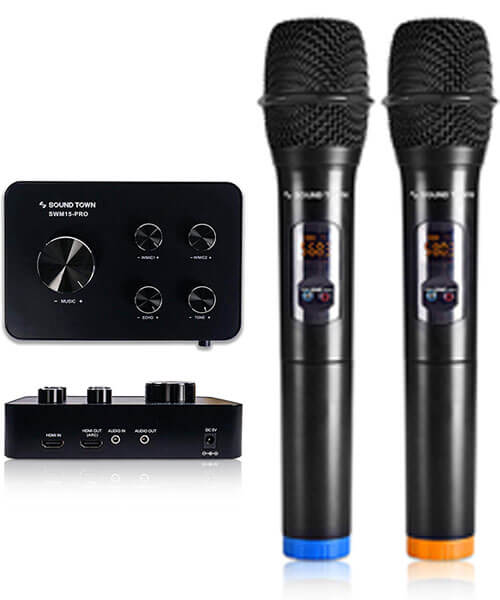 This snare drum kit from GP Percussion has a standard snare drum, a stand, a bag, drum sticks, a drum key and extra padding to cancel out all the unwanted noise. This snare drum is meant for students or novice drummers who have just started drumming.
This portable karaoke machine comes with a total of 16 channels.
Sound Town SWM15-PRO can be easily connected to phones, tablets, speakers, amplifiers, TVs and to any device that supports HDMI. You can connect it directly to the TV through HDMI as it has an HDMI ARC connector.
However, you will need external speakers to connect the TV to the receiver. The manual will help you do the connections.
You do not need an additional mixer as the microphone receiver and sound mixer will let you mix the signal with music.
The machine works the best when connected to a powered speaker with 1/4″ or XLR inputs. There are additional 3.5mm jacks for going into a second PA.
Microphones work with Bluetooth too.
Controls include echo and tone along with volume. Perfect echo control elevates your karaoke night to the right level and is a much needed feature.
Might take some time to set up but excellent sound quality is guaranteed.
Pros
Doesn't require a separate mixer.
High quality sound.
Many channels.
Value for money.
As a compact karaoke machine with direct HDMI connection and a good sound quality, this is suitable for smaller events.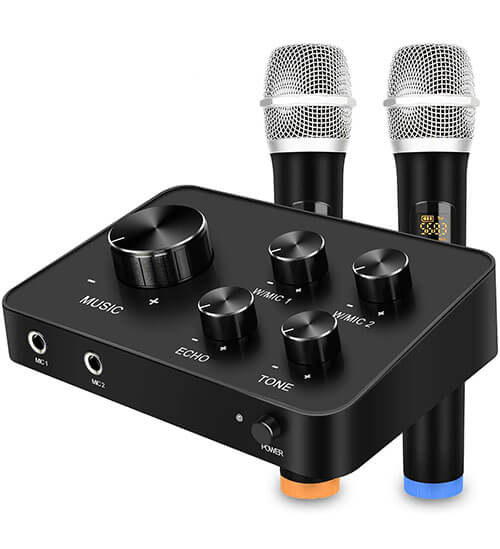 This mixer's simple interface needs a special mention. Rybozen Karaoke Mixer has five rotary dials to quickly adjust the volume, microphones, echo and tone as well.
Its wireless range spreads up to 100 feet so that the singer doesn't have to worry about staying in a limited area to support the speaker system.
You can send the output to TV or home theater system or other sound system via HDMI or 3.5mm Aux in/out and even via Bluetooth. HDMI delivery has a minute delay, though.
The set includes 2 hand-held wireless microphones and 2 wired microphones. Additional microphones can be plugged in, if needed.
The device is compatible with TV, computer, laptop, iPad, tablet, smartphone, DVD player, home theater system, receiver and almost all kinds of speakers.
UHF sound quality is good without a loss in quality. To reduce sound latency, use the audio outs for sound.
Installation is easy and so are the controls.
Be sure to have a blast after getting this cool music mixer.
Pros
Simple interface and easy to use.
Excellent compatibility.
Can go HDMI-less too.
Large coverage in wireless mode.
Cons
Negligible delay in HDMI mode.
With a good sound quality and the feature enabling to connect extra mics as per need, this is a good deal.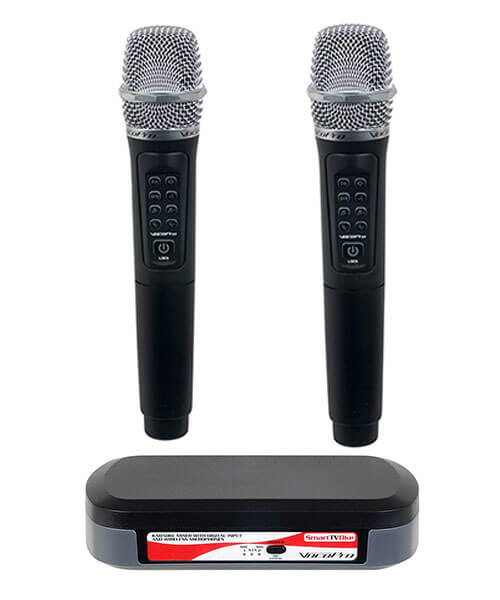 If you're one of those people who owns a simple and basic TV and sound system, this next generation mixer fits your preferences. Therefore, you do not have to run to the store looking for a whole new sound system or television.
In case you are planning on an outdoor party, this is the one as it is easy to carry around yet does not disappoint with the music's reach. The mic signals are spotty, though.
The package comes with several cable types to get any kind of configuration running. There is hardly any need for you to look out for a different cable.
The digital optical cable connects the system to your smart TV.
The wireless connectivity of the microphones is perfect and effect controls are built into each microphone.
It might take a while to get the mics to sync. They test your patience while you try to sync but once it is achieved, there is no looking back.
Mixed output jack sends signals to any sound system with a 1/8″ Or RCA input volume.
Please keep in mind that your TV needs to have PCM output. If not, buying an optical to analog converter is advised.
Pros
Microphones' wireless connectivity.
Perfect fit for a simple sound system.
Compatible with almost all the TVs.
Cons
Might not be compatible with a sophisticated sound system.
Mic-sync might take time.
This karaoke system gets along with a basic TV set and sound system, not demanding you to change your devices. Whoa, that indirectly saves you a lot of bucks.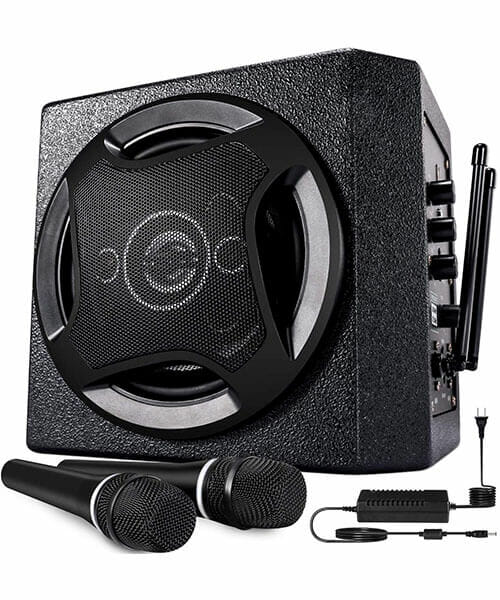 This is not a standalone karaoke machine but also a cool PA system. You can connect it to other devices and address a larger audience.
This machine is small but packs a punch.
Only one Bluetooth device can be connected at a time but the mic's connectivity is superb and both the mics can be used at the same time. Microphones and speakers need no pairing and can be connected directly with no delay.
The microphones are uniquely paired and if one goes wrong, you might need to replace the whole system. That means, other mics are not compatible with this system.
Volume of the built-in 6.5" coaxial powered speaker is good and the PA system produces strong bass and crisp treble. The sound quality is great even at high levels without distorting.
Noise reduction and anti-interference ability are remarkable.
On charging for 2 to 3 hours via USB, the mics can be used up to 16 hours.
Connectivity options include USB, Bluetooth and RCA.
Built-in RCA cable makes it easy to connect to your TV and you do not need to buy new audio or mic equipment. There, there is no complicated wiring.
Ideal for house party, indoor meeting, classroom teaching, public speaking and small stage performance.
Pros
No pairing required for microphones.
Great bass and treble.
Good battery life.
Anti-interference.
Cons
No dedicated equalizer.
New mics cannot be added.
TONOR PA System Karaoke Machine is suitable not just for your karaoke but also your PA system needs. Strong bass must be marked.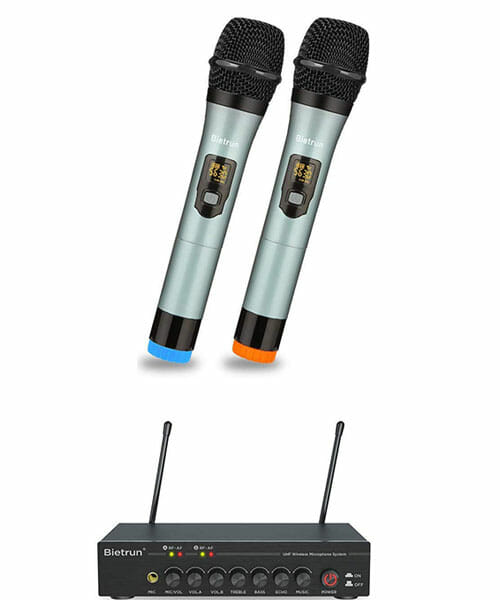 Bietrun specializes in producing high quality wireless microphones.
The wireless microphone in this karaoke machine comes with a built-in mixer and is quite efficient. Echo controls are provided.
Its RCA connectivity lets you connect it to your TV without any hassle.
The microphone has a partial metal cylinder which gives it a good feel in hand. Each mic has a battery display.
Using more than two microphones in the same room might cause interference. Working range of the mics is 160 feet.
There are multiple cables of different specifications to connect multiple media devices like TV, iPhone, computer, amplifier, speakers, Bluetooth speaker and so on. Easy to connect. Just plug in and play.
Bluetooth connectivity range is 10 feet and it is advised to use a high powered Bluetooth speaker as the sound from a small Bluetooth speaker can be too low for your needs.
Its outstanding features include signal stability, no delay, no radiation, anti-howling, anti-jamming and constant frequency.
The system has a micro USB port enabling it to be charged even through a power bank.
Pros
Portable.
Great working range.
Microphone with built-in mixer.
Adjustable bass, treble and echo.
This machine is well-suited for your karaoke night and its micro-USB port makes it extra portable. The controls are intuitive.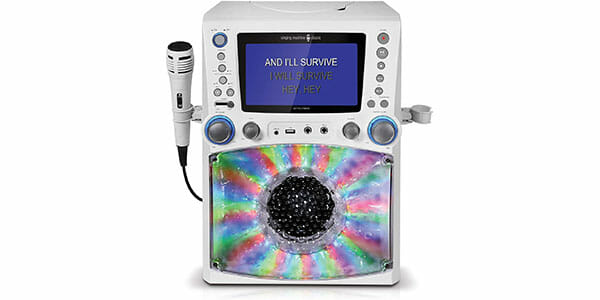 This list starts with a Singing Machine product and ends with another one from the same manufacturer.
An additional feature of Disco LED lights provides vibrancy and warmth to your party and the screen on this machine (7″ TFT LCD color monitor) displays lyrics when playing CD+Gs.
The dimmer switch allows you to customize the lighting effects.
Plays CD/CD+G, MP3+G from USB and can record voice and music to USB.
RCA feature enables you to connect it to your TV for scrolling lyrics. For audio needs, you can use Aux In.
However, while using via Bluetooth, lyrics are not shown.
The system has two jacks for microphones but only one microphone is provided. You can purchase another one separately. The device is compatible with other upgraded microphones too.
Echo control and auto voice control are available.
Pairing with other devices takes little to no effort.
The sound quality and singing effects are surprisingly good, making the product ideal for DJs too.
Pros
Additional feature of lighting to make your party wholesome.
Compatible with other microphones.
USB feature.
Cons
Bluetooth does not show lyrics on screen.
Easy to operate and great output make this product a good choice for karaoke nights and even for your jam sessions.
Frequently Asked Questions
Is connecting my karaoke machine to the TV necessary?
No, it is more of a preference than a necessity. But having a TV displaying the lyrics will help you not to drift towards being conscious to people around. Plus, your TV gets to participate in your party too.
What does RCA cable do?
RCA cable lets you connect audio and video signals. Yellow is for video and red & white are for audio.
How do I connect my karaoke machine to the TV?
Connect your TV to your karaoke using the RCA cable. This is color-coded. Plug the red cord to the red port, yellow cord to the yellow port, and the white to the white port.
Is the connection, directional?
Connect the cable to the port labelled "Out"on your karaoke machine, and the port labelled "In" on your TV.
What to do after connecting the cable?
On your TV, change the video source to AV1 or AV. Load your CD+G in the machine and lyrics should be displayed on the screen.
What if my karaoke machine does not have an AV output?
Connect your device to your smart TV using Chromecast. Make  sure that your TV and your device are connected to the same wifi network.
How do I connect my karaoke machine to an amplifier?
Connect the cable to the"L+R OUT" on the machine and connect the other side to the MIC port.
How do I connect my karaoke machine's microphone to a Bluetooth speaker?
Connect the RCA cable to the "OUTPUT" of microphone and connect the other side to the AUX of bluetooth speaker. 
Now that you know the factors to check when buying a karaoke machine that goes with your TV and the additional features you can get through each machine, you can compare one with the other and get the perfect karaoke machine to slay your party.