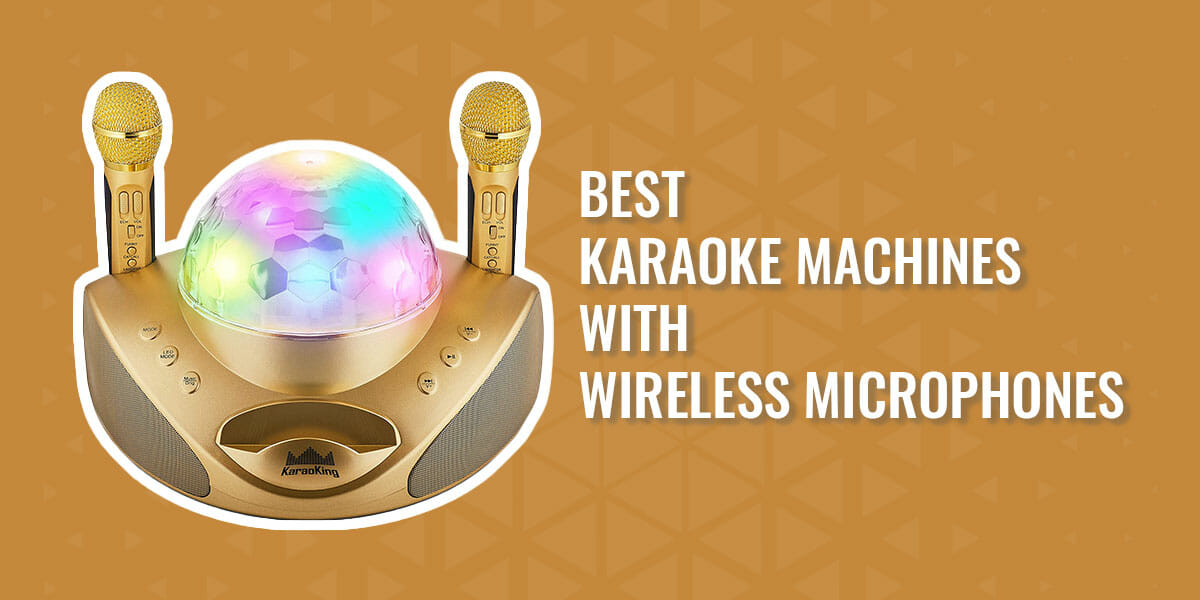 Are you looking for a great karaoke machine with wireless microphones?
Want to have a joyful moment with karaoke and a good laugh as well? This article is definitely yours to take a look at as karaoke is becoming a popular choice among music lovers all over the world.
We will walk you through our first-rate picks right here and right away.
---
---
---
---
---
---
Frequently Asked Questions
1. Which wireless microphone is best for karaoke?
Here are our top picks of the 5 best wireless karaoke microphones. Taking into consideration quality and affordability, we have included budget friendly systems for home karaoke sessions and premium systems for your live performances. Check them out.
2. Which is the best wireless microphone?
You might consider a specific brand of wireless microphone as the best just because it meets your expectation but someone might think otherwise. Thus we would not like to limit you to one option. Here are some top-grade models you might want to check out.
3. Which is better? Wired or wireless microphones?
This would depend on your "definition of better". For the question of convenience; wireless microphones are better and limitless as compared to wired ones. When it comes to simplicity and reliability, wired microphones would be better. 
But if your main focus is being economical, then wired microphones are the ones for you. Modern microphones are generally better. But consider the purpose for which you need the microphone while buying. 
4. Do wireless microphones need speakers?
Yes, wireless microphones need speakers to function. As a matter of fact, a wireless microphone would need other components to respond.
You require a transmitter (which might be built into the body of the microphone), a receiver and the sound system (speaker). With one component missing, a wireless microphone would not function.
5. How do you put music on a karaoke machine?
If your karaoke machine does not come with songs, that's totally okay. There are other channels through which you can upload music to your karaoke machine. 
You can download karaoke songs from YouTube or from any other website where you can access karaoke songs. Upload them to an external hard drive and connect it to your karaoke machine using a USB cord. In case your device has a disk drive, you have the opportunity to use CDs or CD+G's preferably.
6. How do I choose a good karaoke?
When choosing a good karaoke system, the most fundamental thing to consider is sound quality. 
Complex set-up and connectivity is something you should look out for. A good karaoke system must be easy to set-up and should not limit your connectivity options. 

If you come across one that allows you to connect a phone or tablet accessory using a cable and simultaneously supports the use of the Bluetooth feature for online streaming, that's one you are worthy of having.

Portability and durability is an important factor to review. 
Depending on the purpose for which you are picking out the machine, get a load of accessories. 

Would you need a screen or a microphone stand? If yes, what specific features should they have that correspond with your needs?
7. Which microphone is best for singing?
As a singer, picking out a good microphone should not be based solely on budget. You must consider the most efficient type and brand for vocals.
Condenser microphones are optimal microphone types for singing. Constructed with a lightweight diaphragm, they are sound sensitive and are characterized by polar patterns that help in sound isolation.
Check out these outstanding models.
Warm Audio WA-47
Audio-Technica AT 2035
Shure SM7B
Blue Yeti Pro
8. What is the best wireless Bluetooth Microphone?
Currently, wireless Bluetooth microphones fall in the most user-oriented category. As a narrow guide, here are 3 bestsellers of 2020 that conform absolutely to their descriptions and do not fall short of professionalism. They are perfect for both indoor and outdoor usages.
9. Where is the best place to buy a wireless microphone?
Probably, the best place to buy a wireless microphone is walk-in stores that deal in musical accessories. You could get to try out the product to be convinced it is exactly what you want.
However, if you decide to make an online purchase, be sure of the brand and model before moving forward. It would be advisable to pick up brands which have warranties on them.
---
Conclusion
Karaoke just keeps getting bigger and better. Take center stage, and if the crowd is partially dead, switch up the lanes and go where the fire is.
Move anywhere! Just own it. If by chance you have someone playing the ukulele for you, sing by their side at some point and infect them with your vibe.