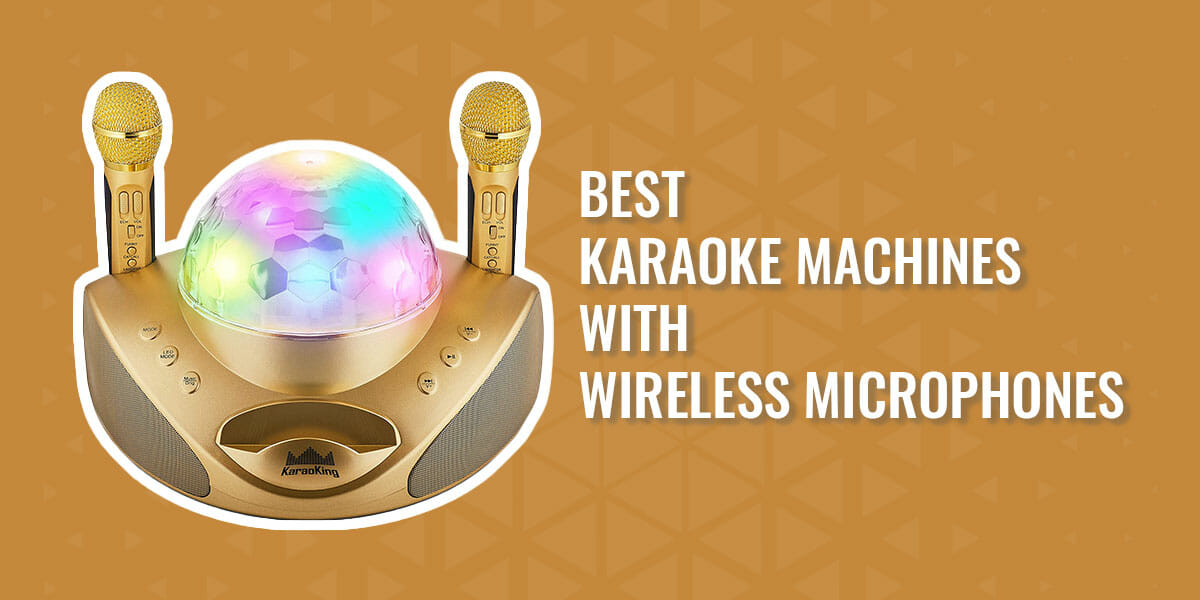 Are you looking for a great karaoke machine with wireless microphones?
Want to have a joyful moment with karaoke and a good laugh as well? This article is definitely yours to take a look at as karaoke is becoming a popular choice among music lovers all over the world.
We will walk you through our first-rate picks right here and right away.
Table of Contents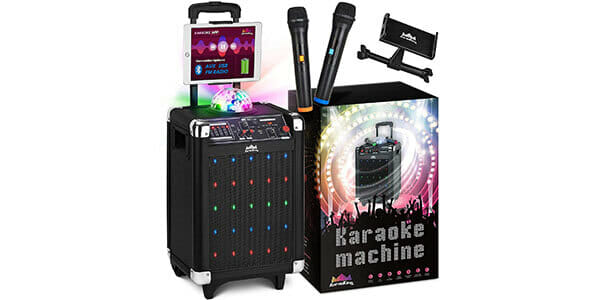 Karaoking karaoke for kids and adults is undisputedly an immaculate work. It connects with Bluetooth, FM radio, TF card or USB and an AUX 3.5 mm jack.
Other notable features include the tablet (or smartphone holder), voice equalizer and volume control panels, disco balls and two-part harmonies with two sturdy wireless microphones for dual singing.
This set is built on smooth running wheels. Roll your karaoke machine out effortlessly unto the lawn for your theme parties. No need to sweat it. How does that sound?
Pros
Rechargeable Portable Amplifier
Crisp loud Sound Conveyance
Durable microphones
This karaoke system is a top-tier example of a versatile device, giving you a great range of music accessibility and is handy in all respects.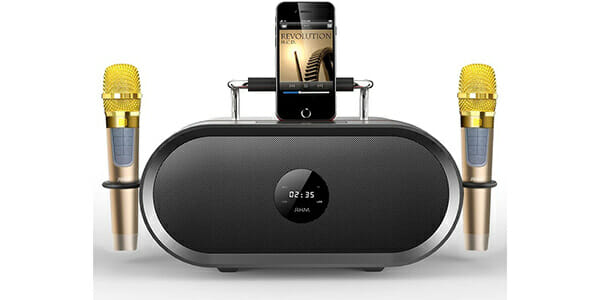 This karaoke machine is top-notch despite its miniature outward form. Driven by a powerful internal circuitry, the RHM karaoke machine has been on top of its game.
This karaoke machine has auto tune software and allows you to use the USB, Bluetooth, AUX in and coaxial connectivity. It weighs 3.5 kilograms and comes with 2 wireless microphones that work in a range of 40 inches.
On its front face, you can locate a set of toggle keys and on top of the device is a convenient phone holder.
Pros
Light versatile design
Super wide compatibility
2 wireless microphones as handy remote control
This portable stereo system is perfect for all indoor and outdoor events.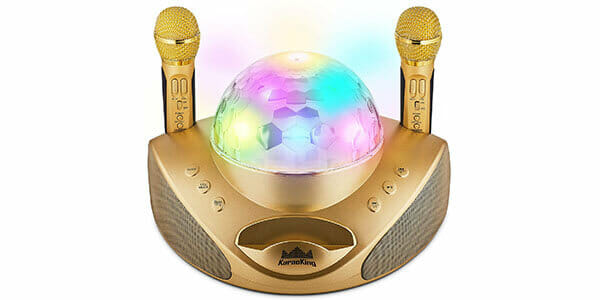 Showcasing expert craftsmanship at its peak, the developers of the Karaoking karaoke machines never let the bar down. But you know what? This particular one will blow your mind.
It features pristine exterior, dual 15w speakers with high accuracy sound production, in- built rechargeable batteries and dual wireless microphones with scads of voice effects. It has a fantastic light globe to give you the exact party presence and nothing beats its portable nature.
The Karaoking new model knows how frustrating it gets when you cannot find the karaoke version of that song you would love to sing so much. Just play the original song and cut the vocals out and do your thing. 
Utter Karaoking goodness!
Pros
Compatible with Bluetooth mode, SD card and USB connections concurrently.
High quality sound
Wireless machine- can be used outdoors without electrical connection.
This Karaoking model is compact, ideal for all ages and great for outdoor events.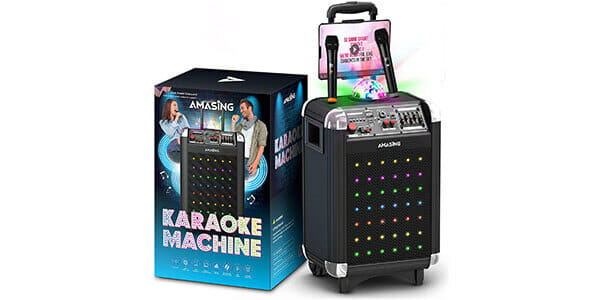 We chose the Amasing karaoke as one of our top picks because, well, it is truly amazing. Distinguished by its exquisitely crafted disco lights, this karaoke machine has up to 6 modern ways of connectivity.
Pair your devices using Bluetooth, USB, FM radio, micro-SD OR TV Audio and all would work perfectly.
Also, it comes with an in-built handle, rechargeable batteries and dual wireless microphones. Decide to take your karaoke spirit to the beach and that's exactly where Amasing would go.
Pros
Ultra-portable Exterior
Durable microphones
Great sound and spectacular light show
Everything about this karaoke machine is well-integrated and it is good value.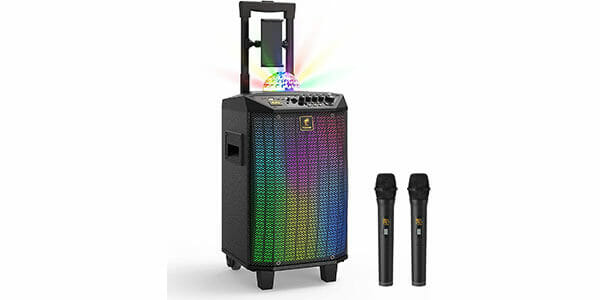 A modern machine to suit your style, this on-budget Tonor wireless Bluetooth karaoke machine is an epitome of everything you would love to see in a karaoke machine.
It features a crest power of up 250w, a 1.15v/2.4An adapter, a 3.5mm audio cable, a tablet holder and two adjustable frequency wireless microphones. It comes with a handy storage bag.
Just in case you are leaving to "far away land" for a vacation and won't take your karaoke machine with you, pack it up. It's the safest thing to do.
Pros
Good wireless range
Up to 12 hours of quality sound on a good charge
Budget friendly
We love that the lights on this karaoke machine jump with the music. It's just great for creating the party ambiance.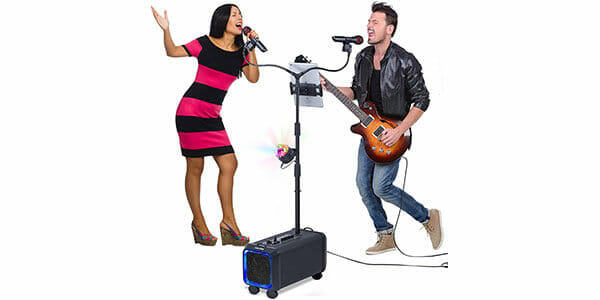 Who said you couldn't judge a book by its cover? With Amasingo karaoke, you definitely should! With one of the finest exteriors, it is attributed with a 360 rotate phone and tablet holder.
It features an on-stand mini and spectacular disco light globe, 2 professional microphones, LED display, snazzy echo controls, 8-hour rechargeable batteries and a collapse microphone stand adjustable to 5.5 feet. 
Bringing you totality, it comes with a remote, car power plug, Aux cable, TV cable, a performer's manual and a carry strap! That's too much goodness in one machine. You definitely should agree with us.
Pros
Lightweight nature with carry strap
Run's on rechargeable batteries
Easily syncs with TV and Phone
The Amasingo Lento X5 is a go-to choice when home karaoke is concerned. If you have a guitar, it comes with a dedicated guitar input for you. You might as well do two of your favorite things at a go.
Frequently Asked Questions
Which wireless microphone is best for karaoke?
Which is the best wireless microphone?
Which is better? Wired or wireless microphones?
This would depend on your "definition of better". For the question of convenience; wireless microphones are better and limitless as compared to wired ones. When it comes to simplicity and reliability, wired microphones would be better. 
But if your main focus is being economical, then wired microphones are the ones for you. Modern microphones are generally better. But consider the purpose for which you need the microphone while buying. 
Do wireless microphones need speakers?
Yes, wireless microphones need speakers to function. As a matter of fact, a wireless microphone would need other components to respond.
You require a transmitter (which might be built into the body of the microphone), a receiver and the sound system (speaker). With one component missing, a wireless microphone would not function.
How do you put music on a karaoke machine?
If your karaoke machine does not come with songs, that's totally okay. There are other channels through which you can upload music to your karaoke machine. 
You can download karaoke songs from YouTube or from any other website where you can access karaoke songs. Upload them to an external hard drive and connect it to your karaoke machine using a USB cord. In case your device has a disk drive, you have the opportunity to use CDs or CD+G's preferably.
How do I choose a good karaoke?
When choosing a good karaoke system, the most fundamental thing to consider is sound quality. 
Complex set-up and connectivity is something you should look out for. A good karaoke system must be easy to set-up and should not limit your connectivity options.  If you come across one that allows you to connect a phone or tablet accessory using a cable and simultaneously supports the use of the Bluetooth feature for online streaming, that's one you are worthy of having.
Portability and durability is an important factor to review. 
Depending on the purpose for which you are picking out the machine, get a load of accessories.  Would you need a screen or a microphone stand? If yes, what specific features should they have that correspond with your needs?
Which microphone is best for singing?
As a singer, picking out a good microphone should not be based solely on budget. You must consider the most efficient type and brand for vocals.
Condenser microphones are optimal microphone types for singing. Constructed with a lightweight diaphragm, they are sound sensitive and are characterized by polar patterns that help in sound isolation.
Check out these outstanding models.
1. Warm Audio WA-47
2. Audio-Technica AT 2035
3. Shure SM7B
4. Blue Yeti Pro
What is the best wireless Bluetooth Microphone?
Currently, wireless Bluetooth microphones fall in the most user-oriented category. As a narrow guide, here are 3 bestsellers of 2020 that conform absolutely to their descriptions and do not fall short of professionalism. They are perfect for both indoor and outdoor usages.
1. Bonaok wireless Bluetooth karaoke microphone
2. Ankuka wireless Bluetooth karaoke microphone
3. Shinepick wireless 4-in-1 Bluetooth karaoke microphone
Where is the best place to buy a wireless microphone?
Probably, the best place to buy a wireless microphone is walk-in stores that deal in musical accessories. You could get to try out the product to be convinced it is exactly what you want.
However, if you decide to make an online purchase, be sure of the brand and model before moving forward. It would be advisable to pick up brands which have warranties on them.
Conclusion
Karaoke just keeps getting bigger and better. Take center stage, and if the crowd is partially dead, switch up the lanes and go where the fire is.
Move anywhere! Just own it. If by chance you have someone playing the ukulele for you, sing by their side at some point and infect them with your vibe.