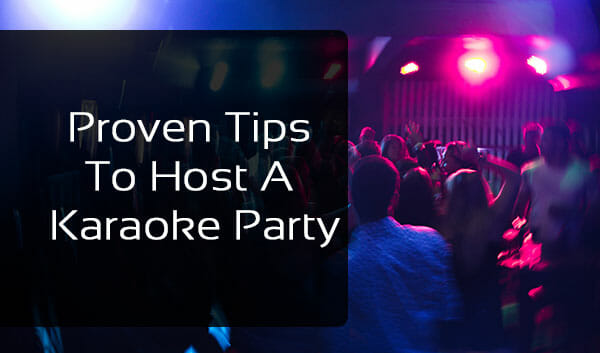 Karaoke parties are super fun, only when you know how to host one.
Ever seen a karaoke night where everyone wants to just get out or stay by sticking to their phones? No, you don't want to host another party like that.
Now, you're apprehensive about your hosting skills. Worry, not. We got you these essential tips so that you see your guests loving the vibe of your karaoke party, and of course, keep talking about it for months.
Table of Contents
1. No Cold Water On The House On Fire
Sure, a lot of guests make the party merrier. But hold on a sec.
When there are people of two exactly opposite types, you cannot get the best for both the worlds.
While making the guest list and sending the invites, eliminate those who are not really into parties or karaoke. You don't want to disappoint your guests' fire by getting someone who spills cold water on it.
2. Creative Menu
We're done with the guest list. What next?
Foooood! What's a party without food? Ditch the mundane options and go for exciting bites.
Keep the choices of your guests' diet in mind (vegan, gluten-free and so on). Don't make it too hard on yourself. Arrange some alternate food according to their preferences or restrictions along with the food of your choice.
Go funky with drinks and cocktails, but not fussy. Keep plenty of ice handy. Your guests can't be waiting for ice holding their drinks awkwardly.
No messy food. This is for our own good. Less mess, less cleaning to be done later.
Bonus Tip: Get a few packs of disposable bowls, spoons and cups along with tissue papers. 'Disposable', because you don't want to be doing dishes the whole next day.
3. The Right Karaoke Machine
A basic karaoke machine is all you need for home but what about parties?
The party is not going to be quiet like a library, especially when it's with music. The volume of your machine's speakers has to overtake the noisy background.
Getting the best karaoke machine is definitely worth it. After all, you are hosting a music party. Let's not move on without considering a karaoke mixer too. The magic these two create will be a pleasure to your guests' ears.
Don't forget to make a soundcheck beforehand.
4. Playlist, Not A Broken Record
Though a song is your jam, it does not mean you have to make your guests force-listen to it.
You can go for a themed playlist like retro or you can choose a mixed playlist.
You can add some of your guests' favorites to the mixed playlist here and there.
5. Are You 'Game'?
Your party is neither a concert nor a fancy dinner.
Think of a few games you can add to the party time. Games bring everybody's fun-side up.
You can try out games like making a parody of a song, singing a song in the style of another artist, say, Britney Spears singing Aqua's Barbie Girl. The possibilities are endless.
Depending on whether you are going to have a DJ or not, you can set up the game corner.
6. Deck Out Your Den
For karaoke decoration, lights are your best buds. Use lightning to brighten up the ambience and to bring the tone.
Use music notes' stickers for the walls. Balloons and balls are never out of style.
You can go minimalist or profligate. Depends on you.
Feel free to add glitter, banners, confetti but do not go beyond the top. Too much of anything is not ideal.
7. As Cool As A Cucumber
It's your party and you are hosting it. The guests are not.
Act cool. Don't rush.
Don't hush your guests up like 'mom'. Let them have fun and indulge yourself in that.
Despite tremendous preparations, a thing or two might go out of the way but it is absolutely fine.
The cooler you are, the cooler your party feels like.
Darling, it wouldn't be a party without you.
Also, if you are looking for more tips to host your party, you can check out this post by porch.com – Hosting Tips: Everything from Table Settings to Entertainment