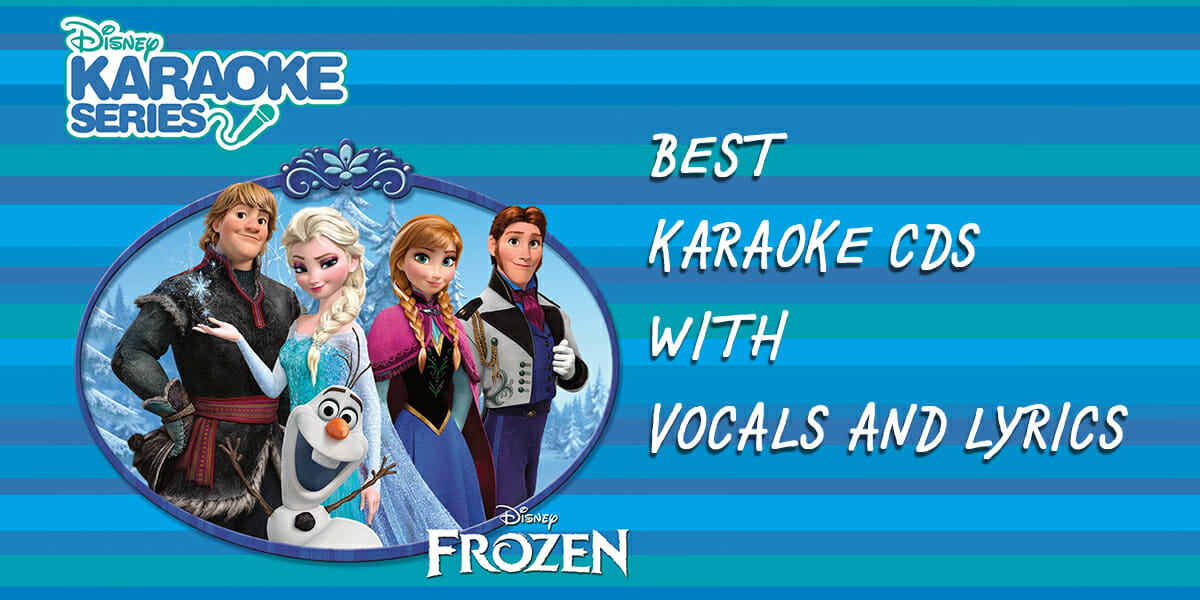 So, what do we mean by Karaoke CD with vocals and lyrics?
It is a karaoke CD with graphics on it. These include lyrics of the song in addition to the music and background vocals. This is available in a CDG format which can be played in both Karaoke machines that support CDG format or in a normal CD player. But, for the lyrics to be visible, you will need a karaoke machine with a screen.
Here, we provide you with the 6 best karaoke CDs with vocals and lyrics which will lighten up your party.
Table of Contents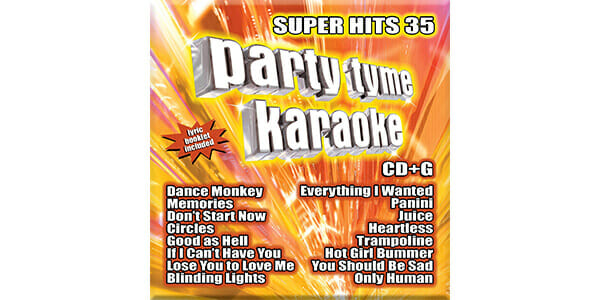 Super Hits 35 is a CDG manufactured by Sybersound and released in 2020. It is the best option for all music lovers.
"Party time karaoke" has been winning the hearts of their listeners with their song selections every time and this will be a perfect summary of 2020.
 At a very affordable price, you get all the hits of 2020 to sing along.
Pros
Hit songs of 2020.
Perfect for your parties.
 Affordable.
Party time Karaoke has earned the trust of its listeners for a long time. The songs are everybody's favorites from 2020.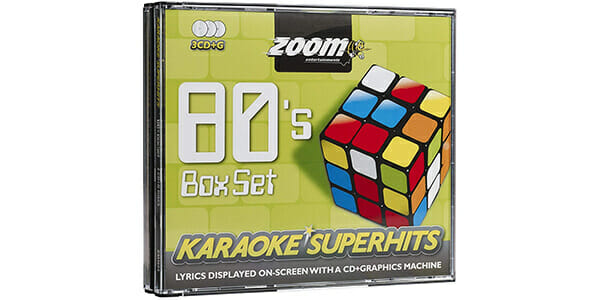 Zoom 80s Karaoke Superhits is a CDG released in 2018.
Are you someone who is in love with songs of the 80s? This one is going to make you cry. To have a collection of amazing songs is a treasure.
Zoom karaoke has the potential to create a smile on the listeners' faces. It has some significant hits from the 80s.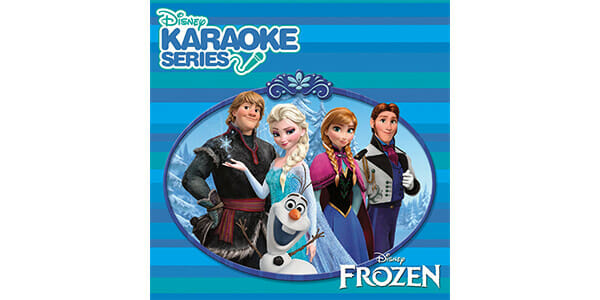 Frozen is a low priced CDG which is manufactured by Walt Disney Records and is prepared specially for children who live in the world of Elsa and Anna.
The lyrics of the song are incorporated in a manner that encourages your children to sing along. Gift your children the magic of becoming one amongst the characters.
Pros
Children's favorite
 Disney production
 Child friendly
Affordable and a lovely package for children which can be a long-lasting gift for them.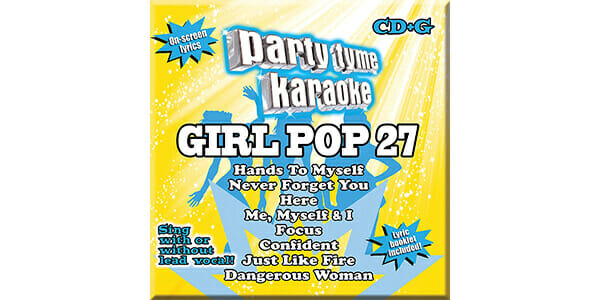 Party Tyme Karaoke is a CDG manufactured by Sybersound in the year 2016. 
It is for all those who want to feel empowered, especially for girls. Together with your friends, create a vibe of strength and power.
Pros
Girls' favorite
Affordable
Selected songs
It is very important to consider everyone's interest and this one becomes the favorite of anyone who looks for empowerment through music.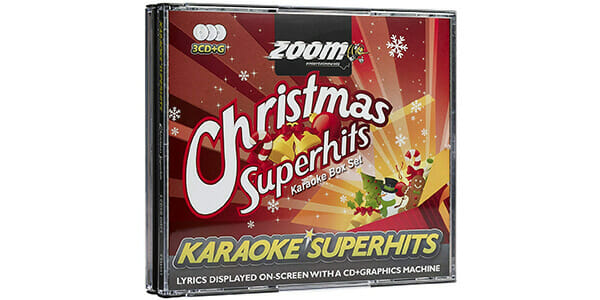 Zoom Karaoke Christmas Superhits has selected carols for your Christmas parties. Most of the time we play the same old songs for a Christmas party. How about getting a bunch of new songs into your list this year?
Pros
Affordable
Christmas carols
It brings home a set of lovely carols and is from " Zoom Karaoke".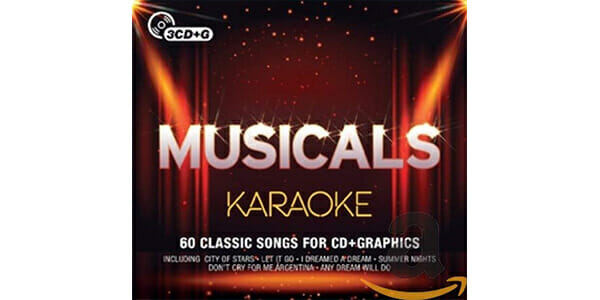 Musical Karaoke is a CDG manufactured by CRIMSON and released in the year 2017.
Gets you all your favorite artists in a package. This one gives you a taste of diverse singers and it will be very useful for karaoke games.
Pros
3 CDs in a package.
Affordable.
The price for 3 CDs is very reasonable.
Frequently Asked Questions
Do Karaoke CDs have vocals?
Karaoke CDs are supposed to just include the music and background vocals in them. In case you refer to vocals as the "background vocals" then yes, these CDs do include them. While the lead singer's vocal will not be present.
What CDs work with the singing machine karaoke?
Singing machine karaoke supports both CDs and CDGs (CD-Graphic). If you want your lyrics to be visible on the screen while you sing along, use a CDG. This is the main difference between both the formats.
Do you need special CDs for karaoke machines?
Some Karaoke machines don't support normal CDs. In that case you need to use a CDG which is the abbreviation for Compact Disk Graphic. This helps in making the lyrics visible to the singer while singing. Make sure that you get a karaoke machine that supports both formats to enjoy both of them.
What is the most sung song on karaoke?
Billie Jean by Michael Jackson is the most sung song on karaoke. It is from the 80s and remains one of the most popular karaoke songs. Some songs can be enjoyed at any time and this is one of them.
People of different ages enjoy this song equally. Don't Stop Believin' by Journey and Summer nights by Grease cast follows the list.
What is the easiest song to sing on karaoke?
This depends on whether the song is easy to follow and does it make it sound like a good singer. Here are some of the easiest karaoke songs:
1. The foundations – Build me up buttercup
2. Billie Ray Cyrus – Achy Breaky Heart
3. Madness – Baggy Trousers
What is a karaoke CD?
CD stands for Compact Disc and Karaoke CDs especially have lyrics attached to it, which can be viewed only if the CD has graphics in it. Which makes it CDG- Compact disc graphic. This can be viewed only in machines that support compact graphics.
How do you set up a karaoke singing machine?
You just need to buy the best karaoke machine and plug it on with the CD/CDG inserted. In the case of a mobile app, you need to download the application from Google drive and connect it to a Bluetooth speaker.
How do I download karaoke songs to my singing machine?
To create your karaoke list, you can download the karaoke songs from various sites or youtube and add them to a USB, and simply connect the USB to your singing machine. You can also connect your mobile phone to your machine via Bluetooth to sing your favorite karaoke.
How do I pair my karaoke singing machine?
Go to the "settings" of your singing machine and simply search for the "Bluetooth devices nearby". Find your device's name in it and click "connect".
Can I play karaoke CDs on my DVD player? 
CDGs are compatible with any devices, for example, computing devices, DVD, VCD, etc. It is just that the lyrics might not be visible on some of them.
Conclusion
It is advisable to get a CDG for your karaoke party as you can use it on multiple devices and also can see the lyrics while singing on a karaoke machine. It is fun to have your own favorite CDG every time you want to feel like a singer.