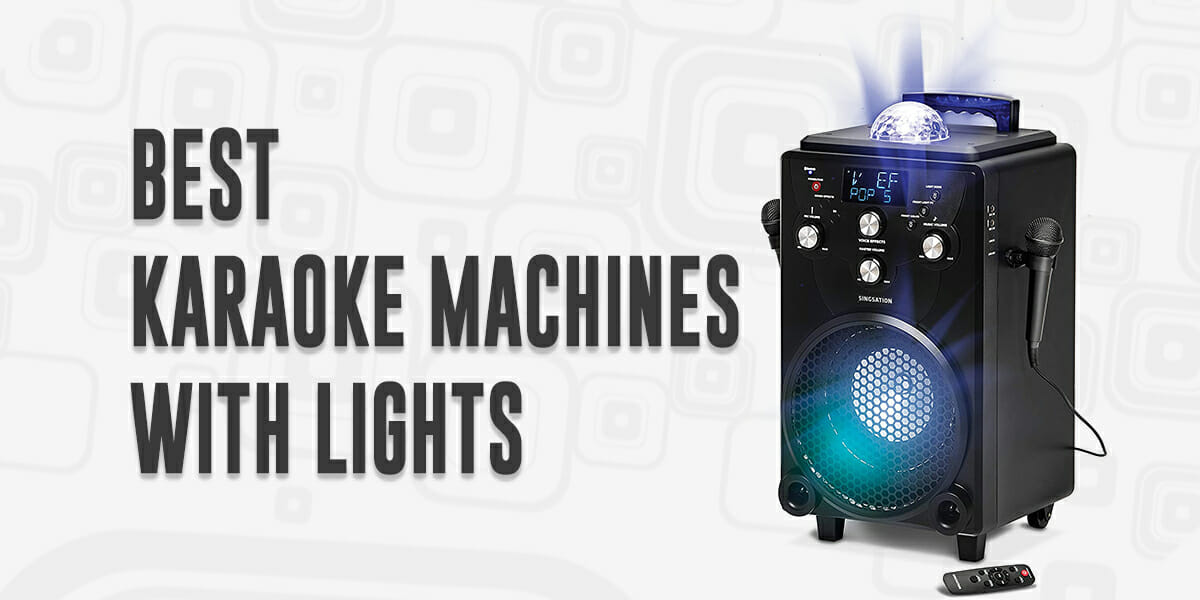 Many people buy karaoke machines as it is one of the best ways to spend quality time with family. The increasing demand of these machines has led to the launch of newer models with different features.
Karaoke machines with lights are admired by many karaoke lovers around the world. These machines are attractive, have a ton of features and are available in various sizes and power outputs.
Here are the 6 best Karaoke machines with lights & disco balls.
Table of Contents
Our Top Picks
Best Karaoke Machine for Professionals: Singsation XL Portable Karaoke System
It provides the most immersive experience and has got all the features to turn you into a playback singer.
Best Karaoke Machine for Kids: Ankuka Karaoke System for Adults and Kids
It has many colors to entice kids and the option to change the tunes along with the echo effect makes it a desirable choice.
Best Karaoke Machine for Adults: Singing Machine SML385UW
It is among very few options compatible with CDs. Hence, to get a dose of nostalgia or to sing your favourite old songs, it could be the best choice.
This all-in-one Karaoke machine is an ideal choice as it is one of the cheapest in the market, doesn't compromise on quality and looks attractive with multi-coloured lights embedded.
You also have the liberty to insert your CDs to play your favorite song inviting nostalgia. It supports bluetooth to pair easily with your mobile phone. A unique feature is that it supports a jack through which multiple microphones can be connected.
Pros
Bang for your buck-affordable.
Unlimited connectivity options.
Attractive look with multiple-tone colouring.
Lighting to bring about the party mood.
Can be connected to the TV screen via the RCA cable.
Cons
Tad bigger in size.
Many complicated buttons.
It gets all the goodies at the lowest price you can get one in the market. In addition to this, it features plenty of connectivity options, mics and speakers that play your favorite song.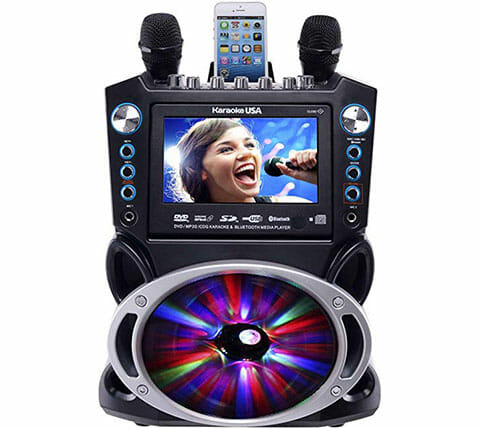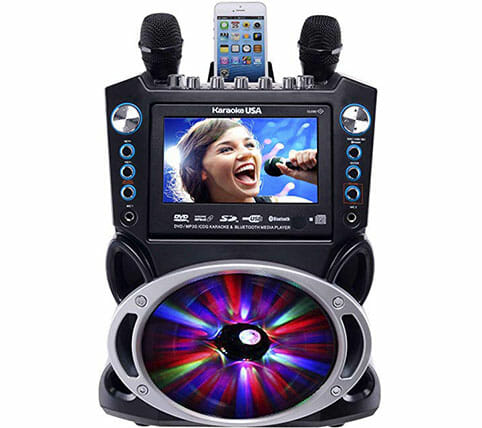 Looking for a machine with great reliability, brand value and an in-built screen? Here's one of the finest options for you. Karaoke USA GF842 comes with a 7-inch TFT color screen display reducing the number of buttons to adapt it quickly.
It is known to have one of the best microphones to enhance the quality of sound. There's also a 35W speaker system which is enough to keep everyone in your locality awake at night.
Pros
LED lights that change with the tone of music.
High sound quality.
Colour screen with remote control for all functions.
Mobile holder.
Cons
Slightly expensive.
Can take some time getting used to.
With its alternate lighting feature, it creates a good backdrop on the dance floor. The screen it features is a feather on the cap as it simplifies the overall user experience.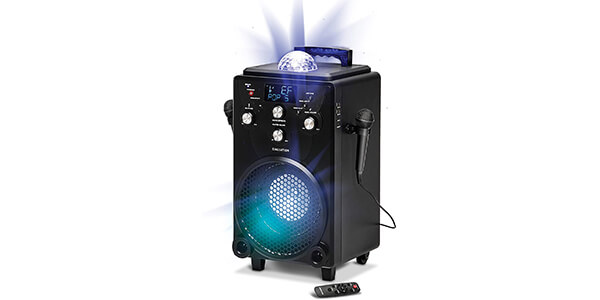 This Karaoke machine by Singsation is an all-rounder as it features 60 voice effects and 10 sound effects for the most realistic sound. In addition to this, it also has 25 light colors and even a disco ball for perfect dance mood.
The usual bells and whistles include 2 mics and a remote control to enjoy uninterrupted singing.
Pros
Good packaging-easy to store.
Slew of voice, sound and light effects.
Value for money.
Wheels to handle it easily.
Cons
Not compatible with CDs.
Small screen not having all the functions for light, sound and song selection.
It can be used by the karaoke professionals. Features like high quality sound and ambient lighting variation are other perks that provide unforgettable experience. The disco ball elevates its appeal and creates the perfect environment as well.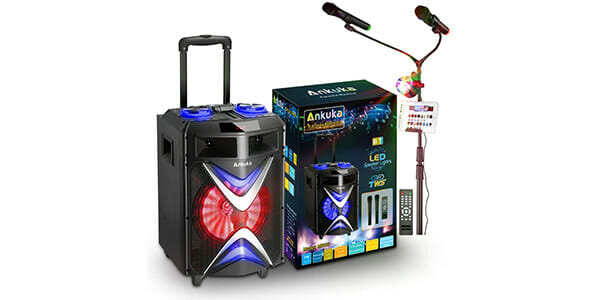 This karaoke system by Ankuka is the perfect fit for your family as kids will enjoy it the most. It can be used as a music player, PA speaker system, FM radio and guitar amplifier in addition to serving your karaoke needs.
It also comes with a 13 ft long decorated cable, lights and 2 mics for kids to express their talent. It also offers 6 light colors, an echo effect and a powerful rechargeable battery.
Pros
Suitable for kids
Mics with cables for convenience 
Echo effect for better tuning.
Cons
Relatively more expensive
This karaoke machine is quite popular among kids. It has a stylish appearance, radio compatibility and echo effect which not many karaoke machines of this type have on offer.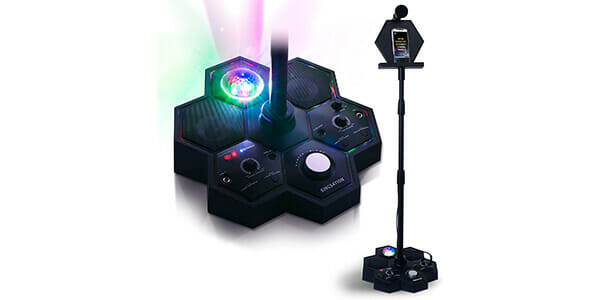 Buying this karaoke system is the right choice if you have space constraints. It gives a glowing light effect via disco ball and has almost all features that other systems have in the market.
It has an adjustable stand that can vary its length from 2' to 6' in height to suit the singer's requirements. It can also be connected to a tablet (or mobile devices) through bluetooth.
In addition to these features, you can also switch between 10 music effects and 8 sound effects for a fine blend of music and your singing voice.
Pros
Very small in size.
Great music quality.
Adjustable stand
Cons
No screen.
No remote control option available.
The clever shape (heptagonal) of this karaoke machine helps save space and is easy to carry. The height adjustable stand allows kids to grip it firmly. It has easy controls that aren't too much thus, you can get accustomed using it in no time.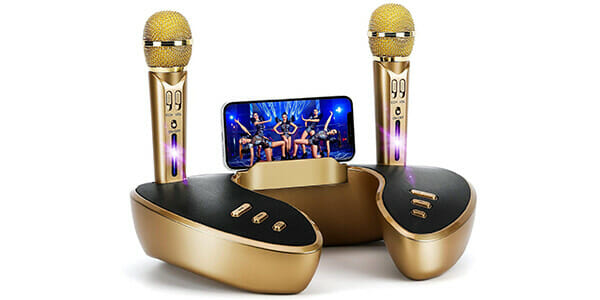 This is the most compact and portable karaoke machine in the market, you can use it while you're on the move. It is extremely lightweight and includes bluetooth, AUX and USB compatibility.
Its golden appearance provides a regal look which is a nice visual treat. Also, there are two mics with voice cancellation features which could come handy while performing. It also lets you sing at full volume for upto six hours and can also record audio so that you can hone your skills to the fullest.
Pros
Minute proportions.
Bluetooth, AUX and USB compatibility.
Long battery life.
Cons
Not for professional singers.
Not many sound tuning options available.
Not as engaging as other options.
This device can be used during picnics or during travel. It is portable and can be used by people of all ages. It can be easily stored at homes and is easy to operate.
Frequently Asked Questions
How much does a singing machine cost?
The price range of a singing machine varies and depends on the one you choose. Although, it generally hovers in the region of $50 and $300. Some good examples include Singing Machine SML625BT which costs $69.99 and STVG884BK Groove XL which is priced at $149.99. In the high performance series, the ISM1080-Premium WiFi Karaoke System is the best and will set you back by $299.99. A really special Karaoke mic to sing while travelling in a car or carpooling is offered by this brand and costs just $49.99.
What should I look for when buying a Karaoke machine?
There are certain things to look for when buying a Karaoke machine such as:
Your requirements-personal, professional or for kids.
Budget
Size that would be a perfect fit for your family.
Battery life 
Number of mics and speakers. Availability of Woofer can be a good addition as the sound would be produced of a greater intensity.
What is the best Karaoke brand?
Some of the best Karaoke brands are:
1. Singtrix
2. Ankuka
3. Grand VideoKe
4. KaraokeUSA 
5. Singing Machine
Is the Singing Machine Bluetooth?
Yes, the Singing Machine is bluetooth-friendly. Simply connect your phone or other device's bluetooth with the karaoke machine and play your favourite song. 
How can I make Karaoke at home?
Follow these steps to create Karaoke at home:
1. Setup a microphone and connect it to your home speakers.
2. Connect the music of Karaoke source (YouTube or other apps) to the home speakers.
3. Project the video of the Karaoke source on your TV for the lyrics and video.
How do you record on a singing machine?
Follow the steps given below to record on your Karaoke set:
1. Copy the songs that you would like to play to the 'Record' folder on your Singing machine through a pen drive.
2. Upon inserting the flash drive to the system, head to the Recordings Menu. The songs will appear there. Select it and it will start playing.
How do I host a Karaoke party at my home?
Following are the measures by which you can host a Karaoke party:
1. Make sure to have a great Karaoke system which can also be rented.
2. Inform your friends and relatives about a set theme or genre. This will lead to a great collection of songs.
3. You can keep the best songs first in the queue.
4. Announce gifts and rewards as this generally welcomes more people to your event.
5. Essentially, you can create a disco bar-like environment with ambient lighting and a disco ball.
How can I get Karaoke songs for free?
Karaoke-version is a site which offers songs for Karaoke for free. It offers a wide range of English and Hollywood songs for playing your favorite tracks without having to pause and think each time.
How much does a Karaoke machine cost?
The average cost of a Karaoke machine lies between $50 and $200. However, the professional karaoke machines are a lot more expensive breaching the $200 barrier.
How can I do Karaoke at home without a machine?
Most people with basic equipment at home perform Karaoke using their mics. You simply have to connect your mic with your selected device such as mobile phone, tablet or TV through bluetooth or USB and start playing the karaoke tune of the song.
Conclusion
Using Karaoke for singing has come to be the go-to form of entertainment for most households today. Depending on your requirements, we have developed this list of the best Karaoke machines available at the moment. These machines befit every occasion to make your event and experience memorable. 
It can be touted as the best way to enhance your singing skills and can also be the best pastime in such unprecedented times.