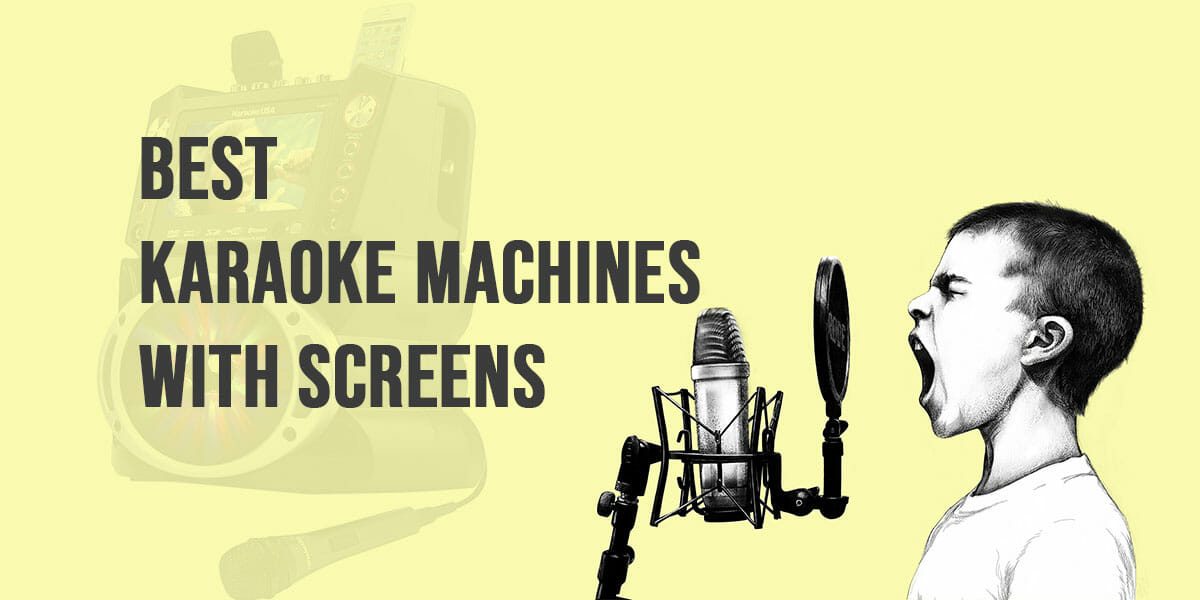 Karaoke will always be a popular form of entertainment for bars and lounges. Also, you can have fun-filled entertainment at home. It's all made possible due to karaoke.
Now, if you are a perfectionist and a staunch karaoke lover then gather around. We present you unrivaled karaoke machines with screens to make your singing experience remarkable and simply perfect.
Let's get right into it.
Table of Contents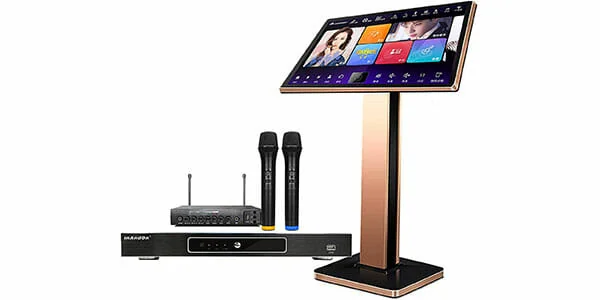 With an epic exterior featuring aluminum finish fronts, the InAndon KV-503 Pro Karaoke player is made to the highest possible standards. 
It features three indicator lights for your hard drive, power and internet and a free unlimited cloud download. You can find the microphone bypass, ethernet touch screen, USB slots, audio outputs, and two hard drive slots on its horizontal back.
This latest InAndon model gives you up to 16 terabytes of song storage capacity and unlimited expansion video output. It's absolutely amazing stuff.
Pros
Dual hard-drive storage system- Large capacity.
Mini-external antenna for good wireless connection range.
Compatibility with standard Bluetooth and USB adapter.
This item has a sleek exterior design and serves all recreational and karaoke businesses needs.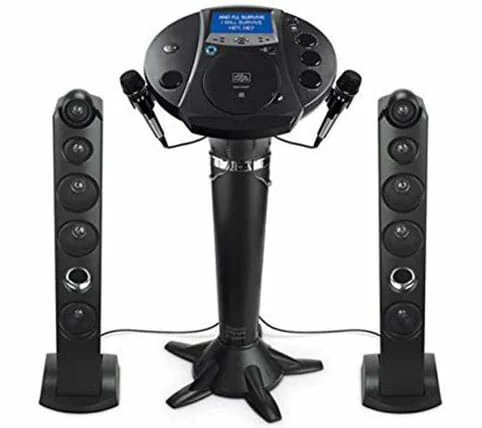 LCD display, digital keys, eco control, superb sound quality and pure enchantment. You are missing out on nothing with the singing machine's iSM1030BT model pedestal. This craft combines simplicity with class.
The device is accompanied by two powerful tower speakers for sufficient volume output. It incorporates Bluetooth connectivity to enable online streaming from equally compatible devices. 
It features a 7 inch built-in LCD screen to display your musical lyrics as well as a beguiling resting cradle for your hand-held devices.
Pros
In-built FM radio for sing-alongs
Great sound quality
Can play MP3+G files from USB devices
This device is great for anyone who wants a karaoke device that does not take up much space in their set-up areas.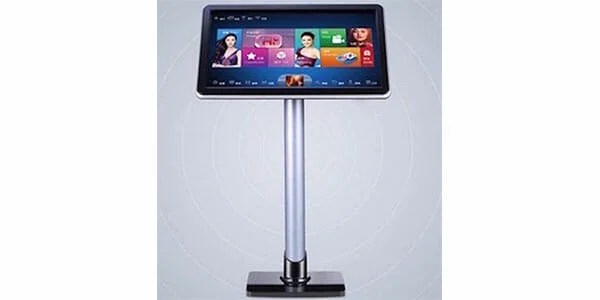 Its ergonomic design makes a feature of a 1920 x 1080 display resolution and an auto-update song data. It is compatible with Bluetooth features and has a high speed main processor quad core A53 up to 1.8 GHz frequency.
It comes equipped with an in-built 2TB-8TB HHD, with a whopping 45000 songs in different languages including Chinese, English, Taiwanese and Cantonese. This machine is a sure way to find variety in karaoke and music in general.
In terms of design, it has a great advantage over most karaoke machines on the market today. It would pass for a lifeless beauty with just the right weight to move it around with ease.
Pros
Epic exterior
Portable
Provides you with an array of songs
It is a double value pack design that allows you to learn new languages in a fun way.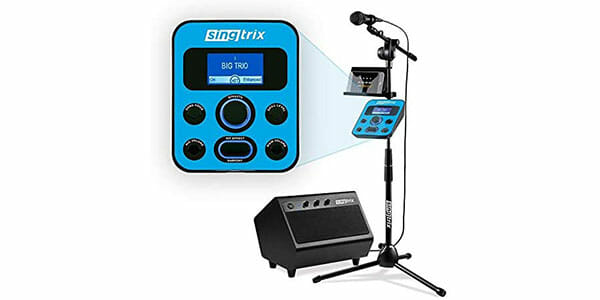 This streamline party bundle screams "delight". A well-integrated auto tune karaoke software system designed to bring a little sparkle of joy to your homes.
It consists of a volume toggle as well as base and treble toggles located on its speaker system. The control unit has a line-in jack, two output ports and USB ports. With new effect presets, the Singtrix party bundle features an improved user interface and improved digital processing signal. 
You can find a mini screen accessory located on its control unit to display your sing along lyrics. And oh, the speakers! 40 Watts and great sound quality packed into a portable system. Do not downplay its quality. Its professional ultra-compact design allows mobility and ensures you have a deluxe singing experience. 
Pros
Hi-fi stereo speaker system
Auto tune software feature
Budget friendly
A great karaoke machine for family karaoke sessions.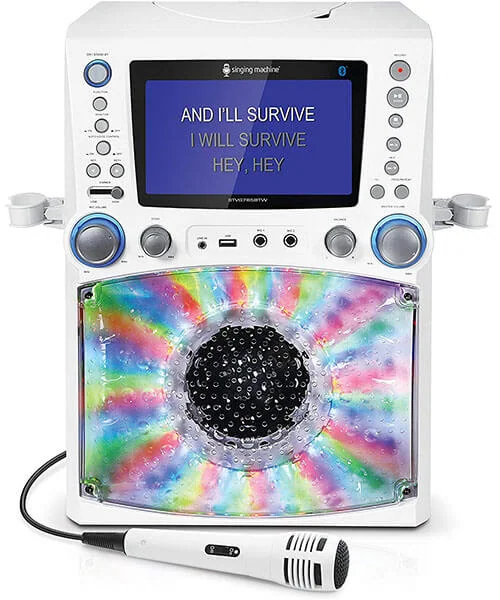 The spectacular STVG78BTW Bluetooth Karaoke might just be perfect for kids even though it is not limited to them. You are definitely wondering what it has to offer.
It is characterized by a top-loading disc player, a lyrics-display screen, an in-built speaker, steady and smooth controls and specialized audio-manipulating features. This machine ships with one factory packaged microphone but allows your device to take a second microphone input. How cool is that?
This model's development wraps up with a distinctive finishing to it. It comes with a built-in screen and its multi-colored lights just give you a more practical feel to your plain rooms transformed in the twinkle of a "switch".
Attractive and would make a great gift for kids.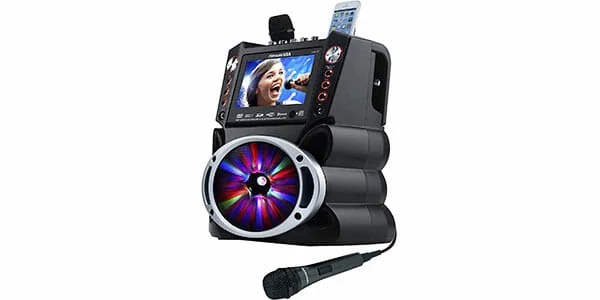 This Karaoke system is ideal for all your karaoke sessions. It comprises 2 microphones, a 7-inch color display, flashing LED lights and a fully functional remote control.
This classic karaoke machine includes RCA cables that can be connected to your TV if you love to use a big display screen.
It also uses the all-embracing Bluetooth feature to play or stream music from your phones, I-pad, or MP3's. Just anything that can get a song filling the room! Bring them. The karaoke USA GR845 karaoke system would bring the groove.
Pros
Light weight
Compact design
This karaoke device would be great for anyone.
Frequently Asked Questions
Do Karaoke Machines Come with Songs?
All karaoke machines don't come with songs but some do come with songs and other advanced music generating features. You can use classic CD+G'S already included in your karaoke device package or personal karaoke CD+G libraries.
For the ones that do not give you this option, alternatively, they allow you to play music via online streaming, karaoke apps, using USB flash drives, or via Bluetooth. Either way there is a mode of music for your karaoke sessions. But if you have access to all, simultaneously, the merrier.
Is There a Karaoke App for Smart TV?
Karaoke has taken a dynamic turn over the years and you can literally turn your smart TV into a karaoke machine. Now that's convenience. And yes, there are karaoke apps that come in handy with streamline interfaces and advanced features that allow compatibility with your smart TV.
To make your work easier, we have recommended some apps below.
1. Soulo Karaoke -Samsung Smart TV.
2. StarMaker: Karaoke + Auto tune.
3. Karaoke everywhere.
4. Red Karaoke.
What Do I Need for a Karaoke System?
The most effective and fastest way to get a fully-featured karaoke system is to purchase a good karaoke system which would come with all the software and accessories you need for an unforgettable karaoke. 
Trying DIY karaoke set-up for the first time? You would need a device with a screen, song software, amplifier, speaker, microphone and some connection cables.
Can You Do Karaoke Without A Machine?
Doing karaoke without a machine is a bit complicated, but it is possible. The easiest way is to download a karaoke app on your smart device with screen mirroring or resort to a streaming music platform. 
Already have this?
Now, you'll need the basic equipment: microphones, speakers and connection cables to make it all work out. If you are looking for an epic stage and party experience, pick up some mirror balls, party lights or smoke machine. The ball is in your court. Make your move!
How Can I Play Karaoke on My TV?
You can play karaoke directly from your TV using an app or through a device connection.
Direct Connectivity
Download a karaoke app directly to your TV. 
Connect a microphone and speaker to your TV. 
Connectivity via External Device Usage.
In case your ideal karaoke app is not compatible with your TV system, download the app to a portable smart device and follow the steps below.
Connect your device and TV to the same wireless network.
Enable the screen mirroring feature in settings to pair both devices. 
Connect microphones and Speakers to your TV set.
If you are using a laptop or PC, connect your device wirelessly or use an HDMI cable. Both works.
How Do I Connect My Karaoke Microphone to My TV?
Connecting a karaoke microphone to your TV shouldn't be frustrating. We will help you out. 
Wireless Microphone
If your microphone is wireless, use a Bluetooth connection
Turn on Bluetooth discovery on your microphone.
Turn on the Bluetooth feature in the settings section of your TV and search for available devices.
 Once your microphone shows, pair the devices.
Wired Microphone
For microphones equipped with RCA connection, you can make a direct connection to your TV.
If this doesn't work use an amplifier as an intermediate device to connect both systems.
Conclusion
Karaoke machines with screens are great for practice sessions and there is no argument here. Be the go-getter and bring your musical spirit alive. Your way is superior. Your style is superior.