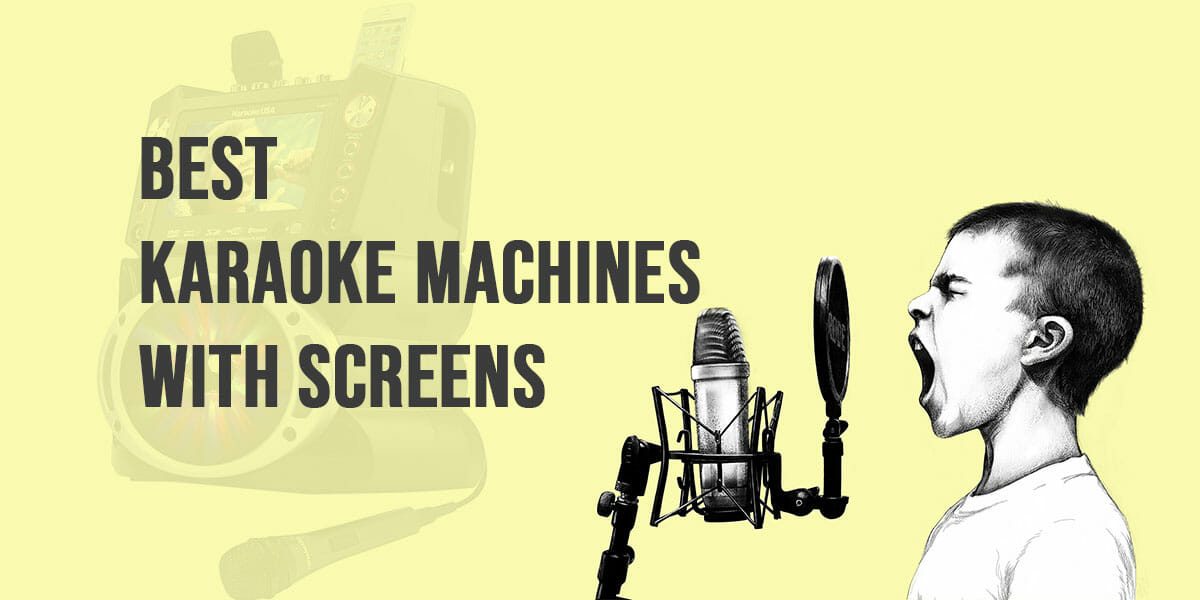 Karaoke will always be a popular form of entertainment for bars and lounges. Also, you can have fun-filled entertainment at home. It's all made possible due to karaoke.
Now, if you are a perfectionist and a staunch karaoke lover then gather around. We present you unrivaled karaoke machines with screens to make your singing experience remarkable and simply perfect.
Let's get right into it.
---
---
---
---
---
---
Frequently Asked Questions
1. Do Karaoke Machines Come with Songs?
All karaoke machines don't come with songs but some do come with songs and other advanced music generating features. You can use classic CD+G'S already included in your karaoke device package or personal karaoke CD+G libraries.
For the ones that do not give you this option, alternatively, they allow you to play music via online streaming, karaoke apps, using USB flash drives, or via Bluetooth. Either way there is a mode of music for your karaoke sessions. But if you have access to all, simultaneously, the merrier.
2. Is There a Karaoke App for Smart TV?
Karaoke has taken a dynamic turn over the years and you can literally turn your smart TV into a karaoke machine. Now that's convenience. And yes, there are karaoke apps that come in handy with streamline interfaces and advanced features that allow compatibility with your smart TV.
 To make your work easier, we have recommended some apps below.
Soulo Karaoke -Samsung Smart TV.
StarMaker: Karaoke + Auto tune.
Karaoke everywhere.
Red Karaoke.
3. What Do I Need for a Karaoke System?
The most effective and fastest way to get a fully-featured karaoke system is to purchase a good karaoke system which would come with all the software and accessories you need for an unforgettable karaoke. 
Trying DIY karaoke set-up for the first time? You would need a device with a screen, song software, amplifier, speaker, microphone and some connection cables.
4. Can You Do Karaoke Without A Machine?
Doing karaoke without a machine is a bit complicated, but it is possible. The easiest way is to download a karaoke app on your smart device with screen mirroring or resort to a streaming music platform. 
Already have this?
Now, you'll need the basic equipment: microphones, speakers and connection cables to make it all work out. If you are looking for an epic stage and party experience, pick up some mirror balls, party lights or smoke machine. The ball is in your court. Make your move!
5. How Can I Play Karaoke on My TV?
You can play karaoke directly from your TV using an app or through a device connection.
Direct Connectivity
Download a karaoke app directly to your TV. 
Connect a microphone and speaker to your TV. 
Connectivity via External Device Usage.
In case your ideal karaoke app is not compatible with your TV system, download the app to a portable smart device and follow the steps below.
Connect your device and TV to the same wireless network.
Enable the screen mirroring feature in settings to pair both devices. 
Connect microphones and Speakers to your TV set.
If you are using a laptop or PC, connect your device wirelessly or use an HDMI cable. Both works.
6. How Do I Connect My Karaoke Microphone to My TV?
Connecting a karaoke microphone to your TV shouldn't be frustrating. We will help you out. 
Wireless Microphone
If your microphone is wireless, use a Bluetooth connection
Turn on Bluetooth discovery on your microphone.
Turn on the Bluetooth feature in the settings section of your TV and search for available devices.
 Once your microphone shows, pair the devices.
Wired Microphone
For microphones equipped with RCA connection, you can make a direct connection to your TV.
If this doesn't work use an amplifier as an intermediate device to connect both systems.
---
Conclusion
Karaoke machines with screens are great for practice sessions and there is no argument here. Be the go-getter and bring your musical spirit alive. Your way is superior. Your style is superior.