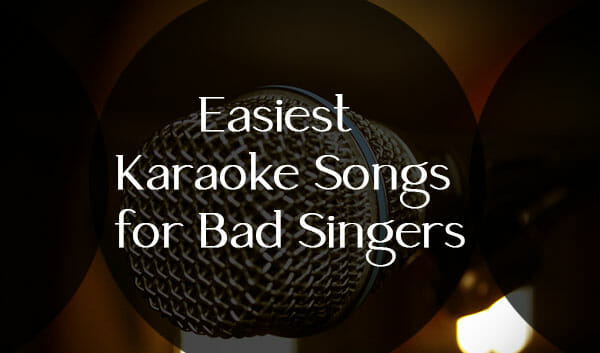 Karaoke and sing-along is very common nowadays at parties and social gatherings as a recipe for fun. It's almost like a tradition to have people sing their favorites and get others to join in on the dose of fun. Karaoke requests and group songs, karaoke evenings and gentle melodies to keep oneself entertained, the nostalgia surrounding classics and everything else about karaoke is something everyone deserves to experience.
Everyone seems to enjoy the music and can't wait to show off how they sing their favorite tunes. There is, however, hesitation among the so called 'bad singers' who are embarrassed about their singing abilities. Why lose out on the fun anymore? Here's a list of 20 karaoke songs of 2023 that are easy, motivating the 'bad singer' to give it a try.
1. Senorita – Shawn Mendes and Camilla Cabello
This song by Shawn Mendes and Camilla Cabello is the latest hit among music lovers and has created quite a storm over the internet for the steaming chemistry among the duo and the music itself.
The song is about how a boy and a girl seem to like each other, call themselves friends, but just can't seem to stay away from each other.
Sounds familiar? This is a scenario that many have faced in their lives, making the song special and catchy, especially the word 'Senorita'.
Give it a try the next time you get a chance to take the limelight.
---
2. Lover – Taylor Swift
Lover by Taylor Swift is a simple yet sweet song about how love means a comfort zone and how two people stay together despite everything that could have gone the other way.
Any Taylor Swift fan would love to attempt this song, a cute little expression of love with simple lyrics, a catchy tune to try for karaoke night.
---
3. Girls Like You – Maroon 5
This song by Maroon 5 deserves to be a part of your karaoke song-list as well. The song describes a girl that every guy needs or wishes to have in his life.
The video of the song is still a fresh, and so are the lyrics and the interesting tune. It's a surprisingly easy song to try out for a round of karaoke.
---
4. Animals – Maroon 5
Another hit song by Maroon 5 that ruled almost every party playlist in the world. The lyrics speak of an attraction that is unafraid and wild. If any party animal out there wants to give karaoke a try, go wild and be fearless, Animals by Maroon 5 might be just the one for you.
---
5. Sorry – Justin Bieber
'Sorry' had topped all the charts at one point and is still a favorite for many. The song is a way of asking for a second chance to turn back the clock and start again.
This is also an option for someone who wants to try their hands at singing. Simple and catchy lyrics and groovy music is guaranteed to get everyone pumped and excited.
---
6. Shape of You – Ed Sheeran
'I'm in love with the shape of you, we push and pull like a magnet do' are lines that almost everyone has heard or sang at least once if not a hundred times when this song was released by Ed Sheeran.
The song is really easy for anyone and its definitely going to get the crowd excited, without making you sound bad.
---
7. Moves Like Jagger – Maroon 5
This groovy number is sure to get anyone's feet tapping and is an interesting choice for a karaoke performance. Pick this one and it's going to make everything a lot more fun. A man need not impress with just his dance moves, this karaoke song could be your cup of tea.
---
8. What A Man Gotta Do – Jonas Brothers
This single by the Jonas Brothers topped the charts and got everyone's heart for more than just one reason. A man's doubts about how he can get the complete attention of his girl is what the lyrics is about.
The catchy tune is sure to get everyone's attention and is also fun to try out for karaoke, whether you can sing or not.
---
9. Shake It Off – Taylor Swift
This song by Taylor Swift, which won the People's Choice Award 2015 Favorite Song, is one of her biggest hits till date and topped many charts. A song that is full of sass, a healthy dose of attitude and tells haters and bullies to stay away is exactly the dose of motivation you need to try your hand at karaoke. Let go of the inhibition and just shake it off.
---
10. What Makes You Beautiful – One Direction
What Makes You Beautiful was the first song released by the British boy band One Direction and became a favorite. The song describes the attraction that young hearts experience and what actually makes a person beautiful.
Almost an evergreen classic, this one is sure to create some nostalgia and bring in memories about young love.
---
11. All I Want For Christmas Is You – Mariah Carey
This has been a classic Christmas song ever since its release in 1994 and is still a karaoke favorite because of its ease to sing along. This is one of the easiest songs that you can try for karaoke if you aren't too confident of your singing talents.
---
12. Single Ladies – Beyonce
This hit number by Beyonce was the 'ladies anthem' when it initially came out and still manages to get feet tapping when it plays. Beyonce's moves, the video itself and the lyrics that cheer any one listening to it. Out for a ladies' night and wish to try out karaoke? It can't get better than singing 'all the single ladies' with your friends.
---
13. Happy – Pharrell Williams
Happy by Pharrell Williams is exactly what the name suggests. One can't help but feel happy and joyous after listening. Spreading happiness couldn't have been easier through a karaoke mic. It's simple to sing along and extremely fun to try out in your karaoke machine.
---
14. Perfect – Ed Sheeran
This slow song by Ed Sheeran is just Perfect to sing with loved ones around and is easy for anyone who would like to try their hand at a slow song for the karaoke session. Sweet, romantic lyrics and a melody that's just perfect for anyone who can sing or not. Try it out for a romantic karaoke evening.
---
15. Best Song Ever – One Direction
The Best Song Ever is literally one of the best and easiest songs to try out in your karaoke speakers for a fun session of karaoke. A little bit of sass, humor and hilarious lyrics and visuals. This definitely deserves to be a part of the karaoke playlist.
---
16. Lost In Japan – Shawn Mendes
Lost in Japan is a peppy number by Shawn Mendes which is about how distance can't keep two people away from each other. It's only a 'couple hundred miles '. Lively beats, catchy and entertaining lyrics surely make it an interesting song and is worth a try for the singer or the non-singer in you.
---
17. Wrecking Ball – Miley Cyrus
This pop song by Miley Cyrus was released in 2013 and created a storm for its controversial video. Powerful words and tunes that reflect the power in the words. Definitely worth a try for the karaoke enthusiast in you. It's a brave song to attempt and is sure to create some nostalgia of the good old days from the past decade.
---
18. Come and Get It – Selena Gomez
This song actually reminds listeners to a lot of other songs of the past and is such a different track to attempt to sing. A brave and powerful song with daring lyrics. When one is ready to try their hand at singing, 'come and get it' might be the right one to set you on track.
---
19. My Heart Will Go On – Celine Dion
The Titanic theme song is definitely a classic and still strikes a chord and gets listeners teary eyed. Everyone remembers this song from the 90s classic movie and the heartbreaking love story that had to end tragically.
This song is the perfect choice for any karaoke enthusiast who wishes to perform a gentle, soothing melody. This song has been a staple in the slow song karaoke playlist ever since it released in 1997 and still has the same effect on anyone who listens.
---
20. Closer – The Chainsmokers Feat. Halsey
Closer is also a chart-topping song which is about using powerful imagery in the lyrics to talk about two people who used to be close but now want to be closer despite the odds.
This song is perfect for a duet performance and is easy for singers and non-singers alike.
---