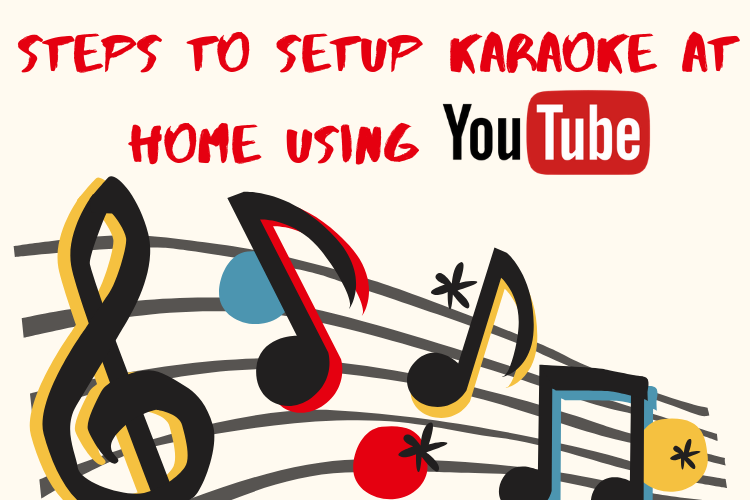 Music is the life and soul of any party. Besides dancing to one's favorite tunes, many people also enjoy singing their favorite songs and Karaoke systems are very popular these days to enjoy this experience.
While there are karaoke clubs to indulge in this form of entertainment, setting up a karaoke system at home definitely has its perks as it's more private and comfortable. Its easy to setup karaoke machines but it is an expensive way to enjoy home karaoke.
However, there are less expensive ways to setup karaoke at home, such as using YouTube. All you need is the following:
Table of Contents
1. Device To Play YouTube Onto Your TV
This device could easily be your smartphone that connects to your SMART TV using the same WiFi connection and play YouTube through screen mirroring.
Using iOS Device (Apple TV) to Play YouTube
If your device supports iOS, you would need an Apple TV to use the mirroring option. You could also use the YouTube Application that is pre-installed on your SMART TV, however, there may be technical glitches.
Using Google Chromecast
It is worth remembering that using Google Chromecast can be a better experience than using Apple TV or other applications as you wouldn't need to create a playlist on YouTube, the songs are queued automatically and there are no lags.
Using a Laptop or PC
If you're using your laptop or PC and you don't have a SMART TV, you would need an HDMI cable to connect to the TV. This cable can be used to play both audio and video from the device.
2. Good Pair of Microphones
A good pair of microphone is a must to setup a complete Karaoke system. Wireless microphones are an ideal choice as they allow the singer to move around freely, however you can also use wired mics.
Two varieties of wireless microphones are available in the market based upon their frequency. You can go for an ultra-high frequency (UHF) microphone or a very high frequency (VHF) type. The former offers a better quality of audio due to a stable connection and can also connect to the speakers through Bluetooth. However, they can be a bit more expensive.
3. Good Speakers
A good choice of speakers is essential to generate the desired output. You have the option to use the regular Home Theatre system but not without risks of damaging it as it's not designed for Karaoke use.
You could buy a set of speakers that are especially designed for Karaoke which are available with a built-in amplifier and mixer. There are various Karaoke system models in the market that are worth checking out.
Active speakers which are used for Public Announcement (PA) are a much better option as they are designed for live sound. They also offer the echo effect which further enhances the Karaoke experience.
If you're looking for advanced innovations in Karaoke, you also have the option to use a voice-activated Karaoke system that takes commands from your voice and plays the desired track.
4. A Mixer Device
A mixer is a device that is crucial for a home-made Karaoke system as it receives the audio from YouTube and the sound from the microphones, combines them and sends their signals to the speakers.
Mixers are especially useful for those speakers that do not have an input available for the microphones. Another advantage of using a mixer is that you can select the echo and other tone settings as you desire. You can check out this guide to understand which is the best karaoke mixer that is suitable for you.
Conclusion
Once your karaoke system is set up, you're ready to start browsing the wide collection of karaoke songs that are available on YouTube. You can easily browse for the desired song on the YouTube search bar and make a karaoke playlist of your choice.
You can also access various channels on YouTube such as Stingray Karaoke and Sing Sing Karaoke that offer licensed karaoke libraries with popular music compilations of the past and the present.
With all the DIY tips given above, you are now ready to throw a Karaoke party in the comfort of your home!